Best Iron Maiden Songs
The Top Ten
1
Hallowed Be Thy Name
Not only their best song, but one of the best songs of all time. I know people say that about lots of things, but believe me, I'm not exaggerating. If this was as well known as some stuff by Led Zeppelin, Queen, Metallica, AC/DC, etc. you could bet money it would be considered one of the best songs ever made. Those guitar riffs have such emotion and power, the guitar solo is truly legendary, the singing is excellent and the lyrics are about a man who is about to be executed reflecting on his life and facing his death. I get goosebumps every time during that divine guitar solo and the "Hallowed Be Thy Name! " And you'd have to be dead or a robot not to.
Hallowed be Thy Name is not simply an Iron Maiden's or a metal song, it is something more, like a perfect harmony of music, lyrics, progressive evolution and the rise of the climax during the song itself. I think Steve Harris has written his masterpiece with this song, which is really beyond any genre and time style!
Simply put, you cannot find a song that compresses emotions, words and amazing composition under 7 minutes. While ROTAM is a lot more grand, it utilises 20 minutes; that's about 3x longer than Hallowed. All in all, just listen to this one and feel the raw emotions via Bruce's vocals and the amazing composition.
And the best part definitely is

The words escape me
When I try to speak
Tears flow But why am I crying
After all I'm not afraid Of dying
Don't I believe
That there Never is an end

Up the Irons!
Very hard to say what the top Maiden song is (for me there's about 20), but Hallowed By Thy Name ticks all the boxes. It's Maiden's first epic, it has fantastic Steve Harris lyrics, amazing Solo's. Murray and Smith playing off each other... and then Bruce Dickenson belting out that amazing chorus.
Maiden have written many epic songs since, but Hallowed was the beginning. It encompasses all that is great about Maiden.
2
The Trooper
You'll take my life but I'll take yours too/
You'll fire your musket but I'll run you through/
So when you're waiting for the next attack/
You'd better stand there's no turning back!

These are the best lyrics Iron Maiden has penned, and this song kicks in your skull from the opening riff. The solos are equally intense, and Bruce is on top of his game for this track. It is definitely their best song, in my opinion of course.
While I adore Hallowed be thy Name, The Trooper still takes the cake for me by a tiny bit. It's the first Iron Maiden song I heard and it blew me away, that chorus always gets me pumped up, the iconic riffs and that solo are awesome. It's short, but sweet.
Honestly, I'm surprised Run to the Hills and Number of the Beast are below this, but maybe rightly so. This is maybe the greatest song ever (just listen to the intro, it explains everything).
The amazing ever guitar ever played by iron maiden.. Simply awesome... Superb... Breathtaking... And the lyrics are superb to.
The composition of this song in all the aspects is very incredible, the guitar and drums composition (do not forget Steve Harris), and the lyrics of the song make you think about
3
Fear of the Dark
No matter how much I like other songs with more complex and deeper meaning, I never get bored with this song. It's like my brain can not comprehend how beautiful it is, the intro melody is so timeless I can not describe it. Not only that, but the verses, chorus, guitar solos, and outro fit together so perfectly. It's one of those metal songs that had to be written sooner or later. If you like the studio version, just wait till you hear the Rock in Rio live version.
This song is awesome and every time I hear it I go into an another planet

Honestly, This is maybe the greatest song ever (just listen)

Best metal song and album ever recorded. Every single song on that album is amazing, and the albums concept of the individual versus the mass (like rush's 2112) is simply an ayn rand worthy idea.

Maybe... So much to say
Fear of the Dark, is the result of absolute harmony of guitar and lyrics. It a bliss to hear the song and the momentum the song carries, and the progressive evolution of momentum, the marvelous guitar and brilliant lyrics all wind up to result into a downright epic song.
Amazing melody, with an incredible guitar streak after just a few minutes pass in the song, and a good, never ending quality that lasts the whole 7+ minutes! Iron Maiden's best for me, and what's even better is that it was NOT one of their early songs, meaning the band still retained its greatness
4
The Number of the Beast
I don't care if they say this is Satanic (I'm Christian if you're wondering). This isn't even glorifying Satan. It's actually inspired by Steve Harris experiencing a nightmare after watching Damien: Omen II. The song's lyrics and dark theme, the epic-sounding guitar solos coupled with fast drumbeat and tempo and let's not forget Bruce's singing and legendary scream. This song has everything awesome in one package and boy it rocks like hell, no pun intended.
This song has done in four minutes and fifty-one seconds what countless other songs have failed to do. From the dark and unnerving passage from Revelations, to the heart-racing guitar riff, to the evil and awe-inspiring lyrics, the rapid head-banging drumbeat and the mind-numbing, spine-chilling, lightning fast electrifying guitar solo, this song is an anthem of Iron Maiden and of all Heavy Metal. It is the epitamy of Metal, the icon of everything it stands for, and it will never be conquered. Listen to this song as I am now, see that all I've said is true, and hear with it all of the triumph and glory of Heavy Metal.!
The Number of the Beast ist the best Musical Piece Iron Maiden have ever spelled into life. There's everything in it, but it doesn't feel stuffed. There's not many Songs in the history of Heavy Metal that have this uniqeness.

The lyrics are just perfect. They evolve the real Heavy Metal Psyche, describing the global hellraising in economics, actual wars and pretty much everything else "negative" in life in early 80's Great Britain. Heavy Metal is "a Little household hellraising for everybody".

That's The Number of the Beast.

Timeless

Cheers
Martin
Tough decision between Hallowed be Thy Name and The Number of The Beast... If you need to give a perfect example for heavy metal music, then this is the right song! Awesome vocal intro and really great riffs throughout the whole song. I know the whole song's lyrics by heart! I still haven't decided what my favourite song of all time is, but this is definitely a strong candidate!
5
Aces High

But really disappointing to find powerslave missing from the list
My list is
1. Powerslave
2. Number of the beast
3. Aces high
4. Rime of the ancient mariner
5. Fear of the dark
6. The Evil that men do
7. Hallowed be thy name
8. Dance of death
9. Run to the hills
10. Phantom of the opera
This is the first list that has disappointed me on this site
Could have been much more better
Maiden Rules! Aces High, just a great opening track to the album as well as just being a fast and gripping tune, especially when you know all the lyrics, when you are driving your car and listening to this song, all of a sudden you're flying a plane in a dogfight
The song that made me discover them in 1984... good lyrics, video was just like a good old war movie. Nicko's drumming is not random for a change (after somewhere in time...). Too bad Dickinson can't sign it live. In studio, the vocals were at his best with this song. Do not listen to the Live after death version please...
I really like this song, not comparable! I have been on the laste Friday on the Sonysphere in Basel, but they didn't play this song. Sad Sad! But the concert was top! Cheers to all Iron Maiden fans, hallowed by thy name, number of the best are great as well. Roger
6
Rime of the Ancient Mariner

Most of Maiden's songs would be number 1's for any other band. And Maiden the only band I know that sounds better live than in studio. The live version of this song just rocks. It has everything. Piercing guitar solos, tempo changes, wicked drums and bass and of course the story telling of Bruce.

This is simply metal at its best. Maiden is the greatest metal band of all time. No question.
Simply an epic adventure in the form of music. I love this song and it has an awesome climatic piece that still gives me goosebumps. This was at a time when Iron Maiden truelly OWNED the metal world. Its brilliant on every front, the singing the guitars the bass the drums everything that Iron Maiden can bring was brought in this single song. I'd bet they themselves would say this was their best work.
An Opus. A Masterpiece. Excellent guitar riffs done in harmony as is the Maiden way. A rhythm that literally makes you feel as though you're on a Clipper ship crashing through the waves of the deep blue in the 1700s. A great climatic ending. Along with Phantom of the Opera and Genghis Kahn I think it's Steve Harris' most creative, complex piece of work. Should be #1 on this list.
A true epic, when you listen to it, it takes you away to the ship with the mariner himself, listening to the song is a adventure and every time I listen to it all my haris stand up and my heart jumps for joy I really think this song deserves to be much higher in the ranks. The guitar in it is brilliant and bruce's singing no matter what version be it album or flight 666 is that of a gods.
7
Run to the Hills
I love this song cause it really shows what the white Americans really are which is racist rapists, who enslave and belittle people who are a different shade from their white disgusting ghostly skin. The white Americans intruded the native Americans country and called them savages I mean like look in the mirror who are the real savages. Thank you Iron Maiden for speaking (or shall I say singing) the truth.
To truly appreciate the brilliance of this song you have to dissect it.
A song in three parts and a story told from three perspectives.
Part one - a native American Indian's perspective, note the drums and guitar; they sound like the music played at a pow-wow.
Part 2 - An American soldier's viewpoint, note the change in tempo, it gives the feel of a horse galloping. "Riding through dust clouds and barren wastes."
Part 3 - a third party witness point of view.
UP THE IRONS
Bruce Dickinson is, in my opinion, the second best singer ever, and although the drums, bass, and guitar are good in this song, the vocals will stick with you forever. The simple "Run to the hills, run for your life" is amazing, let alone the rest of the song. Also, one of my favorite songs of all time.
This is only number six? How dare you. An absolutely legendary song, one of the three that made Number of the Beast the best Iron Maiden album of all time (the other two being the title track and Hallowed Be thy Name). Simply amazing.
8
Phantom of the Opera
I really love nearly every Song of Iron Maiden, but I have to say that this one always blows my mind. I especially love the guitar part in the middle, it just fits in so perfectly. Steve Harris at his best and that's on their first officially released Album, other Bands like Metallica or else needed at least, one Album before finding their amazing unique sound, but Maiden got it from start. Up the Irons!
I know everybody has got their favorite and many will disagree, but in my opinion this song IS Iron Maiden.
It perfectly combines the raw, aggressive style of the diAnno-era and the melodic elements that distinguish Maiden today.
If I had to pick one Iron Maiden Song, it would always be this one. I think it's not only the best song of the diAnno era, it's the best Maiden song overall and probably the most exciting song in the history of Heavy Metal.
Do I have to say why? It is fair to say that this song has some kick@ss riffs, and the solos are just perfect, I kinda hate how they slow it down a bit when they perform it live, and Bruce's version doesn't even come close to the original, but it's still great... I put Dickinson and Di Anno on the same page, you just can't hate either of them
If there was only one song by Iron Maiden that could be put forward, this is it! The sound of the song cannot be compared to any other NWOBHM band. A quick melody yet formed from a classical background shows that Maiden aren't just a metal band, but show blues, rock 'n roll, hard rock, folk and Wagner inspired classical phrases.
9
Dance of Death

This song defines the word "epic". The first 2:50, you hear Bruce tell a story and you know what he's talking about. Then comes the brilliant level of musicianship from Janick Gers and Steve Harris, a classic Maiden all way through with mind-boggling lyrics. All 3 guitarists play a guitar solo and then comes some melody. The song ends with Bruce ending the story. If you like metal and a epic fantasy stories, this will be your favourite song ever. Maiden at their absolute best.
This was the first and the best heavy metal song I ever heard. I got attracted to metal and Iron maiden only because of this song.. I have still heard many other performances of Iron Maiden but nothing gave such a great impression of DANCE OF DEATH. Wonderful song. I listen to it almost everyday. It is better than FEAR OF THE DARK in all aspects. There are always many metal bands.. But IRON MAIDEN makes both metal and music. HATS OFF!
This song represent what Iron Maiden is. The composition of this song in all the aspects is very incredible, the guitar and drums composition(do not forget Steve Harris), and the lyrics of the song make you think about the meaning of death to all the people, of an incredible way, also this song brings you unexplainable feelings. This song should be on top 3.
The story telled in this song should be written down in a book. And the music is just perfect. Because of this song most of the fans will like to say their last goodbye, drink and say a pray for it...
10
2 Minutes to Midnight

I'm surprised this isn't in the top 10. This song is by far the most energetic and memorable for me out of the entirety of Iron Maiden's collections. I mean the entire Powerslave album is legendary as it is. This song is my favorite though out of them all.
This and Run to the hills are my favourites. Voted for this because it is so far down and should be so much higher. They have so many good songs though its almost impossible to say a top 10 but these are my 10

1. 2 minutes to midnight
2. Run to the hills
3. Hallowed be thy name
4. Wasted Years
5. Fear of the dark
6. The evil that men do
7. Number of the beast
8. Children of the damned
9. Bring your daughter to the slaughter
10. Holy Smoke (I just like it alright lol)
Should be in top 5, awesome song...great energy. Got that raw sound that kinda stretches the norm of Maiden's usual MO. Totally pumps you up, if you feeling down this tune will definitely make you want to get up and kick life in the teeth.
Excellent intro and outstanding lyrics. One of the most relevant song about the cold war and nuclear weapons. Surprising that its not in top 10.
The Contenders
11
Wasted Years
This song is total gold! I mean, the intro is totally mind-blowing, one of maidens best, along with run to the hills and trooper, but the rhythm in this one; as a whole song, is something unique! Ecstasy! And the lyrics speak to me, deeply...
Still, I am surprised some legendary classics are so low on this list. Charlotte the harlotte is right now 97, for example? Prisoner? Revelations? Powerslave? To mention a few... Also check out infinite dreams, the intro sets my mind into a calm state... anyway, this is just proof that iron maiden is the best band in the world! Right now hallowed be thy name is leading this list solidly, I was a little bit surprised to not see one of the other classics as number 1, but when I think about it, I think it's defining for other songs, and a masterpiece composed brilliantly. I love these old songs the most, but I got into maiden through brave new world, definitely an epic album, has progressive songs that makes me fall into trance... wait, all the ...more
... Adrians solo... PERFECTION!
Wasted years converted me to full metal-head. My first metal record was Somewhere in time, saw in a shop and loved the cover. " If an artist put so much effort into the cover, maybe the music is just as good". Oh God, I never looked back.. Wasted years was the second track, after listening to it, I could not wait to listen to the rest of the album!
This song for me is a masterpiece, Adrian's solo has so much blues in it, Metal perfection. Maiden is one of the greatest Rock/Metal bands of all time!
I saw this one Live in 1986. Great song that always stops me when I am flipping through channels on XM. The lyrics really speak to me. We should all think about our Wasted Years. I also think of Pink Floyd's song High Hopes, "Forever encumbered by desire and ambition"...
Alongside The Trooper this is probably the best Maiden riff, just too bad they didn't stretch for some more bars Harris's harmonies on top of it in the prelude to the solos. As for the solos, I really have no other word than perfect.
12
Powerslave

Hard to pick one maiden son as their best. But this song is so amazing every bit of it is tantalizing and endlessly mesmerising. I sing every word with undying passion every time. A song it is impossible to get sick of no matter how many times I listen to it. Love the composition and that breakdown and solo in the middle just kick unmerciful ass. This song is like sustenance I feel so riled up and energetic after listening to it. The word epic is thrown around to often but it is a perfect descriptor of this amazing track off my favorite Maiden album the one that made me fall in love with this band.
Bruce is DEFINITELY underrated as a song writer. But this song is an essential Iron Maiden track. Steve is a great instrumental writer, but I really enjoyed the fact that Bruce wrote the whole song, and he is a great storyteller. And I really enjoy the change near the end where it goes from the instrumental solo back into hammering guitar riff. I think Bruce should have done more.
I voted Powerslave because I believe this to be Maiden's best song. The vocals are fantastic and the solo is the best part!
My Top 10...
1. Powerslave
2. Rime of the Ancient Mariner
3. Hallowed Be Thy Name
4. The Trooper
5. Alexander the Great
6. Fear of the Dark
7. Wasted Years
8. 2 Minutes to Midnight
9. Phantom of the Opera
10. Holy Smoke
Probably the heavier Maiden's song. And with a so melodic and perfect solo! And after this solo a perfect and ascendig transition with powerful interludes back to the heavy part. Steve Harris done a great job in this music as well. Bruce in the apice of his voice. Such a masterpiece!
13
Seventh Son of a Seventh Son
A underrated masterpiece off the brilliant concept album of the same name.

A criminally underrated song by plenty of Maiden fans, which utilizes synthesizer in a brilliant way to create an atmospheric piece of musical brilliance.

This is a song that proves Iron Maiden are the greatest/most talented band ever.
I personally don't see the appeal in this song. The first half is absolutely amazing, but the second half feels like it drags on for half an hour. This remains the only long song by maiden that get bored with.
Best Iron Maiden song ever. It is just amazing. The song has one of the best instrumental pieces in it out of every Iron Maiden song ever made. Why is it not number 1?
Out of all the epicness that Iron Maiden have released, this is the pinnacle. The solos and guitar duelling, the arrangement, everything is wonderful to the very end.
14
Alexander the Great
His name struck fear into hearts of men. This is definitely one of the truly great Maiden songs and there are so many.

It's hard to even get started ranking Maiden's many masterpieces. I haven't even heard mention to:

The sign of the Cross
The Prophecy
Children Of the Damned
Total Eclipse
Caught Somewhere in Time
The Loneliness of the Long distance Runner
Mother Russia
Tailgunner
Mother of Mercy
Coming Home
Etc. Etc. Etc...
Probably my favorite from SIT, though Deja Vu comes very close. When it comes to Iron Maiden talking about history, this one is the best, the vocals are great as always, and the Instrumental section is phenomenal along with the rapping sounding vocals later on.
This is a totally awesome song. I've listened to it 1000 times and I never get tired of it. I use the opening quote "My son, ask for thyself your own kingdom, for that which I leave is too small for the" with my kids to help motivate them to aspire to great things. The story, lyrics, and arrangement is spectacular!
While not my absolute favorite (that would be Powerslave), it's definitely in my top 5. I voted this because it deserves a higher spot on this list. The solo is probably my second favorite Maiden solo (right behind Powerslave).
15
Paschendale

Listening to this song you can help being agitated, exhilarated, awakened and moved to emotion all in one. It's a masterpiece (or perhaps master-peace? ). I have so many favourite Maiden songs (like all of us must have) and so chasing one is like chasing between your own kids (assuming you had as many kids as great Maiden songs). I say this because like any vote on a Maiden song there is an element of guilt felt to the other songs! (apologies to Hallowed be Thy Name, ROTAM, FTGGOG, Number of the Beast, Run to the hills, Face in the sand, Ghost of the navigator, PowerSlave, TMTM, etc, you get the point). What a strange series of things to to say as a seemingly sane person (albeit perhaps a Maiden devotee) but that is life as a Maiden fan. My first metal album of Maiden was The Number of the Beast, original issue on vinyl. I still have this album and keep it in my bedroom). 35+ years latter and it is just as epic. Take care all and fingers crossed that Maiden and Bruce (as a soloist) ...more
My all-time favourite Iron Maiden song, and without a doubt one of their most epic. Paschendale is an unbiased uncensored look at one of the First World War's most blood-drenched and futile battles, and the musical work is absolutely as perfect as it can get.

Listening to the song, you can see the actual battle happening, almost like a narrative telling the story of a single soldier on the western front:
As the song picks up at the one minute mark, you can picture an allied trench being bombarded constantly by artillery leaving dozens of troops dead, wounded or shell-shocked.
When the chorus first kicks in at the two-minute point you can imagine a German bayonet charge.
A minute later, you can imagine the attack floundering and the Germans retreating and a "calm before the storm" taking place.
At the 3:40 mark, you can picture allied guns returning fire before a counter-attack before the troops go over the top of the trench.
At 4:40 you can imagine the troops ...more
Dance of Death is such a underrated album, almost every song there is great, buy my favorite is Paschendale. The haunting little riff in the beginning and end is just incredible, the chorus puts some much emotion, the solos are awesome. Everything in this is just amazing.
My favorite song by anyone- Paschendale is a masterpiece. It's got amazing lyrics- very descriptive (laying low in a blood filled trench) and meaningful (home, far away, from the war, a chance to live again, home, far away, but the war, no chance to live again). The guitar and bass in this song match it perfectly and helps to create an image of the battle, something this song does very well.
16
Flight of Icarus
This song shows that Bruce is the best metal singer there ever was, it's my favorite Iron Maiden song after Hallowed be thy name, and since Hallowed is first, this songs deserves the vote. The guitar solo is amazing, the lyrics are a reference to the Greek story of Icarus, and as I mentioned, the vocals are Dickinson's best.
Best song from Piece of Mind... And yes, to me it's even better than the Trooper, and even though I like Di Anno and Dickinson the same, I have to give it to the 2nd guy, the vocals are awesome!
This song has got to be higher. The brilliant allegory, the guitar and Bruce's singing make me feel like I am flying with Icarus. I Love Maiden! This song should be in the top ten.
Few singers can hit and hold some of the notes Bruce Dickinson can. My personal Maiden favorite.
17
The Evil that Men Do
Don't get me wrong, Aces High, Run To The Hills, Blood Brothers, Fear Of The Dark, and The Phantom Of The Opera are all fantastic, songs, but this song in my personal list is higher than all of them, because the vocals, guitars, bass, and drums, are absolutely perfect. This is one of Maiden's best songs without a doubt, so vote up!
Do the math this is the best song fron seventh son of a seventh son and seventh son of a seventh son is the best album of iron maiden so the evil that men do is the best song of iron maiden. It's very beautiful song with perfect guitar work on the part of the razor's edge, great solo and catchy.
Seventh son is my favourite Maiden studio album which is saying a lot considering the iconic status of Number of the beast and Powerslave in particular. I could listen to Evil that men do over and over. So many great riffs, the gallop out in force and a solo that is truly epic.
This song should be higher in the list, but since I am too lazy to make any changes now, I will just leave it here! :3
But in all seriousness, this song is awesome! It just gives you exactly what you want when you are in the mood for some Maiden... It may give you a little bit more but it doesn't give you less, that's for sure
18
When the Wild Wind Blows
This song is proof that music still exists. Iron Maiden has never flopped in any album, especially not The Final Frontier. This song is amazing as heck and I believe goes up in the epic tier with songs like Hallowed Be Thy Name and Rime of the Ancient Mariner.
What is wrong with this list!?
I know that this song is a newer song off of an album that came out in 2010, but if you can't see that this is one of the best songs ever, then you must be def. This song may not be their best song ever (That's Rime Of the ancient Mariner) but it deserves to be high that 18 spot, it should be top ten for sure
Keep finding myself listening to this over and over again. Also made me very curious about Raymond Briggs' novel "When the Wind Blows" and the 1986 animation with the same name. Always awesome to see where they draw their inspiration from.
This track is heart rending. The most emotionally fuelled maiden song. Easily in the higher echelons of there catalogue, up amongst HBTN, Rime of the ancient mariner and paschendale. So epic. A lesson in song writing and musicality, like anything by maiden. UP THE IRONS! M/
19
Killers

Was there any doubt that this song wouldn't make it to the list? Having one of the best intros, you just have to love the bass riff in the beggining. Di Anno's vocals in the 2nd album far outmatch those in the first album. I'm not hating on the first album, I love Iron Maiden, it has some sick songs in it. It's just that when I think of Iron Maiden, the first song that comes to my mind is this one... The solos are as great as the riffs, and the vocals are just beatiful
I like the raw sound, not just from Paul, but from Steve's base as well, his picking style is more outstanding and makes Maiden rawer. This is solid music created from a small band with small means at that time. It's a shame that Pauls stage fear was so bad that he had to get drunk, and later got sacked because of that.
Ahh the wonderful punky Maiden that I adore DI Anno puts in a total class performance on this menacing powerhouse anthem...oh what I'd have given for just one more Di anno era Maiden album...can you imagine how awesome that would have been...
I wonder why this masterpiece is not considered higher...seems to be forgotten?!
I think that it is the real spirit and core of Maiden. Paul is just Great in here...and what a feeling...I can imagine and feel the Killer behind me...
20
Sign of the Cross
Blaze gets to much hate from the fans for no reason other that he didn't fit Iron Maiden. Blaze is a great though, and some of his songs became one of my favorites, especially Sign of the Cross. A lot of people think the Rock in Rio version cause Bruce sings it instead, but I differ. Rock in Rio is good too, but Blaze just does it better in my opinion, his darker, more lower vocals fit way more. Man Maiden fans are always so biased towards Bruce, they need to stop at this point. I love the amazing solos, and the epic chorus.
This is inarguably Blaze Bayley's best work with Maiden. It has that quiet, spooky intro that builds up into strong lyrics by Blaze. Janick and Dave's solos are brilliant in this song. Steve is brilliant as usual. It's a remarkable piece of work.
This is story of a man that that has felt he has sinned too much and thinks that he does not deserve God's love which eventually makes him turn to Satan. He is afraid of God's punishment. It is an epic piece that is haunting and very underrated and deserves a top 20 place at least.
I love the structure of this song. It keeps you waiting in excitement for the amazing explosions yet doesn't fail to keep you interested throughout the entire song. Truly a masterpiece by an honorary replacement for the pride of the band.
What the hell is this doing below the top 5, let alone at #55? I'm sorry, but this is one hell of a masterpiece. And if the reason it's not up is because it's from the Blaze era... Then shame on you all...
21
Can I Play with Madness
This song is amazing and awesomely cool... It is one of my favorite songs by them... This defenintly deserves to be top 10... Catchy song with a nice title!
What the hell?! This song should be in top ten! The solo is perfection, and the lyrics are magical. This song should really be in top 5
Amazing song, how is it not in the top ten.
Absolutely awesome song, purely an epic son.
! This is one of Maidens Best songs along with Trooper, and Hallowed Be Thy Name. How is it so far down? You Know what To Do Vote For It!
Do It For Eddie
22
Afraid to Shoot Strangers
Pick one favourite Iron Maiden song? Impossible. It varies from week to week and there are too many great songs to say one is the best. But, if hard pressed to pick one, I'll opt for this one. It's a slightly unusual Maiden song, certainly in the first Bruce-era, and highly underrated. But just listen to the majestic melody starting at around the 2:40 mark, can't think of any other single melody or riff in the Maiden pantheon of great songs that makes my hair stand on end as much as this one. Simply marvelous and only made better by the fact that it's revisited later on in slightly different form after the all guns blazing mid-section. Basically has all you'd ever need and want and more in a Maiden song.
This was the fourth Iron Maiden song I ever listened to and right from the get-go it caught my attention, Run To The Hills I knew LONG before Iron Maiden, and Be Quick or Be Dead and From Here To Eternity were great but other than Fear of the Dark, I would say this one and Fear of the Dark are my 2 favorite Maiden songs. It is genius from beginning to end. The duel guitar solo in the song sends chills up my spine EVERY time.
AMAZING SONG, without a doubt a crowning achievement from the Fear Of The Dark album. Give this one and a listen and I guarantee you'll love every second.
Epic riff and nice instrumental, why this song isn't on the top 10? It's better than blood brothers. The second best song of the album Fear of the dark!
23
The Prisoner
God damn this is really overlooked compared to Run to the Hills, Hallowed Be Thy Name, Number of the Beast, and even 22 Acacia Avenue. I think this is better than those 3 songs upset for Hallowed. The opening drum and riffs are just so cool, the solo is a freaking work of art, and that chorus, oh boy that chorus. "Not a prisoner, I'm a free man!" It's my favorite chorus of all time.
This song defines all that makes Iron maiden. The bass is always audible, the drumming is superb and the sheer number of fantastic riffs that make up this song is why I love this song. Bruce's vocals are great and very distinctive, almost operatic. One of the best songs ever off of one of the best albums ever. Why this song is down here can only be explained by the wealth of masterpieces that Iron Maiden has produced over the years. For me this song is one of their best.
This is my favourite song from Number of the Beast after Hallowed Be Thy Name. Fantastic song, everything about it is absolutely great. Seriously, give it a go!
Great song! One of the best, it's an insult this isn't in the top ten! Lyrics, instrumental solos and vocals are completely EPIC!
24
The Empire of the Clouds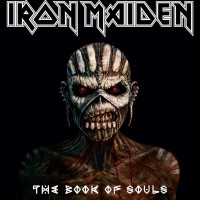 Proof that Iron Maiden can make epic masterpieces even after 40 years. For me, the piano inclusion was such a surprising move, but it incredibly fits in this song perfectly. 18 minutes of pure music art, pioneered by Bruce Dickinson.
One of the most masterful piece of music I have heard time and again and it still blows me away. The lyrics are absolutely stunning, the progression, riffs, their attempt to do a SOS, it's a real punch in the feels.
When I first heard the piano in the beginning of this song my reaction was: "What is this? " Eighteen minutes later I was completely blown away with how great this song is. Heavy metal's Stairway to Heaven.
The intro of this song alone is enough to send this to the top! And my god, the riff in this song is the greatest! This proves that new maiden is capable of being just as good as old maiden.
25
Revelations
Yeah, Revelations takes it for me. Piece of Mind was my first Iron Maiden album, and it's my favorite album too. Revelations just... connected with me. I can't get enough of it!
Some of my other favorites are Can I Play With Madness, Still Life, The Wicker Man, Powerslave, Dream of Mirrors, and of course so many more. Iron Maiden is amazing! So glad I was introduced to the band
The live version of this song from "Live After Death" is unbelievable, I mean Bruce has the most amazing live voice I've ever heard in Metal! This song has everything, melodies, slow and fast sections, solos and more! Definitely Top 5 in my opinion.
This is such a classic song. Great guitar work. Not the best vocal, but its still awesome. The mix of soft and loud, and acoustic and electric guitar really make this a fantastic song. Classic.
There's everything in this song. Everything a true Maiden fan loves. Great riff, amazing solo create an unbelievably moving song.
PSearch List