Top 10 Best Blues Guitarists of All Time
The Top Ten
1
Stevie Ray Vaughan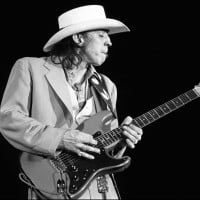 Stephen "Stevie" Ray Vaughan (October 3, 1954 – August 27, 1990) was an American musician, singer, songwriter, and record producer. In spite of a short-lived mainstream career spanning seven years, he is widely considered one of the most influential electric guitarists in the history of music, and one of the most important figures in the revival of blues in the 1980s.
I've been waiting for the next great guitarist since SRV passed in 1990. Many fantastic technicians have come along, fewer still who play with true soul, but no one has come close to fusing the two with that immeasurable something extra Stevie had. His emotionally sensitive ferocity is unique in the annals of electric blues rock playing, possibly music history in general. He could simultaneously make your spine tingle, drop you to your knees, and bring you to tears in the same tune. There seemed to be an infinite supply of devastating licks and musical concepts he pulled from as easily as breathing. Imagine what he would have produced these last 25 years, as he had yet to reach his peak. Imagine him on stage with Hendrix. Rave on Stevie, and God bless
I agree with this simulation of Stevie Ray Vaughn, he just so happens to be my favorite blues guitar player on all my favorites list. I think that Kenny Wayne Shepard is possibly the closest link to his style and way of playing that I have listened to that can compete with him. I love to listen to both of them and the way Kenny Wayne Shepard is progressing these days at his still very young age we can expect many good things to come from him in the future.
2
Eric Clapton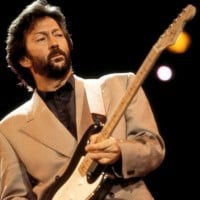 Eric Patrick Clapton is an English rock and blues guitarist, singer and songwriter. He is the only three-time inductee to the Rock and Roll Hall of Fame, once as a solo artist and separately as a member of the Yardbirds and Cream. He has also been a member of Derek and the Dominos.
14 places between Clapton and Robert Johnson, Clapton's self professed greatest guitarist and inspiration ever. What's wrong with this ranking? Everyones got an opinion granted but this is way off. Clapton's most technical and creative outing was with Cream which was obviously a blatant ape at The Jimi Hendrix experience including that ridiculous afro hairdo he spotted. But unfortunately while Cream was great in their own way, it did not have the impactful innovativeness of the jimi hendrix experience. With just 3 albums the boundaries of blues, rock, funk, psychedelia were pushed to new grounds. And No. Blue eyes blue, change the world and tears in heaven are not exactly ground breaking. Nice songs though.
Face it. Vaughan and Hendrix are dead. As in gone. Bye bye. And while they were with us they played only one style of guitar. Ever. Clapton has been with us half a century, is still with us, is still evolving and has mastered every style he encountered including reggae, acid rock, delta blues, gospel, bluegrass, southern rock... the list keeps getting longer. Nobody has EVER done that before. I doubt anyone ever will again.
3
B.B. King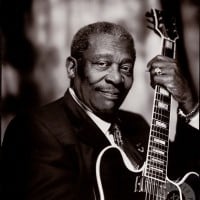 Riley B. "B.B." King was an American blues singer, electric guitarist, songwriter, and record producer.
Made just as huge impact on blues as Albert King. A true legend that can't be replaced. Hard to say which one of them is better guitarist they are both legends.
I accidentally scrolled through and past B.B. S name on the list, and you're right! 47th on the list will NOT do! He is by FAR (with the exception of Stevie Ray) the most talented. Blues guitarists of all time!
The greatest guitarist ever. PERIOD. Why is he not in the top 3?
4
Robert Johnson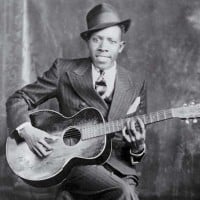 Robert Leroy Johnson was an American blues singer-songwriter and musician. His landmark recordings in 1936 and 1937 display a combination of singing, guitar skills, and songwriting talent that has influenced later generations of musicians.

Johnson died in 1938 at the age of 27. The exact circumstances of his death are still unclear today. His death makes him one of the earliest members of the... read more
Robert Johnson is one of the best, if not the best blues guitarist of all time. This list alone just shows how little people know about the blues, and music in general, Robert Johnson 48th "most talented blues guitarist" (at the time this comment was posted. And he is not even the best, where is Son House? Where is Charlie Patton, literally the godfather of the blues... Oh well
An innovator at a time when there was less information and it was much more difficult to excel in the manner Johnson did. This is why he is considered "ahead of his time".
I personally think that Johnson is overrated. He had innovative songwriting, but his guitar playing wasn't as challenging as it sounded.
5
Buddy Guy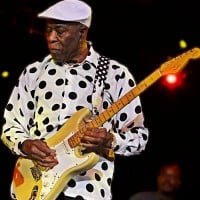 George "Buddy" Guy is an American blues guitarist and singer. He is an exponent of Chicago blues and has influenced guitarists including Jimi Hendrix, Eric Clapton, Jimmy Page, Keith Richards, Jeff Beck, John Mayer and Stevie Ray Vaughan.
Buddy invented the electric blues! BB King and Muddy Waters were his idols and predecessors, but no one else played with the volcanic intensity he did right through the 60's, 70's and 80's through to today! To mention the others on this list without Buddy leading this list is laughable! Now, at 78, Buddy plays and sings as intensely as he ever did. Long live Buddy Guy!
Buddy Guy is at the pinnacle of Chicago blues, with enough technique to outpace many of the older blues masters but vastly more soul in his playing than the contemporary style-over-substance figures who play an altogether too large role on this list.
Isn't it odd that Buddy Guy is the only black blues artist on the list? In fact all the others should be called "contemporary" blues artist. Guy is the only true blues guitarist on the list. You missed a bunch of great ones...
6
Joe Bonamassa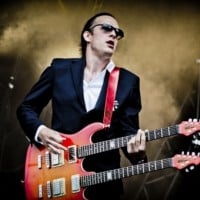 Joe Bonamassa is an American blues rock guitarist, singer and songwriter. When he was only 12 years old, Bonamassa opened for B.B. King. He was born 8th May 1977. He is known to be one of the greatest blues guitarists ever.
In his own words - " its 50% music and 50% business. With wobble heads, mugs, T shirts, hoodies, he walks the talk. Yes he can channel Clapton, BB king and Albert King convincingly and also does an excellent impersonation of Eric Johnson when shredding. Finally he gives great live shows. BUT to be in the top 5 in any list, a guitarist has to bring something new to the table. The only way Bonamassa qualifies to be in the TOP 5 of this list is if this list is based on the MOST impressive guitar / amp collection...
Joe is the Blues. Saw him live recently. Great seats. He plays the guitar better than any other Blues player I've seen or heard. His singing has also improved exponentially. Not much of a personality, just pure Blues business in a classy way. Show started at exactly 8pm, to the second. This guy plays articulately, with great speed. He sweats like a true pro. Can't wait to see the hardest working Blues giant again. The band is so tight, it's scary. Pure Tonal Heaven
7
Albert King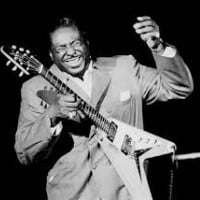 Albert King Nelson, known professionally as Albert King, was an American blues guitarist and singer, and a major influence in the world of blues guitar playing.
Extraordinary guitarist and a master of a single string solos. His bends and vibratos had a huge impact on generations after him. For example SRV to just name a few.
Extraordinary voice as well. Also my personal favourite.
Albert is the best there is... White guys like clapton and all the rest are just copy cats. They can play, for sure but do they really have it... I don't think so. The guy who came the closest was SRV
What do SRV, Clapton, Moore,... at the time of smashing through to mainstream, have in common?
The all copied "word for word" Albert King licks!
8
Muddy Waters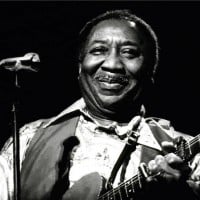 McKinley Morganfield, known by his stage name Muddy Waters, was an American blues musician who is often cited as the "father of modern Chicago blues".
The absolute king of blues!
9
Gary Moore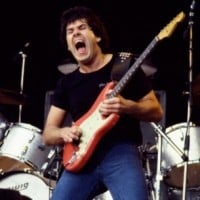 Robert William Gary Moore was a Northern Irish musician, most widely recognised as a singer, songwriter, and virtuoso rock and blues guitarist.
The reason Gary Moore wasn't number one is because not that many people ever heard him play. I've heard all these players, Stevie Ray could come close, and maybe Bonamassa too, but unless you listen to everything he has done, you won't agree. He didn't just play blues, he played psychedelic and progressive rock with Skid Row, In Colossium II he played progressive rock-jazz fusion with some of his very best guitar work, then to Thin Lizzy and solo albums with just good heavy metal rock out, and finally grasped on to the blues. With Albert Collins "Live At MontrenX" the best Blues I've ever heard and a great Texas Strut tribute to Stevie. His licks aren't just fast and clean but with real feeling and soul.
Gary Moore is definitely the best blues guitarist of all time - even Joe Bonamassa actually acknowledged his main influence was Moore in a video on youtube. I'm surprised he not in the top 5... As or other styles he could play them all - his prog rock with Coloseum 2 was superb. You have ti remember that Moore was around from the late 60s doing this thing and he was considered one of the best guitarists in the UK at that time too - even Peter Green agreed with that - so all the ones that came after were at least a little influenced by him. I know I was hugely influenced by Moore when I started playing in 1980, but for his metal stuff. He brilliant a so many genres he must be in line for one of the best of all time overall, let alone just blues. RIP Gary
10
Jimi Hendrix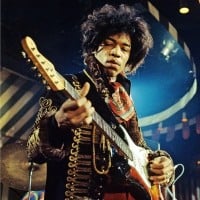 Jimi Hendrix (born November 27, 1942 - September 18, 1970) was an American rock guitarist, singer, and songwriter.

Although his mainstream career spanned only four years, he is widely regarded as one of the most influential electric guitarists in the history of popular music, and one of the most celebrated musicians of the 20th century. The Rock and Roll Hall of Fame describes him as "arguably... read more
Best guitarist ever, not just in blues but in everything. No one ever came close to replicating his style or writing blues and rock the way Hendrix did. Every note just filled itself with emotion, while innovation was greater than all other guitarists. He invented the classic distorted guitar sound while keeping his original the best. He created rhythms baselines and melodies all at the same time playing fast paced but still loyal to the blues tradition. Essentially every electric guitarist after him was influenced by him and respected him. Heal so respected all those before him, performing everything from Muddy Waters to Chuck Berry to Eric Clapton in his live shows. Woodstock and Monterey Pop were some of the greatest shows ever. Also those psychadelic posters of him make him look divine. RIP to the greatest guitar god
Jimi scared Clapton with his guitar playing. He freaked out a lot of people. Who else has really made that much of an impact? So he should be ahead of E.C. in this poll. Stevie got a lot of his chops from listening to Hendrix and other guitarists. The three I just mentioned turned the world on it's ear. Joe Bonamassa is no doubt very skilled at what he does, but is a product of these three. He is not an innovator or originator of anything, but is a great technical guitarist. However, Hendrix did more than just Blues. He was the most innovative and mind blowing guitarists of all time. The best? No such thing, but I'd put him at the top of this list!
The Newcomers
?
Lucky Peterson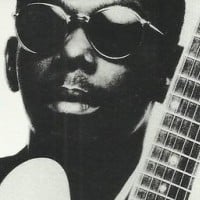 The Contenders
11
Elmore James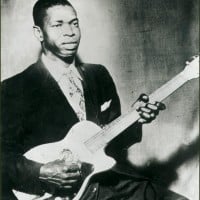 Elmore James was an American blues guitarist, singer, songwriter and bandleader. He was known as "King of the Slide Guitar" and was noted for his use of loud amplification and his stirring voice.
Let's see here. What rock n roll player who also plays good blues on this list before this man... Did not idolize him, and play his tunes?. The Sky is crying... Albert K and Stevie Ray. Bleeding Heart Jimi Hendrix. Jimi Hendrix had called himself "Jimi James at one point." Come on... Folks put away yer rock hats and put on yer Madison Blue Shoes...
Greatest slide player of all time.
12
Rory Gallagher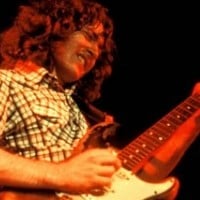 William Rory Gallagher was an Irish blues and rock multi-instrumentalist, songwriter, and bandleader.
I'd put Rory Gallagher at the number 2 spot personally...He was a way better guitar player than clapton. While Hendrix was a better guitar player, he really wasn't so much a blues player...so I'm not even sure if I'd put him on that list. Joe Bonamassa even says on a youtube interview that he doesn't consider himself at Rory's level (when he was being interviewed where he got to play Rory's guitar at 2 london gigs), while he, clapton, slash, gary moore and many others were very influenced by Rory's playing style.
My vote goes to the late great Corby Yates (1981-2012). I've seen all the greats. Corby was self taught from age 6. No one in history Ever played blues/rock guitar with the continuous ferocity than he. His shirt was drenched withheld sweat after the first song. He was as mild mannered and humble as they come, but Corby coulda mopped the floor with SRV. If you don't believe me, buy the "Into Oblovion" cd. Admittedly, it is a dark album, as it turns out that Corby was a paranoid schizophrenic, which led to his early passing. But if you listen to the heart and intensity he pours into his insane solos (he was also the singer), I think you'll become an instant admirer and fan.
13
Jay Jesse Johnson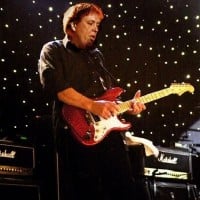 Merging the rock genre with the blues, Johnson has his own unique style and tone. It's blues based but he goes for it. Where others play it safe with same old riffs, Johnson digs in deep and creates a modern yet classic statement. Some say he's In the style of Trower, Travers and Marino and there is some truth to that but I think this guy stands up to some of the great guitarist of the world.
Been a fan of Jay's since the '80's when rock was his world; fast forward and Jay has matured into his own style of rock 'n blues. You can hear many of the great guitarist's influences in some of his music, but it is classic Jay Jesse Johnson's tone and inflection that comes through on every song. Hoping he will record his rendition of Over the Rainbow one of these days, as it is killer!
Jay Jesse Johnson music touches deep into my soul. He is and has his very own unique style but every now and then I hear...Roy Buchanan, Stevie Ray, Santana just touches of everything you love. I think Jay Jesse Johnson is a must see and one of the greatest guitarist I have ever had the pleasure of hearing.
14
John Lee Hooker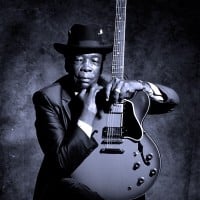 I can not believe that nobody ever wrote a comment about this legend guitarist of blues. The Groundhog, was one of mine and millions others favorites, very traditional, interpretative blues. honest and from the heart of a soul that beat in time with life. He will forever be a master in his field and cherished, loved, respected and constantly reminding people of how true the blues can be.
His rhythm guitar, I've never heard another musician play blues rhythm guitar as well!
A great blues guitarist and singer. Played by his own rules and unique as a result.
15
Roy Buchanan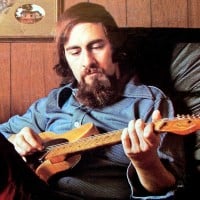 Roy was incredible live - Roy's Bluz, I'm Evil, The Messiah Will Come Again - had as much fireworks as a Hendrix or SRV. Definitely his older stuff was better and I especially liked that he was straight Telecaster and amp. His record "Second Album" is one of the best ever - Side 1 is a must listen - for me "5 String Blues" is electric blues guitar perfection (and he played most of it with only 5 strings! ).
I was just awe struck. Roy's music had me mesmerized for days after I first heard it. Made me want more. Too bad he died the way he did. I believe his death was a coverup. What do you think? The world was robbed of a great musician.
Anybody who is a real blues fan will know who Roy Buchanan is. he is the worlds greatest unknown blues guitarist as said by Rolling Stone. Just listen to some tracks like When a guitat plays the blues, his cover of Hey Joe and so many others. His guitar playing will put you in a trance.
16 Blind Lemon Jefferson
17
Johnny Winter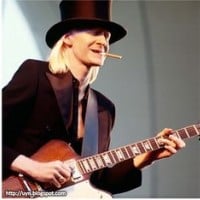 John Dawson Winter III, known as Johnny Winter, was an American musician, singer, songwriter, multi-instrumentalist and producer.
Number 23...really? May not be the greatest ever but certainly worth top ten considerations. Saw him in concert about twenty years ago...one of the greatest concerts I have ever attended.
Johnny Winter is the greatest guitar player that ever lived! He deserves the number one spot, a total insult to his talent having him at number nine!
Great List. Rarely see Roy, Rory and Johnny in same top ten. Hard to argue with Clapton's longevity but Beano was his biggest moment.
18
Jimmy Page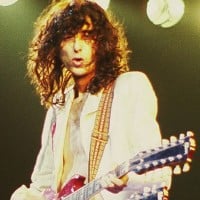 James Patrick Page is an English musician, songwriter, and record producer who achieved international success as the guitarist and founder of the rock band Led Zeppelin.
This guy is my all time favorite guitar player. He was as good at blues as any other blues guitarist and better. Listen to songs like Since I've been loving you, Traveling Riverside Blues, When the Levee Breaks, In my time of Dying and I can't Quit you baby and you will see what I'm talking about.

enough said
Even though he covered those old songs. Still he invented new techniques for playing it. Created heavier songs than the original songs. Greatly used hard rock and blues.
Whoooah, he's a bit low on this list. If you doubt it, listen to songs like Since I've Been Loving You and Heartbreaker, because he really has no rival when he does blues guitar.
19
Peter Green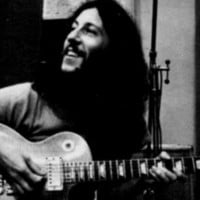 Peter Green was a British blues rock guitarist. As the founder of Fleetwood Mac, he was inducted into the Rock and Roll Hall of Fame in 1998.
A lot of people in the music industry seem to have forgotten that he even existed, but far as I'm concerned he will always be number 1. Even fifty years on I never tire of hearing him play, or sing the blues. As Mick Fleetwood said "Don't forget the voice". He could make a guitar talk and bring you to tears by the feeling that he put into his playing. Just listen to "The Stumble", the sublime "Slabo day" or The Supernatural" and you might appreciate what I mean!
Loved early Fleetwood Mac, Greatest Hits circa 1970 given to me by a mate led me to Then Play On, Mr Wonderful, Pious Bird and others.Great to be able to see some more footage now posted on YouTube.
Told my son Pete Green's Fleetwood Mac era is a different world to later band. He could not believe just how good he was, loved his soulful singing and haunting guitar.He found more tracks for me us to enjoy and remind me why I love his music so much.
20
Otis Rush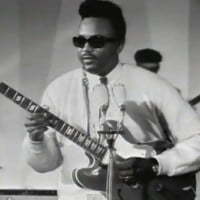 Me thinks this is a rock n roll guys who like or rate blues deal. Do not get me wrong. Love Stevie Ray. I would not have ever been bitten by the blues bug if it were not for Jimi Hendrix... Whose playing sent me on a search for more blues after he died and 70's rock got goofy and glam... But Otis Rush... Searing and biting sounds... Come on folks!
Ain't enough (votes) coming in.
21
David Gilmour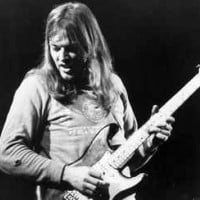 David Jon Gilmour is an English singer, songwriter, composer, multi-instrumentalist, and record producer. He joined the progressive rock band Pink Floyd as guitarist and co-lead vocalist in 1968.
Pink Floyd are not blues but David Gilmour is a blues guitarist who uses blues licks and scales in his and Pink Floyd songs. Some of the songs where he uses blues scales and licks: Wish You Were Here's riff is in a blues scale, Another Brick In The Wall Pt 2's blues-like guitar solo, he also uses some blues licks in Shine On. etc
David should be in the top ten. He has one of the greatest guitar solos of all time in Comfortably Numb. When you hear him play you know right away it's him.
22
John Mayer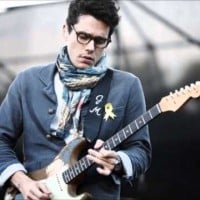 John Clayton Mayer is an American singer-songwriter, guitarist, and record producer. Born in Bridgeport, Connecticut, Mayer attended Berklee College of Music in Boston, but disenrolled and moved to Atlanta in 1997 with Clay Cook. Together, they formed a short-lived two-man band called Lo-Fi Masters.
Probably the most mechanically gifted guitar player still playing right now. People deny him his props because they don't like his pop songs, or his personality, or they're jealous of the fact that he can get any girl he wants. But let me tell you if you've listened to "Where the Light is: Live in L.A." or if you've just seen him play live at all and you refuse to believe that he is an insanley gifted with a guitar in his hand, there's something wrong with you. The man is a stud.
The new generation. He doesn't have any associated sound, because he is capable of every style that all revolves around the blues influence. He is the most versatile and academic musician alive today. Anyone who doubts his indubitable capabilities, please just watch the 'Where The Light Is' DVD.
"Where The Light Is" is by far the best thing ever he did! Blues is definitely in Mayer's heart. He inspired me a lot and thanks to him I now know a lot of blues artists that I got really inspired by them as well
23
T-Bone Walker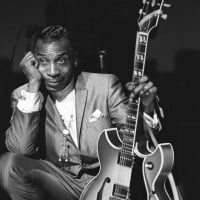 Aaron Thibeaux "T-Bone" Walker (May 28, 1910 - March 16, 1975) was an American blues musician, composer, songwriter and bandleader, who was a pioneer and innovator of the jump blues, West Coast blues, and electric blues sounds.
How is T-bone Walker not near the top of this list? He influenced nearly EVERY guitarist before him, either directly or indirectly. Hendrix learned how to play behind his neck by emulating him. Eric Clapton got his phrasing by emulating him. Stevie Ray and Albert King where also heavily influenced by him. And lets not forget to mention he was one of the first ones to pick up an electric guitar, which literally directly inspired BB King to start playing electric too.
Listen to the entire T-Bone Blues album and you will IMMEDIATELY understand that T-Bone is the greatest and most influential blues guitarist of all time.
T-bone. Awesome. And the world thought Jimi H was the first guy to play guitar behind his back or bite the strings with his teeth... Nope It was T bone. Love his "Two bones and a pick>"
24
Duane Allman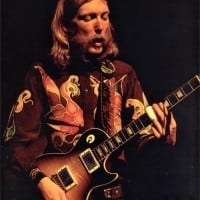 Howard Duane Allman was an American guitarist, session musician, and co-founder and leader of the Allman Brothers Band until his death in a motorcycle crash in 1971, when he was 24 years old.
Duane is not number one. Him and Dickey are #1. Here's why. They as a duo rewrote blues guitar. They showed the world that two guitarists when synchronized as one takes the whole definition of blues lead to whole new level. Never been matched since. Individually, it comes down to your choice since music is an art form. No problem. Combined, nothing has touched (before or after) the phrasing these two put together on the Live at Filmore album...and we haven't really thrown in that he rewrote the book on electric slide. Now I love SRV, cause I love the blues but Stevie's slide work reminds me of the slide work Fleetwood Mac played on their live Chicago album 20 years earlier.
Duane Allman was just 24 years old when he died. What he left behind in just a few short years was nothing short of amazing. Of course we all know about his great guitar work with the Allman Brothers but people often forget about all of his session work with the likes of Aretha Franklin, Wilson Pickett and so on. That's without his contribution to Derek & The Dominoes "Layla & other assorted love songs". Raw, powerful, bluesy/rock bordering sometimes on jazz... How good he could have been we will never know!
25
Alvin Lee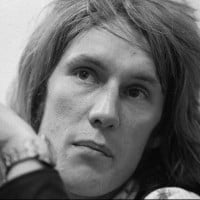 Alvin Lee was an English singer and guitarist, best known as the lead vocalist and lead guitarist of the blues rock band Ten Years After.
Saw him at long beach arena, ca. On the "cricklewood green" tour, blazing fast and technically perfect. for those into the blues listen to one of his last albums," the bluest blues". In a word... Aaamazing!
WHY isn't he on the list
Should be top 10
PSearch List