Sounds that Were Sampled in Hits
Nobody's ever made a list like this on this website in history, so here's a unique list I thought about & is clever. Everyday sounds & unique sounds that were sampled in hit songs.

The Top Ten

1 Australian Pedestrian Traffic Signal Stutters

These are heard when an Australian pedestrian traffic light says go, a stuttering sound that caught Billie Eilish's ears to sample it in her #1 hit Bad Guy. Yet she said "that sounds lit" & recorded a sample for her song. Bad Guy's unique for its authentic sounds including this & became her most popular song, ending the record-setting streak of Lil Nas X's Old Town Road (ft. Billy Ray Cyrus) as #1 on the Billboard Hot 100, breaking that record at the time.

Billie Eilish has lot's of weird sounds like that used in her music matches striking Invisalign being removed etc.

2 Airplane Roars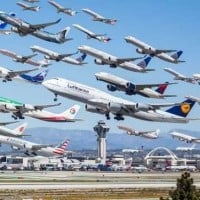 The roar of airplanes have been used in some songs such as electronic songs including Madonna's songs from her album Confessions on a Dancefloor.
3
Cat Meows & Purrs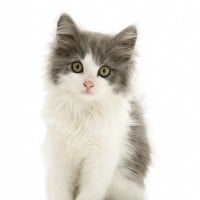 The meows & purrs of cats were sampled in the songs in Run the Jewels' album Run the Jewels 2.
4
Mario Coin Sounds
Mario's become really popular & the sound of the coins in the games are no exception. In fact they were sampled in Boys by Charli XCX pitched up by 2 keys.
5
Howie Dorough's Windbreak
His flatulence was recorded by Max Martin & sampled in the Backstreet Boys' song The Call. How crazy is that?
6
Loon Stutters
The stutter of a loon was sampled in Nicki Minaj's notorious song Anaconda which blatantly sampled Baby Got Back by Sir Mix-a-Lot even though the song's titled Anaconda which is a type of snake.
7
Elephant Trumpets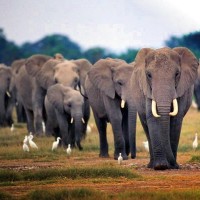 Elephants make trumpeting sounds which were not only sampled in the roars of tie fighters in Star Wars (which also sampled the sounds of road vehicles braking on wet roads), but were also sampled in Missy Elliot's song Work It (which sampled the drumbeat from Heart of Glass by Blondie). They were also sampled in Bang on the Drums All Day by Todd Rundgren.
8
Horse Neighs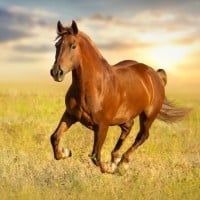 The neigh of a horse was sampled in many renditions of the song Sleigh Ride, which is fitting as animals like horses were related & especially the giddy-up line. They were also sampled in the song Bang on the Drums All Day by Todd Rundgren. Yet they were also sampled in Good Guys Only Win in Movies by Mel & Tim (which got sampled in Insane in the Brain by Cypress Hill) along with Insane in the Brain by Cypress Hill (which was sampled in Mambo No. 5 by Lou Bega) & the clean version of Sexting by Blood on the Dancefloor in place of the profanity.
9
Chicken Clucks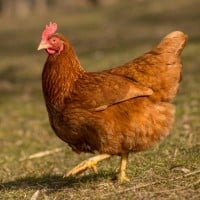 The song Bang on the Drums All Day by Todd Rundgren sampled the sounds of animals including chickens, which is crazy as animal sounds were a big part of the hit song. Yet they were also sampled in the clean version of Sexting by Blood on the Dancefloor in place of the profanity.
10
Water Dripping
Water drops are common sounds we hear everyday. In fact the sound of one was sampled in the song Labyrinth by Noah Cyrus. Such beautiful artistry sounds like this can make.
The Contenders
11
Gunshots
Lately music's been going dark down the road, some songs even sampled gunshots being fired. They were sampled in songs such as This Is America by Childish Gambino, Paper Planes by M.I.A. Pistol by goal sounds, No Face No Case by Vinny West & Whole Lotta Choppas by Sada Baby.
What about This is America?
12 Air Horns
13
Heart Beat
It's a known fact that Taylor Swift sampled her own heartbeat in Wildest Dreams. She captures a lot of attention for her reasons. Yet Halsey sampled her own heartbeat in the darker song Killing Boys.
Lorde did it as well in "The Louvre". I imagine there might be others.
14 Star Trek TNG Alarm Siren
15
Venus's Electromagnetic Waves
During NASA's missions to Venus, their spacecraft picked up electromagnetic waves. Teams converted those waves into sounds that we can hear. It's an ethereal & haunting sound. It was directly sampled in Forward by Beyonce in her 2016 album Lemonade.
16 Rooster Crows
17
Helicopter Roar
The song Another Brick on the Wall by Pink Floyd sampled a helicopter's roar as the story included the Marine corps & troops. Though it wasn't Kobe Bryant's helicopter. R.I.P. Kobe & Gigi.
18
3-Series (F30) BMW Start Up Chime
The startup chime of a 3-Series (F30) BMW was sampled in Sad by XXXTentacion. His death was a sad day for the rap & general music industry. R.I.P. XXXTentacion (1998-2018).
19
Phone Number Dial Tone
The dial tone heard when you press a phone number button was sampled in I Like Him by Princess Nokia as well as Bel Me by the Hydroboys (which was eventually sampled in Bel Mercy by Jengi).
20
Busy Phone Tone
It was sampled in the live version of Hung Up by Madonna as well as Telephone by Lady Gaga.
21
Alarm Clock Ring
The familiar sound of an alarm clock ticking & ringing was sampled in Hung Up by Madonna, her greatest dance song of all time.
22 Cash Register
23
Squeaky Bed Springs
The sounds of bed springs squeaking were directly sampled in songs such as Some Cut by Trillville, Marvin Gaye & Chardonnay by Big Sean ft. Kanye West & Roscoe Dash, Bad by Wale ft. Tiara Thomas, Up by Cardi B, BIG by Kendra Jae & Boy's a Liar by Pink Pantheress as well as many Jersey club remixes. Plus many remixes of modern songs sampled it too.
24
School Bell Ringing
It got sampled in many songs. The latest hit to sample it was Ain't My Fault by Zara Larsson.
25 Church Bells
PSearch List