Top 10 Most Painful Chokes in Pro Golf History
Continuing the Most Painful Chokes trend we have a sport I've never actually covered on this account. That's right we'll talk about Golf here there's been some pretty dramatic finishes believe it or not it's actually more interesting than you think even if you're not a golf person. I'm basing this list off how large and how painful the chokes were. So without further ado here's the most painful chokes in professional golf.

The Top Ten

1 Jean van de Velde 1999 British Open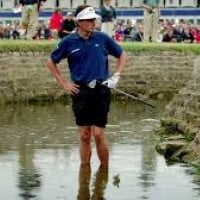 Van de Velde was basically a journeyman player on the European Tour, not a golfer who had much experience playing near the top of major championship leaderboards. But he reached the 18th tee with a three-stroke lead. It seemed as if the tournament was already over. He could double bogey and still win but He ended with a triple-bogey thanks to bad shots and poor decision making. Van de Velde found the rough, the sand, the water and even the grandstands. He at least salvaged a playoff but that also didn't go so well. He blew it all in one hole and even worse is he'd probably take a second place finish if you told him he'd finish 2nd before the tournament. It was an unbelievable choke at the worst time possible
2
Arnold Palmer 1966 US Open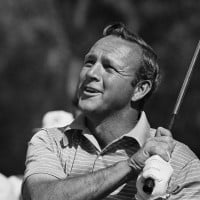 Arnold Daniel Palmer was an American professional golfer who is generally regarded as one of the greatest players in the sport's history.
Palmer had a 7 shot lead in the final round... and lost. Billy Casper meanwhile was lights out. Arnie gave up a stroke on the 10th, then lost another on the 13th. The players tied on the 14th which left Palmer with a five-stroke lead with four holes to play. Palmer gave two back at the 15th, then gave up another two on the 16th. When Palmer bogeyed the 17th, the entire seven-stroke lead was gone. Palmer and Casper were tied. He at least salvaged a playoff but blew that as well Palmer let a lead slip away. Arnie was up by two in the playoff with eight holes to go but gave up six shots over the remaining holes. Casper won the playoff, 69 to 73, and the U.S. Open.
3
Jordan Spieth 2016 Masters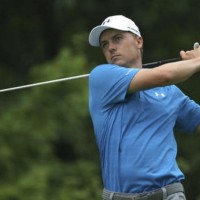 Spieth appeared to be cruising to his second consecutive Masters title: He birdied the final four holes of the front nine to take a five-stroke lead with nine holes to play. It seemed like it was over. Bogeys on the 10th and 11th didn't appear too worrying. But then, disaster hit on 12 Spieth chunked two balls into the water on the par-3 and wound up with a quadruple-bogey 7. In a stretch of three holes, he lost six shots and dropped from five ahead to three behind. He at least tried to come back but that stretch was so devastating he couldn't come back and lost by two.
4
Greg Norman 1996 Masters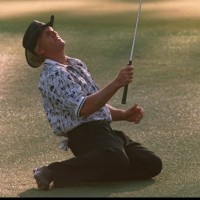 No other golfer of his generation had a career that combined bad luck with sometimes bad nerves in critical situations. Norman seemed snakebit, and he also blew his share of tournaments. Still, his career was stellar: 20 wins and two majors. A definite Hall of Famer. Norman had come close at Augusta before, and 1996 seemed like his year to finally win it. Norman played great over the first three rounds of the
1996 Masters, including a course-record 63 in the first round. He entered the final round with a six-shot lead over Nick Faldo. But from the start, Norman's game was off, and Faldo was on fire. Norman's lead disappeared quickly, and he never regained it. While Faldo finished with a 67, Norman was on his way to five bogeys and two double-bogeys. When he put his tee shot in the water on No. 12, Norman's fate seemed sealed, and the remaining holes had the feeling of a funeral procession. Faldo shot 67 while Norman shot 78 so he went from up 6 to down 5 in a massive whirlwind of a ...more
5
Scott Hoch 1989 Masters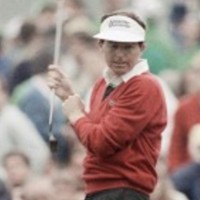 Hoch was an excellent player for a long time but one without a major championship. He should have won the 1989 Masters, but lost it. Hoch led
Nick Faldo by one at No. 17, but missed a relatively short par putt and fell back into a tie. Hoch and Faldo tied on No. 18, so they went to a sudden-death playoff. Faldo struggled to a bogey 5. Hoch was left with a birdie putt meaning he could two-putt and win the Masters. Unfortunately he took 3 putts to tie it up and basically over analyzed his 2 1/2 foot putt that would've won him the Masters instead Faldo won it on the next hole
6
Ed Sneed 1979 Masters
Sneed was a solid player for most of his career but the 1979 Masters was his best shot at a major. He began the final round with a five-stroke lead and kept a relatively comfortable lead of a few strokes through most of the day. Then things took a turn for the worse With a three-shot lead and three holes to play, Sneed proceeded to bogey the 16th, 17th, and 18th holes. On all 3 of those holes he was on the edge of the cup for par. He ended up losing a playoff to Fuzzy Zoeller
7
Rory McIlroy 2011 Masters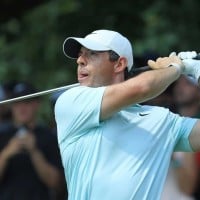 The young Irish phenom began the final round with a four-stroke lead. But he fell apart beginning on the 10th tee, eventually finishing with an 80 to drop all the way to 15th place. His drive on No. 10 wound up between two of Augusta National's cabins, deep in the woods — a part of the course that might never have been shown on television otherwise. He triple-bogeyed that hole and followed it with a bogey on the 11th and a double-bogey on the 12th.
8
Phil Mickelson 2006 US Open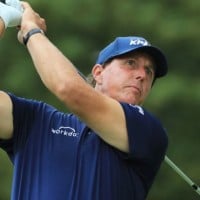 Mickelson started his career 0-for-46 in majors, then changed his approach. He dialed back the aggression and started making much better course management decisions. And it paid off: He entered the 2006 U.S. Open at Winged Foot going for his fourth career major and third in a row. He almost had it But then he reverted to his previous form. His driver deserted him all through the final round (he even hit into a trash can on No. 17), yet he kept hitting it, and his decision-making deserted him on the final hole. Mickelson had a one-stroke lead as he stood on the 18th tee. Despite hitting only two fairways all day, he pulled the driver again. And again, he missed — only this time badly, his drive hitting the roof of a hospitality tent and bounding into the spectator area. In normal circumstances a player would likely hit the ball out to the Fairway with a "punch out" instead Mickelson tried to curve around the tree and it didn't work. He double bogeyed and finished one shot back of a ...more
9
Adam Scott 2012 British Open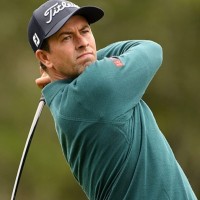 He appeared poised to finally get that major at the 2012 British Open, which he opened by shooting 64 in the first round. Scott began the final round with a four-stroke lead and appeared in control throughout the final round. As he stood on the 15th tee, Scott held a four-stroke lead and was five ahead of
Ernie Els. Just after Scott striped a perfect drive on 15, Els, a couple groups ahead, made a birdie on the 16th to get within four. He bogeyed the last four holes, while Els rallied, including a birdie on the last, to beat Scott by one. Scott didn't blow up on any of the last four holes, he just made simple mistakes on each one
10
Lorena Ochoa 2005 US Women's Open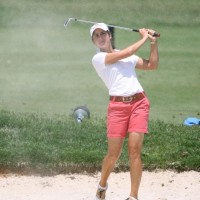 In a critical point in this tournament Ochoa hit one of the worst drives possible at the worst possible time She had rallied throughout the day from well back and was in a position to win, or at least get into a playoff. The 18th hole at Cherry Hills required the players to aim right, cutting off part of a lake and carrying the ball to the fairway. Ochoa's drive never even had a chance of hitting land. After her second drive her approach shot was in the grandstands. She ended with a quadruple bogey and finished 4 shots back
BAdd New Item