Top Ten Best Skateboard Shoes
The Top Ten
1
Vans
Vans is the #1 Skate shoe in the world. It's a fact not just some random guy talking! They are the original and first skate shoe ever made. The HalfCab isn't only the longest existing skate performance shoe in the world its also the most sold making it the best skate shoe period. Vans is sold in over 170 countries and all other skate brands take after the original styles that vans has brought to the table since 1966. Know your facts people.
Van shoes are stiff on your feet once you try them on you feet. There's not enough cusion on the bottom, I wore mine for 1 year and whenever I flex my ankles they would start to hurt. It felt like you were standing on a concrete floor barefoot. In a few weeks the soles would start to fade and in a month there would be holes even a small puddle could wet my socks. Have you even seen those pictures of vans worn out to death on Google?
Vans are awesome! I just started skating, and I needed a shoe. After lots of research, I settled on Vans. These shoes are very comfortable and have the best arch support a skate shoe could have. I have flat feet, so I needed comfy shoes with good arch support. I love Vans and always will! They also have a great grip with the waffle bottoms. Buy these, they are inexpensive and worth every penny of my $50!
I have skated Nike and Converse, but Imma say that Vans are the best around. The original and the greatest. I'm skating the Old Skool model and they have amazing board feel, shocking comfort and awesome cushioning for doing gaps and drops. My only critism with this shoe is the canvas in the middle. Skater owned brands know what they are doing!
2
Fallen
I've skated for Fallen for over 2 years now and they've never let me down. They're super durable and solid. When you're not skating, they make some sick kicks. Vans aren't what they used to be. They are now cheap and like DC, use low grade glue and material to make their shoes. Fallen should be the #1 shoe.
I love the board feel, the way they flick and the durability. The sole of them last very well, seeing as they usually die first when I get new shoes. The one bad thing is that the insoles are kinda crappy but I took em out and whacked some FP's in and its all good. Highly recommended!
Awesome skate shoes. They hold up for a long time and they fell great on your feet. I got a pair of fallen X Saint archer and they are the greatest shoes I have ever worn.
Fallen is my favorite shoe. They are super comfortable and protective and gives a good grip. Lakai is definitely my 2nd favorite shoe because they are like fallen but a lil thinner
3
Lakai
Despite I only bought 2 pairs until now it was enough to become my favorite skating shoe. They are comfortable with this awesome fitting feature and they look awesome while not so mainstream and poser like dc's. Last but no least they are super durable and they last more than 2 months even with hardcore skateboarding.
I have had the Carroll selects and they where amazing, but the only problem is I have rolled my ankle many times with those shoes. I highly recommend them. I have had the Reynolds Emerica low and they skate nice and last long, its just they're a little heavy and don't really have as much board feel.
Just got a pair of the manchesters, and may I say, the suede is 2nd to NONE. Plus the feel is so nice. May be because I haven't owned a pair of shoes in like 2 years. Before I got these, I ordered a pair of addidas Silas SLR, boy was I disapointed. The grip on the heel sticks out like s nose, and were tight as heck, so I returned for these bad boys, the old manchesters. Iam very satisfied.
Great shoes, bought them a little while ago and skate them almost everyday and they are holding up well unlike some other shoes I have bought. Not to mention the sick designs and great board feel and flexibility
4
Emerica
First pair of real skate shoes I have owned. I bought my first which were the Reynolds 3 Low Vulc. They Lasted me around 6 months and started falling to pieces around 4months but have finally gave up on me. I am now considering getting either Emerica, Lakai or Fallen and will probably wear the same brands till I die unless some crazy shoe comes out.

I want Herman G6 *without vulc* but I can't seem to find any my size. I am from the UK so it's harder to get them.

I may end up getting Lakai Brea/Manchester/Fura or The Herman G6 Vulc version instead as they have them in my size.

Love Emerica Shoes. Don't know why people always go for stupid expensive and not well made shoes.
Just switched from Vans to Emerica. Emerica are very small looking shoes contrary to my vans that were very wide and somewhat blocky. The Emerica shoes are very light and it doesn't feel like I am walking on a block of wood. In my opinion these are the best shoes to skate in, style is amazing, comfort is beyond that of any other shoe I have worn, and "Skate Effectiveness" is unmatched. Thank You to a close friend that advised me to go with Emerica shoes.
In not going to be like everyone else and complain how the brand isn't number 1. This poll isn't based on fact, only opinion. So yeah, some brands could be elsewhere on the list but the more people that vote for their favourite brand, the higher up the list it will be, even if it shouldn't be. I think emericas are great shoes but I can't prove that there number one. That's my thought
Two words: amzing skaters. This company is extremely amazing. thy had some of the best skaters and videos of all time! They changed skate shoes for the better and the shoes are perfect for skating! Might rip but don't tear through at all so it doesn't matter best cushioning and flick. emerica rules! I'm rocking the 2013 reynolds right now by the way.
5
Nike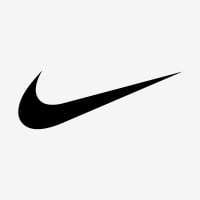 Nike, Inc. is an American multinational corporation that is engaged in the design, development, manufacturing, and worldwide marketing and sales of footwear, apparel, equipment, accessories, and services. The company is headquartered near Beaverton, Oregon, in the Portland metropolitan area. It is the world's largest supplier of athletic shoes and apparel and a major manufacturer of sports equipment, with revenue in excess of US$37.4 billion in its fiscal year 2020 (ending May 31, 2020). As of 2020, it employed 76,700 people worldwide.
In 2020 the brand alone was valued in excess of $32 billion, making it the most valuable brand among sports businesses. ...read more.
Ill add a vote to Nike simply for making vans look even better. Its as easy as pie, next time you go to buy Nike SBs take pictures of all the different styles you like then walk to your nearest vans store and see which shoes they look like. They are fancier copies 70% of the time. Vans made skating a real sport by making the first skate shoe ever. Yes the first ever. Know your facts, it sounds like a bounch of 13 year olds are posting to this.
Best skate shoe I've had. Just slightly better than Adidas which has better grip, but better than emerica, DC, Osiris, Supra and Vans. And definitely better than Lakai, which lasted 3 days. They may seem corporate to some people but they make some of the best shoes on the market worn by some of the world's best skaters.
I skated in Nike SB's and being honest they felt great they are also cushioned in the bottom. So when your jumping of a ledge or something like that, it doesn't really hurt plus I didn't get no hole on them and I had them for well over a year. My opinion is that Nike SB's should be on top of the list because I think they are the best.
Gonna try out the newest P-rod pro model for Christmas, and I trust nike to make good light flexible, and stylish Skate shoes, and I mean, if paul rodriguez skates in em then they have to be good!
6
DC
I think DC shoes makes a lot of good products and they will always be cool. They also make very good skateboarding shoes which look awesome. I think Nike SB is cool too. Their new Omar Salazar shoe is sick! What I don't understand is how Supra Footwear didn't get into the top ten, I mean it is the most durable skateboarding shoe of all and look stylish too.
Iv had my dc skateboarding shoes for about a year and I am rough with them. They havnt even started to fall apart yet. I think DC shoes are great comfortable, affordable, durable shoes you can get.

Other shoes like vans and nikes. I tried using them but when your actually skateboarding a lot, they start falling apart. So those don't last as long as DCs do.
Best skate shoes ever, comfortable, reliable, they catch on the skate's grips really well, their thickness allows them to endure tons of tricks and they endure any weather, wether it's rain, snow, sunshine (obviously), and they look good, what's not to love about them?
I think DC shoes are the most stable shoes ever! They're so comfortable and easy to slide your feet for tricks in. I've had 4 pairs of DC shoes for three years and neither of them are broke the are the best skating shoe in my opinion.
7
Etnies
Etnies are simply the best skate shoe out there I have been skating etnies for a while now and I have never skated a better shoe and I have skated many shoes (vans, world industries, nike SB, DC, DVS, osiris, fallen) etnies have a great gripy long lasting grip, their very durable, a bunch of board feel, flexibility, and durability. Also have a wide variety of shoes unlike other brands. So if you are going to get skating shoes get etnies.
I got a pair today and so far I can see I will put holes in them quickly. But then again I was practicing heel flips all day. I got some heavily hard canvas which wasn't the best choice but it should do the same duty. I'll admit they look amazing though! Apart from that shoo goo will solve my problems.
Every skate shoes look the same, but hey, try Etnies when you land. Price, durability, and the feeling after landing - comfy; all are scored high. Perhaps it is not the best, but surely it is the one you love most.
Has both the comfiness and durability of a bulky shoe but light enough for good board feel to get the job done - they are also the comfiest brand I've ever worn and I'm not even sponsored by them.
8
Supra
I've had my Supra Stacks 1 for 4 years now. Skated plenty and decided to buy another pair. From day 1 they have been the most comfortable shoes I've ever owned. There is 0 break in time, and they still are just as comfortable as ever. I will never buy another pair of Vans. They are incredibly uncomfortable, flat and painful.
SUPRAS are the best they are so good its unbelievible I' m they have the best riders and shoes I have the amigo, skytopI, and the passion they have such good cushioning. Nike's aren't that good they last 2 weeks but they are comfortable. But what I want to know how is DC in 3rd place that's BS, DC last a week they suck. While supra last 3 to 2 months and I'm pretty hard skater overall get SUPRA!
I got a pair of muskas 2 months ago... honestly like six times better then my vans which wore out with in a month. My janoskis were the only shoes that lasted nearly as long and they still wore out in about two months. My Supras are still going strong and they have crazy good grip that only Nike could ever compare to. Vans sucks. Keep them on the wall please.
Supra is the best. I think the only reason they are in 8th is because posers vote for the cheap brands and they think the cheap brands are the best. But when supra is way better. I think fallen, emerica and supra should be the top 3 best.
9
Circa
I recently bought a pair, I'm a new skater, they are so comfy hoping they last long, really great grip, I know they go up too between 7-10 in the list!
I have a pair of gallants I skate with they are so sick, can Bend them any which way. So comfy I bought another haha
Circa's are the best shoes ever, they last very long and when they are worn out you still can uses them because they feel comfortable and grip the skateboard very well
This cool! I would like to buy one pair again!
10
Globe
I like all the padding around the ankle that globe has I find that it offers a snug yet flexible fit. I also like how the tongue is attached so it can't slide sown or off to one side. I love the secret pocket that most globe's have.
The most durable, comfortable and best looking. The best sole. I love their designs. I have had adidas and lakai and adidas was good but not durable and minus confortable. Lakai is very durable but not comfortable.
In my opinion, Globe is the best, even though is doesn't look the best, it has really good grip if you look at them. They are great for skating and look cool.
Globe are the best skate shoes ever you can grip the board so good with them they last a long time really good shoes my favorite.
The Contenders
11
eS
I voted for eS because a lot of the other brands like Vans, DC, Etnies etc are also warn by people who have no interest in Skating and just wear them for fashion especially Vans. I don't wan't to see Miley Cyrus in a pair of Vans who probably doesn't care about the history of the shoe. Don't have grudges for people who skate Vans like Geoff Rowley. Who comes from my home country UK. I am also fine with fans of skating wearing the shoes if they don't skate themselves. Just hate celebrities showing off in there Vans Off The wall as if they know a bit about the culture of where it started. That is why eS shoes are good because they are comfy to wear outside of skating to. Where as I find Vans rub at your heels and don't give good heel support. Es shoes feel like you are wearing a normal fashionable trainer but it has the grip for skating.
If eS was still in business I would definitely still rock their shoes. I had two pairs of the square twos and each pair lasted me around two and a half months. Yeah their shoes were sick.
ES for life, I've had dvs and dc but they are no match for them. I have the old 1997 black and tan ones. The best shoe I have everput on my feet. No more bruises or sores, just smooth riding and comfortableness.
STi technology system in this shoe is the bad ass sti tech than other sti shoes or others... Supports in this shoes help a beginner like me keep enjoy skateboarding
12
Adio
I love adios but I also like fallens and vans too. Their long lasting and comfortable I also wear adidas and nikes haha
Long lasting, and wicked sweet looking!
Actually this shoes suck It lasted me 5 weeks it was good I guess but they were cheap
13
huf
Huf is a good shoe brand but Nike's are way more comfortable.
Super! Long lasting all of the footbeds are made of impact gell they took me a year to wear down!
Boi these shoes are the best super comfy!
These are the best skate shoes ever. High classics kick ass. All hufs are awesome
14
Adidas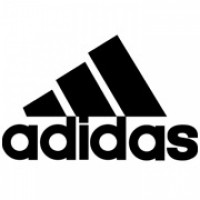 Adidas AG (stylized as adidas since 1949) is a German multinational corporation, founded and headquartered in Herzogenaurach, Bavaria, that designs and manufactures shoes, clothing and accessories. It is the largest sportswear manufacturer in Europe, and the second largest in the world, after Nike. It is the holding company for the Adidas Group, which consists 8.33% stake of the football club Bayern München, and Runtastic, an Austrian fitness technology company. Adidas' revenue for 2018 was listed at €21.915 billion. ...read more.
I have the Busenitz, and they are EXTREMELY COMFORTABLE and have AMAZING BOARD FEEL. They are pretty durable. I've had them for months now, and I skate a lot like every day, and I also wear them casually, so at school and stuff, and they haven't ripped, or the bottom has only worn a tiny bit, hardly noticeable. I've had Nikes and Vans, and I like Adidas a ton better, although the Nikes aren't too bad. And look at their team. It's so dope! I would recommend these to any skater. I don't know why they are so far back on the list right now! Again, they are super comfortable. It's like heaven when you put them on. And plus, they don't need any breaking in because honestly, they come broken in straight out of the box! Trust me, guys, you want Adidas.
Just got my new Adidas Busenitz yesturday. They feel amazing, look amazing, and fit amazing. I put them on and it was a different feeling than any other shoe I ever put on, but in a good way. They are the most comfortable shoes I have ever worn. They are super padded, so they fit a little smaller than the normal shoe, but not small enough to get a different size. They look amazing in every way and color. They absorb impact pretty well. I haven't put them through more than jumping over stuff at school but so far are great. I can't wait to skate them after my current skate shoes die.(I skate in slightly older broken in shoes until they die, then swap them out with the newer pair, they last longer that way.)
Below Converse? Below Adio? #15!?!?!?! What is wrong with everyone. These shoes give AMAZING flick, AMAZING board feel, so comfortable, look awesome... They don't last as much as Emerica, eS, Etnies or DC but its worth it, losing the durability and gaining flick power and board feel is so worth it.
Adidas are sick and great for sliding and flipping, I'm about to buy some new ones! Anyways I reomend it if you like that extra slide and grip, always helpful with tricks! To all the Adidas lovers check out Aaron Kyro he skates them a lot.
15
New Balance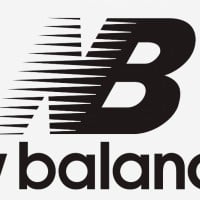 New Balance Athletics, Inc. (NB), best known as simply New Balance, is one of the world's major sports footwear and apparel manufacturers. Based in Boston, Massachusetts, the multinational corporation was founded in 1906 as the New Balance Arch Support Company.
A shoe company you would never think to make a skate shoe pulled it off fabulously. New to the game of the skate scene, but the quality and efficiency of these shoes will make you think they've been around for a long time. Not to mention they're comfortable, and look great! Definitely take a close look at these the next time you buy your next pair of skate shoes, if you decide to buy you won't be disappointed. Oh and if anything these shoes will last you a long time.
These shoes are amazing extremely, durable, comfortable, and great boardfeel also come with a decent price for the tech your getting out of the shoe.
16
Osiris
They look amazing. However, they aren't the most durable as far as actual skateboarding goes (varies from shoe to shoe though). Another huge upside to the brand is the variety. You can get almost any kind of skate shoe from osiris. High tops, low tops, net, running, and plenty of colors released all the time to fit anyone's choice of style. Osiris is renowned for the NYC 83 shoe, which is an excellent choice of style, comfort, and practicality. Probably not the best, but definitely a great choice.
Osiris are probably #2 because they look really awesome, and they have really good grip. They are so expensive because they are great for skating.
Good shoes. They skate well. But they offer no padding so don't try high impact stuff because your feet won't like it.
The very best; beyond comfortable and incredibly durable. If you take care of them, they'll last years.
17
DVS
DVS has it's ups and downs. But overall it's a really great shoe. Really durable. Nice boardfeel and some of their models have ollie area lace protection. My shoes are DVS Munitions and they skate really well it has a triple stitched toe cap also.
Love these. Supra makes good shoes but they're turning into just a celebrity popstar gimmick. DVS are original skate shoes, durable as can be and comfy on those steep drop-ins. Absolutely recommend. Osiris are decent but I can now see daylight through my pair
In the last year and a half I have worn nothing, but my one pair of dvs shoes.
They look worn out but the soul and everything else is still together.
And the bonus is I picked them up for $40

DVS keep making the good stuff!
DVS makes amazing shoes for both vert and street riders. Their ignitions are vulcanized so the have nice boardfeel and grip but they also have a fat toung for support
18
Converse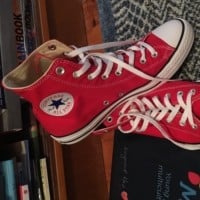 Converse is an American shoe company that designs, distributes, and licenses sneakers, skating shoes, lifestyle brand footwear, apparel, and accessories. Founded in 1908, it has been a subsidiary of Nike, Inc. since 2003.

During World War II, Converse shifted its manufacturing to make footwear for the military. It was one of the few producers of athletic shoes, and for over a half century the company dominated the American athletic shoe market. From the 1970s, the company lost its dominant position as competitors presented their own styles. ...read more.
I own an pair of the latest Aero S shoes from Converse Cons. They haven't ripped yet and I have skated them for an month now! I saw previous comments saying they suck? No they don't! If your talking about the canvas Chuck Taylor's then of course they are gonna suck, they're not meant for skating! But Cons are. The Aero S has great comfort and impact. If you don't have much money and need new kicks, I'd get these, they don't rip and they ARE meant for skating!
I've had a pair of converse for almost a year and I've only worn those because I have no other shoes so I wear them for everything, even skating and they're still holding up, no holes, tears, or anything like that.
I have the regular converse (Not the skate model) and the cap on the toes make the shoe extra durable. The high tops are a bit uncomfortable but last long. LIKE!
Vans wear out so quick. Converse are epic. Even such popular bands and companies do bussiness and design there shoes a lot and all definitely epic for skating
19
Zoo York
Really a good brand, and the progress is really great for a new brand!
The shoes are perfect and the balance is great.
20
Airwalk
These shoes have inspired skateboarding style. Just got some Mike V Brooklyn banks. They are great for skating
Are you serious airwalk? Does this even qualify as a skate shoes their the worst I did an ollie on them and the bottem fell off
These are skate shoes?
Yup. That skate brand does make shoes, and they aren't that bad. No, they are really cool, confortable,etc... They just need to be more popular
21
Element
I don't have any Element, and I never really wanted an Element shoe, but my friend has Element and I tried them and wanted them! They are great for skating and have good grip on the board.
Great comfortable shoe and they last forever for doing tricks! If you are wondering which ones I have they are the Element tacomas.
Element is the best! No competition
22
World Industries
I owned a pair of these and the shoes lasted only 2 months before they started to wear out. Really bad shoes, never buying a pair again.
23
IPath
Best shoes I ever had in my life! Tried many other shoes, but this lasts forever.
Great quality, really comfortable for long walks, can be used at rain, snow and such.
Other shoes that you can buy don't have seams (stitches) which are seamed through the whole side of shoe sole.
Must say that I suggest iPath to everyone that wants awesomely made comfortable everyday shoes! ;)
I suggest Grasshopper model
It's sad that they don't produce new models anymore, no Grasshopper or XT!
24
Crocs
I once did and quintuple flip down el toro with a pair of crocs super good and extremely lightweight and durable. Everybody are pose people.
Is this even a question? These are THE BEST skate shoes on the face of the Earth. If you do not wear them, you are definitely a poser.
Each hole is basically better pop. You need more holes to feel the amazing level of pop you get. Everyone on top is a poser!
I have never skated harder, faster and better. if you haven't skated on these you have never skated AT ALL.
25
Vox
Very appealing design, can be used for skating, bmx or casual use. I own a pair of the Savey and Duece both also very comfortable. Construction is much better than Vans.
There really good for tricks because there not so heavy like all skate shoes
PSearch List