Top Ten NBA Players with the Most Potential in 2020
Potential is something every NBA player has. Some maximize their potential others falter and never achieve it. These are the NBA players with the most potential in 2020. Remember this list is not about how good they are right now neither is it about their accomplishments. This is purely about potential.

The Top Ten

1 Zion Williamson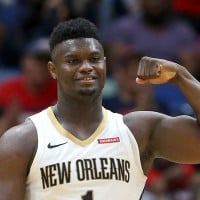 Zion has the most potential in the entire league. Is it fair to say he can be a top 3 player if he reaches his potential? He is a explosive athlete and showed promise with his jump shot. He was a good passer and he played hard defensively. He just needs to get his health under control then make sure he keeps his weight in a good area. He can be a great player in the future.
2
Michael Porter Jr

I can not tell you how much I like MPJ. This kid has so much potential if you let him play. He can score in bunches and he is very smart. I'm saying he can be a All-NBA player.
3
Ben Simmons

Benjamin David Simmons is an Australian professional basketball player for the Philadelphia 76ers of the National Basketball Association.
Just imagine Ben Simmons surrounded with shooters and defenders and a lob threat. That would be insane. I think Simmons can be a top five player if he had that kind of space. Then obviously if he grows any kind of three pointer, he will be unstoppable.
4
Ja Morant

Ja Morant is insane and I think he can get even better. Imagine Ja Morant surrounded by shooters, which is what the Grizzlies need to get. Ja could also get a more consistent jumper. With that he would be amazing.
5
Devin Booker

Devin Armani Booker is an American professional basketball player for the Phoenix Suns of the National Basketball Association.
Devin Booker has yet to be on a good team. Let's talk about Booker himself first. He needs to improve his playmaking and defense. The team though should surround him with defenders, shooters, and playmakers.
6
RJ Barrett

Now RJ has a lot to work on; his playmaking, his shooting, his dribbling, his decision making, and more. The Knicks really aren't doing him any favors though. Get Barrett shooters and defense and you will unlock his potential.
7
Trae Young

Here's the thing. The Hawks have to do more than this to get Trae unlocked. Capela is a good start, but they need a lot more shooting and definitely more defense. Trae needs to improve his efficiency and while he'll never be a good defender, he could at least show effort.
8
Jayson Tatum

Jayson Tatum is a weird one. I think a team built around Tatum has more potential than what they have now.
9
Bol Bol

Listen here. When you are someone Bol's height and skill set, you have potential. He will obviously have to manage his body and gain weight. He will also have to get quicker. If he can do these things, he could be a very good center.
10
Luka Doncic

The Contenders
11
Brandon Ingram

Brandon Xavier Ingram is an American professional basketball player for the New Orleans Pelicans of the National Basketball Association.
Ingram is not on a team that is surrounded to conform to him. Giving him his own team would increase his scoring output furthering the maximization of Ingram.
12
Bam Adebayo

13
LeBron James

LeBron Raymone James is an American professional basketball player for the Los Angeles Lakers of the National Basketball Association. LeBron has played for the Cleveland Cavaliers, Miami Heat, and the Lakers.
14
Giannis Antetokounmpo

Giannis Antetokounmpo is a Greek professional basketball player for the Milwaukee Bucks of the National Basketball Association.
15 LaMelo Ball
16
Lonzo Ball

BAdd New Item