Favorite Figure Skater of All Time
The Top Ten
1
Yuzuru Hanyu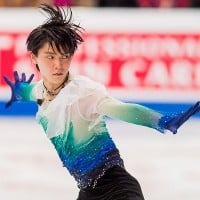 I think he is one of the biggest talents in figure skating history. He's very versatile and he has got the full package. His jumps are spectacular, his speed is amazing, his presence on the ice is immense. And he is so captivating it really is a huge fun to watch him compete. What I especially love about him is his will to compete against all odds. He has a spirit of a top athlete. And he has his charm and artistic mind. Wish him good luck. He's the best of the best, one of a kind, an alien. Happy to be a witness of his success. Well- deserved one.
One need not look further than this season for a testament to Yuzuru Hanyu's amazing athleticism, steely tenacity, and insane growth. From a crash in CoC to absolute victory at the Grand Prix Final. From a 20% success rate on the quad salchow to beautiful, GOE-heavy quads. Now the kid is even predicting the era of quintuples. That sounds crazy, but coming from Yuzuru, it's matter-of-fact. What can we say? He's clearly beyond the level of mere humans.
I've been an FS fan for almost 30 years now, but there has never been a figure skater like Yuzuru Hanyu. Aside from his technical skills, his artistry and the beauty derived from his performances are just breathtaking. He is beautiful inside and out. His performances, which show his soul, will grab you and speak to your heart. At only 20 years old, he has gone through so many things - ups and downs. That itself would make him a special person, but he doesn't act like it at all. He just wants to be a figure skater. His heart and soul shine, and he has become the role model for many of us all over the world. He is and will be my favorite figure skater forever.
Not only is he a brilliant skater, athlete, and artist, but he is also a very fine human being. He possesses dignity, compassion, and humility. He is a complete sportsman, cheering for and congratulating rivals despite his "hate to lose" personality. His intelligence and maturity, beyond his years, are always evident in his interviews. On the other hand, he has a very playful sense of humor and a childlike side that endears him to everyone. He exhibits a tremendous ability to face and overcome adversity and challenges.
2
Yulia Lipnitskaya
Yulia's spins are out of this world. No one can touch her flexibility, the ingenuity of her positions, her speed and the overall beauty of a spinning Yulia Lipnitskaya. If I were a judge, Yulia would be the only one who gets Level 4 on spins - her level 4s just cannot be compared to the others in the field. Take a Biellmann - most skaters struggle to do one, let alone a hyperextended Biellmann, and even when they hit the position they merely turn slowly for 3 to 4 rounds. Not Yulia. Yulia's thigh practically touches her head and she spins her Biellmann at a wonderful speed rarely seen among top skaters. Queen of spins and spirals, Yulia Lipnitskaya.
I love her for her musicality. I play classical piano, and I can't believe how well she can 'feel' and enjoy the music. She also chooses her music herself. All of her music is always heartbreakingly beautiful and easy on the ears. She knows what she can do, and she takes it all to the max. Her spins are amazing to watch, just like a dancer or a gymnast. She has beautiful extensions and showcases fluidity in all of her movements. She has the spark that will certainly prove that she is the best in the near future.
First of all, I would like to share their impression of the rentals Julia.. Do not lie if I say that after the short program in the team competition, went under the impression week. I very much liked figure skating at all Olympic Games only look at the sport as possible trying not to miss the championship worlds and Europe, but in the last few years have not been able, up to the Olympics, look at the competition. Easy riding, smooth motion and rotation is breathtaking at the end I was incredibly inspired. I understand that, perhaps even under ideal rental in the women's singles competitions Julia could not get gold, but, in my opinion, is not so important points as important to convey power. If I was asked who my favorite athlete, I would say it was her name. :)

I wish Julia forces, which will be enough to become even more powerful skater, which is enough to maintain the spirit. Just I hope that with age, it does not lose its flavor, which inspires people.
Julia, on you in connection with such a rapid take-off fell enormous popularity. Of course, I do not know how you really feel about it, but, judging by the picture about introverts on your page, just popularity and fame - it's not something that you aspire to in life. I hope and I wish you never to you it's not worried and did not hurt. Do you have a business of your life, and in it you've succeeded. It is more important than any of popularity and the opinions of others. Especially - more important than any criticism of those who do not have any of its own success, no relation to yours.

What does your success is much more important is the fact that you made them, remaining pure human soul. Well, because when and what could be guilty catch 16-year-old little baby, from an early age did not disappear on gates or front of the T.V. and on the rink? )

Stay the same light, and do not let anyone involve themselves in any dirt.
3
Daisuke Takahashi
I've been lucky to see all the great legends of these past decades... And I'm so happy to have been able to see arise one of the most exciting element in the male ice skating. Daisuke Takahashi is for me the ultimate star of the ice world. He has invention and genius as Toller Cranston had in his time. Elegance and sensibility. But also brilliant technique. For once, the jumps were in the background. And the quality of the skating, the meaning of each movement were sculpting something unique. I miss his performing every day. But I'm grateful for what he has offered to his public. May he be happy and blessed forever.
"How can we know the dancer from the dance? " Daisuke becomes one with the music in a way few if any other skaters have done. He is a skating dancer of genius, a choreographer's dream. He seems to be a very shy person off the ice, but on the ice we feel as though we see into his soul. He can glide softly and slowly with intense inward lyricism and his blades can glitter with the exuberant, charismatic displays of bravura footwork that skating fans adore so much. Also what is very special about Daisuke is his character -- he has been plagued by injuries but never complains or makes excuses. His answer is always "I must work harder and do better." His humility is almost embarrassing as I, a person of vastly less accomplishment, have far more pride than does this great skater. He is a humble genius among skaters.
The problem with this skater is that he is in a league of his own and does things that other skaters cannot even think of doing. In other words, he is too good to be compared to the rest of the pack in this sport.

What he does cannot be judged with numbers and figure, now that the sport is sadly only about numbers and figures.

He paved the way for all the rest coming after him without ever complaining and working hard without ever using illness or injuries as an excuse for any failure.

In a class of his own as an athlete and as a man.

He sure went down in the history of this sport and he will never be forgotten.
Charisma to burn - as one commentator said. At the moment his music starts play, the time stops and he takes you in another world. Every. Single. Time. No matter if it's a competition or a show. Only the greatest artists-performers have been able to achieve this unique state, to see something like this in sport - it's almost unbelievable. Whatever music you throw at him - he takes it and creates something special. His programs are not just points-grabbers, they're masterpieces, with jumps seamlessly woven into them, like precious gems in beautiful Jewelery.
He is special. He is genius. His talents exceed this sport, he belongs to ART.
4
Yuna Kim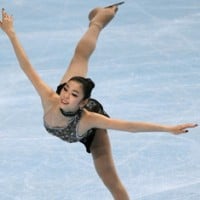 Yuna Kim is a truly phenomenon in figure skating. Her technical skills, speed, performance ability, emotional expressions, music choice, fashion sense and her personality are all almost perfect! Moreover, I do like the sound from her skating because it shows how professional and relaxed she is, even during major competitive tournaments; also, it does match the music very well. Some people said that Yuna looks so effortless when skating; but in my opinion, in order to be "effortless" like her, you have to have exceptional skills and spirit. Indeed, I could not see any ladies during Yuna Kim's era can have this "effortless" ability.
No matter what result this vote ends up with (fair or not), no one, even among all the skaters who are on this list, can deny the respect that Kim Yuna deserves. She is already in deep down everyone's heart the Queen of figure skating, and this feeling will remain for years to come.

Popularity can never stay forever, but respect is something that lasts. Although Kim Yuna is still extremely popular, but what makes her stand out from the rest is the deep respect people all over the world have for her.

She is sorely missed on the figure skating scene today. Even though she has already retired, I have no doubt she will continue to surprise and inspire us in many ways in the future, and I cannot wait to see that. This is the kind of person Kim Yuna is.
Her jump technique is textbook perfect which allows her to have the consistency of a top competitor, the speed in and out of her jumps are lovely to see and not only does she go up but she goes across the ice. Beautiful jumps, beautiful speed across the ice, beautiful costumes... However her lines aren't so great, she needs to point her toes and fully extend her legs. Most of her choreography is arms and look pretty much the same. Her artistry and facial expressions are questionable as well.

She was destined to be one of the best figure skaters of her generation, yet near the end of her career she stagnated. Her jump layout wasn't pushing the boundaries of her sport, her spins still weak, choreography looked the same... It's too bad because she could have been one of the best figure skaters in the world.

I'm a huge fan of Yuna but she kept it safe for most of her career, sure it gave her a chance to medal and even win an OG but to mark yourself known as one of the best ...more
Her jump technique is textbook-perfect, which allows her to have the consistency of a top competitor. The speed in and out of her jumps is lovely to see. Not only does she go up, but she also moves across the ice. Beautiful jumps, beautiful speed across the ice, beautiful costumes. However, her lines aren't so great. She needs to point her toes and fully extend her legs. Most of her choreography is arms and looks pretty much the same. Her artistry and facial expressions are questionable as well.

She was destined to be one of the best figure skaters of her generation, yet near the end of her career, she stagnated. Her jump layout wasn't pushing the boundaries of her sport, her spins were still weak, and her choreography looked the same. It's too bad because she could have been one of the best figure skaters in the world.

I'm a huge fan of Yuna, but she kept it safe for most of her career. Sure, it gave her a chance to medal and even win an Olympic Gold, but to mark ...more
5
Mao Asada
She was the most tweeted skater in the Sochi Olympics for a reason. As they say, it takes one to know one, and many of those tweets came from elite skaters. Unbeatable skating skills, divine musicality, wonderful spirals, breathtaking spins, and such determination set her apart. She pushes the technical envelope for female skaters more so than any other. She personifies artistry more than anyone else. She demonstrates sheer tenacity - more so than any other skater. So why is Mao Asada my favorite skater of all time? Her skating career speaks for itself. She may not always have the best skate, but she is always the best skater. She is *the* skater among skaters.
It looks like Mao is going to make a comeback! She has returned to practice at the home rink of her old coach Sato sensei who said that she is landing triple axels in practice. Some are good and some are not according to Coach Sato. She is supposed to make a decision and reveal it during her press conference for The Ice on May 18. Her skating hero Midori made a comeback so maybe she wants to follow in her footsteps. I will be waiting in eager anticipation until that day. To me, she is so far superior to everyone else skating at the moment. But then again I think she is the best ever. Here are lyrics from a song she played on her radio show by Ayumi Hamasaki:

If you've decided you'll go through with it at any cost,
It's time to keep your face up*

There isn't any answer, anywhere,
But this moment will not come again
Despite all the hardships she faced, she has never complained or blamed her results on them or on anyone else. She is one very classy lady, both on and off the ice. It's not just her technical ability, although people will automatically associate her with the triple axel. That's what I thought at first. But after I watched her skate for the first time, the jumps didn't matter to me at all. What mattered were her grace, exuberance, and that big, beautiful, radiant smile at the end. We've seen her at the top and during her hardest years in the sport, but she continued to persevere. Her Sochi FS truly captured who she is.
Yulia, I would like to say thank you! You gave us a dream you gave us her heavenly beauty! You're an angel, heaven sent to us! I would like to say that you will do it! I also want to say thank you to your mother and your coach Eteri! I, too, like many people in the country fell in love with you! And of course the heart bleeds, but I'm grateful for that, and I learned what true love! Julia, and at the end I want to wish you the most important and warm! I wish you health, so that every day there was no bitterness, and bring only joy and happiness, I wish you only the good people next to you! And all the best!
6
Evgeni Plushenko
Han Stella:
I LOVE the way he moves his body. The line, the position, the harmony between upper and lower body, the delicate body control, the natural grace of legs... When he moves his legs in such a beautiful ways, he looks like he's floating on the ice and just free of all the laws of physics! I'd never ever seen that before. and THIS is the beauty. Just absolute, pure, ideal beauty. I appreciate Evgeni cause he left so many beautiful artistic performances for this planet.
One of the greatest and most charismatic figure skaters of all time. He radiates power, beauty, and energy. The sheer command he has over the ice and the audience is spellbinding. There will never be a male figure skater as emotional, passionate, and technically masterful as him. He is one of a kind - a Tsar on ice!
There is only one of him in the world. There is no one like him. In an age of figure skating where everyone is the same, he is different. No one has the command and power over the ice that he does. No one has his charisma. I repeat, there is no one like him and there never will be again. He is one of the greatest - a living legend.
One of the most unique and fearless skaters to have ever performed. He never assimilated. He always followed his own rules. His concentration is so powerful that it becomes contagious. His power of will and body, his masculine charm, his meticulous technique, and the way every single one of his movements is filled with meaning and emotion - that's what will make him an influence and role model for generations to come.
7
Michelle Kwan
No one - of any era - can compare. Michelle is in a realm beyond figure skating itself. She's beyond because she mastered skating: her edges, her execution before, during, and after a jump, her ability to emote without ever sacrificing basic figure skating fundamentals are unmatched. And then she just shares herself, fully, without reservation, from the heart.
Figure skating is a better sport because of Michelle Kwan. Judging system may change and Olympic golds may be continually given, but Michelle Kwan's legendary presence, exuberant elegance and timeless artistry will be always remembered. No other artist can exude the same brand of genuine emotional exposition on ice except her.
I like my idol Barbra Streisand because, when she sings, she "feels and expresses her emotions in song." Michelle can bring you into her world when she's feeling something and then transfer it into her skating. By far, Michelle Kwan is the best female figure skater of all time.
The expression, " one of a kind " fits Michelle. Sometimes an individual comes along and sets a mark so high that it takes another exceptional person to attain it. So far no one has even come near to Michelle, and I doubt if there ever will be another like her.
8
Alexey Yagudin
He is a real example of overcoming and an unfaltering courage in sport. He has opened a new era in the men's single figure skating, the era of the highest technique and a great artistry and at the same time. His Olympic programs will stay in the history of figure skating as ones of the best programs performed ever. They were breathtaking!
Best skater ever.. Blended beautiful technical mastery and artistic skills. He always succeeded to "tell" the best the story behind each piece of music he interpreted.
Other skaters may have won more awards or lasted in the comp longer but Yagudin manages to get the audience drawn in to his compelling story telling.
The best skater in the world. I can't forget his amazing short and free programs at the Olympics. Perfect skating and great acting!
9
Stephane Lambiel
He is the greatest artist on ice, making my heart beat in rapture. He doesn't simply express the music. He is music himself. When he skates, I cannot get enough of him. I can watch without stopping, and I don't know for how much time, yet still continue the next day. His smile and his incredible personality are so warm and charming that you can't help but fall in love with him. I think I am not the only one. For me, he is a genius. Nobody can be compared to him.
Stéphane Lambiel is only a "contender"? I don't trust this survey as being valid. Lambiel is unquestionably the greatest male figure skater out there in this day and age. I'm not just saying that because I happen to personally adore him (which I do). I make this statement objectively and in light of his consistent perfection and unearthly artistry. But why restate the obvious? Because apparently, some prefer to ignore the obvious. Listing him as a mere "contender" does have shock value, though.
In the entire cohort of great skaters, for me, Stephane Stephane Lambiel, always first. Stephane brilliant skater, artist, undergoing art on ice. No one will be able to repeat his excellent rotation and his incredible artistry. He is a true artist on the ice that is constantly being improved, improves, creates its own unique choreography. He is the only, unique, unsurpassed. Do not get tired to admire this unique figure skater.
A real artist on the ice! The one who could put together the highest level artistry with amazing skating skills and technique. The one who will always be known for his highest demand of quality, even after his competitive retirement. And at the same time, also a wonderful person. And I haven't even mentioned his mesmerizing spins and musicality.
10
Midori Ito
A triple axel in the days when few women had a triple lutz. She is like the Nadia Comaneci of skating, so far ahead of her time. A triple lutz in her day is like a woman skater doing a quad toe in 2014. And no one has done that on a World stage. Even today, only Mao Asada of Japan is doing a triple axel at World competitions, and she is very iffy, usually hitting less than 50%. Ito never fell on her triple axel. If they were using today's code of points, she might even beat Yuna Kim because her difficulty points are out of this world. Besides the triple axel, she also did two triple/triple combos in her free skate, the second triple/triple toward the end of her program.
Without a doubt, she is the finest jumper of all time. Her artistry was underrated, and she had so much energy - definitely ahead of her time. If it wasn't for compulsory figures and the disastrous warm-up and short program at the 1991 Worlds, she would have at least three world titles. She's my favorite skater of all time, and she has such a cute smile too!
She is a huge part of figure skating history: the first woman to land a triple-triple combination at Junior Worlds! She was also the first woman to land a triple axel and the first to land seven triple jumps in a free program. She paved the way for Japanese figure skaters. That's quite an achievement!
Her skating was speedy and powerful, especially her jumps, which were so high and stable. She showed that figure skating is an athletic competition. I cannot find any skater with ability like Midori Ito. Midori is still the champion of jumping and athleticism!
The Contenders
11
Evgenia Medvedeva
She is very beautiful and the greatest skater! Cool girl!
Congratulations to the world record beautiful Eugenia, you are our new Yuna Kim forever - Queen! Love forever…
I adore her Sailor Moon performance! Victories on all stages of the GP, GP Finals, Russian National Championship, European Championships, and of course the World Cup. Improving the world record - wow!
I like that she is an elegant skater.
12
Brian Boitano
Brian had the power and grace. He had a dramatic presence on the ice and also managed a great professional career.
13
Elizaveta Tuktamysheva
I wonder what will be the programs of Stephane Lambiel?! I look forward to the new season and I wish to confirm the status of the Queen of the figure skating and we are waiting for your new colorful and charismatic wins! You are the very best skater in the world and you demonstrated in hard work and love for your jumps to the BEST 3A in the world, speed and originality of the programs last season. Mishin be a genius! I want to see the first women's quad in your jumping!
The girl that I've liked since her childhood was so confident, feisty, and beautiful that everybody prophesied her a great career and a medal in Sochi. However, it wasn't that way. She had a bad injury and body problems. No one else believed in her. But this season, the queen Liza is back, more motivated and strong. She overcame all her problems and became an improbable skater!
A decade ago, we talked about technique vs elegance in the figure skating world when Midori Ito and Witt were on the podium. I feel we've found an answer. Liza, you have such a beautiful 3A, such a clean Lutz and flip, and rotation, along with great performance and interpretation of music. Liza, you are the answer. So strong and beautiful.
She has been always fighter and challenger seeking for higher level.

There is no one who can do like her now.

She is the one that has raised the level of ladies skating. She should be number one!

Her program are so fantastic.

She can triple axel only in female really,but no none words

Beautiful triple-axel, brilliant step, elegant spin, forever

Liza will be #1 FOREVER
14
Janet Lynn
She felt the music in her skating and, at her time, gave skating that little bit extra!
15
Serafima Sakhanovich
Sakhanovich is consistency and technical difficulty was what mattered in her. I am saying that Sakhanovich's skating is perfect, she would have no problem to medal at the GP & JGP,because she is best for only Queen in soon season! Her quad 4 in juniors should surprise all the critics, forward Serafima.
Serafima stays in juniors and we look forward to winning her! Serafima has not grown to the adult step to Grand Prix, and she will have no place in an adult company still ! But in juniors our Serafima real queen will win still, because she's the junior still.
16
Elena Ilinykh
She is adorable because she is so genuine. She is just very open and kind-hearted! I really dream of meeting her one day. Although I've never really had any idols and prefer to live my own life, she is just so relatable that it feels like meeting her would be like meeting an old, lost friend from high school. I adore her! She is just lovely!
A real artist on the ice RUSLENA! The RUSLENA who could put together the highest level artistry with amazing skating skills and technique! The biggest thing for me is that they seem to have 2 programs they believe in new season. When you believe in your programs (like Carmen) nothing can happen! Great FD choice by Ruslena with the Frida soundtrack. I begin to relish and submit this tasty dish, very tasty dish in FS! Kudos to them for choosing such a great story to portray and collaborating with Najarro again:) I can't wait to see this program and what costumes they wear.. Kustarova's "unexpected and original" comment has peaked my interest for SD. What does she means?
They real artist on the ice RUSLENA! The RUSLENA who could put together the highest level artistry with amazing skating skills and technique! The biggest thing for me is that they seem to have 2 programs they believe in new season. When you believe in your programs (like Carmen) nothing can happen! Great FD choice by Ruslena with the Frida soundtrack. I begin to relish and submit this tasty dish, very tasty dish in FS! Kudos to them for choosing such a great story to portray and collaborating with Najarro again:) I can't wait to see this program and what costumes they wear.. Kustarova's "unexpected and original" comment has peaked my interest for SD. What does she means?
Elena the most talented and a gold champion of our soul and figure skating! "Carmen" of Elena and Ruslan deserved to get first place for the most successful short this season and it's true! I congratulate Ruslan and Elena with the best "Carmen" the whole history of figure skating ever! I wish the next season of the brilliant performances and the chemistry by Najarro for Is! Next season will be GREAT for sure to RusLena! GO RUSLENA
17
Katarina Witt
A beauty on ice. A treat to watch her skate. Classy. Wonderfully talented and technically superb. A two time Olympic Gold winner and rightfully so. She's also won the World Championships and European Championships ten times... That's 12 gold medals. This makes her one of the most successful figure skaters of all time. Hugely inventive on ice, immensely popular and loved, this German is an alluring symmetry on ice.
Kati, what an amazing girl! She should be at least in the TOP 10. Super talented and skillful, stylish and beautiful. A massive pleasure to watch her skating. It's breathtaking! Simply magic! Especially those performances in Calgary 1988, which earned her a second consecutive Olympic gold medal, just WOW! And what makes Kati even greater is the fact that she is (and has always been) very lovely as a human: open, friendly, and happy. She's still in very good shape, even though she is already 55. You are a true legend, Kati!
Best ice skating competitor of all time and, as it happens, also one of the most attractive women of all time!
Very beautiful, stylish, and sophisticated. One of the greats.
Maggie.
18
Tatsuki Machida
I was deeply impressed by his performances. While watching him skate for a few minutes in a competition, I felt like I was watching a whole movie or an entire performance of ballet. His movement is not just beautiful. In every single movement, he has a message he wants to show the world - a message of love. Yes, it is a pity he no longer competes, but I'm looking forward to seeing him perform another artistic program, something like East of Eden or Beethoven's Symphony No. 9.
He is still a very good skater after his retirement as an athlete. I recently saw PIW in Yokohama, Japan, and found that Tatsuki and his skating are so beautiful and powerful, and his work is so talented. His new work is his best, which means he is still growing as a great artist. I am deeply appreciative of his work and respect Mr. Tatsuki Machida.
In the 2012-13 season, he looked like a different skater from the last season. In the 2013-14 season, I thought the same because his quad jump was so beautiful. In his final season, he had the majesty of a king. Now, he shows us an elegant (and slightly unique) performance in the ice show. He always amazes us. Thanks, Tatsuki!
Although he has retired from competition, he continues to inspire other skaters and is loved by many fans. His 2013-2014 program "East of Eden" is one of the best in figure skating. His love for the program was incredible. I'm so sad to have lost such an artistic skater, but I know he'll keep shining as an artist on the rink. He is one and only, Tatsuki Machida.
19
Elena Radionova
Elena is a fighter. She has won at least four medals at the Russian National Championships, a medal at the World Championship, two medals at the European Championships, and two medals at the Grand Prix Finals! She grew significantly last season but is still one of the best skaters!
Very interesting programs, great technique, and very emotional! She has everything to be the best female skater!
I like her innocent personality.

She has to cherish that to express, especially exhibition is wonderful.
I love her beauty and emotional performances. She is talented!
20
Ekaterina Gordeeva
She is the only person in the world of the figure skating of all times, who has transfigured it to an Art. It's actually a ballet on ice and a Great ballet! This is the level of skating, when even her perfect technique doesn't play role any more, because the Pure Beauty dominates over everything: it admires, stuns, hypnotizes and gives a natural sensation of eternal harmony. Other great skaters are heroes, and Katya is an Artist.
There are only a few things in this world that can always give you joy, regardless of your mood and state of mind: the sea, the sun in the sky, the poetry of Shakespeare, the music of Bach, the paintings of El Greco, films with Katharine Hepburn or Dustin Hoffman, and the skating of Katya Gordeeva. Ekaterina, I'm so grateful that you exist! THANK YOU!
Completely agree! She's absolutely magnificent, just breathtaking! She is not only a genius in figure skating, but she's also one of the most beautiful women in the world. And it's very natural that she's often associated with Katharine Hepburn and Audrey Hepburn - two of the greatest actresses ever. She's really great!
The best figure skater ever! Pure beauty! It's as if someone who lives in Paradise came down to Earth to show people how beautiful figure skating can be. It's a moment of happiness to see this!
21
Denis Ten
Denis' artistry and musicality are unparalleled within the current generation of men's singles competitors. You can tell he is really connected to the music, whether it be in competitions or shows, and he always seems to skate from the heart. He has also changed the landscape of figure skating in his home country, Kazakhstan, and inspired many others with his wonderful skating as well as his insights and wise words off the ice.

On good days, his technique, posture, and style shine through, and his performances really draw you in. They are so entertaining and enjoyable to watch! He has grown so much as a performer and has managed to achieve so much over the past few years. I will look forward to seeing how he develops in the future.

Please vote for this incredibly talented skater!
He is very talented skater! Undoubtedly he is amazing! He inspires with his enthusiasm and desire for improvement. He inspired all Kazakhstan skaters that hard work, high dream and the desire to win can realize the dream. His magnificent tricks and ease on the ice are great. His performance is always infectious! He has reached such heights in such a vulnerable age and it does not stop there. He is improving day by day. And I undoubtedly believe that he will win not yet low altitudes and become the best skater. Of course, I will look forward to to seeing how he develops in the future.
Please vote for this incredibly talented skater!
The person who put so much effort into becoming a great Skater! Dennis is a truly strong person. He started as his training in an indoor rink of the shopping mall and continued his journey up until the Olympics and became a Champion. I admire him for his character and dedication. He is a legendary Skater for us already and his accomplishments are just the beginning of his big journey! Thank you Dennis for your talent, for your hard work and passion!
Maybe he hasn't won enough gold medals, and maybe he is not as well-known as some skaters yet, but this guy does have a super unique talent. He is a great philosopher and has enough ability and inspiration to channel all his feelings and ideas into his performance. That is awesome!
22
Dorothy Hamill
One of the most beautiful woman I've seen. She's 3 years older than I. I've watched her for all the years she's skated. I watched her interview on TV a month or so ago and know what she felt like in her time of sorrows, for I now feel her pain, and wonder how she made it. Wish I could meet her.
I like her because she is amazing - in Stars on Ice, the Olympics, and she deserves fame.
23
Sasha Cohen
Who the heck is disliking the comments on her? You cannot deny that she is one of the most graceful skaters ever. No one could beat her in artistry. It's just too bad she couldn't ever focus all the way through a program. I think she was a nervous competitor. That was her problem.
She is amazing, and I absolutely love her spiral. She is a great skater. I watch her all the time on YouTube, and her outfits are out of this world. Since I'm a figure skater, I try to skate like her, but it's just impossible since she is so good. I love watching her.
After watching Sasha skate, she has pretty much ruined me for everyone else. Her positions were textbook perfect. Her carriage was beautiful. I loved her spins, and that spiral is still my favorite spiral ever.
No one has her grace and interpretation of the music while skating. I love her skating so much. She looks so effortless.
24
Brian Joubert
But Brian Joubert was never afraid of circumstances and of hard work. He is somebody who never gives up, someone who takes the breath away the minute he appears on the ice.

With retiring of Brian the whole figure skating era end. He gone as a big champion, as a big fighter and great skater. The gladiator on ice. The French musketeer. And last but not least - as a man with a most nice smile in figure skating. Merci Brian!
One from the few skaters that lasted so long in competitions 9without any season out for over 10 years) and in high level. A real FIGHTER! King of quads! He has a great connection with the crowd! The james bond of the ice!
Truly a male skating quads champion. He is the only skater in the world who has jumped and landed more than 100 quads! And finally, he is a very nice person.
This is the best skater. And this is a very nice person. He is humble, smiling, fair play, nice, sweet, patient, and very available.
25
Gracie Gold
It is disgusting to see her lose this first fall in the combo. The period after the fall of the second combo is expected and as usual, but she was not having a good practice in this season, so it is very concerned about. She, anywhere at all, do not feel the connection with her the program, and for her that seems to have been a very important part of her skating well, and it does not control the nerves there. I hate her choreography, the angular lines do not get as much as possible towards the Firebird, the more need lyrical work. She skates worse than last year
I actually thought Gracie's air position in her jumps improved somewhat once she moved to Frank. Things seemed much tighter in the air and he really polished her skating as well as her spins. The only thing that holds her back is her inconsistency and inability to really interpret the music, her facial expressions annoy me because they are so fake or in existent! Gracie is still having issues with her jump timing in competition. She seems like she is a bit too tight and not relaxed which causes those scratchy landings. It's almost like she's saying " do it... do it... DO IT...'. I often wonder if she's actually enjoying and soaking in her performance. Her face shows immense concentration but almost no personality or depiction of the music. That to me is Graci's weakness. She struggles to convey emotion through her face which leads me to believe that while she's committed to being true to the choreography, knowing how to act and perform are still not a strong point for her. looks like ...more
Gracie gold is an amazing skater and my inspiration. She helped me keep up my skating career and I'm so blessed to call her my idol. She is probably the best jumper in the world. Her spins are also beautiful. She has the full package including her name. Her name is designed for figure skating as she has both grace and a few gold metals. Gracie is by far my favorite skater!
Listen, it's insolent for copying program of Pogorilaya the Gracia in "Feire bird"! This shock! Start track, musical arrangement. I did not expect such a copy of Russian.):
And this is Nicole the choreography, right? If so, she really has a crisis of genre, before she made off the tracing paper, is now beginning to quote others like Russians skaters ))):, and last year the program No, it's certainly better than last year's dregs under the Phantom, but somehow I expected more. Gracia do not go more into shame Lori Nichol of choreography, you looks like are plucked chicken):
PSearch List