Top 10 Creepiest Guys
The Top Ten
Nikolas Cruz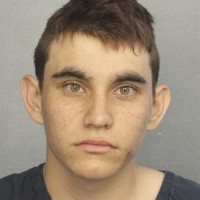 Nikolas Jacob Cruz (born September 24, 1998) is an American mass murderer who committed the Stoneman Douglas High School shooting on February 14, 2018. 17 people were killed in the massacre, while 17 others were injured. It surpassed the 1999 Columbine High School shooting as the deadliest high school ...read more.
Adam Lanza

Adam Lanza was an American mass murderer who shot his mother, Nancy Lanza, in the head at her home in Newtown, Connecticut, on December 14, 2012, before traveling to the nearby Sandy Hook Elementary School, where he shot and killed 20 students between the ages of 5 and 10, and six adult workers. He ...read more.
Stephen Paddock

Stephen Craig Paddock was an American mass murderer responsible for the 2017 Las Vegas shooting, during which he fired into a crowd of approximately 22,000 concertgoers attending a country music festival on the Las Vegas Strip. The incident is the deadliest mass shooting by a lone gunman in United States ...read more.
Marilyn Manson
I adore Marilyn Manson, partially because he IS so creepy. His hair, makeup, clothes, and art/music are all so wonderful because they ARE creepy. They make people look at him, initially for his creepiness, but after they get past it, they can see what a genius he truly is.
haha! i love marilyn manson! he may be creepy but i think he is UNBELIEVABLY hot.. :3
Sure, he is creepy, in an amazing way! I love his music. The music video for Sweet Dreams (Are Made of This) was quite interesting, but pretty good.
He's creepy but in the awesome kind of way, but hey, some girls have an attraction to guys who are little outside the box
Michael Jackson

Michael Joseph Jackson was an American singer, dancer, and songwriter born on August 29, 1958 in Gary, Indiana and passed away on June 25, 2009. He donated (at least) a remarkable 500,000,000 dollars to charity. Michael is also known as The King of Pop (a title given to him by Elizabeth Taylor) or under ...read more.
Hey leetle girls, would you like to come for a ride to Funky Town with the master of Magical Mushrooms? I know a place where... magical things happen. Hehehehehe...

Yeah... creepy or what?
You think Marilyn Manson is creepy? This guy lived in a theme park, was VERY close friends with a number of young boys, and had a pet monkey.
Michael Jackson made himself as white as possible to make himself as appealing to little white boys as he could and paid a lot of money to do it. That's the black and white of it-- no gray areas here.
He ain't creepy he's cool.
Osama bin Laden

Osama bin Mohammed bin Awad bin Laden was a Saudi Arabian-born stateless terrorist. He was a founder of al-Qaeda, the organization that claimed responsibility for the September 11 attacks on the United States, along with numerous other mass-casualty attacks against civilian and military targets worldwide. ...read more.
Such a sucker! Killed people for satisfying himself. Devil in disguise.
they have the wrong concepts of life. creating chaos is not the way. it just destroys the earth and all life beings.
he killed everybody against his belief and his son is against the 9/11 bombing
Barack Obama

Barack Hussein Obama II served as the 44th president of the United States of America. He was elected in 2008 after serving in the Senate from 2005-08, beating John McCain and becoming the first African-American to be elected President of the United States. He was elected again in 2012, beating Mitt ...read more.
pretty obvious isn't it.. lol
Charles Manson

Charles Milles Manson (1934-2017) was an American criminal who led what became known as the Manson Family, a quasi-commune that arose in the California desert in the late 1960s.
he killed people because of the lyrics in helter skelter! this dude has some serious issues.
I pass his house a lot and every time I do, I get chills.
I saw a documentary on this freak and it gave me nightmares.
Is that a SWASTIKA on his forehead?
Ozzy Osbourne

John Michael "Ozzy" Osbourne was born on December 3, 1948. He is also known as ''The Prince of Darkness''. Ozzy is an English singer, songwriter, and television personality. He rose to prominence in the early 1970s as the lead vocalist of the band Black Sabbath. Osbourne was fired from Black Sabbath ...read more.
Ozzy Ozbourne is creepy but its good to be creepy and he's my idol and he always will be.
This guy is my idol but I have to admit he is creepy
His BFF is satin and he ate a bat, this guy can't function in society.
Looks like he has metal problems.. O-o
Tom Cruise

Tom Cruise is an American actor and filmmaker. Cruise has been nominated for three Academy Awards and has won three Golden Globe Awards.
this couch jumping maniac is creepy to me!
I didn't expect to see this man's name here as I thought I were the only person who disliked him. He really has nothing about him that I find attractive in any shape or form. Indeed, one creepy chap.
ohh boy i hate him so bad lol
The Contenders
Adolf Hitler

Adolf Hitler (April 20, 1889 - April 30, 1945) was a German politician who was the leader of the Nazi Party, Chancellor of Germany from 1933 to 1945, and Führer of Nazi Germany from 1934 to 1945. As dictator of Nazi Germany, he initiated World War II in Europe with the invasion of Poland in September ...read more.
if you are a jew, he is the scariest guy in the world
SHOULD BE IN THE TOP 3! (Kim Jong Il for number 2 and Mao "The Dong" Zedong for number 1)
Joma Sison
I don't dare make a comment. he might have me hunted down and have me killed
Ron Jeremy
Another porn star. That's creepy.
He reminds me of Bob Hoskins for some reason
Gene Simmons

Chaim Witz, known professionally by his stage name Gene Simmons, is an Israeli-American musician, singer, songwriter, record producer, entrepreneur, actor and television personality.
I would not consider him scary he is just awesome
He's more fun then scary
The Undertaker

Mark William Calaway (born March 24, 1965), better known by his ring name The Undertaker, is an American semi-retired professional wrestler currently signed to WWE, where he has worked since 1990, making him the company's longest tenured in-ring performer . Calaway began his wrestling career with World ...read more.
this guy can never "REST IN PEACE" hes been scaring wrestling fans for a decade.
1990's undertaker looks like he's really pale
Comes back again and again don't worry kane he always comes back
1990's looks more creepier
Donald Trump

Donald John Trump (born June 14, 1946) is an American businessman, television personality, politician, and the 45th President of the United States. Born and raised in Queens, New York City, Trump received an economics degree from the Wharton School of the University of Pennsylvania in 1968. In 1971, ...read more.
Mexicans and Muslims should be afraid of him...
He's a real monster.
Obese orange idiot.
Jack The Ripper

"Jack the Ripper" was the alias of an unknown serial killer in Whitechapel, London who brutally murdered 5 women (mainly prostitutes) between August and November of 1888. To this day, he has remained a mysterious and popular phenomena among serial killers and popular media.
Despite I hate prostitutes, this guy was CREEPY! I don't know if he'll be ever have his identity uncovered
He was a doctor who was cutting women up.
Alice Cooper

Alice Cooper is an American singer, songwriter, musician and occasional actor whose career spans over five decades.
Saddam Hussein

Saddam Hussein Abd al-Majid al-Tikriti was the fifth President of Iraq, serving in this capacity from 16 July 1979 until 9 April 2003. A leading member of the revolutionary Arab Socialist Ba'ath Party, and later, the Baghdad-based Ba'ath Party and its regional organization Ba'ath Party – Iraq Region—which ...read more.
Sid Vicious
hes an ex murderor and a freaky singer, the "fabulas desaster comes at 6.
he may be creepy but he is the most awesome vocalist of all times

Steven Tyler

Steven Tyler is an American singer-songwriter, multi-instrumentalist, and former television music competition judge, best known as the lead singer of the Boston-based rock band Aerosmith, in which he also plays the harmonica, and occasional piano and percussion.
"Smile, Stevie", said Brody from Jaws as he blew his big mouth wide open!
HELP! he's goin to swallow me whole!!!
HA HA HA this list is perfect
Weird Al Yankovic

Alfred Matthew "Weird Al" Yankovic is an American singer, songwriter, parodist, record producer, satirist, actor, voice actor, music video director, film producer, and author.
Anthony Hopkins

Sir Philip Anthony Hopkins CBE is a Welsh actor, director, and producer. He was born on December 31, 1937 in Margam, Wales. He is known for winning the Academy Award for Best Actor in 1992, and was nominated three additional times. Hopkins has also won three BAFTAs, two Emmys, and the Cecil B. DeMille ...read more.
Hannibal was too convincing.
Chris Croker
Richard Simmons
This guy tries to get all these fat women into his cult called Sweatin to the Oldies.
Anyone who can wear those shorts in public is beyond weird.
PSearch List