Top Ten Bands that Most Teens Probably Don't Know Exist
The Top Ten
1
Exumer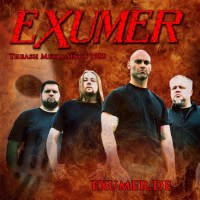 Exumer is a thrash metal band from Frankfurt, Germany. It consisted of Mem Von Stein, Ray Mensh, Matthias Kassner, Anthony Schiavo, Bernie Siedler, Paul Arakaki, Syke Bornetto, Holger Kolb, J P Rapp, and more, and was founded in 1985.
The picture reminds me of Smash Mouth. I feel nerdy for knowing a good majority of these bands...
2
Jethro Tull

Jethro Tull were a British rock group, formed in Luton, Bedfordshire, in December 1967. Initially playing blues rock, the band soon developed its sound to incorporate elements of British folk music and hard rock to forge a progressive rock signature.
3
Theocracy

Theocracy is a Christian progressive power metal band founded in 2002 by Matt Smith of Athens, Georgia.
4
Soilwork

Soilwork is a Swedish melodic death metal band from Helsingborg. They are signed to Nuclear Blast. Formed in late 1995 by Björn Strid and Peter Wichers, originally under the name Inferior Breed, the band changed their name in late 1996 to Soilwork.
5
Dio

Dio was an American heavy metal band formed in 1982 and led by vocalist Ronnie James Dio, after he left Black Sabbath with intentions to form a new band with fellow former Black Sabbath member, drummer Vinny Appice.
6
Alestorm

Alestorm is a heavy metal band originally from Perth, Scotland. Their music is characterized by a pirate theme, and as a result they have been dubbed a "pirate metal" band by many critics and their fanbase.
7
Bathory

Bathory was a Swedish Black/Viking Metal band formed in 1983 by Quorthon and Jonas Åkerlund. Bathory's first 4 albums layed the blueprint for Scandinavian Black Metal. Quorthon is often credited with creating the "shrieking" vocal style of Black Metal. Their 5th album, Hammerheart (1990) displayed ...read more.
Probably my favorite metal band. Viking metal is SO GOOOD! - ProPanda
8
Judas Priest

Judas Priest are a British heavy metal band that formed in Birmingham, England, in 1969. They are often referred to as one of the greatest metal bands of all time, and are even commonly called "The Metal Gods", after one of the songs on their 1980 album "British Steel". ...read more.
9
Uriah Heep

Uriah Heep are an English rock band formed in London in 1969 that was one of the top rock bands in the early 1970s. Twelve of the band's albums have made it to the UK Albums Chart (Return to Fantasy reached No. 7 in 1975). Uriah Heep's distinctive features include a massive keyboard sound, strong vocal ...read more.
10
Stratovarius

Stratovarius is a Finnish power metal band that formed in 1984. Since their formation, they have released 16 studio albums, 4 DVD and 3 live albums.
The Contenders
11
Sepultura

Sepultura is a Brazilian heavy metal band from Belo Horizonte. Their first album, Morbid Visions presented a proto-black metal sound with Wagner Lamounier of Sarcófago. Sepultura's sound varies by the album, from thrash metal, groove metal, and even death metal.
12
The Kinks

The Kinks are an English rock band formed in Muswell Hill, North London, in 1964 by brothers Ray and Dave Davies. They are regarded as one of the most important and influential rock bands of the 1960s.
13
Mayhem

Mayhem is a Norwegian black metal band formed in 1984 in Oslo, regarded as one of the pioneers of the Norwegian black metal scene. The band is also known for the infamous events surrounding them including the 1991 suicide of vocalist Dead (in which former guitarist Euronymous took pictures of Dead's ...read more.
This band is legitamately satanic. That only gives metal a bad reputation.
14
Carcass

Carcass are a British extreme metal band from Liverpool, who formed in 1985 and disbanded in 1995. A reformation was enacted in 2007 without one of its original members, drummer Ken Owen, due to health reasons.
15
Blind Guardian

Blind Guardian is a German power metal band formed in the mid-1980s in West Germany. They are often credited as one of the seminal and most influential bands in the power metal and speed metal subgenres. Heavily influenced by Queen, they use the technique of overdubbing. They also incorporate large ...read more.
16
Rush

Rush is a Canadian progressive rock band that was formed in 1968. The band has had an iconic lineup since 1975, which included Neil Peart (Drums, Percussion), Geddy Lee (Vocals, Bass, Keyboards), and the guitarist, Alex Lifeson. Peart passed away after a 3 year battle with brain cancer in January of ...read more.
17
Pain of Salvation

Pain of Salvation is a Swedish progressive rock band led by Daniel Gildenlöw, who is the band's main songwriter, lyricist, guitarist, and vocalist.
18
Danzig

Danzig is an American heavy metal band, formed in 1987 in Lodi, New Jersey, United States. The band is the musical outlet for singer and songwriter Glenn Danzig, preceded by the horror punk bands the Misfits and Samhain.
19
Creedence Clearwater Revival

Creedence Clearwater Revival, often shortened to Creedence and abbreviated as CCR, was an American rock band active in the late 1960s and early 1970s.
20
Sabaton

Sabaton is a power metal band from Falun, Sweden formed in 1999. The band's main lyrical themes are based on war and historical battles.
21
Emperor

Emperor was a Norwegian black metal band formed in 1991, regarded as highly influential by critics and emerging black metal bands.
22
Volbeat

Volbeat are a Danish heavy metal band formed in Copenhagen in 2001. They play a fusion of rock and roll, heavy metal and rockabilly.
23
The Mutton Birds
I would be pretty surprised if there was any other user who had heard of them.
24 Failure
25
Mother Love Bone

Mother Love Bone was an American rock band that formed in Seattle, Washington, in 1987. The band was active from 1987 to 1990. Frontman Andrew Wood's personality and lyrics helped to catapult the group to the top of the burgeoning late 1980s/early 1990s Seattle music scene.
PSearch List