Top 10 Convicted Criminals Who Claimed And/or Maintained to Be Innocent
The Top Ten
1
Jerry Sandusky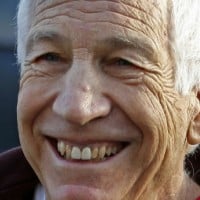 Gerald Arthur Sandusky is an American convicted serial rapist, child molester and retired college football coach. 'Sandusky held various coaching positions at Pennsylvania State University (more commonly known as simply Penn State) for THIRTY years, being highly regarded for his consistent ability to ...read more.
2
Bill Cosby

William Henry "Bill" Cosby, Jr., is an American stand-up comedian, actor, and author. ...read more.
3
Gary Glitter

Gary Glitter is a former glam rock singer and songwriter. He sold over 20 million records and regained media attention in 1999 when child pornography were found on his laptop and committed sex offences with children. He was sentenced to 17 years in prison in 2015.
4
Phil Spector

Phil Spector is American record producer known for his work with Leonard Cohen, Ramones, John Lennon and The Beatles. He was sentenced to 19 years to life in prison for the murder of Lana Clarkson in 2007.
He didn't say that he did not kill the woman, he said that it was an accident.
5
Ted Bundy

Theodore Robert Bundy was an American serial killer, kidnapper, rapist, and necrophiliac who assaulted and murdered numerous young women and girls during the 1970s and possibly earlier.
6
Mike Tyson

Michael Gerard Tyson (born June 30, 1966) is an American former professional boxer who competed from 1985 to 2005. He reigned as the undisputed world heavyweight champion and holds the record as the youngest boxer to win a heavyweight title at 20 years, four months and 22 days old.
7
Charles Manson

Charles Milles Manson (1934-2017) was an American criminal who led what became known as the Manson Family, a quasi-commune that arose in the California desert in the late 1960s.
8
Paul Bernardo

Paul Kenneth Bernardo, also known as Paul Jason Teale, is a Canadian serial killer and serial rapist.
It's true. Despite all the damning evidence to the contrary (the video tapes of his victims), he maintains his innocence. - clusium
9
Beverley Allitt

10
Saddam Hussein

Saddam Hussein Abd al-Majid al-Tikriti was the fifth President of Iraq, serving in this capacity from 16 July 1979 until 9 April 2003. A leading member of the revolutionary Arab Socialist Ba'ath Party, and later, the Baghdad-based Ba'ath Party and its regional organization Ba'ath Party – Iraq Region—which ...read more.
The Contenders
11
Aaron Hernandez

Aaron Josef Hernandez was an American football tight end in the National Football League. A productive player during his three seasons with the New England Patriots, his career came to an abrupt end after his arrest and initial conviction for the murder of Odin Lloyd. ...read more.
12
Robert Pickton

Robert William "Willie" Pickton of Port Coquitlam, British Columbia, Canada, is a former multi-millionaire pig farmer and serial killer convicted in 2007 of the second-degree murders of six women.
13
Mystikal

Michael Lawrence Tyler, known professionally as Mystikal, is an American rapper and actor from New Orleans, Louisiana.
14
Whitey Bulger

BAdd New Item