Buddy Rich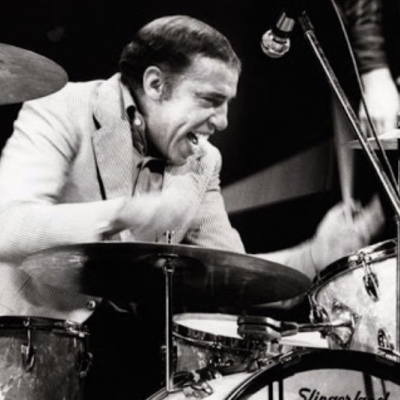 Uploaded by ahmedaser
Info
Bernard "Buddy" Rich was an American jazz drummer and bandleader. Widely considered one of the most influential drummers of all time and known for his virtuoso technique, power, and speed, Rich was billed as "the world's greatest drummer" during his career.
Comments
Top
Popular
Newest
For those of you that voiced their opinion towards Buddy Rich... You are spot on! Rich was hands down the most technically proficient of any of these drummers listed. Actually after Rich there isn't even a close second. Gene Krupa doesn't even get a mention here? Chick Webb? Rich, with his blazing one handed drum roles was a sight to watch. He's far and away in a completely different category. A bit of trivia: Carmen Appice used to sponsor a annual ' Drum Battle ' for all the elite drummers of the day. It was said that at the ' drum battle ' Carmen's heart sank at the rare times Rich would show up to aggravate and school the group that was nowhere near in his league. Take care all.
What a shame putting Buddy Rich in Ninth Place? Gene Krupa is up there with Louie Bellson laughing out loud. Buddy was the King of drummers. You put the other drummers that are on this so called list on a one and one battle with Buddy and they would go home crying. Just goes to show you where todays drumming has gone to? Travis Barker and Sullivan are you kidding. Sponge Bob Square Pants plays better drums than them.
Buddy Rich is amazing, but the rev is amazing to. How about you play all of the rev's songs? Wait, you can't
Such a disappointment that you've put Buddy Rich down in 9th place! What is even stupider, is the fact that Travis Barker is above him in the ranking! Really? You think travis barker is better than buddy rich! I'm a young drummer and really appreciate the likes of people like buddy rich and gene krupa! They're just utter legends! As soon as I saw buddy in 9th, I lost respect for this top ten list! People like buddy are the people that really deserve the glory, the people with real technique and skill, buddy should be at number one! Every single time!
And heres the way it goes. You want to hear the greatest drummer who ever played. Listen to and Watch Buddy Rich. If you have this metal drummer in your blood Save Your Money and go the Garbage Dump and Watch for Free the Big Machines and Tractors Bang on Metal. Got to go with Buddy Rich that was where it was in the beginning of drumming history. Today what you are hearing is not drumming but Pounding and Slamming and Banging on Cymbals. Our garbage truck men sound like 99 percent of todays so called drummers. Bang the Garbage Cans and make a lot of noise.
Yes, yes, yes. We all have different tastes in music and frankly my favourite is rock and all of its offshoots and derivatives ( metal, death, thrash, grunge, etc ). But to say John Bonham is number 1? Uh uh! No no no sir! I play the drums and percussion and my understanding has always been you're as good as how well you blend with the music you are playing to. Well if that's true, NOBODY ever played jazz with the skill, precision, and feel that the late Buddy Rich did. And nobody that I've ever heard playing drums has stood out as a drummer and musician like the late Buddy Rich. This is a stated fact, not just my opinion. If you don't agree, you need to spend more time listening and then if you still don't agree then your ears just aren't skilled or learned enough to recognise what you are hearing. I love JB but BR is in a different league, planet, plane etc. See ya!
Buddy Rich is the greatest drummer of all time. That is a fact. Having anyone in front of him is just poor humor. None of these guys could match his speed, precision, and feel. Lets look at some of the people in front of him on this list...
1. Shannon Leto. Drummer from 30 seconds to mars. I think his reviews and votes were all from the same 14 year old girl. I don't have a problem with him, but just playing with "energy" and "making your heart race" does not make you the greatest drummer.
2. John bonham. Needed a guy to help him come up with licks to frustrate kids. I can play a basic rock beat, so I am as good as bonham.

Buddy Rich is unmatched in any category. This list is insulting as is.
Honestly, more credit needs to be given to the guy who inspired every other guy on this list. But, that in and of itself is not enough to propel Buddy to the top of this list. I will defer to the the other posters under Buddy's spot and encourage you to listen to the samples that they have selected. I will remind you that Buddy made the sound that he did with a set at least half the size of every other drummer on this list. All of these drummers are great, but come on, we are talking about Buddy Rich! He is the GOAT!
There were/are many great/excellent drummers but Buddy was the most amazing drummer based on raw ability and technique! I'm just thankful that we have video of him playing so that even though he has passed, we can still get a taste of how awesome a drummer he was. If you are old enough and were fortunate enough to see him play live, then you have even more of an idea what I'm talking about! I really miss being able to see/hear him play when he'd appear on Johnny Carson's show. It was neat that Johnny was a drummer and could really appreciate a talent like Buddy-heck, Ed Schaughnessy, the Tonight Show drummer was no slouch himself!
Todays Rock Drummers are useless. Only Pay attention to Buddy Rich. If you want to play in the sandbox and still wear diapers waste your time on Rock Drummers. If you want to play like a pro and sound like a pro listen and pay attention to Buddy Rich
Buddy Rich was and will always be the undisputed king of drums. There will never be another drummer to ever play like this man did. The commanding virtuosity and almost limitless speed, stamina and attention to detail put him in another dimension from every other drummer before and after him. He could destroy every drummer on this list, its not even debatable. Every list of top drummers should always put Buddy Rich in 1st place, otherwise it's not a real list.
Putting Buddy Rich in tenth place? What a Joke. Buddy Rich is in First Place. The other nine guys here that are listed would sound great with Mickey Mouse and Donald Duck. Only Serious drummers know all about Buddy Rich. You want to hear or see the above nine just go to a scrap metal yard and watch and listeb to heavy metal hammers hitting heavy metal. If you are talking real technical quality drumming pay attention to Buddy Rich. Enough Said. Buddy Rich is God of drumming. Forgive them Father the other nine can't come near Buddy Rich in the Art of Drumming
Number 1 - people have got to do their homework, Buddy started at the inception of the drum kit in American history. As a child prodigy, he mastered what became the jazz kit that is the basis of the Bass, Snare, Rack tom, Floor Tom Hi-Hat and Stand cymbal set up that every rock drummer uses nowadays. Without Buddy showing his own generation how to stretch the limits of this instrument, nothing else would have come afterward. The likes of Gene Krupa and Louie Bellson were also major contributors to drumming in the same era, but even they conceded that Buddy was the master...
You can look and listen to those five drummers ahead of Buddy Rich and start laughing out loud. Not one not one single one of them could come close to Buddy Rich. Any drummer on this list going against Buddy Rich is like comparing a mickey mouse cartoon character to the most powerful fearful Giant in drumming. That Giant of a drummer was the one the only Buddy Rich.
You want noise makers who play pots and pans style drumming stick with your heavy metal drummers. You want a class drummer who had great chops great ideas and fantastic speed and clean clean ultra clean drumming give a listen and watch and learn from Buddy Rich the MASTER Buddy Rich the GOD of Drummers.
I'm 13 and I been studying buddy rich since I was 5 all you other stupid people don't know buddy rich he and my dad were friends my dad told me all about him everyone tried to beat him in drumming but no one could you guys say that neil peart is the best, type in buddy rich impossible drum solo on YouTube and you will see what I'm talking about buddy rich is #1 and he should be #1 on this list
The best, followed Krupa, became the standard for all who have come since. The original is usually the best. The George Washington of drumming, he has the greatness the others can't quite have, because they are followers. Technical ability is perfect, fun to watch. He was one cool cat.
Most kids don't even know who Buddy rich was. Ask any real drummer and they will tell you quite simply that Buddy Rich has no equal!
As a ROCK drum teacher and music school owner, Buddy is best. But I am now believing in best drummers for different styles. Who is the best football player? Don't know. What position? See what I mean. How can you compare Buddy Rich, Virgil Donati, etc. One answer. You can't! Do a top ten for different styles of music. I like Neil Peart, but he isn't in the same league with Rich. My hat is off to all of them because their is a little piece of all of them in me and I love drumming for a living.
There are many great drummers but none as gifted as Buddy. I knew Buddy and have seen him play during the best and worst of Buddy's times. This includes hundreds of performances after illnesses and with a broken arm. Not only was he the greatest technician ever but he could play with more feeling than any drummer on earth too. If only we could ask those deceased greats from Sinatra, Dizzy, Coltrane, Basie, Miles, etc. etc. , they would tell us the same. A super human time machine, a technique yet to be touched and a foot that did need double bass drums or special pedals, Buddy was in outer space. every time I saw him he did something different. Over a span of a three day session in NY, the first night he seemed to concentrate on his BD doing amazing things with speed and co-ordination, the next night was brush night in which he did one complete set with a trio only and not his big band, and the last night was hands night - doing things that only God could have given him.

If you ...more
Because of rock music's popularity, you end up with a list like this- which can more accurately be called the "most popular and influential"drummers of all time. Ask Neil Peart who he thinks the BEST drummer of all time is: He will say Buddy Rich- as would any serious drummer or student of music. He was truly the Michael Jordan of his craft.
Just the best at What he did and at the time he did it. If he played in today's rock world he would rock if he played in today's hard-core heat be the hottest
If Dizzy Gillespie could play the horn better than the local bugler then buddy Rich is better than the people ahead of him on this list. If you don't know why deers make pellets cows make flops and horses make road apples then you probably don't understand why you don't know about drummers either.
Anyone who actually plays drums understands there are only two rankings; #1 is Buddy Rich and #2 is all other drummers. If you think I'm wrong, go on you tube and watch this genius in action, using only four drums, deliver more dynamics and range than anyone ever has using the 20 to 40 piece drum sets popular today.
This guy is way beyond most of the other drummers on this list. Peart is great, but even he can't compare to Buddy. The man revolutionised jazz drumming with his virtuoso technique, his masterful power and speed. Oh, and by the way, it's a sad day when Jo Jones isn't even mentioned on the best drummers list.
Buddy is the best ever. Most modern drummers wouldn't be as good as they are had Buddy never hit the skins. He started drumming in 1919 and is still unmatched.
Having studied Buddy Rich in slow motion over and over and then over again, it seems apparent that his long thumb and left-handedness gave him the God given gift to be the absolute best drummer ever born. He played melody with his left hand and could instantly change time and pattern at will. If anyone can imitate his playing, particularly on songs like WSS and Love for sale, Bugle Call Rag, etc...I am a willing listener.
Related Lists

Best Buddy Rich Songs