Ann Wilson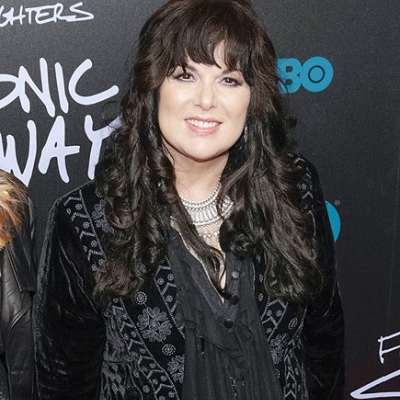 Found on files.wordpress.com
Info
Ann Dustin Wilson is an American musician, best known as the lead singer and songwriter of the hard rock band Heart.
Comments
Top
Popular
Newest
When I see Britney Spears ranked higher than Annie Wilson it almost makes me want to start drinking again. And people I've been sober for more than 10 years.
During the 70's, when HEART was a hard rock band, Ann Wilson was a master frontman(woman). Ann was the first woman to do it big in arena ROCK. She took her band and went toe to toe with some of the biggest names in rock history. All people seem to remember is MTV. By the time HEART got to MTV the band had broken up. Thank GOD for youtube. Go there and see HEART during the 70's and you won't believe how great this band really was. Type in Barrcuda 77 and the see Magic happen. Crazy ON You Live 1970's is another great video. See the master queen at work. - jerryw08
Ann Wilson is the best voice hands down of all the voices I see listed here. In fact the top 3 all time should be Ann Wilson, Patsy Cline (how she didn't make the top 10 let alone the top 100 on this site is ridiculous) and then Karen Carpenter. The only other voices I would consider in the vicinity of these greats would be Whitney Houston, and Cristina Aguilera. The rest of this list is insignificant. These would be my picks for top 5 all time. Judy Garland would be in my top ten.
February 2011 concert featured JOURNEY as main billing. Opening act was CHEAP TRICK and they did an excellent show. Next up was HEART... They ROCKED the house proving nobody can compare to the vocal abilities of the Wilson sisters, especially Ann Wilson. Standing ovations and FIVE oncores later, Journey came on and Journey is definitely a fantastic sounding show but they honestly had a weak sound after the HEART performance. A large percentage of the attendance left by the 4th song and half the outdoor stadium was empty by end of 6th song. Whatever agent booked Journey to follow Heart, should not be in that line of work and should not be called a promotion agent, unless he was hired to promote Heart, in which case a better job could not have been done! Go Ann Wilson Go Girl! (FingersFelix)
If there is any woman who has dominated rock it is definitely Ann Wilson. She has the vocal authority to sing hard rock songs like Crazy on You, Even It Up or Magic Man and then with ease, change her voice on a dime and belt out love ballads like, Alone, Love Alive or Dreamboat Annie. A master of voice manipulation and a range that is unsurpassed, Wilson is the perfect Rock singer.
This list is pretty lame. Ann Wilson could sing circles around these people any day. 25? She should most definitely be at number 1. I am stunned at the fact that Taylor Swift is above Ann, among others. I advise all of the younger voters to go check out some Heart albums. And I give praise to the younger voters that actually know good music. I'm 23 years old and believe that Ann Wilson is hands down the BEST singer of all time. I mean come on... OF ALL TIME... Most of the singers above her on this list wouldn't even be here if it wasn't for her and other singers from her time. I mean come on... Cher, Pat Benatar, Janis Joplin... This list blows my mind in the worst way. So, please... Go to YouTube, spotify, itunes or pick up a Heart album... You wont be sorry.
As others have said, go to YouTube and watch some Heart live clips from the 70s. Ann had the power, the range, the control, the expression, the phrasing...everything. Her harmonies with sister Nancy were sublime. I saw the live in the fall of '77 during their "Little Queen" tour...unbelievable. Very few live bands could hold a candle to them. Here's an example of the Queen of Rock in her prime, Crazy on You live in 1978 with Nancy Wilson's guitar solo intro ("Silver Wheels"). Notice especially from 3:58-4:01 where she holds a high note while bowing with her head parallel to her waist...effortlessly.
Madonna, lady gaga... Shania twain? Pretty much proves this list is a joke. Not only does she sing, she also writes music... When was the last time you heard her singing Celine Dion? Go to youtube and you will hear Celine sing Alone... Sounds good, but nowhere near the resonance and power that Ann possesses. Her voice is a force of nature and still sounds great at 60+... Ann is #1 in my book
A naturally talented gifted voice and sings without straining. Highs and Lows with no effort and no electronic help. All the other women sell some kind of appeal but Ann does not have to as she is classy and her beauty just happens to make the songs just that much more exceptional.

Come to think of it she is real also unlike these fake Hollywood actress dancer singers. Notice singer is last!
Ann Wilson is hands down the best singer on this list, both in the studio and LIVE performer. I love AOR music (corporate rock) and Heart and Ann and Nancy are the best singers 70's to present period. President Obama knows good singing when he hears it (just look at the Stairway to heaven Led Zeppelin video performance tribute on YouTube) as does Robert Plant who's worked with some great female singers. Ann writes and plays her own music and Nancy Wilson should be on this list. They are BOTH better than a lot of the singers here. Unfortunately the younger generation only hear manufactured pop these days to do with image first and music/songs second. I love the Heart song Nobody Home. Ann's voice moves me to tears. A true star!
This list is a JOKE! An absolute JOKE. I'm from Seattle, so maybe I'm a little biased. But I know good music. I've seen Ann Wilson perform at least 15 times over 30 years. In arenas, at the fair, in bars all across Seattle. She's THE QUEEN. She's #1. Period. Her voice is pure power. She loves what she does. And what she does is sing from her heart & soul. She was born to sing. Not to mention she plays the flute, guitar & mandolin as well. She has moved me to tears MANY times in my life...usually in concert...but sometimes just listening to her while I'm doing my housework. There's NO comparison. There's NO tie. She will knock your socks off & blow your mind & make you cry. She's phenomenal. Hands down THE best. This list is a JOKE. An absolute JOKE. Laughable really. There's a lot of talent on this list, but I completely disagree with your order.
Long live the Queen! Love rules and in my opinion she should be number one! She can sing a ballad to a arena full of people and make you feel like your floating on a cloud of her words and voice. Then fire you up and rock and I mean rock your world with songs like Barracuda. It really doesn't get any better plus her live performance sound just as good if not better as her taped work on an album.
If you have not seen (HEART) Ann Wilson live you will never understand her greatness. She stands with greats like Robert Plant of zep. She really is the Queen of ROCK. Got to love Dreamboat Annie. For those of you who have never seen her go to youtube put in (Crazy on you 1970's) and get some education on how being a real rock is done.
Greatness beyond compare when she started and getting GREATER every day!! Talent beyond compare.. singing.. writing.. playing.. everything!! living an honorable life of peace and love full of spirited soul, gracing our ears with many contemplations and gifts. Thank you for sharing your life with the Earth, Ann Wilson!
I'm shocked to see how many (clearly young) voters are answering based on image or "performer" status. Ann Wilson is a musician of stunning skill, range, and talent. Look on YouTube at any of her work and you'll be dumbfounded.
Put it this way... Who was tapped to perform Stairway To Heaven in front of Led Zeppelin for their Kennedy Center Honors? Ann and Nancy Wilson.
Without a doubt, the best singer I've ever heard. Technically perfect and full of intense power and emotion. Anyone who has been exposed to her voice would quickly vote her as the best vocalist in the last 40 years. She is also one of those rare musicians who can play a variety of instruments to a very high standard. Her songwriting is full of emotion and passion. None of the above rival her in being the most accomplished vocalist/musicianm not to mention the most naturally gifted,
Ann's voice is outstanding with an incredible range that few vocalists accomplish! She can sing any Led Zeppelin tune and I'm pretty sure she can handle anything else. Ann rocks!
Ann Wilson has never gotten the recognition she deserves.She is one of the greatest voices ever,male or female.Her voice is so strong and unique.
Ann is "THE BEST" Rock n'Roll Female voice ever! NoOne is even close to her. Ann is pure Rock, not pop music. No one compares to The one and only QUEEN VOICE of Rock Music...
I would just love to see Mariah Carey try to sing Barracuda, Crazy on you or Alone. How about Whitney Houston singing Love Alive or Who will you run to. This survey is a laugh. None of these singer's could hold a candle to Ann Wilson.
Super talented. Their cover of Led Zeppelin's Stairway to Heaven was amazing! Let me repeat that. They COVERED Led Zeppelin! There are maybe a handful of bands who even possess the talent to cover Led Zeppelin! You never see Led Zeppelin covered, and the reason is that you need the talent of Ann and Nancy Wilson to do it! This lady will probably never be top ten on this survey, but she should be top five.
Passion, power, technical brilliance, Ann Wilson has it all. - CatAnna
I think #1 should be Ann Wilson. #2 should be Aretha Franklin. Mariah Carey, Celine Dion, and Karen Carpenter should be #3, #4, and #5. Annie Lennox should be not far behind. Also others such as Patsy Cline, Alison Krauss, Reba McEntyre, and Julie Andrews should be much higher on the list than they are. Christina Aguilera should stay high on the list as she is. People don't give her credit; she's much more than Genie in a Bottle. There are many on the list that will not stay in the spotlight long and do not have the talent they are given credit for.
If this list was based on artists who possess true, genuine vocal ability and talent then Ann would totally destroy most others ranked higher! List is a JOKE! ANN sings with incredible Power, passion and from the heart. Most of today's younger artists just yell and scream. No other voice gives me goosebumps like Ann's does. She is SENSATIONAL! She can sing just about anything and make it her own. Ann has just released a typically wonderful cover of Aretha Franklin's 'Ain't No Way'. Well I've listened to some other versions ie A Christina Aguilera version that has lots of screaming but NO real SOUL or Feeling! I've also heard Celine Dion "try" to cover 'Alone'. Even at 65 ANN WILSON has THE BEST PIPES in the business! A TRUE LEGEND!
Ann Wilson should be number 1, that she is not at least in the top 3 is a travesty and just goes to show the power of marketing, kids need an education in what real music is... An authentic voice with self penned music and no need of electronic rendering... Power majesty and might... Ann Wilson number 1