Florence Welch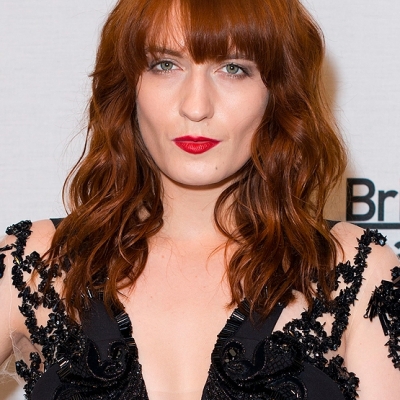 Found on celebritysizes.com
Info
Florence Leontine Mary Welch is an English musician, singer, and songwriter. She is best known as the lead vocalist of the indie rock band Florence + the Machine.
Comments
Top
Popular
Newest
If you have not had the pleasure of listening to Florence Welch, you are truly missing out on something that will blow you away. Her vibrato is jaw-dropping, her songs throw your emotions in a whirlwind, and her mysterious yet vibrant stage presence will have you beckoning for more. Her live performances are out of this world. Her newest song, Over the Love, will have your head shaking and arms thrashing with the completely overwhelming power of it all. If this list was truly a list based on talent, Ms. Welch would easily take the top slot.
This list seems so biased toward popularity. The fact that Lady Gaga is ranked higher than Florence Welsh proves that. Overall, I'd rank Florence Welsh in the top 5 at the very least. Her voice is just so powerful and so unique. There really is no other artist that can match her. Honestly? She has arguably the best voice of this generation, and deserves to be ranked so much higher than this. I mean, having Lady Gaga, Taylor Swift, and even Selena Gomez ranked higher than her? It's a travesty!... Then again, Selena Gomez at #30 is a travesty in and of itself.
One of the most unique and talented singers ever. Her voice is breathtakingly powerful, and her tone, is one-of-a-kind!
Her lyrics are inspiring! Her songs, magnificent. And she herself is amazing. Her alto voice is why she is one of the best singers out there, and the best artist ever!
I am probably one of the biggest florence+the machine fans ever and I have heard what singers of every genre and style have had to offer, but none of the singers on this list can compare to florence. She has a range well above 3 octaves and an extremely unique voice. Plus, she has real character to her voice unlike most singers these days and blends many of her musical inspirations into her music. No one can touch Florence.
Her voice is so powerful and beautiful, gives me shivers every time I listen to her records. She hits all the notes on a huge range, and she puts so much emotion into her work. She's just so inspirational!
Florence is by far the best signer. When I try to sing next to her voice I sound like a dying cat. She should at least be 2nd. Her voice is so powerful I try to be as good as her but I know it's useless. I should just stick to playing the bass. Her choice of lyrics is also great! I am one of Florence's biggest fans and I listen to her songs ever day. Dog Days are Over is my favorite song of all time.
Florence Welch has divine vocal chords and is one of the best singers of all time. She has one of the most unique singing voices that world has ever known. Her voice does not need editing at all because her voice outshines any sound editor that "makes her sound better." Her voice in "Shake It Out" and all of her other songs is incredibly powerful. No one can keep up with Florence.
This list is awkward. People who can't sing live are much higher on the list than Florence. Seriously? Selena Go-stupid placed higher than her. Listen to her live. Just go do it. She DESERVES to be at least in the top 15, because she's that amazing. I would rank her among the best singers in the world and I would place her up there with whitney and Celine.
How is almost half the singers that was ranked before florence, better than her? Her vocals are strong, precise and emotionally unique. She definitely deserves to be ranked a lot higher. She's so versatile, compared to a lot of the mainstream artists, she sang for a dance genre music, florence can do opera, indie, so much more.
These other singers are good... But florence has the greatest range and control out of all of them. She can hit deep notes and high notes. She has mastered head voice, falsetto, really just singing. She also has great stage presence and her songs have helped me get through so much. I truly believe that she is an angel.
I love Florence. She is such a powerhouse singer but at the same time she does it with taste, not like Aguliera or Celine Dion who can be pretty annoying at times. Florence also brings such good songwriting along with her voice + she has an amazing fashion taste = triple treath!
Definitely should be in the top 10! I really don't understand why Britney Spears and ke$ha are above the one and only, Florence Welch! She not only has a breathtaking voice but she also has inspiring lyrics that make you really think. Ke$ha and Britney and Rihanna will never have those qualities because the only thing that they have is auto tune and idiotic lyrics with "party" references. And by the way how the heck is Ariana Grande below all these singers anyway. Clearly she's only known as the "nickelodeon girl" because she's definitely up there with Mariah Carey and Christina Aguilera!
Better than adele
She has it all people
Has a good sense of style
See her live wont regret it
VOTE FOR HER!
Florence's music is Art. Indulgent and powerful, utterly captivating. She combines wonderful vocals with fantastic lyrics (self written) and by God deserves to be placed higher than Selena Gomez, come on people.
She is such a good singer, could easily compare with Adele. Both I think have a brilliant voice. But I puck Florence because she is really and inspiration. I love her music and her songs all have meaning to them. I think she should be listened by far more people.
MAKE HER number 1! Because she is. She's better than Adele. Definitely better than Britney and Taylor and Katy and all this other half-baked auto-tuned women ahead of her. MAKE HER number 1! - thaxception
When her voice filled the Royal Albert Hall the way it did, it set the bar to a place that few others can reach. I put her with the greats. Not only does she have a powerful voice, but she is a woman of class. This list is insulting to real musicians!
I hate it because people voted singers because they are famous yet they haven't heard amazing singers that are not mainstream singers nowadays. Florence is so underrated. Only true musicians love her.
Oh I should have voted for her... she must be no. 1 I'm serious, just listen and enjoy her voice. I'm not the kind who listen to her kind of music but her voice is gold!
She deserves to be much higher than the likes of katy perry and rihanna, everyone should see florence live, such a unique powerful voice!
Seriously? Demi Lovato and Selena Gomez in front of her? This list needs some serious reconsideration. Her voice is stunning and one of the best I've ever heard.
WHAT? How is she below miley cyrus and britney spears. In my opinion, the only artists who deserve to be above her on this list are aretha franklin, whitney houston and celine dion.
Its sad she is truly amazing her songs all unique. Compare her to any other and she will triumph in studio albums and live. She needs more attention.
The Best ever, she got an EPIC voice and she held a note without varying pitch for 32 seconds! (did I mention she's and incredibly amazing song writer)
Gorgeous, angelic voice. Her songs actually mean something unlike pop songs of today. The strength of her voice really cuts through you.