Sharon den Adel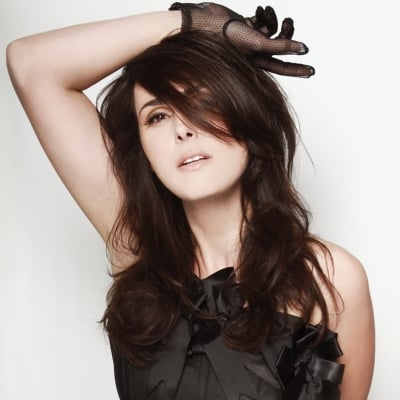 Found on media.tumblr.com
Info
Sharon den Adel, Dutch singer and the vocalist of symphonic rock band Within Temptation. ...
read more
.
Comments
Top
Popular
Newest
Sharon is the singer that make me fall in love with Metal and Rock music Because of her, I started to discover Tarja Turunen, Simone Simons, Liv Kristine and even addicted to Sarah Brightman's vocal. But it's sad that Sharon is under-rated, not many people (from where I live) knows about her, but I hope that more people will discover her and her band Within Temptation, and realize that there is much more powerful singer out there than mainstream over-rated artist. Sharon is a versatile singer, She can sing high notes and low edgy rough vocals. Not only she sings Metal and Rock category, she even sang in one of the best Trance DJ Armin Van Buuren's song "In and Out of Love". Sharon deserves the first place. Or in the top ten cause this is hard as there are many great singers to vote like Tarja, Sarah Brightman or Amy Lee. But overall, I prefer Sharon as she is very versatile.
When I read the comments about those poor singers like Spears and all the others, I understand how much attention do people pay on cheap appearance. And it's so awful that they don't care about vocals, musical talent or lyrics. Look at the metal. This is so genial kind of music that... I don't know what would I do without it. This is art, and this is where people really invest their soul... Well, you understand me. Particularly the cultural legacy of Within Temptation songs mean too much for a lot of metal fans all over the world, as much as the songs of Nightwish, Epica, Therion, Tristania, After Forever etc. Female fronted metal is one of the most beautiful genres. So how can you dare to say that there's something better? Something that must take the highest place?

After thinking a lot I decided to vote for Sharon. She's worth it.
Hail metal! Sharon rules!
If only people know more about Sharon, they will realise how a true vocalist should sing. I started listening to Within Temptation from 2008, that is since I was in 9th grade. The first song I heard was "Ice Queen" and I fell in love with her voice (not forgetting the whole band members) instantly. Since then, I started downloading all their albums and music videos and I keep myself updated of their latest news and activities. I like their Gothic/symphonic approach to music, the heavy guitar riffs suffused with the pure angelic voice of Sharon. But I am a bit disappointed with their latest album, as they have deviated from the 'dark melodious Gothic/Symphonic style' and started to embrace a Pop approach. Nevertheless, Sharon is the best And for your information, my friends call me "Within Temptation" guy because I listen to them all the time... Even now
Go Sharon! A truly classy lady who possesses an AMAZINGLY versatile voice. She can sing so many styles and basically make you weep tears of joy with each of them! Whilst I do admire some of the singers higher on this list, I believe that at the very least Sharon should be Top Ten. She clearly has a better voice than most on this list - I mean with all due respect; Cher, Madonna, Donna Summer, Britney, Avril and most of the others are light years behind Sharon on pure ability. I'm sure many who are voting haven't heard her work - if they did I'm certain she'd be up near the top. It's irrelevant to this vote I guess, but if you throw in movie star looks, humility, kindness, mother of three - Sharon is the COMPLETE package. An incredible human being, great role model for young girls and the BEST all-round vocalist I've heard in my lifetime. LOVE YOU SHARON!
Sharon's voice is the voice of an angel. it has both power and emotion. she is an amazing performer and she knows how to move from one style to another without losing her unique style. she can sing everything, from opera to house. and the most important thing is that she is not a product of the studio. her live performances are just as great as those recorded on the CD, and sometimes even better. she is a very talented song writer and she writes the lyrics of all the band's songs. she is a very sweet person too. she should definetely be in the top 10...
She's just a pure goddess! Her voice is wonderful, her interpretation is always different, and she's always smiling and being nice to us fans. Within Temptation share really everything with us and makes us feel like a family. That and the best music I've ever heard in my whole life makes the band one of the best in the world and Sharon the best female singer ever! Talent and beauty
I definitely think Sharon should be in the top 10, well above Amy Lee (personal opinion of course). Her voice is so versatile, sometimes sweet and clear (Black Symphony version of Somewhere, Angels, Jillian, See Who I Am etc), sometimes heavier and darker (Iron, Faster, Silver Moonlight, Covered By Roses, Shot in the Dark) and sometimes light and breathy (Let Her Go, Sinead, Memories, Ice Queen, Mother Earth, Our Farewell, Forgiven). Her live performances are almost always just as good as her studio performances, something I find lacking in many modern day singers such as Ariana Grande and Selena Gomez. I also like that her fans seem to be more mature than the fans of other modern artists like Amy Lee, Lorde and Adele and are able to actually discuss the positive and negatives of their favourite artists without getting butthurt about it; not necessarily a reason she should be higher up on the list but a point worth mentioning.
Considering the fact that Sharon never had any singing classes or music education SHARON IS ONE OF THE BEST SINGER IN A WORLD!
Her voice is soft and touching like a summer breeze!
She can sing from heavy across the rock to the pop, and sound PERFECT every time!
And all that by her natural talent!
Not like some spoiled, untalented woman who needs practicing every day (like Tarja who is totally overrated! )
She is the reason why I smile all the time at work. Her voice it's a gift from heaven for no particular reason.

I'm in love with the sound of her voice, please just give her a chance and listen "Memories", "All I need" or "Fire and ice" from Within Temptation.
Sharon den Adel is amazing... and arguably one of the best. I'm surprised she's not further up on this list. Sharon doesn't just have an amazing voice but her lyrics mean things... and they seriously make you think. I've never heard anyone better than Sharon. Another unique thing about Sharon's voice is that it won't stay the same in every song you hear, her voice is different in everything, and in each and every song, she sounds amazing. Sharon also is not a work of the studio, she sings beautifully live.
No matter where she comes in this competition, we know she's the best. Just because she isn't as famous as the rest doesn't mean she's worse. SHE CAN KICK YO ASS.
She HAVE TO WIN!
She's an angel descended from the sky.
Her voice can do any type of music, is so sweet, strong and high
She's a great singer and a great person too!

SHARON DEN ADEL HAVE TO BE THE WINNER OF THIS COMPETITION!
Sharon has the purest, most angelic voice I've ever heard. (But she can also deliver many other powerful vocal styles. ) She also has the most amazing charisma on stage; you can't help being happy to see her. Plus she is very beautiful and wears awesome clothes.
Sharon has not only an extremely beautiful voice, but a long and spotless history in her band. I haven't heard a thing about her being hysterical or messed up with money or her musicians. She is heavenly beautiful in her motherhood. I vote for this honest and full of dignity woman, because she is really worth of adoration. Natalie, Ukraine
She is way underrated she deserves to be up there in the top ten or at least over Beyonce Brtiney Spears and Mariah Carey they only get attention from wearing next to nothing singers like Sharon den Adele Amy lee and tarja get attention from the quality of there voices they can control there voices especially Sharon
Sharon's voice is so beautiful! She's for me the best female singer in the world and since I've heard her voice the very first time, I couldn't stop listening all her songs... I'm in love with her!
What a voice! Sharon is the best, her voice is just amazing. I could sit and listen to her sing all day... She has unique voice and definitely she sings from the heart. We love you! Let's Vote people
Sharon always keeps her voice under control, and she even sings better live than on CD sometimes. Plus, she works so hard to keep on progress with her voice. I think she should win for that, so my vote goes to this talented woman.
Sharon is the best and the most creative female singer in the whole metal scene! When she's on the stage, she's unbelievable!
She has one of the most clear and special voices around, listening to her live is an unmatched pleasure. Charisma and talent embodied (not to mention her beauty and seemingly endless energy on-stage), she is without doubt one of the best singers not only in metal/rock music, and -needless to say- my personal all-time favorite Female Singer.
She sings like an angel, her voice serves to a lot kinds of music. She sings with soul and a smile... overflows with sympathy and takes us into the world of dreams.
She's a Great singer and a great woman... So sweet with her fans and so energetic in the show...
Sometimes I think that she's not human xD
I really love her
Sharon's voice is very flexible. She can wonderfully accompany the growls of metal, as well as lead a rhythmic 80's rock song. She truly is the Goddess of metal.
The best from the Netherlands with a vocal style between classical and pop rock, she really has an amazing an versatile voice that can adapt to many musical styles from rocking to a metal song on a festival to singing an acoustic ballad on a theater
She's absolutely a lovely singer and artist! The music she and her band produce is unique and clearly heartfelt. She also has a great high range!