Best Telltale Games
The Top Ten
1
The Walking Dead
As a big fan of telltale I can say a lot of these games are amazing. TWD and GOT are really focus on character relationship. WAU is more like a fantasy dark polar and TFTB is probably the coolest videogame I ever played. Minecraft is really cute and original, more family friendly, but still a very solid game even if the characters are not memorable as other games from telltale.
Just flat out an awesome game that captivated me with every character and scene in the game.
This is the most emotional game with a great story that you will not forget it.
Best game I have ever played (Besides Undertale). If you like Undertale then you must love TWD.
2
The Wolf Among Us
My favourite Telltale game, and one of my all time favourites games. I prefer this and Game of Thrones to TWD if I'm being honest. I got completely lost in this story, it was so gripping and the characters were so fantastically written. The overall theme and design of the game made me fall in love, especially the first time I watched the opening credits.
The wolf among us is a well written game, often you are put in a situation where you have to choose between what is morally correct thing to do and what you want to do based on your anger and the feeling that everything is wrong and you can't make it right by doing the" right thing". This is thhthe essence of a good decision based game. It wouldn't have been this good if your decision were easy or unimportant.
This game is almost perfect. Walking dead is the perfection,but the Wolf among us have to be second. The story and the suspense are awesome! The characters are amazing or crazy and this is why the game is so good!
I loved all five episodes this game is my favourite telltale game. Episode 5 Cry Wolf Is My Number one favourite episode of wolf among us (10/10)
3
Tales from the Borderlands
How I this number 3 I guess this was an old list because even wolf among us is above this game. This game was by far telltale games best. No really I'm not being a fan boy just google the top ten telltale games series and you will see... Better yet just buy this game you wont regret it, just be warned the characters are miles better than the walking dead so you might end up throwing away the game you have been warned
After all of Telltale's dramas recently, TFTBL is a refreshing and fun experience. It has well written characters, story, awesome music, great intros, and fantastic voice acting, While I do love the Walking Dead Season 1, TFTBL is more fun. Truly underrated. TFTBL> GOT
You will not stop wanting to be in the world this game introduced you to. You will not stop wanting to know what happens next.
I mean seriously I have played each and every telltale game they are almost all awesome..even the walking dead..but seriously speaking I didn't find any game more adventurous, funny,well managed and absolutely perfect just like TFTB..In my opinion TFTB is without any doubt the best telltale game ever..telltale should obviously being TFTB 2
4
Batman: The Enemy Within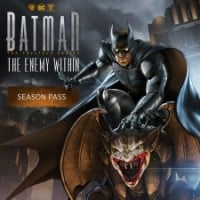 The first season was great, but Batman: The Enemy Within is an overall improvement. New and greatly developed characters, a more sophisticated story and the options to create our own interpretation of the Joker. Also, a lot of hard choices to make throughout the season.
Easily the best in my opinion. The first was fine, but season 2 gave a much deeper, and intriguing plot, with better written characters, a better conflict, greatly improved visuals, and the best portrayal of the Joker since Mark Hamill's all the way back in batman TAS.
Telltale did a very good job with the Joker in this series. He learns from you like AJ learns from Clem. And the final episode can be totally different depending on what you teach him.
Great story, great character development, great plottwists, great villains, and the final episode is just completely different depending on your choices
5
Game of Thrones
Definitely not as good as The Walking Dead but as someone who doesn't watch (And like) the show, this game is really good. I thought the main characters were likable enough and the story arcs for them were interesting. The side characters and the villains weren't too great though. However, that ending definitely left me wanting more. I really hope Telltale makes a second season for this already.
Kept me at the edge of my seat. Played Ep1 and right away got the season pass. great character design and plots. Only thing that bugged me was the animation and acting, wished the graphics were better, but overall does not matter. This game will grab you the whole way through.
I am totally loving this game right now... I say game its more like a T.V. series which you are embedded in... Totally awesome
Vote this up! Deserves #1 spot!
6
The Walking Dead: Season Two
Not as good as the first one but definitely deserves a high spot. While I didn't exactly like the idea of everyone taking advantage of Clementine and the beginning is a major slap to the face of the ending of the first game, I thought Carver was the best villain in the game series and the return of Kenny was a major nostalgia feel. It is still the best sequel for The Walking Dead though. A New Frontier and The Final Season are just awful at the moment.
Carver is a great villain
Kenny is a great character
Playing as Clementine is awesome.
Awesome one, I fell in love with Luke and Nick, those were the best friends ever!
This is an amazing sequel to a game and definitely deserves to be higher up.
7
Minecraft: Story Mode
This game is so awesome! I have five star rates for all episodes! The wither storm in episodes 1-4 was so cool that I think that they should have added it. I know it may have been added, but I think that if in regular minecraft, Someone would be lucky to start their new world like this! Also, the potion effects are so cool! I mean like when you drink a leaping potion, you go super high! If anyone finds out about this game they would be like, this is too good to be true!
My God, this game is indredible. I can't even express my love for it. It is a very meaningful game to me and I am very attached to it. I am voting for this game because it is my favourite Telltale game. It is charming, funny, epic and even sad from time to time. The funny thing is that I'm not even interested in Minecraft that much, but I love Minecraft: Story Mode. I can't even play Minecraft these days without comparing it to Story Mode. Seriously, it's THAT GOOD!
Honestly, I thought the idea of this game was stupid when I first heard about it. I like Minecraft and Telltale, but I thought that Minecraft wouldn't translate well into that style and this would turn into a dumb cash grab. I was wrong. The game had a great story and it translated the Minecraft concept and style very well into the Telltale style.
This is such a meaningful game. It has deep characters, like Cassie Rose and Harper. And people who seem like villains, they have a backstory that erases the angry fog. And the protagonists, unlike most games, are thrust from a NORMAL, unimportant life to save the world. I love it!
8
Batman: The Telltale Series
This game finally gave us the option to have Batman and Catwoman have sex. What's not to like?
The first one is good but the second is the best!
9
Jurassic Park: The Game
It is awesome
10
Back to the Future: The Game
The game that brought me into the colorful world of Telltale and the BTTF franchise itself.
The Contenders
11 Law & Order: Legacies
12
Sam & Max Beyond Time and Space
Sam and max forever
13
Tales of Monkey Island
14
The Walking Dead: Michonne
While not as good as the primary game, the idea was interesting. Michonne in her own game with the same play style as the primary games.
15
The Walking Dead: A New Frontier
This is by far the weakest TWD game in the franchise and really just feels like a plot point to age up AJ and Clementine. The story is so generic and I'm sorry but this game was awful.
Such a great game
16
CSI: Deadly Intent
17
Strong Bad's Cool Game for Attractive People
Better than all of you
18
The Walking Dead: The Final Season
Better than most titles on this list. Should be a lot higher.
In my opinion this is the best one, I guess.
19
Sam & Max Save the World
20
Telltale Texas Hold'Em
21
Minecraft: Story Mode - Season Two
Played it the day it came out! Plus I bought the whole season and I have no regrets! Introducing new characters such as Jack, Radar, and Stella, along with families faces like Stampy, Stacy, and Nell! Truely perfect and Telltale nailed all the emotions it was trying to capture! Love the Admin character and the long wait for this to come out was worth while! Question - Cake of Pumpkin Pie everybody!
22
Guardians of the Galaxy: The Telltale Series
I honestly really liked it this game. And the powered up eternity forge choice in the final episode might be the toughest choice in all of telltale.
This game is fun.
23
Sam & Max: The Devil's Playhouse
24 Poker Night at the Inventory
25
The Walking Dead: 400 Days
A great dlc to play
PSearch List