Top Ten Greatest Female Opera Singers
The Top Ten
1
Maria Callas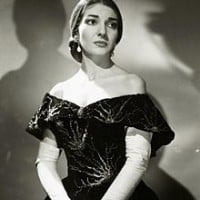 Maria Callas, Commendatore OMRI, was a Greek-American soprano, and one of the most renowned and influential opera singers of the 20th century. Many critics praised her bel canto technique, wide-ranging voice and dramatic interpretations.
She created her own art, and some people hated it because it wasn't classically beautiful, but who cares it sounded way better and she is by far not only the most talented soprano of all time, but her veracity, her willingness to show facts, accuracy, and honesty in very aspect of her career is so amazing even on top of all her talent. She didn't care about beauty as much as she cared about creating her own honest style that to this day has changed the way sopranos sing, she was honest and cared solely about what she wanted to accomplish and not what everyone else thought if her. She broke through with unbelievable talent that was her own individual sounds that were out of the norm, but were so amazing. I hate opera singers apt just because I find orbiting, although they do hAve some of the most astonishingly and amazingly beautiful voices, it's just not my genre of choice. Without callas being the first soprano to breakout of the norm of society, and create her ow even more amazing ...more
She lived her vision and changed the entire world of opera because it was unique and authentic, and so tragically beautiful in it's sorrow.
The Maria of our dreams. She did it her way. Always! And always so rightly! A creature far ahead of her time and all that in such a narrow 10 year career span. A true Sui generis
Decades after Callas's death and her legend lives on. Ask the person in the street to name a female opera singer and chances are the answer will be, "Maria Callas" - the same cannot be said for others on this list! Callas's interpretations may not always have been the most technically accurate, but her emotion, passion and soul shone through. And isn't that what art is all about? The ability to stir something inside you that cannot always be explained? It is rather like Monet's "smears" and "blobs". At face value they are not technically art, but when you look at the whole picture, it is beautiful... For me, Callas's vocal range was unsurpassed by others of her genre, which gave her the most amazing versatility. Plus she was a person who refused to conform to a mould, especially in a time when women tended to have less freedom than they enjoy now. Yes, she made mistakes, but Callas's honesty made her human and a beautiful person. And for all of these reasons, her legend lives on.
2
Joan Sutherland
Joan is the greatest opera singer of all time. What I don't get is why Tarja Turunen is on this list. I listen to Tarja and she sounds like a pop singer. In no way is she an opera singer.
If TheTopTens allow a pop singer to be on an all time greatest female opera singer poll, then, Celine fans, Beyonce fans will vote here. And those pop singers have millions of views.
Opera singers should have their own polls. There is already polls for pop singers.
If TheTopTens is watching, can you remove Tarja Turunen from this opera singer poll? I could not find one legitimate opera aria sung by Tarja Turunen, which make her not an opera singer.
Nobody on this list can compare vocally to Joan Sutherland. Maria Callas was the greatest actress ever in opera, but there's more to opera than just acting. Vocally she was difficult to listen to when she was singing in her upper register, lots of shrill tones and a terrible wobble that I found very distracting. Renee Fleming has a beautiful voice but her strong suit is slow, sustained singing. Her runs are often messy and her trill is not consistent. And in my opinion Leontyne Price had a more beautiful voice. Joan could sing anything, whether it was intricate bel canto or something more dramatic. There will never be another female singer of her caliber.
Probably the greatest diva in the millenium. All other divas should strive for the perfection of her technique and evocative and moving interpretations. Luciano Pavarotti called her the voice of the century - Sherrill Milne said in one interview he felt pained to sing on cue as it seemed rude to interrupt such an equisite performance. Peers are the best judges and you have to go with them. Of course, this is all subjective but the respect of her peers - the truly knowledgeable in my judgement makes her the greatest of all time.
I have never heard a greater voice live in the theatre. I saw her 63 times in operas and recitals and was simply over awed at the sheer beauty and power of her high notes and truly amazing - beyond words - breath control. She set the benchmark for all other coloraturas to esteem to. And, what a gracious lady taboot. No attitudes, Joan Sutherland just delivered the best. I knew, once she retired I would never hear a voice that great again. And, I was absolutely right there.
3
Renee Fleming
By far the most beautiful voice on the opera stage today. Her ability to express different emotions is unique! For me she stays number one. I listened to her way back in the 80's when she participated in the Unisa singers competition in South Africa. Even then the quality was unique and promising. I was fortunate to meet her again in 2009 when she visited South Africa.
Surely number one of the current era. Hearing her first on the Saturday radio opera without knowing her name it was clear that here was the new best of our time. In the past I loved Tebaldi. And Milanof more than Callas but how lucky we were to have all three!
Fleming voice is not one of the most beautiful voices of all time. It is too strident in certain sections, too shrill in others, and lacks uniformity throughout. She should not be on this list!
Experiencing her art and voice live was a bucket list dream before I had ever heard the term or reached an age when I needed to. Twenty years on now, for me she is simply nonpareil.
4
Tarja Turunen

Tarja Soile Susanna Turunen-Cabuli (born August 17, 1977), generally known as Tarja Turunen or simply Tarja, is a Finnish singer-songwriter. She is a soprano and has a vocal range of three octaves. ...read more.
She is too good to be real ;) She is the best singer, in my opinion... She can sing Classical songs and Metal :D Her high and slow notes are amazing and it's just unbelievable to hear her singing, a true angel and siren! She's great on stage, she smiles and interacts with the public, and she sounds even better in live. She has a great style, she is the sweetest person ever and she is absolutly GORGEOUS! Her beauty is unique, she's not just the best singers but she is also the most beautiful person inside and outside in the world.. One word to describe her : Perfect.
Her voice is just stunning. When she sings Ave Maria I get shivers!
She is both mesmerizing and very talented. Despite all of her talent and voice, she is a really sweet person. I've met her in person, got an autopgraph and a picture with her, and all I can say is, that she is one of the sweetest people I've meet. Beauty, voice, talent together with kindess - perfection!
I really love both kinds of Tarja's creative work: classical and metal. Unfortunately I was only at one of her concerts (WLB on 28 April in Saint-Petersburg, Russia), that was really amazing, but I hope to see her again and to hear her opera vocal.

P. S. Who knows may be the next time I would be able to get the autograph.
Tarja brings a lot of inspiration to everyone, there are always people who may not like her, but they can't deny how beautiful or influencing her voice is. She's without a doubt, made an amazing name for herself and deserves to be rewarded for reaching so far in life.
5
Leontyne Price
This great singer inspired me to become and study opera, before I became a composer. Her voice is one of the rare gifts to humanity. Very few real dramatic soprano's are born with the richness and range displayed in Ms. Price's voice, nor is there the dynamic richness and beauty of her voice. My first introduction to her came from records of her opera Aida, along with Porgy and Bess, when I was just 10 years old; with her ex-husband. There is only one singer today that I strongly see as having the level of interpretive phrasing and vocal quality of Leontyne Price... and that would be Renee Flaming, after that the other pale in vocal quality.
L am in shock to see Leontyne Price in the 22nd spot on your list considering some of the previous ones. It is very clear to me that the voters are not familiar with her work nor her struggles as an african- american in the world of opera and else where. The opportunities were not the same for all; nevertheless her talent could not be suppress.
I experienced her performance of Aida at the Met and at her retirement in the same role; it was absolutely breath taking. She was regal and so was her voice. Review your list!
My mother was the nurse for the Met in NYC. I spent many, many hours there as a child and Leontyne Price was my very first crush. I considered her a goddess. The day after I turned 5 years old was a day I'll never forget. That was the day the Goddess gave me a kiss. The very next day I came down with the mumps, and the entire Met, all the singers and the staff, wound up having to be inoculated. That was August 26th, 1961. Just a week or two later was when she lost her voice while singing as Minnie in "Fanciulla". I almost cost to Goddess her golden voice!
Leontyne Price was a real opera singer; not just someone who sang in a soprano voice. She was the real deal! One of the greatest exponents of the operas of Verdi, she had a beautiful deep rich voice, which she used with intelligence and feeling. You have to go back to Renata Tebaldi, Claudia Muzio, Rlizabeth Rethberg and Rosa Ponselle to find her equal. The only singers in the list above her as of date (7/8/2014) that are real contenders to the crown are Joan Sutherland and Monserrat Caballe (I suppose I should include Maria Callas, but she lacks beauty of voice)
6
Dame Kiri te Kanawa
Her voice is as smooth as silk! I get chills when I hear her sing!
I had the pleasure of meeting Dame Kanawa on a flight that I was a working
Crew member. She was ever so gracious & so humble when I acknowledged her
& mentioned how much I enjoyed hearing her on PBS' Great Performances. After the service was completed she took the time to come into the galley & personally thank us for our professional & personal service.
Simply loved her voice. Dame Kiri te Kanawa came out of humble beginnings and fought through discrimination in New Zealand in the early days to win an opportunity for music education at the Royal Conservatory and achieved world wide musical fame for her talent and performance. Recently retired at 72, Dame Kiri te Kanawa has accomplished much recognition for her people and for New Zealand.
She might not have the most powerful voice of some of the great voices on the list but her artistry, stage presence and effortless passages just melt my heart like no other voice. I love a few of the greats but always return to kiri to compare their renditions with kiris that I just love. I very rarely change my view but there are a few singers like kathleen battle, joan sutherland, callas, cabelle whom challenge her renditions of some songs
I have listened to kiri te kanawa.. Her voice is absolutely beautiful.. She seems to be able to slide effortlessly from an unbelievably low range for a soprano to her lovely high range... Her breathing, to me,... is perfectly timed, she's in my top Two.
7
Montserrat Caballé
She is unbelieveably musically competent, to even the smallest details. Her voice is mighty but tenuous, only short in higher range. With great sense for melody and wonderful sensibility, she the No1 in slow and emotional arias, and those are those most moving. For me she deserves the 5th place or so.
A depth and range of voice that is so effortless and only a stone heart could not be moved.
She is unsurpassed in her many roles and her recording of songs from her native land is quite superb.
I to hear Montserrat Caballe sing for many years. Luckily for me I attended the Met very often when she was in her prime. She is my answer in security questions that ask for favorite singer, which, of course no one else could ever imagine.
I love her Barcelona piece. I enjoyed that so much that it inspired me to listen to several of her other operas. Because of my adoration of freddie mercury, I have discovered this womans beautiful voice.
8
Kirsten Flagstad
Pandora can't find her in it's search of artists. Now we know the idiots that run that technology don't deserve to handle great music.
Had she lived today. Her voice would be more than a distant memory and poor quality recordings. We've never anything like it... Before or since..
She is the best voice of all the time. Who does not know this is ignorant. For sure. Ask the experts.
Ms Flagstad is my all time favorite female operatic singers. Where can I buy a photo copy of her? Please reply at "eastwestintl@comcast. Net".
9
Jackie Evancho

Jacqueline Marie "Jackie" Evancho (born April 9, 2000) is an American classical crossover singer who gained wide recognition at an early age and, since 2009, has issued an EP and seven albums, including a platinum and gold album and three Billboard 200 top 10 debuts. Evancho's 2017 album, Two Hearts, ...read more.
This list has the top 11 greatest female opera singers PLUS Jackie Evancho. This is very high praise indeed for a thirteen year old singer. Should you ever doubt her name belongs on this list, listen to her CDs, or go to YouTube and listen. Jackie just naturally reaches her audience the way Opera stars WISH they could reach theirs. These ladies have all worked very very hard over their careers to achieve their positions in Opera, and they certainly deserve their accolades. However, Jackie is such a colossal natural talent, that many believe she deserves a place on this list.

This will be an interesting list in another 10 years.
I've been told that there are other prodigies in the world, that prodigy is not as rare as I think, and that Miss Evancho is quite good but not a performer that is nothing less than a treasure for entire world. Well, with the advent of YouTube and streaming music services, it's actually possible to listen to the "others," and that's what they all are -- also-rans. A voice like this can't come along more often that once in a generation, perhaps less often, and it's therefore my belief that that she's the standard by which all others will be judged within a few years. That's why she already should be near the top of this list: she hasn't achieved as much as the others, but the rating here is "the best," not the most enduring or experienced.
This child's voice is a contrived instrument that will show it's true nature as she grows older. I've heard hundreds of young girls' and young women's voices that are much, much better. Voices that are not pushed beyond their capabilities or darkened to display a much older sound. She is not nor should she be listed in the same category as Kirsten Flagstad or Joan Sutherland. Evancho's voice, if it were trained properly (at the correct age to begin such training) may have revealed a good voice capable of an operatic career when she entered her early twenties, but at her age nothing good will come of it. She will wind up like Charlotte Church, who almost ruined her voice and now is performing pop music. Get this child off this list! She doesn't belong here with the true greats of opera!
Jackie doesn't think herself an opera singer. If she sings opera arias she does it in a classical style. Her presence on this list is because her presentation of arias or other songs sound better then that of opera stars.
Compare "Ombra mai fu" by Jackie and by the great Cecilia Bartoli; do the same with "Your love" by Jackie and by the great Renée Fleming. Did you hear the difference?
10
Carmen Monarcha
Carmen Monarcha has a voice that makes you realise what your ears are for, the full package of range, power, tone, interpretation and passion.
When I first heard her sing, I fell off the chair-spellbound by that fantastic voice and stage craft. She can make time stand still, nothing else matters, and you tend to forget to breathe for fear of missing something. Totally captivating, unbelievably good. Carmen-the voice of a Goddess. WOW!
Everyone should hear the DVD! The opera purists will no doubt scoff but everything this great artist does is from the heart and will often bring a tear to your eye. Beautiful in every way. O Mio Babbino Caro and Ave Maria will break your heart. A modern Callas in many ways such as her passion expression and acting skills but without the histrionics and unpredictable nature of Callas. A lovely girl with a lovely personality who deserves to be in the top ten.
Yes absolutely amazing voice and such commanding stage presence you can't take your eyes off her. She has such grace and beauty as well. Her Ave Maria is unsurpassable as is her most moving rendition of O Mio Babbino Caro... And Ebben. The list is endless really. The complete package and a true star who should be world famous and should be recording prolifically but is without a deal. It's incomprehensible really. She's that good.
A stunning voice and a stunning woman. She is the ultimate package as she can sing soprano, mezzo-soprano and contralto and sings light opera as well as opera, popular, pop, jazz, and blues tunes. Hers is such a versatile voice and is well suited to most material she chooses to sing.
The Contenders
11
Sarah Brightman

Sarah Brightman is an English classical crossover soprano, actress, musician, songwriter, conductor, and dancer.
I just want to say that I voted Sarah cause I know no one in particular who is an opera singer. Sarah might be trained to reach the soprano notes, and her voice probably has the operatic touch, but she belongs to the world of theater, not opera. She is fantastic and all, but as an opera singer? I'm not so sure. Her voice is angelic, I know, that is why I don't think she belongs in the opera class. She's more of a theatrical soprano that has a more developed operatic voice of Christine that most, but that voice doesn't fit in to be availed in operatic ways. No hate... I love Sarah, loved her as Christine, loved her as a stage actress, just not an opera singer.
Sorry to burst all your bubbles, but Sarah Brightman is not an opera singer. She's a crossover singer. She doesn't sing with a true opera technique, and how many of her songs that you hear are actually from operas as opposed to being just opera-sounding pop tunes? None of you people actually know what opera singers sound like if you think Sarah Brightman is the best opera singer.
Sarah Brightman transends opera and its limitations. She is without question, the most versatile, the most talented, and the most successful cross over female singer ever. None of the others, while very successful in opera, have this versatility. If I could only own one album, it would be the Sarah Brightman Andrew Lloyd Webber album.
Sarah, of course... The Queen of performance. And one more thing... People, don't lose your nerves about voting (previous comments) because we all know that they are based on multiple voting, not on quality of the artist! I mean get real... Who can ever beat Sarah Brightman (or Maria Callas etc. )? No way...
12
Kathleen Battle
Yeah, really a sweet lovely sound though a very small voice. But it is clear as a bell. She is a stunning woman. Too bad being too much of a diva. But there are other divas who are worse than her and it never hurt their careers. In fact, one of the top contenders for this title happens to be epitomy of a diva.
She has such a beautiful light lyric coloratura soprano voice. I love it, but she is a terrible diva
One of the best voices of the 20th century. No one does Bach like her!
She is wonderful but dared to feel she was equal.
13
Birgit Nilsson
She is in the top, and thouse of you who say she's not your're way to ypung or simply ignorant when it comes to Opera! Her Turandot and her Bruunhilde, Isolde, Salome or Elctra... She har something that all others lack - she was never a diva. She felt everything she sang. I'm so unhappy that mediocre singers like Sarah Brightman has more fame then Birgit just because Sarah had fame in the era when the internet and Musictelevision began... If Birgit was a living woman today, she would totally outpass everyone!
Unparalleled in vocal accuracy. No one can touch her Bruunhilde, Isolde, Salome, Electra, or Dyer's Wife. The fact that she was also a delightful and unpretentious was a bonus. No dramatic soprano has equaled her power and vocal beauty.
One of the greatest operatic voices who has ever lived. Unsurpassed in Wagner operas.
Fancy placing Nilsson at No 14! You must be tone deaf - you probably never heard her 'live' - her ONLY rival is Dame Joan Sutherland!
14
Mirusia Louwerse
Described as the "Angel of Australia", Mirusia is undoubtedly one of the greatest soprano opera singers of the 21st century. Her accolades speak for themselves:

Youngest winner in history of the Dame Joan Sutherland Opera Competition.

Has accompanied the world renowned violinist, Andre Rieu on a 6 year world tour.

ARIA Award winner

Lead soloist in Benjamin Britten's "War Requiem".

Apart from her crowning achievements, Mirusia is considered by many to be one of the most down-to-earth and respected celebrities. Her passion for music and helping underprivileged children has made Mirusia an ambassador for two significant foundations:

Australian Children's Music Foundation
Dutch Social Network Foundation

Mirusia's ongoing efforts have raised much needed funds for children in Australia and abroad. Australia is proud and honoured to have such an amazing individual in our music industry!
Mirusia has a beautiful voice, and a passion for her profession. She also appears to care deeply for her audience, and engages with us through her bright smile, and laughter, and occasional joke. She is constantly implementing new ways to be creative on the stage, and I love the fact that her career has expanded and is not just limited to working with Andre. She is also a superb world citizen and donates her time, and effort to various causes which help people and young children. Keep up the great work Mirusia.
The voice from Mirusia Louwerse is outstanding and she really have come into her own. Since she is singing with Andre Rieu and his Johan Strauss Orchestra she has blossemed. To listen at her voice she sings with great feeling and passion what touched your heart and brings tears to peoples eyes. Mirusia uses that great gift of her voice do good for others and seems so unchanged as a person despite all her success. It's my hope she'll have a long career as Dame Joan Sutherland had.
Mirusia is truly our Angel of Australia. She is a delight to hear her sing and her ongoing efforts in helping underprivileged children is a testimony to her passion for music and in raising much needed funds for children. She is a beautiful person with a wonderful heart and she deserves all the recognition that she can get. Australia is very proud for have and to know such a wonderful person in Mirusia.
15
Marilyn Horne
Unsurpassed as a mezzo coloratura! Rich, creamy voice with unique gorgeous lower notes. Renee Fleming is my favorite soprano although can't leave out Jessee Norman. A difficult task to pick one favorite. Would prefer picking one from all the voice categories which are many.
Marilyn Horne is a mezzo-soprano opera singer with an amazing ability to sing beautiful coloratura passages. She makes her opera roles come alive with superb acting.
Transporting.
Just listen tobernsteins CARMEN
16
Jessye Norman
I heard her sing in a cathedral in Philadelphia accompanied by strings and a jazz orchestra. I'll never forget it. Her voice was gorgeous and full, her emotional expression was superb. She sang arias, jazz and gospel that night. I'm unsophisocated in understanding of operatic music, but she was moving in voice, physical presence and expression. She walked through the cathedral as she sang a set of gospel hymns. She moved like an Egyptian Queen in long, heavy gowns. It brings tears to my eyes to remember it. Wonderful!
Such a rich voice that defies conventional classification. I love sopranos. so many on these list are great to sublime. For me though, Jessye is in a class on her own. Watching her during a performance is like being in the presence of a divine being whose voice penetrates deep into one's soul.
She is one of the reasons I started listening to opera! She is an amazing woman with an amazing gift. Not only can I listen to her sing, I love to listen to her speak. I've watched interviews with her. Her stories about life experiences and her wisdom are captivating. Love her!
I grew up listening to Operas as my father loved all of them but I never really paid attention to anyone. One day listening to one of his record/CDs I heard Ms Norman sing and I was so taken by her glorious voice I now listen to opera singers with more care and I can understand why my dad loved opera.
17
Angela Gheorghiu
She is divine! Her magnificent voice, her spellbinding presence, her amazing acting skills and the great respect she has for the music she sings (by choosing productions that respect the music and the composer - I honestly think she is the only one nowadays that doesn't perform in modern productions! ), her ability to capture the public and to spread emotion - all these things make her the only diva in todays opera world..she is probably the last real diva.
Modern day Callas. Her voice and emotion are a tear drop shaped diamond. Smooth, soft, rich, with just the right amount of sparkle, without a dark and hooty sound. A natural talent. Her voice has an old Classical sound. She has a strong chest voice like Callas too. Her emotion and acting are also what make her the best living soprano.
Angela it is indeed in the same league with Callas! Nobody else can double her! Comparing Angela to any other soprano today would be something like a comparison between Champagne and Coca-Cola! Viva Angela for ever!
Gheorghiu's instinct for great musical choices - that innate "thing" we call musicality - and her spellbinding timbre make me rank her the best opera singer in operatic history, above Maria Callas.
18
Elina Garanca
My all time favourite with a voice that's a mixture of honey and gold. I don't care that she doesn't sing F6s. I care that she sings with a brilliant mixture of skill and emotion and in a voice that is One for the Ages. I shall not hear her like again. I believe she is the best singer in opera today.
Definitely one of the top singers and " The best Mezzo Soprano " there is.
Her Carmen is the tops, nobody compares. Put that voice to her beautiful appearance
And earthly style... How can she not be in the top five!
Telboy.
Beautiful, intelligent singer with a warm mezzo that never ceases to impress and touch me.
Brilliant vocalist with personality to match. Always a pleasure to watch her perform.
19
Anna Netrebko

Anna Yuryevna Netrebko is a Russian operatic soprano. She holds dual Russian and Austrian citizenships and resides in Vienna, Austria, and in New York City.
I just don't get why there is so mush hatred for Netrebko! She is no Callas or Sutherland, but she is probably one of the best sopranos of the modern era...Her voice is crystal clear, rich and warm, with a strong, unforced low register and a powerful top. I think her acting and vocal expression is divine. Her trademark vibrancy in her voice is an awesome highlight.
I love the richness and silkiness of her voice. The ease with which she sings and the sincerity of her performance whether performing tragic, romantic or mischievous roles is always delightful. One day I might be lucky enough to see her perform live but in the meantime I depend on and enjoy what I can find on Google.
The best soprano of our time... No one else sounds anything like her... The vibancy, expression, soulfulness, and warm, sincere commitment to the meaning of the moment. I waited all my life to hear the sound she makes and see the performance skills that are at her fingertips. No one else like her now or ever.
Anna is just a great opera singer, with a voice unequaled in my humble opinion. She is just stunning and she tells us her voice is still developing. Looking forward to discovering how much more she will be able to offer. Anna "lives" her part (s) and has a great sense of humor.
20
Renata Tebaldi
Viewing this singer on YouTube is a lesson in bel canto. Watching her facial position and breath are textbook examples for anyone studying classical operatic technique. It is agreed that Renata Tebaldi, Leontyne Price and Rosa Ponselle had the mopst perfectly balanced voices of the twentieth century. They cannot be put on lists. They are in a class all their own.
I cannot believe that Renata Tebaldi is considered #20 on here. She is #1 on my list. I appreciate Callas but cannot believe she is considered the top #1 singer on this list. Her range and pitch is far more superior and I find her voice to me extremely pure and powerful.
Absolute best tone... Pitch... Phrasing... & not over the top... Just perfectly exquisite and effortless in the top range without belting or screeching. Listen to her 'best" album songs vs. The other best album songs from the other greats (Callas, Price, Southerland) & she is incomparable.
Renata Tebsaldi has no equal. The lady's voice was equal to the joy of breathing, eating, love, and childhood memories of all that stirred the heart. Brilliant opera singer with a spirit and personality to match. Tod Jonson
21
Sumi Jo
Lately there is more and more great South Korean operatic singers coming and Sumi Jo is definitely the start of that trend! She is really gifted with a crystal clear voice and a light tone. She never seems to struggle and I don't think I ever heard her voice been pushed, even in the extreme high register, it's just there! Her interpretation of Vavilov's Ave Maria is outstanding
Only because she's an Asian, so many people don't appreciate her amazing vocal! She totally deserves to be at least top 8
I had the pleasure of being on set with her for a couple of days and WOW the clarity of her voice is outstanding!
Her colorful techniques with high note vocal prooves that there is no doubt she is one of the top class soprano in globe.
22
Marian Anderson
One of the greatest African-American opera singers to have ever lived.
That true great

That's so true great so far down the list.
23
Diana Damrau
Diana Damrau is incomparable. Her high notes, unlike most sopranos, are not jarring and don't pierce the air, but rather, lightly float and touch your heart and soul. She rolls her R's perfectly and has one of the most gorgeous voices ever.
She truly rules as the Queen of the Night in the Magic Flute. Don't be surprised to see her listed along with such greats as Maria Callas, Beverly Sills, and Leontyne Prince for all-time best Opera Divas.
Diana Damrau is for me the best of all bests! She is exquisite! Check out her as the Queen of the Night in the Magic Flute, she is simply breath taking! One word: AMAZING!
You just have to listen to Damrau singing "Queen of the night". Her interpretation is the strongest and most impressive one I have ever heard. Truely unbelievable.
24
Sissel Kyrkebo
I love Sissel's beautifully clear tone and the versatility of her voice. I think I especially appreciate that she doesn't have that typical "vibrato" that you tend to get with opera singers, and yet sings classical pieces amazingly.
I can listen to Sissel all night and all day. She has the cleanest and clearest singing voice I have ever heard in 60 years and her pitch is perfect. She can sing anything, from pop and folk right on up to opera.
Crystal Clear voice, and with perfect control. Can't help falling for her voice. no one beside and no one above!
Not only musically gifted, she is a rare beauty both physically and in her person.
25
Frederica von Stade
Something undefinable and unique sets her apart for me. A voice full of warmth and expression.
I second that! What a pure and steady tone quality in here voice!
Beautiful rich tone. My favorite.
Simply one of a kind, forever...
PSearch List