Maria Callas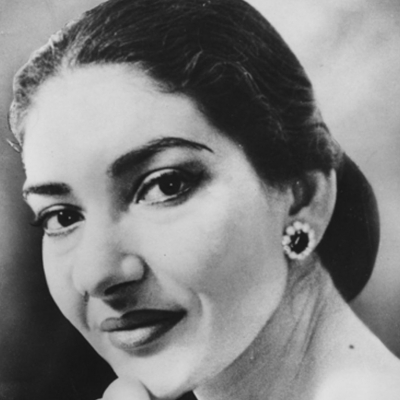 Found on files.biography.com
Info
Maria Callas, Commendatore OMRI, was a Greek-American soprano, and one of the most renowned and influential opera singers of the 20th century. Many critics praised her bel canto technique, wide-ranging voice and dramatic interpretations.
Comments
Top
Popular
Newest
Because she is THE opera singer, the absolute icon. Not my personal favorite in terms of technique or particularity of the voice, she had incontestable acting abilities, a great presence and, most important of all, the intelligence which made her become the all-time symbol of opera singing. Unlike those two names that can be found before her in the top, which I won't even bother to type, Callas loved opera music, AND was able of singing it. A lady with a grand personality, a grand story and a grand life.
MARIA CALLAS IS THE ANGEL OTHERS ARE JUST A TROLLS! SHE IS THE GREATEST TALENT AND THE GREATEST PROFESSIONAL IN A WORLD OF OPERA!

AND CONSIDERING THIS LIST, THERE IS ONE LADY COMPLETELY OUT OF THIS COMPETITION BECAUSE SHE IS NOT OPERA SINGER- TARJA TURUNEN! THAT LADY IS FAMOUS BY HER "WANNA BE IN THE OPERA" BUT NEVER TRAINED AND NEVER HAD OPERA CAREER! SHE IS JUST PRESENT IN THE PUBLIC BECAUSE SHE HAS SOME FRIENDS IN OPERA WORLD, WHO ARE DOING HER A FAVOUR TO SING OPERA INTERPRETATIONS. AND, by the way, SHE SHOULD BE PROSECUTED FOR RUINING EVERY CLASSICAL SONG SHE SINGS!
I am an amateur guitar player and singer, and I am not well-versed in opera, or in the intricacies of the voices that interpret (ed) it. However, I've listened to Callas, and compared to others singing the same arias, and the thing that strikes me, every time, is the power/expression of her voice. It creeps into my skin more often than with other acclaimed singer, and remains there longer. Perhaps this says it all?
She was absolutely incredible! Her voice has a powerful, thrilling quality to it that makes everything she sings exciting. Her musicality is unsurpassed and she brought real emotional depth to every character she sang. She was truly one of the greatest artists opera has ever had, and her legacy has always been an inspiration for me and other young opera singers.
Maria Callas should be at least No.2. She did not sing with a uniform timbre as the lady above her at this time does. She adapted her voice to the roles, not the other way around. She spoke herself about the practically infinite gradations of color one can get from sound. A hard worker, she was always in the process of perfecting her roles.
I voted for Callas because Montserratt Cabaalle is too far from victory
This voting is strange, it seems the one who made it doesn't know a damn about opera and opera singers
Really, where are Freni, Norman, Tebaldi, Dessay and other real OPERA singers?
Brightman is great, but no one can compare to Callas' quality, emotion, and expression. She not only sings the notes, but conveys all the emotion of the words and the music. She also transformed opera because she was a very good actress, which added much to her performances.
There are many wonderful singers but Maria Callas was unique. Not an easy thing to explain without sounding pompous and silly but she possessed special qualities to express power, vulnerability, tragedy and love. A very special voice that moves me, and many others, very, very deeply. Unsurpassable.
The greatest voice I've ever heard. So powerful, so big, so deep touching. She has to be the first, because she probably the Only ONE.
But I just want to know: who made this list? Where are other really great voices of the century like Sutherland, Freni, Horn, Ponselle and many others? I'm disappointed(
THIS VOTING IS SO SET UP! AND CONSIDERING WHO IS AT THE FIRST PLACE (NON OPERA SINGER) ITS NOT HARD TO GUESS WHO IS SETTING UP THIS RIDICULOUS LIST!
HOW CAN ENYBODY BE BETTER THAN MARIA CALLAS?
AND WHO MADE THIS LIST; DEAF IDIOT?
Not just by force of personality but by sheer magnetism, Maria Callas set the benchmark for so many modern performers. She was not technically the best but given the choice, who would you choose to see give a performance?
The first of the top 3 to be well known for Opera. A career blighted by an unfortunate relationship.
The best soprano ever! Of course there were and there are many sopranos who are really good and talented but Callas was a phenomenon! She left a huge tradition and she did it because of her talent and instinct and not because of the media and the managers! She ll be the best forever! 39 years and she remains the best, this means she was always forward! Love her!
Every note she sang was so full of emotions that I simply can't vote for anyone else. Whe I am listening to her singing I can forget everything and just let myself dream.
THIS LIST IS SUCH A FAKE!
THE LADY AT THE TOP DOESNT HAVE NOTHING TO DO WITH THE OPERA! THIS IS PROBABLY MADE BY HER TO MAKE HERSELF A PUBLICITY!
NOBODY CAN BEAT MARIA CALLAS!
Well, I just have to say that this woman deserves to be respected. There is no word that can describe the beauty of her voice. It's the angel's voice
Ms Callas should be number one. She loved opera and had a grand personality. She is the absolute icon of opera!
Maria Callas only #5? Blasphemy! When you think of opera, you immediately think of Callas. Now that is Iconic and Legendary.
I think all you have to do is play her La Wally against anyone else, and that pretty much settles it. No one (ever recorded) had that piercing power.
Maria: You are the emotional blend of Life, Opera, Music. Thanks so much. You live on through our memory and your wonderful recordings. Many tears...
She is the greatest in my opinion. Beauty with elegance nobody has a voice like her which exudes passion that was build by her experiences.
She sings with a fire and intensity that cannot be matched. Her candle may have burned half as long but it was certainly twice as bright.
The Greatest of all... Maria Callas was born to sing, God gave her such a blessing, When I close my eye's and listen to her, I can fly...
She breaks my heart... She simply is "too much". THE QUEEN OF BELLE CANTO in the 20th century. Probably, there were such great singers in previous times but we do not have recordings. There aren't such incredible singers these days. I just cannot believe it Sarah Brightman is n°1 on this list. I guess people who vote for Sarah B. Have never ever heard Maria Callas. It's a pity for them.
Maria Callas was not just a great singer. She was also a great actress. She was one of the first to combine those two talents.