Greatest Indians of All Time
The Top Ten
1
Gurmeet Ram Rahim Singh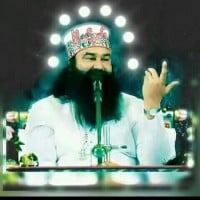 Gurmeet Ram Rahim Singh Insan (born 15 August 1967) is an Indian guru, music producer, singer-songwriter, actor, filmmaker, and convicted rapist. He has been the head of the social group Dera Sacha Sauda (DSS) since 1990. ...read more.
Gurmeet ram rahim is a God for us
These comments have broken English. Also Gurmeet Ram Rahim Singh is a rapist according to Wikipedia.
He is a Great Indian Saint. He say that Humanity is the Religion. He is doing 133 Humanity Works,like Blood Donation, Tree Plantation, Body Donation For Research, Skin Donate, Eyes Donation, Clean Campaign, & 127 more, He has All Qualities Which we Can't except from normal human being. He Is Singer, writer, Director and many more, He Always Say that he is Only Man,
He is True Saint, he is doing 133 humanity works, he tells humanity is Religion
The future of India
2
Mahatma Gandhi

Mohandas Karamchand Gandhi was the preeminent leader of the Indian independence movement in British-ruled India.
Yes he had some flaws. But who doesn't? What he had was vision. He was a true visionary who understood the power of morality, power of non-violence (leading to a moral position) power of masses (and how they are energized by a vision) and power of sacrifice (he gave up official leadership of a free India). He understood the importance of inclusivity, ensuring all religions and castes were part of the freedom movement. He also understood the importance of forgiveness - that not punishing/demonizing future generations of a particular caste/regligion/country for the sins of the past/present generation presented the best and quickest way of achieving transformation.
So many countries got freedom from colonial rule, including USA. But none of these countries achieved it in the unique way which India managed. Because none of them were led in their freedom struggle by a man with such unique vision, principles and personality as that of Mahatma Gandhi!
Mahatma Gandhi was reported to be a racist and assaulter but not sure if it's true or not?
He si the greatest personality ever to walk on earth.
Why is a rapist higher again.
3
Abdul Kalam
He deserves to be on the top not that moronic baba and gandhi..please vote for missile man of india because of whom today we can proudly say that we have strong military
He is the one who should truly top the list.
Down to earth man
Great scientist
4
Sachin Tendulkar

Sachin Ramesh Tendulkar is a former Indian cricketer and captain, widely regarded as one of the greatest batsmen of all time.
God
Sachin,Sachin! Dun dun dun dun!
sports
5
B. R. Ambedkar

Bhimrao Ramji Ambedkar (14 April 1891 – 6 December 1956), popularly known as Babasaheb or B. R. Ambedkar, was an Indian jurist, economist, politician and social reformer who inspired the Dalit Buddhist movement and campaigned against social discrimination towards Untouchables (Dalits), while also ...read more.
All time leader
Greatest indian
Greatest Indian people
The father of modern India...For me, he is Real God.
6
Bhagat Singh

Bhagat Singh was an Indian revolutionary socialist who was influential in the Indian independence movement. He is often referred to as Shaheed Bhagat Singh, the word "Shaheed" meaning "martyr" in a number of Indian languages. ...read more.
The man by whom we can breathe in air of freedom
Jai Bhagat Singh
India's freedom fighter shahid BHAGAT SINGH.
Real heros of india
7
Y. S. Rajasekhara Reddy
Very great man
8 Rajeev Gandhi
9
A. P. J. Abdul Kalam

Avul Pakir Jainulabdeen "A. P. J." Abdul Kalam was the 11th President of India from 2002 to 2007. A career scientist turned politician, Kalam was born and raised in Rameswaram, Tamil Nadu, and studied physics and aerospace engineering.
Is this list completely a sarcastic list?
Ram Rahim is at the top while actual heroes like Mahatma Gandhi and A.P.J Abdul Kalam are not even in the top three!
He Always Being my Ideal. He Dedicated His Whole Life For Country And Donated His All Earnings.
An inspirer, a scientist, a president and a roll model for all youngsters. He cannot be compared with any persons on this list.
Always great
10 Vishwanath Anand
The Contenders
11 Indira Gandhi
12 Jawaharlal Nehru
13
A.R Rahman
God of music.
14
Atal Bihari Vajpayee
The best pm in india
15
Akshay Kumar

Rajiv Hari Om Bhatia, better known by his stage name 'Akshay Kumar', is a Canadian actor, producer and martial artist who has appeared in over a hundred Hindi films.
16
Narendra Modi

Narendra Damodardas Modi is the 15th and current Prime Minister of India, in office since 26 May 2014. A leader of the Bharatiya Janata Party, Modi was the Chief Minister of Gujarat from 2001 to 2014 and is the Member of Parliament from Varanasi.
Search,---number 1 criminal in world
LOLOLOLOL. This idiot is fear mongering and talking about war and what not, I wont vote this man because I know that he sacrificed a few of his army men and god knows what else he's done just to earn a place in government. Shame on all Indians who support this man.
Modi criminal
The Greatest Leader of all time
17
Amir Khan

He is such a great man in whole world.
Very humble person...
He is really a best man
not really
18
Lal Bahadur Shashtri
Best ever prime minister of India
19 Ratan Tata
20
Ashoka

The great Samrat ashoka
Sant ram pal is the only one sant in the world
21
Shivaji Bhonsle

Shivaji Bhosale, also known as Chhatrapati Shivaji Maharaj, was an Indian warrior king and a member of the Bhosale Maratha clan.
Jay shivaji jai bhavani
The great MARATHA of the world
The greatest Indian warrior not king know all over the world news having largest amount of idols in the world
Hon. Chatrapati Shivaji Maharaj was the greatest king in the world.
22
Arjun Kapoor
What..lol..
23 Rajendra Prasad
24 Sarvepalli Radhakrishnan
25
Shah Rukh Khan

Shah Rukh Khan, also known as SRK, is an Indian film actor, producer, and television personality. Referred to in the media as the "Badshah of Bollywood", "King of Bollywood", "King Khan", he has appeared in more than 80 Bollywood films, and earned numerous accolades, including 14 Filmfare Awards.
Greatest actor in the whole world
The greatest actor in the world not in India only
Shah Rukh Khan is a great actor and made bollywood what it is today.
Pride of india...80% of the world's population knows India is SRK's country
PSearch List