Top 10 Most Iconic Landmarks Made After 1920
Landmarks are some of the most awe-inspiring, famous things in the world. People will pay thousands of dollars just to see one landmark. Many cities and countries have become known just for a famous building in their city. I've taken an interest in modern landmarks recently, so I've decided to rank the top ten most iconic landmarks constructed in the last century, by which I mean 100 years (if it was made before 1921, doesn't count). A few barely made it and in a decade, they won't be valid (Golden Gate Bridge, Empire State Building, Chrysler Building), and a few honorable mentions would include the Tokyo Skytree, The Shard, and the Burj Al Arab. Enjoy!

The Top Ten

1 Empire State Building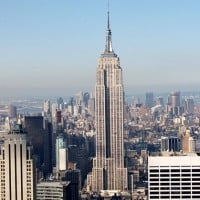 The Empire State Building is a skyscraper situated in Midtown Manhattan, New York City. Completed in 1931, it stands 1,454 feet tall and was the world's tallest building until 1971. It is famous for its Art Deco architecture and has been featured in numerous films.
Of course, the Empire State Building easily took first. It's a very iconic landmark, built on May 1st, 1931, in New York City. By all means, it's not as iconic as the Statue of Liberty, but there was a time when it was the tallest building in the world, and it is possibly the most famous skyscraper in the United States. It held the record for the tallest building in the world for a long time, and it has been in many movies and seen by millions of people.
I wish I could go to this place.
2
Sydney Opera House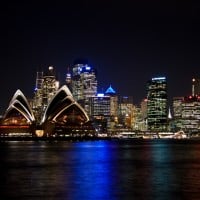 The Sydney Opera House is a multi-venue performing arts centre on Sydney Harbour located in Sydney, New South Wales, Australia. It is one of the 20th century's most famous and distinctive buildings. ...read more.
The famous Sydney Opera House was finally built in October 1973 after over a decade of hard work, and it has become one of the most famous buildings in the entire world. Its iconic and beautiful shape is featured in many, many places, and the amazing performances there have grown to define Sydney. The Sydney Opera House has always fascinated me personally, and it's a beautiful part of the Sydney skyline and harbor.
Of course, as a New Zealander, it pains me to praise Australia, but I agree this belongs on the list.
3
Burj Khalifa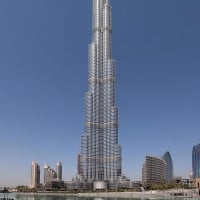 Burj Khalifa is a skyscraper located in Dubai, United Arab Emirates. The building was in construction from January 2004 to January 4, 2010, when the skyscraper was finally opened. Burj Khalifa is 829.8 meters tall.
This is probably the first landmark that really seems "modern" to you, as many of these other ones were constructed over 50 years ago. But this definitely earns a place on the list. One of my favorite structures in the world, the Burj Khalifa, is by far the tallest man-made structure ever constructed by an enormous amount. Dubai is one of the richest places in the world, with some amazing modern structures such as the Burj Al Arab and the Jumeirah Emirates Towers, but the Burj Khalifa outshines them all. It's unbelievable how amazing this building is.
I have been here. It's so cool.
4
CN Tower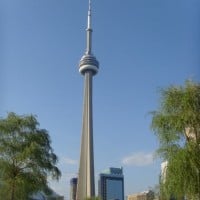 Toronto's most famous building was the tallest structure in the world for a long time, and it's actually taller than every single skyscraper in New York, by a sizable amount, which will surprise many people. The CN Tower dominates the skyline of my hometown, and Canada has become known for it more than perhaps any other man-made landmark.
5
Golden Gate Bridge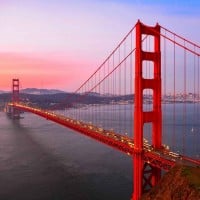 The Golden Gate Bridge is a suspension bridge connecting San Francisco to Marin County, California. Completed in 1937, it is an iconic symbol of San Francisco and is renowned for its Art Deco design and "International Orange" color.
The Golden Gate Bridge is an extremely famous and iconic bridge located in San Francisco. It's actually red, not gold, but it's super iconic, being featured in so many movies and book series. It is quite possibly the most famous bridge in the entire world. It was constructed in 1933, so it's almost a century old, but it made it, and it is well-known across the world for its classic look.
6
Chrysler Building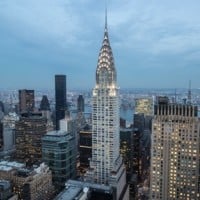 The Chrysler Building is yet another extremely famous New York building. It was the tallest building in the world upon its completion in 1930 by a considerable amount, but it was overtaken less than a year later by the Empire State Building. Known for its unique shape and beautiful crescents along the top, the Chrysler Building will always be famous, though it now lives more in the shadow of bigger buildings such as the Empire State Building.
7
Willis Tower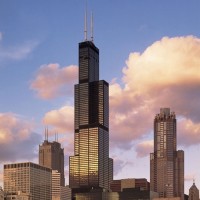 The Willis Tower, upon its completion in 1970, was the tallest building in the world until 1998. You probably know it as the Sears Tower, though it was renamed recently. It has a super iconic look, and when people think of a black skyscraper, it's always the first one that comes to mind. With its pattern of decreasing the base size as it goes up, a design replicated in many other buildings, it's definitely going to be memorable.
8
Space Needle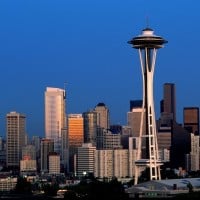 The Space Needle is an observation tower in Seattle, Washington. Completed in 1962 for the World's Fair, it stands 605 feet tall and offers panoramic views of the city and its surrounding areas.
The Space Needle, or rip-off CN Tower, is a futuristic-looking building that has grown to define Seattle. Though never even close to the tallest man-made structure in the world, the Space Needle is still famous throughout the U.S. and is a very iconic U.S. building. It looks like something from Star Trek in my opinion, and that's not an insult.
9
Taipei 101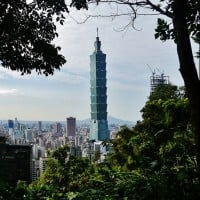 Taipei 101 was the tallest building in the world until the Burj Khalifa beat it, though it was never as tall as structures like the CN Tower. It has such a cool and iconic look that has grown to become a key part of Taipei, and many people know the memorable name even if they don't know what it means.
10 World Trade Center
The Contenders
11
Alcatraz Federal Penitentiary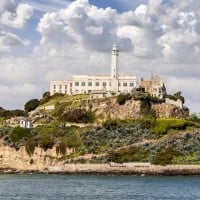 I forgot to add it to the list originally, but the notorious prison is a very iconic and well-known building, feared and respected across the world.
I loved reading about it when I was a kid. I've also been inside it. It's a pretty interesting place.
12 Musée d'Orsay
13
The Shard, London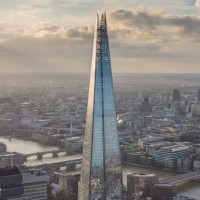 14
One World Trade Center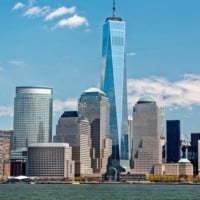 The One World Trade Center is now by far the tallest building in New York, the home of skyscrapers, and it is a super famous building, though not as well-known as other New York buildings such as the Empire State or Chrysler buildings. It is a classic and iconic structure that provides an amazing view of the skyline, and by now New York just wouldn't be the same without it.
15 Auschwitz Concentration Camp
16
Tokyo Skytree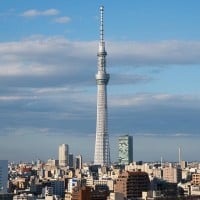 The Tokyo Skytree is by far the second tallest man-made structure and pretty much dominates Tokyo with its enormity.
17
Burj Al Arab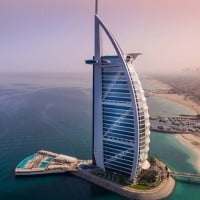 The Burj Al Arab is practically the most iconic hotel in the world and is a huge part of Dubai.
18
Tokyo Tower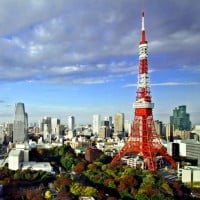 19 Monument of Neutrality (Turkmenistan)
20
30 St Mary Axe (The Gherkin)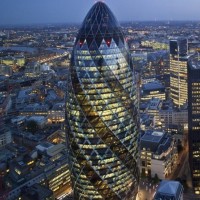 21 The Pentagon
22 Bekonscot Model Village
23 Millennium Bridge
BAdd New Item