Top 10 Best Beaches in the World
A world-class beach is a culmination of nature's finest elements, a harmonious blend of stunning aesthetics, crystal-clear waters, and powdery white sand. It's a place where the warm sun caresses your skin, and the gentle sea breeze carries the scent of saltwater and tropical flora. From serene and secluded coves to lively stretches teeming with vibrant beach culture, each destination on this list promises a unique beach experience that will leave you in awe.

One of the defining traits of a world-class beach is its natural beauty. Immaculate coastlines adorned with soft, velvety sand that stretches for miles, gently sloping into the azure ocean, create a mesmerizing spectacle. Pristine waters teeming with marine life, from colorful coral reefs to playful dolphins, beckon you to explore their depths. A world-class beach is a visual feast, where nature's artwork takes center stage, leaving you breathless with its sheer splendor.

Beyond aesthetics, a top-tier beach offers an array of activities and amenities to cater to every beachgoer's desires. From thrilling water sports like surfing, snorkeling, and kayaking to tranquil beachside yoga sessions and leisurely strolls along the shore, these beaches provide endless possibilities for adventure and relaxation. Beach bars serving exotic cocktails and tantalizing local cuisine, cozy beachfront accommodations, and vibrant beach parties complete the picture of an exceptional beach experience.

The Top Ten

1 Bora Bora (French Polynesia)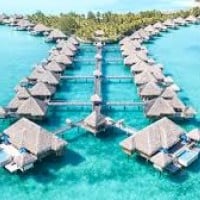 Bora Bora, situated in French Polynesia, is a dreamlike beach destination famous for its turquoise lagoons and overwater bungalows. The sheer beauty of Bora Bora's surrounding waters, filled with diverse marine life and vibrant coral reefs, captivates visitors. This idyllic destination offers a sense of serenity and seclusion, perfect for romantic getaways. Bora Bora's luxurious resorts, fine dining options, and unparalleled natural beauty create an unforgettable experience for those lucky enough to visit.
Bora Bora is one of the few places on earth that everyone hopes to witness in their lifetime and once you see it, you are forever enamored.

Undoubtedly the most celebrated island in the South Pacific, Bora Bora is French Polynesia's leading lady. Her beauty is unrivaled and her fame, unwavering.

Are you a beach lover? On the hunt for finding the best beaches in the world?
Bora Bora and the other islands of Tahiti have some of the best beaches. It is one of the reasons why I love Bora Bora and her sister islands.

Bora Bora beaches are definitely some of the best beaches in the world. Looking around at the white sand and beautiful turquoise lagoon, with Mt. Otemanu as a backdrop, is like swimming in a screen saver.
Looks like a heavenly paradise, though ain't cheap at all.
Everyone must have heard it somewhere.
2
Boracay (Philippines)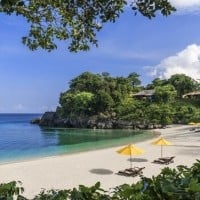 Boracay, located in the Philippines, is a world-renowned beach destination known for its pristine white sand and turquoise waters. It offers a vibrant and lively atmosphere with a plethora of water sports and beachside activities to indulge in. Boracay's breathtaking sunsets and lively nightlife make it a favorite among travelers seeking both relaxation and excitement. With its picture-perfect scenery and warm hospitality, Boracay is truly a tropical paradise.
Boracay is the best beach in the world. It has the finest and whitest sand. It has other features other than swimming. Plenty of restaurants, shops, party houses, hotels, tattoo shops, diving and snorkelling spots, banana boat ride, reef walking, etc. This place is amazing, exiting, adventurous, and romantic.
Simply the best.
Whether you party in the busy sections of Stations 1,2 and 3, or chill in the quieter less populated parts of the Island, there is nothing finer than the beautiful beaches of Boracay... Heaven on Earth!
I have been to Boracay a couple of times. I keep coming back because the place is just amazing with its powdery white sand, great sunsets, and cheap beer. Wow! I miss it already.
All the hottest girls in the Philippines & around the world flock to this island.
3
Baie d'Audierne, Brittany (France)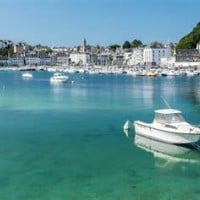 Baie d'Audierne in Brittany, France, is a picturesque beach nestled on the western coast of the country. This unspoiled gem boasts rugged cliffs, golden sands, and breathtaking panoramic views of the Atlantic Ocean. Baie d'Audierne is a paradise for nature lovers, offering opportunities for coastal walks, birdwatching, and water activities like sailing and surfing. The tranquil beauty of this beach in Brittany is sure to captivate visitors seeking a peaceful and idyllic coastal retreat.
4
Bali (Indonesia)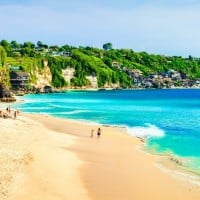 Bali, an Indonesian gem, is renowned for its stunning beaches, lush landscapes, and vibrant culture. The island offers a diverse range of beaches catering to various preferences, from the bustling Kuta Beach to the tranquil shores of Nusa Dua. Bali's captivating temples, lush rice terraces, and warm hospitality make it an enchanting destination. Whether you're seeking thrilling surf breaks, tranquil sunsets, or spiritual retreats, Bali has it all, leaving visitors with memories that last a lifetime.
Bali is the best beaches in the world. It has so beautiful sunsets scenery. The people are so kind and cheerful. You will be very amazed in Bali
Are kiding me Bali no 2# bali is number 1# beaches men...
If you don't belive it just come and you will see how wonderful bali is..
Indonesia has a lot of amazing beaches.
I've been here
5
Bondi (Australia)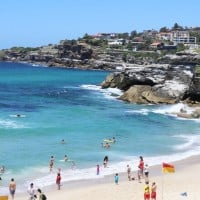 Bondi Beach, nestled in Australia, is an iconic and lively coastal hotspot known for its golden sand and world-class surf breaks. This bustling beach offers a fusion of sun, sea, and vibrant beach culture. Bondi's famous lifeguard patrols, beachside cafés, and the stunning Bondi Icebergs Pool are all part of its unique charm. Whether you're a surfing enthusiast, a sunbather, or a keen photographer, Bondi Beach is an essential stop on any visit to Sydney.
Bondi is the best! All Aussies know what makes a good beach, and bondi ticks all the boxes! It has beautiful clear water. Huge waves, but not huge enough to scare people. And it has the best trained lifeguards in the world. The sand isn't dirty like American beaches, and its always swarming with people. If you are Australian, or a surfer or beach lover from another country, you'll know what I'm talking about!
Bondi has big, beautiful WAVES unlike many other beaches & it has SAND, not things that hurt your feet.
I've been here, but it's probably one of the most crowded beaches in Australia.
White silky sand, big beautiful waves, most beautiful beach in the world.
6 Ipanema (Brazil) Ipanema, nestled in Brazil, is a world-famous beach that embodies the vibrant and lively spirit of Rio de Janeiro. With its golden sand, rolling waves, and iconic mountainous backdrop, Ipanema offers a postcard-perfect setting. This beach exudes an irresistible energy, attracting locals and visitors alike with its pulsating beach culture. From beach volleyball games to samba rhythms and trendy beachside bars, Ipanema encapsulates the essence of the Brazilian beach lifestyle. With its stunning beauty and vibrant atmosphere, Ipanema is a beach destination that leaves an indelible mark on all who experience it.
7 Plage de Tahiti (France) Plage de Tahiti, located in the beautiful French Riviera, is an iconic beach renowned for its natural elegance and exclusivity. Nestled in the glamorous St. Tropez area, this idyllic stretch of sand offers a sense of luxury and refinement. Plage de Tahiti is known for its soft golden sand, azure waters, and vibrant beach clubs that attract an elite clientele. With its stunning surroundings, glamorous atmosphere, and pristine beachscape, Plage de Tahiti exemplifies the epitome of chic beach destinations.
8 Acapulco (Mexico) Acapulco, located in Mexico, is a legendary beach destination renowned for its golden sand, sparkling blue waters, and vibrant nightlife. This coastal gem offers a mix of luxury resorts, beachside restaurants, and thrilling water sports activities. Acapulco's cliff divers performing daring feats from La Quebrada are an iconic sight. With its stunning bay, lively atmosphere, and warm Mexican hospitality, Acapulco promises an unforgettable beach experience.
9 Porto-Pollo, Corsica (France) Porto-Pollo, situated on the picturesque island of Corsica in France, is a hidden gem that offers a serene and unspoiled beach experience. This charming coastal retreat boasts fine sandy beaches, crystalline waters, and a tranquil ambiance. With its sheltered bay and stunning views of the surrounding landscapes, Porto-Pollo provides a peaceful haven for beachgoers seeking a respite from the bustling world. Its natural beauty and authentic charm make Porto-Pollo a captivating destination for those seeking an off-the-beaten-path beach experience.
10 Woolacombe Beach (United Kingdom) Woolacombe Beach, situated in the United Kingdom, is a hidden treasure on the North Devon coast. This award-winning beach boasts a wide expanse of golden sand, backed by rolling dunes and stunning coastal vistas. Woolacombe Beach offers a haven for water sports enthusiasts, with excellent surfing conditions and ample space for sunbathing and beach games. The beach's clean and well-maintained facilities, along with its natural beauty, make it a beloved destination for families and beach lovers seeking a quintessential British seaside experience.
The Contenders
11 Weymouth Beach (United Kingdom) Weymouth Beach, located on the south coast of England, is a classic British beach that holds a special place in the hearts of locals and visitors alike. With its sweeping crescent of golden sand, shallow waters, and lively promenade, Weymouth Beach offers a traditional seaside experience. The beach's vibrant atmosphere, amusement arcades, and colorful beach huts create a nostalgic charm that harkens back to a bygone era. Weymouth Beach's family-friendly environment and picturesque surroundings make it a cherished destination for beachgoers of all ages.
12
Anse Source d'Argent (Republic of Seychelles)
Anse Source d'Argent, located in the Republic of Seychelles, is a tropical paradise that captivates with its awe-inspiring beauty. This stunning beach is renowned for its powdery white sand, granite rock formations, and crystal-clear turquoise waters. Anse Source d'Argent is nestled within a picturesque cove, creating a sense of seclusion and tranquility. The striking contrast between the lush vegetation and the vibrant hues of the ocean make it a favorite spot for photographers and nature lovers alike. With its surreal scenery and serene atmosphere, Anse Source d'Argent is a true gem of the Seychelles.
White sand and granite rocks. Small, intimic and there will only be a few people there at most.
13
Miami Beach (USA)
Miami Beach, located in the United States, is a glamorous and iconic beach destination renowned for its vibrant atmosphere and Art Deco architecture. This bustling coastal paradise offers a mix of golden sandy beaches, crystal-clear waters, and a buzzing nightlife scene. Miami Beach's trendy restaurants, high-end shopping, and energetic beach culture create an unforgettable experience. With its year-round sunshine and energetic vibe, Miami Beach continues to attract visitors from around the world.
Miami Beach is the best by far. Clear, blue waters along with just being an amazing city. Architecturally and Culturally.
Only beach on this list I've been to.
14
Gold (France)
Gold Beach, situated in the Normandy region of France, is a hidden gem that showcases the raw beauty of the country's northern coastline. This unspoiled beach boasts expansive stretches of golden sand, backed by dunes and framed by lush greenery. Gold Beach offers a sense of tranquility and natural splendor, providing a serene escape from the bustling world. With its scenic vistas, gentle waves, and peaceful ambiance, Gold Beach invites visitors to unwind and bask in the simple pleasures of coastal serenity.
One of the most historic beaches in the world.
Yes, Gold Beach in tribute to our American friends.
We will never forget.
15 Nosy Iranja (Madagascar) Nosy Iranja, situated off the coast of Madagascar, is a breathtakingly beautiful beach destination that feels like a slice of paradise. This remote island boasts powdery white sand, crystal-clear turquoise waters, and an abundance of marine life. Nosy Iranja is known for its postcard-perfect scenery, especially during low tide when a sandbar emerges, connecting two pristine islands. With its untouched natural beauty and tranquil surroundings, Nosy Iranja offers a secluded haven for those seeking an unspoiled and idyllic beach escape.
16 St. Tropez (France) St. Tropez, located along the glamorous French Riviera, is a beach destination that epitomizes luxury and sophistication. This prestigious coastal town boasts beautiful sandy beaches, azure waters, and a vibrant beach club scene. St. Tropez exudes a chic and cosmopolitan atmosphere, attracting an international jet-set crowd. With its upscale boutiques, waterfront cafés, and glamorous yachts adorning the harbor, St. Tropez is the playground of the rich and famous. It's a beach destination that exudes glamour, leaving visitors longing for more of its exclusive allure.
17 Cavalaire-sur-Mer, Provence (France) Cavalaire-sur-Mer in Provence, France, is a charming beach destination that showcases the region's natural beauty. This picturesque beach offers golden sands, azure waters, and a vibrant atmosphere. Cavalaire-sur-Mer combines the allure of the French Riviera with a laid-back ambiance, offering a blend of relaxation and Mediterranean charm. With its beachfront promenade, trendy seaside restaurants, and a variety of water sports, Cavalaire-sur-Mer invites visitors to immerse themselves in the coastal splendor of southern France. It's a beach that captures the essence of the French Riviera with its breathtaking vistas and inviting Mediterranean allure.
18 Hidden Beach (Mexico) Hidden Beach, located in the Marieta Islands of Mexico, is a true natural wonder. This secluded beach, also known as Playa del Amor, is nestled within a hidden cave, accessible only through a long tunnel. The beach's unique formation, with its sandy shores and a natural skylight illuminating the cave, creates an otherworldly atmosphere. Hidden Beach is a tranquil oasis surrounded by turquoise waters and dramatic rock formations, making it a must-visit destination for those seeking a sense of adventure and the beauty of untouched nature.
19 Malibu (California) Malibu, located along the stunning coastline of California, is a world-famous beach destination that exudes an effortless blend of natural beauty and coastal chic. This iconic beach boasts a picturesque setting, with its golden sands, rolling waves, and dramatic cliffs. Malibu offers a diverse range of activities, from sunbathing and surfing to exploring tide pools and enjoying breathtaking sunsets. With its celebrity allure, trendy beachfront mansions, and vibrant beach culture, Malibu is a place where relaxation meets sophistication, leaving an indelible mark on all who visit.
20 Shipwreck Beach (Zakynthos Island, Greece) Shipwreck Beach, located on the stunning Zakynthos Island in Greece, is a mesmerizing coastal gem that draws visitors with its breathtaking beauty. This iconic beach is known for its crystal-clear turquoise waters, powdery white sand, and dramatic cliffs that form a stunning backdrop. Shipwreck Beach gets its name from the shipwrecked vessel that rests on its shore, adding an intriguing element to its charm. Accessible only by boat, this secluded paradise offers a sense of adventure and exclusivity. With its awe-inspiring natural scenery and tranquil atmosphere, Shipwreck Beach is a must-visit destination for beach lovers and adventure seekers.
21 Plage de St. Jean (French Caribbean) Plage de St. Jean, nestled in the French Caribbean on the island of St. Barts, is a picturesque beach that radiates an air of refined elegance. This crescent-shaped beach features powdery white sand, crystal-clear turquoise waters, and lush green hills as a backdrop. Plage de St. Jean offers a chic and sophisticated atmosphere, with upscale beach clubs and boutique hotels dotting its shoreline. Whether you're indulging in water sports, sipping on tropical cocktails, or simply basking in the sun's warm embrace, Plage de St. Jean invites visitors to immerse themselves in the French Caribbean's luxurious charm.
22 Armadale Bay Beach (Scotland) Armadale Bay Beach, situated on the Isle of Skye in Scotland, is a hidden treasure that showcases the rugged beauty of the country's western coastline. This secluded beach offers breathtaking views of the Atlantic Ocean, dramatic cliffs, and a sense of tranquility that's truly awe-inspiring. Armadale Bay Beach invites visitors to explore its untouched shores, enjoy long walks along the sand, and soak in the serene ambiance. With its wild and untamed beauty, this beach captures the raw spirit of Scotland's coastline, providing a peaceful and unforgettable experience for those seeking a unique beach getaway.
23 Anse Vata (Noumea, New Caledonia) Anse Vata, located in Noumea, New Caledonia, is a stunning beach that showcases the South Pacific's natural beauty. This long stretch of white sand, fringed by palm trees and bordered by clear turquoise waters, is a haven for beachgoers seeking tranquility. Anse Vata offers excellent swimming conditions, and its calm waters are perfect for water sports such as windsurfing and paddleboarding. With its picturesque surroundings, vibrant marine life, and relaxed island atmosphere, Anse Vata invites visitors to unwind and enjoy the beauty of New Caledonia's coastal splendor.
24 Pagudpud (Philippines) Pagudpud, situated in the Philippines, is a hidden gem that enchants visitors with its untouched natural beauty. This remote beach destination offers stretches of pristine white sand, clear blue waters, and rugged coastal landscapes. Pagudpud's secluded location gives it a sense of tranquility, providing a perfect escape from the hustle and bustle of everyday life. With its gentle waves, picturesque rock formations, and friendly local communities, Pagudpud offers a serene beach experience that immerses visitors in the natural splendor of the Philippines.
25
7 Mile Beach (Jamaica)
7 Mile Beach, located in Jamaica, is a postcard-perfect paradise that stretches along the island's western coast. This pristine beach is characterized by its soft powdery sand, crystal-clear turquoise waters, and swaying palm trees. 7 Mile Beach offers a tranquil setting for sunbathing, swimming, and enjoying the laid-back Jamaican vibe. With its stunning sunsets, beachside bars, and a vibrant reggae scene, this beach captures the essence of the island's joyful spirit. 7 Mile Beach is a destination where relaxation and island charm come together, leaving visitors with unforgettable memories.
The actual famous 7 mile beach is on Hawaii.
PSearch List