Top Ten Cartoons and TV Shows That Need a Deaf Character
The Top Ten
Harvey Street Kids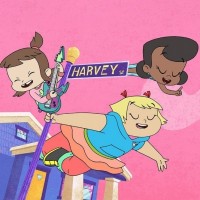 While this is an interesting idea, I must point out one show you forgot, that could really have fun with this: Daredevil.
Think about it. Matt Murdock, in an accident, loses his sight, but all his other senses are heightened, and he gets the radar sense, and he becomes a superhero. Consider Marvel (and DC, but...beside the point) loves their alternate universes. Imagine one of these where Matt loses his hearing instead, with similar effects, and becomes a supervillain to take revenge. Now imagine that this alternate Daredevil ends up in the main show's universe (how? Well, just write it off as a side effect of the "snap" (if you've seen Avengers 3, you understand what that means)) and begins causing mayhem, forcing Daredevil to chase down his alternate, maniacal counterpart, who is bent on destruction and must be stopped. In short, it would be a fantastic idea.
Big City Greens

Summer Camp Island

Craig of the Creek

The Loud House

The Loud House is an American animated television series created by Chris Savino for Nickelodeon. The series revolves around the chaotic suburban everyday life of a boy named Lincoln Loud and his ten sisters, to which he survives as the middle child and only son in a large family of eleven children. ...read more.
Andi Mack

Andi Mack is an American comedy-drama series that premiered on Disney Channel on April 7, 2017. The series was created by Terri Minsky and stars Peyton Elizabeth Lee, Joshua Rush, Sofia Wylie, Asher Angel, Lilan Bowden, and Lauren Tom.
There is one now, Libby, Jonah's girlfriend.
Steven Universe

Steven Universe is an American animated television series created by Rebecca Sugar for Cartoon Network. The show's based around a young boy by the name of Steven Universe, who is a hybrid of a gem and a human. He lives with his gem friends, Garnet, Amethyst and Pearl.
We Bare Bears

An animated comedy show by Daniel Chong about three different species of bears - Grizzly, Panda and Ice bear (polar bear). Since they were little, they wanted to get adopted by owners separately. But then they missed each other too much, so they reunited again. Now as adults, they now live in a cave ...read more.
The Grim Adventures of Billy & Mandy

The Grim Adventures of Billy & Mandy (also known as Billy & Mandy) is an American animated television series created by Maxwell Atoms for Cartoon Network, and is the 14th of the network's Cartoon Cartoons (albeit namely when it was part of Grim & Evil; the show is considered separate from Cartoon Cartoons ...read more.
Maybe a spin-off should help! This spinoff includes the Grim Reaper visiting a deaf girl and becomes her friend! - StevenUniverseIsAwesome
OK K.O.! Let's Be Heroes

OK K.O.! Let's Be Heroes is an American superhero comedy animated series created by Ian Jones-Quartey.