Top 10 Male Indian Singers
The Top Ten
1
Zubeen Garg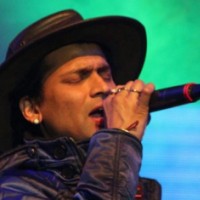 Zubeen Garg is an Indian singer, music director, composer, songwriter and actor. His contributions are mostly attributed in Assamese, Bengali and Bollywood. He has sung many songs in other languages including Tamil, Telugu, Kannada, Malayalam, Marathi, Odia, Bodo, Karbi, Nepali, Bishnupriya Manipuri, ...read more.
He is really one of the best singers
My very best singer of zubeen garg
Zubeen the is one of the finest singer of India and he is the Jewel of our North East. Please vote him...
Zubeen garg is amazing he is a poet, writer, composer, actor, music director and what not. And he is expert in all the musical instrument used by musician. Therefore it is sure that he is very talented in the India. I like zubeen garg
2
Sonu Nigam

Sonu Nigam is an Indian playback singer, live performer, host and actor. He sings in Hindi and Kannada language films.
"Sonu Nigam" is not just a name it's an emotion for us. He is the most versatile singer that we have. I believe there is no one like him. He can sing all the genres. He has a divine voice. He is a great mimic, excellent host, mind blowing comedian and most important a great human being. Sonu ji we love you.
I go to school, from school I directly to 2 tuitions. But when I come home I'm just way too stressed out for words. I plugged into my mom's phone and listen to radio for good music. But too my disappointment, I find either honey singh( which stresses me out more) and Arijit Singh( good, but now I'm like Arijit Singh? Again? And he sings song of any type, even if it's awful or doesn't make any sense) Then I found a song sung by Sonu Nigam. His voice is like pure drops of rain from heaven, which washes all the dirt of stress from me and drenches me with pure drops of happiness from heaven.
Maybe I sound too poetic because I'm only 15, but that's how beautiful his voice sounds to me.
Best singer that india has ever got. what we can tell about sonu nigam, he is a singer with a god gifted voice. There is no one like him. Let me tell you something amazing about his singing, he sang the song tees maar khan in 54 different voices and tracks. Can any other singer could do that, no. Except sonu on one can do this. He learnt his singing from md. Rafi, so, if the teacher is amazing singer itself, then, what we can say about the learner! Sonu can sing in any voice and in any language. He can songs from romantic to devotional and from pop to rocking. That is why he is a versatile singer. No one can copy his voice, no one can sing like him. Best and the most versatile singer from all the singers. Love you sonu nigam.
Sonu Nigam has a lovely voice, it sounds good even when he's talking. He's so versatile, he can sing literally anything starting from ' suraj hua maddham' to ' all is well ' to ' nagada nagada'. And he's so talented, he is excellent in mimicry and comedy. He can sing so well in female voice too! And he an excellent comedian. And most importantly, he selects his songs carefully. I like Arijit Singh too, but he doesn't know how to select a good song. He's a very good father and person. These are the reasons why I admire sonu sir so much. He's the golden voice of India. Lots of love from Kolkata
3
Udit Narayan
Very natural and clear voice and great personality singer. He is the legend of Bollywood playback singer. His duets with Alka yagnik & Lata mangeshwor and 2009: Padma Shri : India 's 4th highest civilian honor given by Government of India. Many Filmfare Awards came for songs in the movies. He has given many super hits songs to India, Nepal, Tamil etc. Really god gifted singer.
Udit is voice king! Best singer forever! 14Very natural and clear voice and great personality singer. He is the legend of Bollywood playback singer. His duets with Alka yagnik & Lata mangeshwor and 2009: Padma Shri : India 's 4th highest civilian honor given by Government of India. Many Filmfare Awards came for songs in the movies. He has given many super hits songs to India, Nepal, Tamil etc. Really god gifted singer.
Uditji has the God gifted voice. Sung so many beautiful songs. They have very original voice with compare to other singers. The magic of their soft and velvett voice spread in ol over the world. To save our music I request to all music directors please gjve more and more songs to them. B because no body can sung the soft sweet melodius song like Dil to pagal he darr mohabattein and many many more sung like them. Please to save our Hindi music we need udit narayan sir.
Udit Narayan, the King of Masti. The owner of Padma Shri award and four National Awards whenever comes on the stage, there are smiles in people's faces.

He is fit for singing behind any actor. Exact depth, softness and pitch makes him unique. He sings simple, and his voice does the rest!

We want more from you, UDIT NARAYAN!
4
Hariharan

Hariharan is an Indian playback singer who has sung for Hindi, Tamil, Telugu, Kannada, Malayalam, Marathi, Bhojpuri, Punjabi, Gujarati and Rajasthani films, an established and foremost ghazal singer and composer, and one of the pioneers of Indian fusion music . In 2004, he was honoured with the Padma ...read more.
Legendary Versatile Singer...
Magical, magnetic, the softest, bassed, sweet, romantic, melodius & mesmerizing Voice...
He has been singing the greatest songs in every genre...
One of the best Ghazal singers, Classical singers, Pop singers, Playback singers, Stage performer and so on...
Best of singing Aalaap & Sargam...
He has associated with almost all of the music legends...
I have been listening to Hariji's songs for more than 20 years. Still his songs are fresh and CLOSE TO MY HEART. His voice is AMAZING. He has proved his VERSATILITY by singing all kinds of songs in South India. South India has huge number of greatest music directors. All of them have utilized Hariji's voice to their maximum potential within a DECADE since 1995 and produced HUGE number of SUPER HIT songs...
Even though some of the songs are available in my mother tongue,I don't listen to them as they have been sung other male singers. Instead of this, I listen to the same songs in other languages, those have been sung by the ONE AND ONLY HARIHARAN Sir.
I'm a clean hearted. I'm sure that my feelings are never wrong or mad. Because of the poor music listeners, he has been underrated over the years. I hope he will reach the position that is suitable for him...
He is a Voice Producing Instrument. The voice produced by this Instrument is a Musical Miracle.This Instrument has been producing and spreading magical music waves over the last 3 decades. Those who frequently receive these waves are very very lucky & gifted people. They will always listen to this waves and get maximum life satisfaction. They will be happily forever.
He is absolutely fantastic singer in the world. His voice & singing styles are unbreakable.
He is the most versatile singer. He had been an unbreakable singer not only in South India but also in North India as well. His voice and singing styles are very unique. He does bring the songs to the top level with his soulful renditions. Recently he doesn't sing too many songs. But, Whatever the songs he sing would be magical and soothing to the music lovers. We are awaiting to hear more and more songs from Hariji's voice...
5
Babbu Maan

Babbu maan has a huge fan power in india
Babbu maan is legend singer of world. He is won international awards. His voice so fantastic. He biggest writer, music director, singer, actor, producer and business man. His millions fan in world. His name in ginus world record.
He is the best
Bai babbu maan ji father of punjabi industry king of live performer multitelened as like single actor music director producer.
6
Kishore Kumar

Kishore Kumar was an Indian film playback singer, actor, lyricist, composer, producer, director, and screenwriter. He is considered one of the most successful playback singers of the Hindi film industry.
The best male playback voice in Bollywood of all time,period. He was not a train singer, but his god given voice was unparallel. The great Satayajit Ray once said that kishore kumar has the best male voice in India. People did not appreciate his voice until he was gone. There was a period in Hindi film industry after his death where mediocre singers like sabbir kumar, mohammad aziz were dominating, which was a horrible time period. Kishore kumar was sorely missed. Even the great R.D. Burman lost interest in composing songs without kishore. A true genius!
Upon reflecting on the movie industry between the 70's until the 80's it will come to light that many heroes benefited in terms of attaining popularity with their cinematic fans attributed to the playback voice of Kishore Kumar. This sentiment is seldom acknowledged by these actors. He was a star worthy of infinite praise. In my opinion he ought to feature as number one on your list.
As far as I am concerned, Kishore the is the Numero Uno of all the male Indian singers. He is versatile and playful. He might not have been trained musically. But his talent alone got him number one status in the Indian film music world. Rafi is a talented artist. No doubt about it. But he was trained musically. Kishore the never got a national award. That shows how our people are so mean.
Just can say that kishore kumar is the GOD of Indian music Forever.
His voice touch heart all time. No comprises with this truth. If someone truly loves music then he or she must realises that the voice of kishore is full with emotions, no other singer can come to beat him.
7 Rajesh Swami Nokha
8
Arijit Singh

Arijit Singh is an Indian playback singer and music programmer from West Bengal who sings Bengali and Hindi songs.
Oh guys! Vote, vote VOTE! HE deserves to be in the top5! :) FOr the lame ones, he sang tum hi ho... Now come on!
Arijit Singh Sir should be within top 3 best indian playback singer... I am one of the greatest fan of Arijit Sir and liked him because of his Voice but Face also... He is smart and have a personlity... He is 9 in this website because Shaan or Sonu Nigam was favourite of adults and adults voted more than teenagers... He is within top 3 singers in many other websites... OK then just vote more and more for him to keep him in 6 to 4... He is liked by many...
Arijit is the upcoming star pf Bollywood! He sings with so much of feelin! It would be great if he can sing in other languages too! He gets some amazing songs! Anyways, this budding talent has a long way to go! And by the way this list is perfect! There is only one who deserve to be in the first place. That is none other than the Asian Maestro "Sonu Nigam". Well deserved first place!
Really arijit is an outstanding singer. Nobody can compete with him. I m v v big fan of his sweet, melodious, heart touching voice. After listening to his songs I can't listen to any other song. His voice make my mood fresh. He is the best. We and film industry are very much lucky to have singer like arijit. So please vote. He deserve to be in top 3.
9
Shaan

Shantanu Mukherjee, known as Shaan, is an Indian playback singer active in Hindi, Bengali, Marathi, Urdu, Telugu and Kannada films and a television host.
He is the living legend in terms of versatility. He can sing Indi-pop numbers, item numbers on the other hand he can render romantic numbers, Rabindranath Tagore's songs. But you can't expect this type of variation from singers like Arijit Singh or Atif aslam. So he is definitely a top 5 singer of India for ever.
He is one of the best singer on india n I wannaa give him rank 1...
Please vote him n make him most popular n the best singer of the century..
Shaan is the most versatile singer and his voice is so magical and always touches heart. Keep voting him, he deserves to be in the top 1 position on this list.
When I first heard you I was falling in love with your voice, it's too romantic and melodious! You are the super talented singer no doubt about that.
10 Anudeep Dev
The Contenders
11
Kumar Sanu
He holds a Guinness World Record for recording 28 songs in a single day Awards *. 2009: Padma Shri : India 's 4th highest civilian honor given by Government of India. *. IIFA : Artist of the decade. *. The government of Denton in America observe Kumar Sanu Day on 31 March He won the first of his record five consecutive Filmfare awards as Best Male Playback Singer. His next Filmfare Awards came for songs in the movies Saajan (1991), Deewana (1992), Baazigar (1993), and 1942: A Love Story (1994).
He is best not only because of quality but also because of his understanding of a composer's soul. He is the only singer who can create the real meaning of a song. His song kuch na kaho is used for treatment of cerebral palsy patients. Doctors have taken his voice sample for research. I think that makes him the best singer ever.
I think we need to knock sonu nigham off the first position and put him right at number 10 where he belongs. Whoever hasn't voted for Kumar Sanu must have hearing issues or was born in the are when Rafi was around. Kumar Sanu's every word was spoken with feeling even though it was not his mother tongue. Long live kumar sanu jee
He voice speaks romance and pain. He has the most unique voice off all singers in Bollywood. Every word is pronounced with feeling and perfection yet not being his mother tongue. He is a legend. He is the only singer ever to have sang so many song overseas not just Bollywood. Long live the King
12
Freddie Mercury

Freddie Mercury (born Farrokh Bulsara, 5th September 1946 - 24th November 1991) was a Zanzibari-born British singer of Indian descent, songwriter and record producer, known as the lead vocalist and songwriter of the British rock band Queen. He also became known for his flamboyant stage persona and four-octave ...read more.
Not first?! Are you kidding?! Freddie is my idol, my hero! Freddie is love, Freddie is life! Freddie is the reason that I live! If Freddie Mercury never existed, then I wouldn't've ever been born or I would've died a long time ago! Show Freddie some respect! Put him at #1! Come on, Queenies! Vote for
Freddie!
He was born in Zanzibar of Parsi-Indian parents. He became a British citizen when he moved with his family to the UK.
Technically he's Indian... but I don't think he should really be here. Still awesome though
How is he almost at the bottom (no pun intended)? He was the greatest, 'enough said.
13
Honey Singh

Hirdesh Singh, known by this professional name, Yo Yo Honey Singh or Honey Singh, is an Indian music producer, Indi-pop singer and film actor.
HOW THE HELL IS HE EVEN ON THIS LIST with talented singers like shankar mahadevan, shaan?! His rap makes no sense!.. uses autotune and still sounds like .. cancer to Indian music industry... high time, people started to listen to real music and not this !
He is best is Asia. He has like 60 or 70 awards. He has also charged Rs.7 million for a song in an upcoming film titled Mastaan starring Naseeruddin Shah. It is the biggest amount paid to a song artist in Bollywood to date, making Honey Singh the highest-paid musical artist in Bollywood.
Do Indians hate real names so Much they adopt rapper/stage names like yo yo honey and hard kaur? It's so cringe and why is honey Singh top on the list? India's music industry is deteriorating by the day
Indian youth are screwed with people like this filth in the scene. Whats his actual name though, Indians come up with the most stupidest stage names because their own ones are ugly
14
Shankar Mahadevan
One and only! No one can live without breath. But he is breathless.
In my opinion he is the most versatile singer we ever had. Highly gifted.
He is the singer with unique voice... Any type of song, he gives life to it...
Shankar mahadevan is a deserving person he is fantastic I love him
15 Jeet Ganguly
16
Ayushmann Khurrana
He is one of the best Singer in Bollywood
You are a nice singer or so cute
You are my best singer
Shahrukh sir ne kha pyar ek bar hota h pr yarr jb jb Ayushmann ki aaawaz sunti hu toh bar bar unse pyar Ho jata h

By Harshal love you
17
Baabul Supriyo
A perfect voice to listen when in romantic mood, he is very traditional
Voice is perfect romantic song
Excellent singer, pity very underrated.
I like your voice
18
Jubin Nautiyal
Jubin is not only an extremely attractive man, he is a genuinely wonderful human being. This alone should rocket him up the attractive list of any sane-minded woman/man. To top it all off he is supremely talented, and not just in acting. This man is unaffected by the media, a true gem in the blinding limelight. He's a down-home Dehrahun boy at heart, who just happens to be attractive and abundantly talented with a bit of a nerdy side, I'd you don't find that insanely hot then there isn't much helping your taste.
Amazing vocal range that sounded pure and almighty. He could sing low and high and move you with his words. Best male pop vocalist of all time in India (except maybe Shaan)
Don't be ridiculous... OF COURSE Jubin Nautiyal has the most powerful voice the world has ever known! He should be number 1 on this list :D
His voice is purely beautiful, he brings a tear to my eye with his songs, and there has been no one better.
19
Abhijeet Bhattacharya
I would have respected him more if he stuck to singing. From comparing poor people to dogs, to criticising atif Aslam. He has totally gone was below that belt. Let's forget him as he never existed.
We are talking about singing here not any personal issues Every body has a different way of thinking. And if we check out the top 3 singers of 90s so Abhijeet is definitely one of the them
Abhijeet should not be in top 20 because he is not a singer he is a duffer please don't vote for him I love India and all Indian singer except abhijeet because he is jalous from some one.
Worst singer. Always taunting others. Criticizing Atif Aslam and other Pakistani singers. I just hate him. by the way I'm not a Pakistani.
20
Imran Khan
He is the best singer in the world. I have listen All song of him
Imran khan is best singer I world
Aal song are my favourite
Records will rock again
21 Divya Kumar
22
KJ Yesudas
Whom we are comparing and with whom we are comparing.. It matters a lot... There are many revered classical musicians many light musicians and too many playback singers. That he is a keralite is the proud of each malayali. That he is not a Hindi man is our luck that we got him too much to flourish our malayalam language songs.. Of course, we are not that possessive that we don't share him at all. Russian Latin and almsot all Indian languages he has sung.. A man above everything.. Made for music made for love made for social tranquility and the ambassador of secularism
Yesudas is the best in the world - not only respected in our country - but the entire music world - I would say when God desired to sing, He created Yesudas and sent him to our Universe. He handles both light music and classical music in the same ease and comfort. There is so much to learn from each and every song of his. It is sung with that much perfection which nobody else can repeat or try.
Yesudas Sir, Yesudas is not one of the he is the singers' Author, he is the Authority of both Music and Cinema. If you can search any singers in India and world find out the singer like Yesudas why because their one special thing is there 1.Today Cinema Song Recording 2.Next day Music Concert, 3.One Orchestra Programme in any function or Institution final day the same Devotional song recording is it possible to maintain the same mental stability and perfection all are in different manners Cinema songs NO of Ragas and Talas no balance in the song secondly Classical concert is one and only because all perfect people and knowingly persons come and watch the Programme either they can understand or not at least they want to find out any mistakes that time he wants become more perfect thirdly Orchestra is a public programme want to sing in the open space we will have to adjust the Voice lastly onec again he wants to change their mind and temperament because it is a Devotional song everybody ...more
Yesudas, 50 Years completed in Kannada, Tamil, Telugu and Malayalam Film Industry as Playback Singer. Yesduas bagged more than govt awards from National and various state level. Yesudas has won the National Award (Hindi, Telugu and Malayalam) for the Best Male Playback Singer seven times, the most by any Indian singer.
23
Anu Malik
He sucks.. The worst voice in the history of Bollywood
Worst singer ever
Worst singer in world
24
Yash Lunia
YASH IS A VERY GOOD SINGER HE KNOWS ALL THE SONG I LIKE IT
HE IS VERY GOOD SINGER. HE SINGS THE VANDE MATARAM OF LATA, MERE DESH KI DHARTI, GURUDEV DAYA KARKE, AYE MERE WATAN KE LOGO AND MANY MORE IN THE REPUBLIC DAY OF GURUKUL SCHOOL. I GO THERE AND HEAR HIS SONG. HIS VOICE IS VERY MELODIOUS.
25
Kunnath Krishnakumar
Krishnakumar Kunnath better known as KK to the people of India who loved his mellifluous voice over the years when his songs were more than frequent in the movies but soon let him fade into oblivion with the rapid onset of a new batch of playback singers into Bollywood who gained a strong foothold in the industry with the aid of a certain 'auto-tune'. Sheer ignorance! KK deserves respect, more than any other singer of this decade for giving us some inspiring and heart-rending pieces of music. His songs have a particular feel- an intimate fell which tickles the wings of our emotion. The true mesmerizer - KK.
Why isn't K.K. on the top? Listen to any K.K. song, and you will be mesmerized and feel intoxicated with the melody of his music and voice. Gosh he is so much better than singers like Atif Aslam, Kumar Sanu, and Shaan. He should at least on the top 5 along with the likes of Sonu Nigam and Udit.
K.K. is the greatest singer in the world I have ever heard, and I mean it. His voice is one in a billion and deserves to be on top of this list hands down. If we stop rating the singers on respect basis just because of age I think we would see a more correct ranked list.
KK is definitely the most undervalued, ignored singer. It is his voice that has the tinge of freshness, melody and romantic bliss all simultaneously and most of the all time hits are clearly under his hat. Blasphemous when his name remains unheard of, such low down the list.
PSearch List