Top Ten Best Indian Singers
Best singers of all time world have ever produced by the originator of Music yes who else INDIA....
The Top Ten
Mohammad Rafi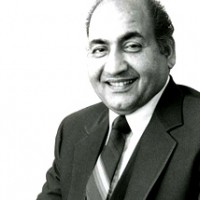 Mohammed Rafi was an Indian playback singer and one of the most popular singers of the Hindi film industry.
The most versatile singer India has ever produced, sang each song with such distinction, that left the listeners spellbound. The effortless transition across the entire range without any strand of strain, flawless emoting made him the king of playback singing... No doubt his humility, unassuming attitude, soft spoken nature, and reverence for mankind produced such a voice which came direct from heart... It's true that music is about emotion and not only technicalities, and he was master of both
Rafisaab has song all types of music soft, loud, happy, sad. He is total of Lata Asha Gitadutta and all other female singer = Mohd. Rafi.
He bust the carrier of Rajendrakumar, Dilipkumar, Shammikapoor, Dharemendra, Jitendra and many more. He was very polite and soft spiking man but when he sing songs like Dil Ke zarokhe (Brahmachari) you can not immage that this song is sang by Rafisaab. He has visited border at the time of India Pakistan war to bust the morale of our army, hence Pakistan Govt. Has censor his song for some time. Even though there are huge fan in Pakistan.
UNDOUBTEDLY RAFI SAHAB IS THE BEST SINGER AND WILL REMAIN THE best SINGER OF ALL TIMES. NOBODY CAN EVER ACHIEVE THOSE HEIGHTS WHAT HE HAD ACHIEVED...

Mohammed rafi is the best singer in the whole world because he has the best voice most versatile and has sung most difficult songs which other good singers found them very difficult to sing also it is a big shame to compare atif aslam who has sung very few songs to a great proven singer like mohammed rafi also his songs were sung at a time when the technology was very basic unlike todays singers who have a very advantage
Sonu Nigam

Sonu Nigam is an Indian playback singer, live performer, host and actor. He sings in Hindi and Kannada language films.
most versatile singer possessing a delicious voice, he sings with 0 error
He is the best singer ever. No can beat him as he is such a singer who can sing any type of music from devotional to remix perfectly.
All the great songs like chiggy wiggy and greatest hits of 21st century are of him!
Sonu nigam is the greatest singer ever, well I tell you why -he has the most melodious voice my ear have heard, took a v. Hard challenge by singing songs of Md. Rafi to tribute him and some songs like 'tum mujhe yu bhula na'and many better than Rafi saab(sorry to rafi and his fans )this is itself a biggest thing, then now a days he sings that sort of songs as if those are made especially for him because songs are v. Hard and made me think if he had not present those songs would have not been so good. He has sung all the forms of singing present, better than the maestros present especially for that. This is a ridiculous thing. I wonder how one can do this, hats off to him he is a true legend if not more...
Shreya Ghoshal

Shreya Ghoshal is an Indian playback singer. She has received twelve National Film Awards, twenty Filmfare Awards and eight Filmfare Awards South to date.
Amazing...
Good looking...
Best singer in the world...
You are beyond my thoughts..
Superb...
Just superb...
Great work...
"'m a big big big big big big
Fan of you...
You are the most likeable person
After my parents, friends and vijay...
Nice going keep it up...
LOTS OF love...
Sreya Ghoshal is the best among the play back singers. One reason is that she almost won 4 National awards and different state awards and film fare awards within this shortest span of time.
She is versatile. Her rendition of romantic, soft numbers are flawless.
She is just blessing, splendid, gorgeous, melodious, professional, extraordinary, god-gifted and many more where words will fall fail to describe!...OUR MELODY QUEEN, QUEEN OF MUSIC & VOICE PITCH, SHREYA GHOSHAL!... only one born in an era to whom none can be compared !...
Lata Mangeshkar

Lata Mangeshkar is an Indian playback singer and music director. She is one of the best-known and most respected playback singers in India.
She is the one of the greatest singer in Indian history
LATA JI IS THE MOST TALENTED AND THE MOST HONOURED SINGER OF CENTURY HER VOICE IS TRULY AMAZING
Best singer in the whole world
She is the world's best singer and she has got many awards in singing and also act in films and her father also a classic singer so I think this comes in lata ji from his father and very less peoples are present in this world and and I salute to lata ji because of them India can feel proud because we have best singer in this whole world
Kishore Kumar

Kishore Kumar was an Indian film playback singer, actor, lyricist, composer, producer, director, and screenwriter. He is considered one of the most successful playback singers of the Hindi film industry.
Most talented Singer. A versatile legend... Yodelling God in India new commers are still tracing his path.
Kishore kumar has a very pleasant voice that touches directly to heart within no time as his voice finds her path in the ear.
Any kind of song he is able to sing...
Kishore Kumar was a multifaced personality... A complete singer, an actor, musician, comic, and a director too... If you look into the records, he has produced a few movies too...
A perfect blend of classical and modern music... The most versatile singer India has ever seen... Listen to his unforgettable numbers... The ever classical(mere naina sawan bhado) to the modern hip hop(om shanti om and dekha na hay re)... The withe range of moods reflected in his songs... Be it pensive mood(dukhi men mere ) to the most jovial(main hoon jhoom jhoom jhoomroo) to the most romantic(pal pal dil ke paas & kaante nahin kaatte )... Kishoreda enthralls you with his charismatic golden voice... Rafi ji and MannaDe ji comes close but in no way can surpass Kishore the. This top 10 ranking is flawed.. Type "kishore kumar" in google search, you'll get About 11,100,000 results, google"md rafi", you ll get About 714,000 results, About 9,970,000 results for atif aslam, About 4,770,000 ...more
Arijit Singh

Arijit Singh is an Indian playback singer and music programmer from West Bengal who sings Bengali and Hindi songs.
He is the best singer that our industry has got in the 21st century.. Brilliant texture of his voice..
He is the very best singer of the world. The only thing make him better is his sweet voice. Everyone likes him and make him a best singer by voting.
Really he is an outstanding singer. He has a superb voice. Not only me, my whole family is a big big fan of his sweet, melodious and heart touching voice. Nobody else can compete with his voice. We and film industry are so much lucky to have a really talented singer Arijit. Please vote him. He deserve to be in top 5 male singer in India.
He is very outstanding, mind blowing, excellent singer
Hariharan

Hariharan is an Indian playback singer who has sung for Hindi, Tamil, Telugu, Kannada, Malayalam, Marathi, Bhojpuri, Punjabi, Gujarati and Rajasthani films, an established and foremost ghazal singer and composer, and one of the pioneers of Indian fusion music . In 2004, he was honoured with the Padma ...read more.
He should the number 1 Singer as he can sing any song with such ease when most of the singers will have to put an effort. And his voice too is very good.
Great voice which is coming from Where? I can not find sice 1992 onwards.
Really God's Gift or the gift is coming out God's voice. No one can able to Immitate in any singing competetions. Amazing sound is coming from one instrument But that instrument name is... (please put a suitable name)
He is the no. 1 versatile singer in the world. His voice is just an amazing!
Awesome King of Ghazal and Melody.
Udit Narayan
Udat is very very good singer. His voice is better than kumar sanu. Very memorial voice
because of best voice and singing style anyway keep this on top according to my suggestion
This man has undoubtedly most fresh, young, clear and original voice. Suppose to be in top 5 along with another melody SP Bala.
Udit has the sweetest voice and the way he modulates his voice is unparalleled
Krishnakumar Kunnath
he is our kk my frnd... a superb singer and performer too... he is the hearthrob of all... super voice can make any genre of song a superhit... he dnt lyk publicity... he dedicates all his tym to his music and family... datz kk-most versatile singer at present

Kk is very talented singer of India and I want that kk will become top singer of the world
I would listen to anything kk sings honestly... Sensational... That's what the man is
His voice is awesome! I think he should b at the top I just love his wonderful melodious voice he is the best singer I heard ever :)
he has got an unique emotional soulful voice, I'm crazy about his songs like tum ho mera pyar, tujhe sochta hoon, haan tu hai, zara si, dil ibadat, tu hi meri shab hai'... I think I'm the biggest fan of yours, you are very... Talented singer and I would like to title you as extra marvelous singer and I'm dam sure that no one can be better than you superb voice.. I love to listen your songs which make my heart touched you are the worlds best singer I'm very mad about you and I am not able to express my words about you you are too good
Zubeen Garg

Zubeen Garg is an Indian singer, music director, composer, songwriter and actor. His contributions are mostly attributed in Assamese, Bengali and Bollywood. He has sung many songs in other languages including Tamil, Telugu, Kannada, Malayalam, Marathi, Odia, Bodo, Karbi, Nepali, Bishnupriya Manipuri, ...read more.
I want to correct the figure that Zubeen garg has sung more then 12000 songs till date and is going on. He sang in almost all the languages of India. He is composer, writer, singer, actor, musician. In one word he is the complete package. Its shocking to see him in this position. Really it's a meaningless ranking.. All because of ignorance attitude towards north east
The real rockstar... He deserves more... So disappointed to see him so low in ratings..
I think he should be above then the likes of atif aslam and babul suprio because do you know he has sang more then 10000 songs till today in different indian language... He deserve a place in top 20
I simply refuse to accept this ranking for a singer who has been active for more than 20 years now. Tell me what is lacking in him? He sings multi lingual, plays dozens of instruments, composes... Has many hits to his credit. That he has been deprived of a proper recognition is because of some stupid coterie that exists in the Industry. Zubeen Garg is at PAR with the best. And if this is again the North East phenomenon, then it's a sad case. I am from West Bengal living in Bangalore but let me tell you that there is hardly any part of the country which is as musical as the North East. I don't wish to say anything more, I just feel sad for Zubeen and all the brilliant musicians of the North East..
The Contenders
Kumar Sanu
Best singer ever step into bollywood. He is unbeatable even Kishore can't reach him. Simply no1...
I have not any word for kumar because my heart is good feel when I play kumar's songs. He has a amazing voice and it is god gift for kumar. When I take mobile then first I choose to listen kumar's song
He is the best of all, I like all his song :just a great fan of him, I want him to sing more. He is the singer for every mood.
I think before ashiqui, Indian film music was at doldrums, but the scene of the music industry changed after kumar sanu's entry, many heroes life changed, see the examples, rahul roy, aamir khan, ajay devgan, akhshay kumar, the list does not ends. No one is practical, but the truth is this and the truth is always bitter, therefore my opinion he is the number one. we still remember his songs, which penetrated into our mind since those golden days. Tell me one thing, since the time Kumar sanu is out of picture, where are those cassette companies. Nowadays we get singer free of cost, music companies cannot afford to pay the singers like kumar sanu, because of piracy. So don't go for comparison, but face the truth. Your voting is done by the present days generation, who access the internet more, so when you don't have proper voters how can you compare the singers, all are good, they have their own styles, reaching at that level and performing for years is not a joke.
Thanks
Atif Aslam

Muhammad Atif Aslam is a Pakistani singer and film actor. His movie debut was the 2011 social drama Bol.
Atif Aslam a wonderful singer... Unique voice... Even a very poor song ll be beautiful when atif executes it... That is the quality of his voice and singing.. Really worried about why he is getting insulted by other senior singers in many stages.. And I strictly believe that best singers are chosen by the people.. None else can do that... And this poll result is an absolute reply to all those who insults Atif in many stages.. Atif is the best singer in this generation and he has his own identity, that is his unique voice.. We all with him... Love you Atif...
Am surprised that he has beaten sonu nigam
I love atif aslam songs & this one of the best songs in india!

He should number 1 not no-2. He is the best singer in asia. His voice is too exceptional. I like him most. (Michael Ashraful). I am the biggest fan of Atif Aslam boss!

He is my favourite singer because I like his voice. I'm saying that sonu nigam can sing much better then Atif Aslam but can you see sonu nigam is singing more songs which are hit in 2013? No because today Atif Aslam songs are hit then anyone. Like be-inteha, jeene laga, janam janam, main rang sharbaton ka etsectra-etsectra.I know that some of you people will not like these songs and tell"bekaar gana sab to hai" and if you will say that, then you don't know any thing about music. if you think that "chhodo paisa kum leta hoga isliye sub ishiko itna gana gata hoga"but these is not true guys lata mangeshkar sung more then 1000 song. Then what it means that she is not a good singer? Guys it not true that good singers sing few songs only that's why Atif Aslam is hittest singer of these period (2013) and atif means hit & hit means atif. Please don't sing for time pass, before releasing your song know from sinior singers that it is good or not because your some songs are ...more
Alka Yagnik

Alka Yagnik is an Indian playback singer. She is noted in Indian cinema for a career spanning over three decades.
I Just Love Your Voice Alka Jee...
Alka Yagnik is one of the most versatile singers in Indian History. From item nos. Like Choli ke Peeche, Ek do Teen, Chamma Chamma, etc to soft romantic nos. Like Kuch Kuch Hota Hai, Bahon ke Darmiyan, Aye Ho Meri Zindagi mein, etc she's done it all!
Alkaji is a gem to all the Bollywood listeners. All her songs sung by her from the 80s to date are just amazing. On top of it, an amazing voice quality. Simply unique and superb!
The most beautiful voice ever in the history of music industry in the whole wide world. There is no other singer who can sing Alka Yagnik songs with same perfection and beauty of the voice to turn a simplest of lyrics into a block buster. If we talk about the best playback singer. No match to Alka Yagnik Voice forever. You can hear the mimic/copies of kavita, sadhna, anuradha and shreya which is found in every second singer means shreya has a very very common type of voice without anything particularly impressive whether edited or not. But you cannot find the mimic or a copy of Alka Yagnik's Devine Voice ever... So that's why Alka Yagnik is the all the best singer of Bollywood forever.
Manna Dey
He can sing any song on earth. A perfectionist, he can make any song look easy. Has sang in many languages including bengali, hindi, marathi, bhojpuri, tamil, telugu, gujrati, konkani etc etc.

Man they is the strongest singer...
Best singer after rafi Saab but unfortunately never get opportunity to prove his potential
He was to singing what Rahul Dravid was to cricket, technically flawless only to be outshined by an exceptional talent around the same time.
Rahat Nusrat Fateh Ali Khan
I Think what rahat fateh ali khan is doing here he should be definitely in top 2 I love his songs to much, I think only atif is placed here in a good position no2 he should be number 1 also but that's okk.
I think that rahat is a soul of ustad nusrat fateh ali khan. His voice very sweet. I love all of his songs very much.
He have to be fist even sonu nigam know. Best singer of all time, Melody, jazz, pop everyting. Vote Please
Am quite surprised that this legend is not in the top 10. are you guys kidding? This man is a true legend. Even better than arijit singh. The magic in his voice? How can you forget him?
Asha Bhosle

Asha Bhosle, is an Indian playback singer. She is best known for her playback singing in Hindi cinema, although she has a wider repertoire.
Amazing voice. I like her and wish her all kinds of prosperity.
Asha Bhosle if not number 1 must be no 2 no one is near Great Asha ji. Superb voice. Love so so much...
Asha could churn out any song and transcend from very high notes to the lowest note possible in a matter of seconds. She has churned out so many hits over the decades.
She is the most versatile singer. She has been on the shadow of Lata Mangeshkar since from the begining. She can sing Lataji's type of song but Lataji can't sing her type of song.
Bhimsen Joshi
Could there be any other name eligible to put beside his name? Most of the singers listed here is not close to him even in dreams. It's a real shame to see the tiny percentage of votes he received here. India need to wake up from deep slumber and recognize its invaluable assets in the form of music that has been gifted by GOD himself.
I can't believe such type of wrong voting system, in fact bhimsen joshi is the god of singing
How can you compare classical singers with playback singers. Classical singing is way more difficult. Even the great Rafi Saab used to consider himself inferior to classical singers.
The greatest singers on this planet are Bhimsen Joshi, Dr. Balamurli Krishna and M S Subbulakshmi, Kishori Amonkar. No singers in this world will come even 1% close to matching these singers.
Shantanu Mukherjee (Shaan)
He should be above kumar sanu and atif aslam. He is one of the best.

Shaan is the best singer and a versatile singer, with a very beautiful personality.
He the simply the best..

The same history as-
Rafi, Kishore
Kumar Sanu, Udit Narayan
Sonu Nigam, Shaan
His voice such a great. Interesting and doing free for mind
Jagjit Singh
Jagjit singh is really great man in history. He just sung "tum ko dekha to ye khayalaaya". This sung is became my favorite song when I saw or heard this song. I love this singer.
He has a great voice. I like his song 'HONTHO SE CHOON LO' very much. He is really a genius. He is my favorite singer.
Jagjit Singh is the greatest singer of all time... Every cannot understand his songs, but every single one do like his songs... His song "wo kagaz ki kashti", "ek pyaar ka nagma the" and other Bengali songs will always touch peoples heart... He must be respected more...
No one can take place of our gajal singer in the world he was only singer that can touch your soul and this is wrong to say that he was now he is present in our heart...
Mohit Chauhan
Very great singer and I just want to say that he is brilliant singer and very nice voice one day he will beat sonu nigam...
Mohit Chauhan is the best Hindi singer... I can't belive he is at no. 31, Please DELETE 3 From 31 and leave 1 so He'll be no. ONE
MOHIT CHAUHAN is really a ROCKSTAR.
I love his voice. He has a fresh voice, truly you are a rockstar
The most versatile singer of film industry... Just love is fresh voice and singing style. He has got an attitude the way he sing... Love him..
Yo Yo Honey Singh

Hirdesh Singh, known by this professional name, Yo Yo Honey Singh or Honey Singh, is an Indian music producer, Indi-pop singer and film actor.
Honey singh world best singer

Yo yo honey singh! Aisa hi achha gaate raho tusi
Acche gane banao honey singh is the very best singer in the world
Yo Yo Honey is just amazing... He has good music sense, beautiful voice and high skill and ability.. Hia many songs such as Brown Rang and High Heels topped international charts.. His song This Party Gettin Hot was the most heard Indian Song on Youtube...
K. J. Yesudas

Born 10 January 1940, at Fort Kohi ...read more.
'the chief musician of gods darbaar' not sure if god wanted to sing and he resided in yesudas's throat, come it classical, hindustani, melody, upbeat, comedy, trajedy, light music, drama music, devotional, gazal - the one man army - yesudasji... I would want him to get his 8th national award soon.. And would what him to sing more hindi / urdu songs and enlighten the almost forgotten hindustani music of the north. Karnatic has always been safe since yesudasji took it to a peak no one could think of.. Das sir, its a request to please return to the north.. Missing your 'gori tera gav' 'kaha se aye badra'..
Two Academy Awards, two Grammy Awards, a BAFTA Award, a Golden Globe award winning composer, Music Director A. ARE Rahman said that the most beautiful voice in the world is that of Yesudas.
Yesudas, He is the voice of India.
HOW DARE THE SO-CALLED INDIAN FOLK CONSIDER SUCH PALTRY WARBLERS AS SONU NIGAM AND GOSHAL O VER THE LEGEND THAT IS YESUDAS... I AGREE MOHAMMED RAFI IS GREAT BUT YESUDAS IS PROFOUND...
WHERE IN THE WORLD CAN YOU SEE A SINGER WHO CAN BLEND THE BRILLIANCE OF CARNATIC MUSIC
AND THE EUPHONY OF LIGHTER STRAINS. AS GREATLY AS YESUDAS.. YOU ALL ARE A SISSIFIED BUNCH OF SMATTERERS..
RAFI'S GAMUT DOESNT COMRASS WHAT THE GOD.. YESUDAS CAN ATTAIN WITH HIS VOICE... DONT YOU DARE PIT MINNOWS AGAINST AN INEFFABLE PROMONTORY OF SINGING...
A. R. Rahman

Allah-Rakha Rahman, is an Indian composer, singer-songwriter, music producer, musician and philanthropist.
This is best in the world
I don't have any word to explain... Just hatt off for rehman sir
He has include not in Singers List.
But in Best Music Directors forever List of India...
Proud him as he is a Tamilian...
No words for his talent and hard work. Not only a beautiful singer and musician but also a very great person.
Sunidhi Chauhan

Sunidhi Chauhan is an Indian playback singer. Born in Delhi, she began performing in local gatherings at the age of four and made her career debut at the age of 13, with the film Shastra.
The best female singer of this generation! She is so versatile and her voice is unbreakable! She is a really sweet person, too! She deserves to be number 1!
Sunidhi chauhan is best singer she sing fast songs and slow songs and she is best stage show she is only rock star in India
Every singer sings good, that is why they are singers. Sunidhi chauhan sings very pretty...
She is a nice and the upcoming top female singers. She has a jazzy, classy and rough style voice... She is fantastic singer but she does not has a sweet voice but then also Sunidhi rocks.
S. P. Balasubramaniam
SPB was awarded National Award for singing 6 times closely following K.J. Yesudas sir. I think KJY sir and SPB should be 1st and 2nd in this list...
His voice touch every part of the soul, each cell in the body. He is the only singer who made me cry. He is a legend. No one can sing like him. He can sing all types of song folk, melody, fast beat, etc. I like when he smiles at certain words. He is the person who have a good pronunciation.
He is only one singer in the world who can sing any kind of songs in a great soul. Un-comparable. He is just only one singer and no body is as equal to him. Specially his voice can mold in any pitch and words pronunciation is very well. All in one. Different style of singing. Most genius, because he will sing according to the situation of the story with great feeling. He will sing the songs by understanding of the writer version and their thought. While singing all these aspects will be in his songs. That's why he different from other singers. No body can sing a song mixing all these qualities while singing. He is only one the best singer in the world. While singing, the situation or scene of the cinema, we can imagine with his singing without seeing the film. In some times, the actors may also do proper justice in their action in the songs by under standing the writers feelings and singer's feelings.
Man... He has sung over 40,000 songs... We have lived our lives through his voice.. The nuances he has.. The grace he gives... Every Ilayaraja's fan loves SPB... Just because he has sung less number of songs in Hindi it doesn't mean he is no lesser than the so called stuff aslam and sonu nigam... So biased voting..
PSearch List