Top 10 Most Beautiful Female Metal Musicians
The Top Ten
1
Simone Simons - Epica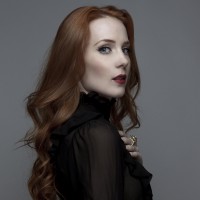 Simone Johanna Maria Simons is a Dutch singer-songwriter. She is the lead vocalist of Dutch symphonic metal band Epica.
She is without a doubt the most gorgeous female metal band lead singer. Her voice is heavenly and watching her on stage is mesmerizing
Most beautiful talented down to earth woman in the planet.
Absolutely gorgeous, extremely talented as well.
Her red hair looks beautiful!
2
Alissa White-Gluz - Arch Enemy, The Agonist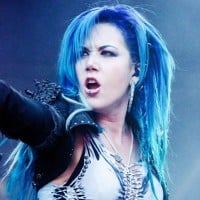 Alissa White-Gluz is a Canadian vocalist, best known as the former lead vocalist and one of the founding members of the Canadian metal band, The Agonist, and current lead vocalist for the Swedish melodic death metal group, Arch Enemy.
You just need to see her 2017 video 'The World Is Yours' by Arch Enemy.
She is absolutely perfect - both face and body, perfect proportions. And voice.
Before you vote, find some more images on Google or other videos - ex., Panophobia by The Agonist (on the War Eternal video by Arch Enemy it's difficult to see her true beauty because of the make-up).
Why isn't she number one?! She is so damn beautiful, she puts all other female metal singers to shame!
She is a great singer, but if we are voting on beauty and not music, where is Amy Lee?
I see why she's second. I like her hair and face expression!
3
Sharon Den Adel - Within Temptation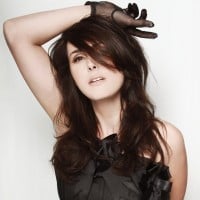 Sharon den Adel, Dutch singer and the vocalist of symphonic rock band Within Temptation. Together with her partner, Robert Westerholt, den Adel is one of the founding members of Within Temptation. She has defined their work as epic and cinematic. Her vocals play a major role in the band's sound, despite having never received formal vocal training. Den Adel sings in the mezzo-soprano range but her vocal quality is light and lyric despite her range.
Sharon is absolutely gorgeous.
She's very kind too.
4
Clémentine Delauney - Serenity, Visions of Atlantis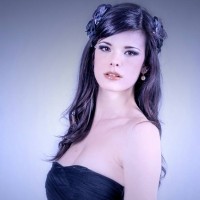 Clémentine Delauney is a French symphonic metal singer. She is a classically trained soprano, known as the singer for Austrian symphonic metal band Serenity, currently Visions of Atlantis, and French metal opera band Melted Space.
You should see her in this video: Serenity - Wings Of Madness.
(she is incredibly beautiful but eroticism in this video is too much for the metal standards and it raises questions).
Clémentine is a French soprano singer for Austrian symphonic metal band Serenity, currently Visions of Atlantis, and French opera metal band Melted Space.
Most beautiful and appealing female singer ever, in any genre.
Clémentine has a perfect face and body. She's sexy and hot as hell! She is just perfect, the most beautiful singer of all times! I love her ♥ I'd marry her if I could.
5
Cristina Scabbia - Lacuna Coil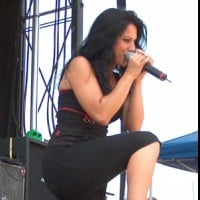 Cristina Adriana Chiara Scabbia is an Italian singer and lyricist, best known as one of the two vocalists in the Italian Gothic metal band Lacuna Coil.
6
Floor Jansen - Nightwish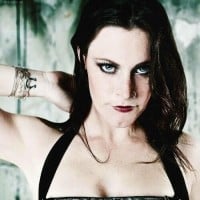 Floor Jansen is a Dutch singer-songwriter and vocal coach. She is currently vocalist of Nightwish and leader of Revamp.
What! Floor deserves a top spot. She is the most beautiful woman in the history of metal.
For a woman of their height it's beautifull, just loose a few moments in that blue eyes...
7
Dianne van Giersbergen - Xandria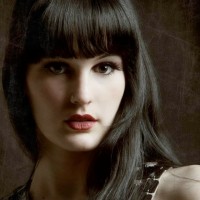 Dianne van Giersbergen is a Dutch dramatic soprano singer, songwriter, and vocal coach who is well-known for being the frontwoman and founder of the progressive metal band Ex Libris and German symphonic metal band Xandria.
"Once again I feel it my duty as a fan of Xandria to give due credit here to another of the band's front women, Dianne! While she is not the first one I saw back when I was really getting into this truly awesome and mighty band, her performances and vocals are nonetheless astounding! Nightfall was the first song and video I experienced with her in it. To this day, it is also my favorite of their videos including her. There is something very intense about her I almost immediately noticed in Nightfall, almost magical! Her eyes seem to literally twinkle like brightly lit stars. I get emotional even thinking about it. It is sad that she left the band, but I feel that she will do just fine branching out on her own. From a true admirer and fan for life, thank you! "
No longer the singer for Xandria but still fronting her own band, Ex Libris. Amazing talent and absolutely gorgeous.
She's a Dutch dramatic soprano singer, songwriter, and vocal coach.
8
Brittany 'Kobra' Paige - Kobra and the Lotus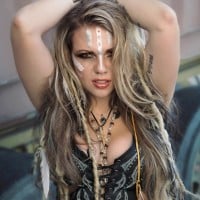 Brittany 'Kobra' Paige is a Canadian metal singer and founder of the metal band Kobra and the Lotus. She was listed as one of the Top 25 Women in Hard Rock and Metal for 2013. Kobra Paige is a classically trained singer.
Check out: Kobra and the Lotus - Welcome To My Funeral, Forever One.
She's very beautiful and sexy, and fortunately nothing's overdone.
She's a classically trained singer but she doesn't sing symphonic metal.
9
Tarja Turunen - ex-Nightwish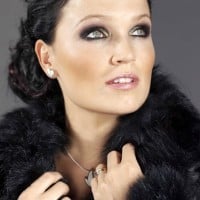 Tarja Soile Susanna Turunen-Cabuli (born August 17, 1977), generally known as Tarja Turunen or simply Tarja, is a Finnish singer-songwriter. She is a soprano and has a vocal range of three octaves.

Turunen studied singing at Sibelius Academy and Hochschule für Musik Karlsruhe. She is well known as a professional classical lied singer but best known as the former lead vocalist of the Finnish symphonic metal band Nightwish, which she founded with Tuomas Holopainen and Emppu Vuorinen in 1996. Their combination of hard and fast guitar riffs with Turunen's dramatic, "operatic" lead vocals quickly achieved critical and commercial popularity. Their symphonic metal style, soon dubbed "opera metal", inspired many other metal bands and performers. ...read more.
She's a goddess! And she has an amazing voice!
10
Fernanda Lira - Nervosa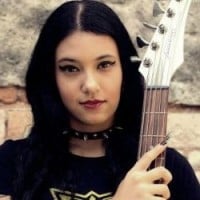 Exotic Brazilian - thrash bassist and vocalist. Wow!
She doesn't look beautiful because she's angry all the time but in fact, she IS beautiful. Check out: Nervosa - Death.
The Contenders
11
Elize Ryd - Amaranthe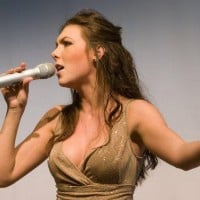 Elize Ryd is a Swedish singer-songwiter, dancer, composer and show artist, best known as one of the three vocalists in the melodic metalcore/power metal band Amaranthe.
Amaranthe - Digital World, The Nexus.
My problem with this band is that they sound too poppy mainstream-ish and I don't hear much metal most of the time. But Elize is beautiful.
12
Vibeke Stene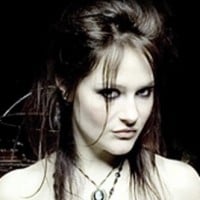 Vibeke Stene is a Norwegian soprano. She is best known as the former vocalist in the gothic metal band, Tristania.
Her face reminds me of Amy Lee for some reason.
13
Charlotte Wessels - Delain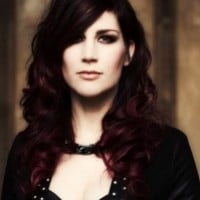 Johanna Charlotte Wessels is a Dutch singer-songwriter who was born in Zwolle, Netherlands. She is best known as the lead vocalist for the Dutch symphonic metal band Delain. She is also in the symphonic rock musical group called Phantasma.
14
Doro Pesch - Warlock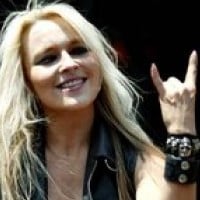 Doro Pesch is a German hard rock singer that started her career in native Düsseldorf in the early 80s with the underground bands Snakebite and Beast.
15
Amy Lee
How is she not higher?
16
Jennifer Haben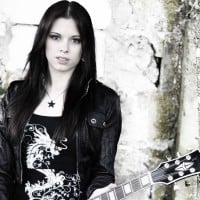 Look at those legs
Jennifer is hot
17
Tatiana Shmaylyuk - Jinjer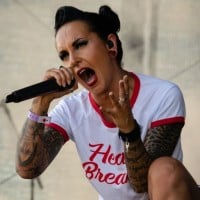 18
Lzzy Hale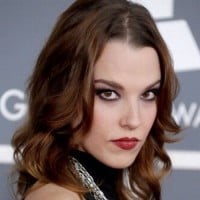 Elizabeth Mae "Lzzy" Hale is an American singer, songwriter, and musician. She is best known as the lead singer and rhythm guitarist of the American hard rock band Halestorm, which she co-founded in 1997.
19
Amanda Somerville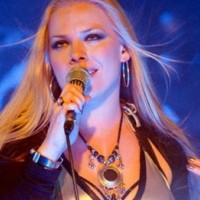 Amanda Somerville is an American singer-songwriter and vocal coach, known primarily for her work with many European symphonic metal bands.
She is an American singer-songwriter and vocal coach, who provided lead and backing vocals for many symphonic and power metal bands, supergroups and side-projects, including for their live shows: Avantasia, Epica, Kamelot, Edguy, Kiske/Somerville, Primal Fear, After Forever, Aina, Elvenking, and more. As of 2017, she also released 5 solo albums.
20
Angela Gossow - Arch Enemy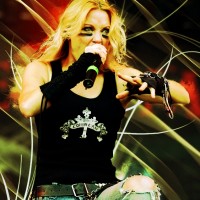 Angela Nathalie Gossow is a German vocalist, best known as the former lead vocalist for the Swedish melodic death metal band Arch Enemy.
Honestly, how does someone get those genes? I'm a girl, and I'm jealous of her. I mean, what kind of mutant girl doesn't want a feminine yet aggressive vibe to their looks?
Now that's a badass girl!
21
Anneke Van Giersbergen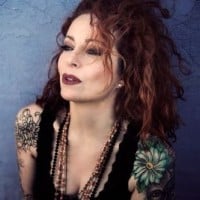 22
Mizuho Lin - Semblant
Just checkout the video to "What Lies Ahead". Any questions?
23
Linda McDonald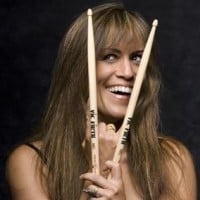 24
Brittney Hayes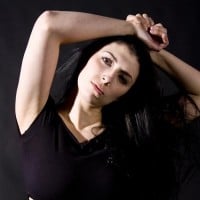 25
Karin Axelsson - Sonic Syndicate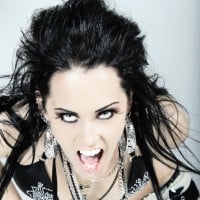 Very beautiful bassist of the Anglo-Swedish modern metal band Sonic Syndicate.
PSearch List