Top 10 Best Metal Songwriters
The Top Ten
1
Steve Harris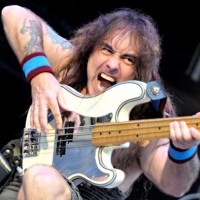 Stephen Percy "Steve" Harris is an English musician and songwriter, known as the bassist, occasional keyboardist, backing vocalist, primary songwriter and founder of the British heavy metal band Iron Maiden.
The new more recent songs have even better lyrics with deeper meanings like war and religion. A Matter Of Life And Death has great lyrics from For The Greater Good Of God which is about how religion causes war to Lord Of Light which is about Lucifer, the fallen angel. I just went on Genius lyrics and read the explanations for a The Great Unknown lyrics and it was really deep. Best songwriter from the best band.
Now look even for now in the 2016 he can write for all the bands for his error not mistake but time there can not be better songs I've heard honestly Metallica and mega death are just as good but for real the difference is that you can hear the soul in his songs they reach you that's what they didn't behave though there are very few bore successful bands none but the top three so far can even wear Steve's shoes.
Honestly there should be a a lot of room between Steve and anyone else. The man is responsible for some of the best and most complicated metal known to music lovers.
I would vote him twice if I could.. I would vote for him to president of the world
2
Dave Mustaine

David Scott "Dave" Mustaine (born September 13, 1961) is an American musician, singer, songwriter, actor and author. Mustaine is best known as a pioneer in Thrash Metal, being the former lead guitarist of Metallica before his dismissal in 1983, leading to finding and becoming the front man of his own ...read more.
Dave Mustaine has such a unique style. Aggressive riffs (Holy Wars, Skin o My Teeth), grooving drum lines (Take No Prisoners, Wake up Dead), passionate lyrics (In my Darkest Hour, Sweating Bullets), awesome bass lines (Peace Sells, Poison was the Cure) and ripping solos (Hangar 18, Kick the Chair). Everything goes in tandem so well, and this is why Megadeth has created many masterpieces over the years.
Songs are metal and not about silly demons, religious stuff, mythology, death and crime but its about social, economical, political, ecological causes then its megadeth we are talking about.
Love his lyrics, they have a lot of passion in them, I suppose I should thank Metallica for making him angry.
I love his fusions of jazz and metal in both killing is my business and even more in peace sells.
3
James Hetfield

James Alan Hetfield was born on August 3, 1963. He is an American musician, singer and songwriter known for being the co-founder, lead vocalist, rhythm guitarist and main songwriter for the American heavy metal band Metallica.
just the favorite one. I love the ONE's lyrics that also terrifies and puts you in that situation... the loneliness. Nothing Else Matters is also nice. Enter the sandman is also one of my favorites. Fade to Black, The Unforgiven etc. are also nice...! DIVYANSHU requests you to vote it..!
Come on he is the best I know it and you know it
His lyrics make you thing and made your dreams
Great but still can't beat Dave Mustaine and Steve Harris.
This guy. Come on the best rock god ever!
4
Jeff Hanneman

Jeffrey John "Jeff" Hanneman was an American musician, best known as a founding member of the American thrash metal band Slayer.
Angel of death, Reign in blood, South of heaven, Disciple, Mandatory suicide. Quality not quantity.
We will miss forever your evil tunes RIP my great guitar player...
R.i.p. Jeff. You should be number one
An awesome songwritter... RIP man!
5
Mikael Akerfeldt

Lars Mikael Åkerfeldt is a Swedish musician, prominently known as the lead vocalist, guitarist, and primary songwriter of progressive death metal band Opeth, as well as being the former vocalist of death metal supergroup Bloodbath for three albums up until 2012. ...read more.
Should be the top of the list easy. No other music brings the same emotion and energy to the table consistently than Opeth. He's written fantastic music from death metal, to jazz and everything Mikael touches is basically certified gold
Riffs are mind blowing, great acoustic guitar parts, lyrics speak for themselves, always has interesting transitions, always keeps it interesting with unexpected changes. He is not only an incredible songwriter, but a very diverse songwriter. The greatest songwriter in metal.
Not many people can write songs that have such a wide range of emotions while pulling off both ends of the spectrum so well. It does not get any better than Mikael.
His Lyrics are Incredible! Check out the lyrics for many of Opeth's songs. His lyrics are like poetry
6
Tuomas Holopainen

Tuomas Lauri Johannes Holopainen (born 25 December 1976) is a Finnish songwriter, multi-instrumentalist musician (but mainly keyboardist) and record producer, best known as the founder, leader, keyboardist and songwriter of symphonic metal band Nightwish. He also studied jazz and classical styles.
Best song writer in the world. Do James, Dave and Steve write symphonies and write poems while composing everything else as well?
Nobody would beat the greatest songwriter in metal Tuomas Holopanien. He wrote great songs for Nightwish, and were great masterpieces regardless of who the singer is!
He have written some of the most beautiful metal lyrics and songs ever, like Ocean soul, Sleeping sun, etc. How he is not on the top 3?
! Toumas is not Nr. ONE?! Guys... Just listen to songs as Ghost Love Score, Forever Yours, Wishmaster and so on... He is a genius and the best songwriter of all times!
7
Chuck Schuldiner

Charles Michael "Chuck" Schuldiner (1967-2001) was an American singer, songwriter, and guitarist, best known as the founder and vocalist, guitarist and bassist of the American heavy metal band Death. He is considered the most influential figure in Death Metal, with some publications referring to Chuck ...read more.
Chuck wrote the greatest, most inspiring and symbolic lyrics in metal history!
Amazing look up sound of perseverance this proves it
Chuck made the most defining lyrics I've read.
Death's lyrics changed my life
8
John Petrucci

John Peter Petrucci is an American guitarist, composer and producer. He is best known as a founding member of the progressive metal band Dream Theater. Compared to his level of skill, John Petrucci is relatively unknown in the modern music industry.
9
Jon Schaffer

Jon Ryan Schaffer is an American heavy metal musician. He is best known as the guitarist and last remaining original member of the Florida-based heavy metal band Iced Earth, which he formed in 1985 under the name "Purgatory".
By far the best metal lyricist in the 90'. Just listen to Dante's Inferno, that will do it.
10
Ronnie James Dio

Ronnie James Dio (born Ronald James Padavona; July 10, 1942 – May 16, 2010) was an American heavy metal singer, songwriter and musician. He fronted and/or founded numerous groups including Elf, Rainbow, Black Sabbath, Dio and Heaven & Hell. He is credited with popularizing the "metal horns" hand gesture ...read more.
Why isn't Dio at least top 10?
The Contenders
11
Tony Iommi

Anthony Frank "Tony" Iommi is an English guitarist, songwriter and producer. Best known as lead guitarist and founding member of the pioneering heavy metal band Black Sabbath, he has been the band's sole continual member and primary composer. At age 17, he accidentally lost the fingertips of his middle ...read more.
What? He is a genius he should be in top 5
12
Maynard James Keenan

Maynard James Keenan, often referred to by his initials MJK, is an American musician, record producer, winemaker, and actor, best known as the vocalist for Grammy Award-winning progressive metal band Tool. He also is the singer of A Perfect Circle and Puscifer bands that vary in style.
The best hands down. Before voting bands Metallica, iron maiden, and megadeth blindly. Take a minute to listen to tool and learn to appreciate the lyrics. They are about real meaningful stuff. I'd say the best songwriter of the last 20 years
His lyrics reach way beyond conventional and even rational thought. He plays on the psyche of every listener and pushes them to either learn more or question what is.
Straight up artistically rich bald head
Heil 72826
13
Ritchie Blackmore

Richard Hugh "Ritchie" Blackmore is an English guitarist and songwriter, best known for his work in the hard rock/metal bands Deep Purple and Rainbow. He was ranked number 16 on Guitar World's "100 Greatest Metal Guitarists of All Time" in 2004, and number 50 in Rolling Stone magazine's list of the ...read more.
His songs are so perfectly written that should be compiled in a "Songwriting Handbook" and studied carefully. Ritchie Blackmore knows how to write melodic metal stuff but it's classy melodic. Not cheesy melodic.

Try "Gates of Babylon" and "Stargazer" (Rainbow).
14
King Diamond

Kim Bendix Petersen, better known by his stage name King Diamond, is a Danish heavy metal musician. He is known for his extensive vocal range, usually sung in falsetto. King Diamond was originally known as the vocalist for Mercyful Fate, but has become notorious for his horror themed Concept albums ...read more.
15
Mat Sinner

Mat Sinner is a bassist, vocalist, songwriter and record producer from Stuttgart, Germany. He is best known as the bassist and primary songwriter for the metal band Primal Fear.
16
Jeff Waters

Jeff Waters (born February 13, 1966) is a Canadian metal musician and founder of the metal band Annihilator. He's best known as the guitarist for Annihilator, appreciated for his fast riffs and solos. Waters is also the primary songwriter in the band. Very often he has taken on the role of lead singer, ...read more.
Incredible gift for riffs, solos and melodies.
17
Glenn Tipton

Glenn Raymond Tipton is an English Grammy Award-winning guitar player and songwriter. He is most commonly known as the lead guitarist for English heavy metal band Judas Priest.
18
Michael Weikath

Michael Ingo Joachim "Weiki" Weikath is a German musician and songwriter, best known as a founding member and one of the guitarists and backing vocalists of pioneering power metal band Helloween.
Consider keeper of the seven keys song alone, he should be in top 10!
19
Cliff Burton

Clifford Lee "Cliff" Burton (February 10th 1962 - September 27th 1986) was an American musician, best known as the second bass guitarist for the American thrash metal band Metallica, recording three studio albums. He died in 1986 after getting crushed by a tour bus in Umeå whilst promoting Metallica's ...read more.
20
Tobias Sammet

Tobias Sammet is a German metal musician, best known as the vocalist and primary songwriter of the power metal band Edguy, as well as the founder, main singer and bassist of the metal opera Avantasia.
He writes music and lyrics for 2 active bands in parallel!
Composes great tracks and writes great lyrics
21
Corey Taylor

Corey Todd Taylor was born in December 8, 1973. He is an American musician, author, and actor best known as the lead singer and lyricist of the Nu-metal band Slipknot and hard rock/alternative metal band Stone Sour.
Great live performanced, touching songs.
Songs that are hard to preform.
22
Floor Jansen

Floor Jansen is a Dutch singer-songwriter and vocal coach. She is currently vocalist of Nightwish and leader of Revamp.
She is a remarkable songwriter. Listen to the concept albums Invisible circles (about children) Very beautiful song, very deep lyrics.
After Forever has disbanded, though.
23
Quorthon

Tomas Börje Forsberg, known by the stage name Quorthon (1966-2004), was a Swedish musician. He was the founder, songwriter, vocalist and guitarist of the band Bathory, which pioneered the black metal genre and is credited with creating the Viking metal style. A multi-instrumentalist, Quorthon wrote ...read more.
Actually, Bathory's songs have a lot of great, epic(in all meanings), and sometimes somewhat sad("One Rode To Asa Bay") lyrics. It was a great loss for metal when he died.
Quorthon was a real songwriting- mastermind.
Should be under the Top 5
24
Bruce Dickinson

Paul Bruce Dickinson, known professionally as Bruce Dickinson, is an English musician, airline pilot, and broadcaster. He is most well known for being the lead singer in heavy metal band Iron Maiden and his solo career.
Second best songwriter in the band, nobody beats Steve Harris
25
Randy Rhoads

Randall William "Randy" Rhoads was an American heavy metal guitarist who played with Ozzy Osbourne and Quiet Riot. He was killed in a plane crash.
PSearch List