Top 10 Facts About Metal Musicians
The Top Ten
1
James Hetfield of Metallica built a car that could survive nuclear blasts and earthquakes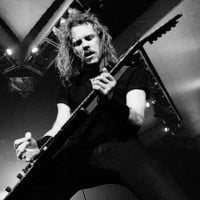 James Alan Hetfield was born on August 3, 1963. He is an American musician, singer and songwriter known for being the co-founder, lead vocalist, rhythm guitarist and main songwriter for the American heavy metal band Metallica.
2
Matt Barlow of Iced Earth was a policeman and after the 9/11 attacks he left the band to work as a policeman again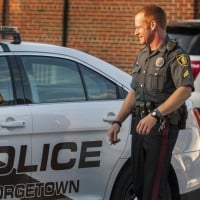 The September 11 terrorist attacks made him wanna contribute to the "real world" instead of living the illusion of a "rock star."
So one of the most impressive metal singers for one of the best US bands left the band and became a police officer again in the police department in Georgetown, Delaware.
He returned to music in 2007.
3
Mike Mangini of Dream Theater is also a software specialist who worked on a program that studied the links between the human brain and body
He graduated from Bentley University (computer science major).
He's one of my top 3 favorite drummers.
4
Bruce Dickinson of Iron Maiden is a professional pilot, who used to take unpaid leave to front Iron Maiden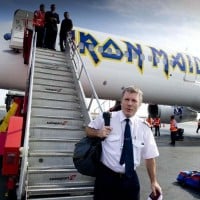 He also flies the band's plane called 'Ed Force One', named after Ed - their mascot.
I know this, I love his show " flying heavy metal" on discovery turbo
5
Cozy Powell of Rainbow set a world record by playing 400 drums in under one minute, live on television (BBC)
He set a world record for the most drums played per minute.
6
Dave Mustaine of Megadeth chose heavy metal as a career as revenge against a brother-in-law who punched him for listening to Judas Priest
Gee, aren't both sides of this story blowing things well out of proportion?
More specifically, he was listening to Sad Wings of Destiny.
This is absolutely hilarious!
I laughed when I read this!
7
Parents of Metallica's James Hetfield were Christian Scientists and did not believe in medicine, so his mother died of cancer with no medical help
James was 16 years old when she died and even his father wasn't there because his parents were divorced.

No wonder Hetfield wrote the song "The God That Failed".

The song is about his mother who solely relied on her belief in God to heal her but he didn't. Hetfield felt that had she not followed her Christian Science beliefs, she could have survived. She was too young.

However, Hetfield does not celebrate God's failure in the song, but instead blames God, through his mother's faith and death, for contributing to the meaninglessness of life.

'Until It Sleeps' is also about his dying mother.
Well, yeah, "Dyers Eve" and " The God That Failed" are some obvious clues to this.
8
Bruce Dickinson of Iron Maiden was a talented fencer and a member of The UK National Olympic Team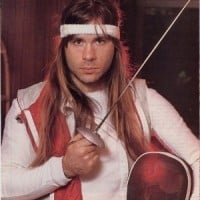 And here we can see photographic evidence...
I actually used to fence and judge bouts.
9
Rob Halford of Judas Priest broke his nose onstage and was rendered unconscious in 1990, during what was supposed to be his final show with the band
On the last show of the "Painkiller" tour in 1990, Halford was knocked off the motorcycle he famously rides onto the stage at the end of each show by a misplaced prop.
So he missed the last song of what was supposed to be his final show with Judas Priest.
Well, maybe he shouldn't have left the band...
Actually it wasn't his last song with Judas Priest because he rejoined the band many years later.
10
Mike Mangini of Dream Theater was a Full-time Associate professor at Berklee College of Music, Percussion Department
He resigned in 2010 to join Dream Theater as a drummer, of course.
The Contenders
11 One of hair metal's most famous feuds was between Twisted Sister and Manowar. After Manowar attacked Twisted Sister by calling them "sissy boys in makeup," the "We're Not Gonna Take It" legends challenged Manowar to a street fight. Guess who never showed
12
Hansi Kürsch of Blind Giardian records individually each track of the multi-layered backing vocals and doesn't use a harmonizer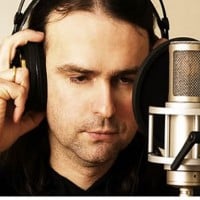 Hansi Kürsch, born Hans Jürgen Kürsch, is the lead singer, lyricist, co-composer and bassist for German power metal band Blind Guardian . Heavily influenced by Freddie Mercury, he creates a huge choir effect by overdubbing his own voice multiple times in complex, overlapping vocal harmonies. He records ...read more.
Oh my God, their songs have numerous layers of vocal harmony. That's a lot of singing and recording...
Hansi explained: "Harmonizers and "perfect pitch" programs do not work well with my voice due to distortion and the natural double layer effects my vocal cords have."
13
Jon Schaffer of Iced Earth went to a Lutheran school for 5 years, where a pastor shoved a bar of soap down his throat, so Jon formed a band to "prove these people wrong"
Jon Schaffer developed a lot of anger and rebellion at this Lutheran school, where he had to deal with the abusive nature of the pastors.
"On one occasion, one of the pastors shoved a bar of soap down Jon's throat, because the pastor felt threatened due to Jon's refusal to submit, after he couldn't answer Jon's questions about evolution versus creationism. According to Jon, this did have an effect on him forming a band, so that he could "prove these people wrong". (wiki)
This is why I hate most Christians. They take things WAY to seriously. Have nothing against Christianity though,
14
Rob Halford of Judas Priest could have been a classical singer
Classical voice teachers say this being impressed with his "fabulous range of vocal colors" and "mad skills."
He has a sick range.
15
Metallica bought the rights to the film 'Johnny Got His Gun' to continue showing the music video to their song 'One'
In the video for the song ONE Metallica used scenes taken from the anti-war film Johnny Got His Gun. And because their video was played a lot, Metallica were routinely required to pay royalty fees to continue showing the music video. So Metallica bought the rights to the film. Simple, eh?
16 Morbid Angel's album titles are working through the alphabet
17
Tobias Sammet formed Edguy at 14
"Although I have always been the clown of the class it didn't work out very well with the girls", he said.
I guess his metal band and his voice worked out with the girls though. As he said "My plan to be a professional musician, which I hatched in a certain phase of pubescent ignorance, seems to have worked out...thank God."
18
Ian Gillan of Deep Purple was the original Jesus Christ in the rock opera 'Jesus Christ Superstar' (1970)
Yes! Apparently, they were impressed with his vocals on Child in Time. I think they made the right choice, because Ian absolutely killed it!
He was selected for the role personally by the authors of the rock opera - Andrew Lloyd Webber and Tim Rice.
19 Fenriz of Darkthrone was elected as councilman of Kolbotn
20 In the 80s Metallica moved from Los Angeles to San Francisco because "the glam metal scene in Los Angeles sucked"
21
Jeff Hanneman of Slayer was a "super quiet" guy but he wrote the music and lyrics to songs that can't be described as quiet
R.I.P. Jeff.
He wrote Raining Blood, Angel Of Death, South Of Heaven, Hell Awaits, Dead Skin Mask, Black Magic, and many more.
Robb Flynn of Machine Head, who did over 120 shows with Slayer, commented: "Jeff was super quiet, really kept to himself".
22 Fernando Ribeiro of Moonspell has a University degree in Philosophy
23
Rob Halford of Judas Priest considered wearing a wig or a toupee but decided against it
Halford even planned to design a line of wigs at one point. But he actually handled the matter with more dignity - first going for a close-cropped look and eventually shaving his head.
The was actually the original outfit of Judas Priest, until they invented the leather look.
24
Cozy Powell of Rainbow raced for Hitachi on the UK saloon car circuit and was quoted as saying "I drive like I drum - madly"
Unfortunately, he died in a car accident while driving at 104 mph (167 km/h) in bad weather, in 1998, at the age of 50.
R.I.P. Cozy!
25
Alex Skolnick of Testament plays jazz in Alex Skolnick Trio
He's a thrasher but he's also a jazzer! I love him, he is a great guitarist.
PSearch List