Most Unique Singing Voices
A list of singers who have a trademark sound. These are the people where even if you have never heard the song before, you instantly recognize it as theirs. This is not a list of the best singers, just the ones with the most unique singing voice.

So if you are thinking of placing your votes based on how much you like their songs, how well they sing, their octave range, or whether or not you think they are attractive, you're doing it wrong.


The Top Ten
1
Freddie Mercury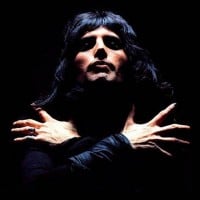 Freddie Mercury (born Farrokh Bulsara, 5th September 1946 - 24th November 1991) was a Zanzibari-born British singer of Indian descent, songwriter and record producer, known as the lead vocalist and songwriter of the British rock band Queen. He also became known for his flamboyant stage persona and four-octave ...read more.
This guy is the reason that I love rock music so much. His voice is beautifully unique, completely unlike any other I've ever heard in my life, and his song writing was just amazing. RIP, Mr. Mercury. You'll always be in our hearts.
What?! Not #1? Not even top 10! Oh my god... Where are the music, real, listeners? This guy isn't a voice, he is a legend! Unique voice and presence on stage!
Most unique voice is something Freddie Mercury definitely deserves to win. Nobody could sing like Mercury because he is just that different. If anybody could find a singer that could come even close to singing the song 'Show Must Go On' I will pay them 100$. It's simply that impossible to pull off unless you are Freddie Mercury.
Freddie Mercury was a British singer, songwriter, record producer, and lead vocalist of the rock band Queen.
2
Michael Jackson

Michael Joseph Jackson was an American singer, dancer, and songwriter born on August 29, 1958 in Gary, Indiana and passed away on June 25, 2009. He donated (at least) a remarkable 500,000,000 dollars to charity. Michael is also known as The King of Pop (a title given to him by Elizabeth Taylor) or under ...read more.
Of course it's Michael. Instantly recognizable, impossible to copy. There was his octaves physical range and his emotional range. He could, can and continues to make us laugh, cry and dance. He always gave it his all. Thank you Michael.
Micheal voice is so unique and identifiable that even non fans recognize his voice. I think his voice was amazing and he had such control when he sang. His back ground beat boxing and just the emotional range he used when singing gave his music something special that stands out in the crowd of singers. He was simply amazing! Speechless...
Michael most definitely had the most unique singing voice. He went from singing the earth song to singing I'll be there, and Dancing Machine, Thriller... Was so unique... He put so much emotion into his music which also makes his voice so unique and special...
MJ voice is totally spectacular, unique and beautiful. He can make you dance , happy, or just go totally emotional.
3
Louis Armstrong

Louis Armstrong, nicknamed Satchmo or Pops, was an American trumpeter, composer and singer who was one of the most influential figures in jazz.
I feel like a lot of people are voting for their favourite singing voices instead of the most unique ones. Michael Jackson and Freddie Mercury are amazing singers, but in terms of vocal uniqueness, they can't hold a candle to Louis.
How is he this low? I've never heard anyone who sounds even remotely like him
His throat used to supply half the gravel demand for southern America. The trumpet he played couldn't sound more unique.
He said that our world was wonderful. We tell him his voice was.
4
Bjork

Björk Guðmundsdóttir, known mononymously as Björk, is an Icelandic singer and songwriter. She is most famous for her eclectic music styles and experimentation on electronic pop music.
I've listened to my share of music from nearly ALL of the vocalists listed here, and I fervently believe that Björk deserves the top spot. While artists like Freddy Mercury and Michael Jackson are indisputable legends, they have all been successfully emulated by other singers to a certain degree.

I have yet to hear anybody successfully emulate Björk. Her voice takes some time to get used to; initially, I found it almost unpalatable. Now, she is by far my favorite artist.

Listening for the subtleties and immaculate artistry, I was blown away. She takes originality to the next level, and her work is so ahead of its time, you can listen to any song from any of her albums and believe she released it just yesterday.

She doesn't try to sound "good," or even "skilled." She tries to sound like what she means: volcanic fissures, secret places, fountains of blood, pots and pans, itsy-bitsy-spiders. You can literally hear the child in her screaming to ...more
Maybe that's because no one wants to emulate Bjork, but they do want to emulate legends like Michael Jackson - IIBK
Bjork should be in the top ten. She has the most unique female vocal! Most people at the top shouldn't be there because they don't have unique vocal bjork does no-one else sings like bjork
Her voice touches my heart... it's weak and strong... like a pixey... it's gorgeous, there's no other warming sound like it. I love her lyrics... they open feelings that you can never recollect from anyone else's voice... she's amazing.
Why is she this far back on the list? Her voice is much more unique than, say, Nick Jonas?!?! Bjork is the most unique voice of the avant garde, and is one of the greatest modern "composers" of our time. She is underrated. Her voice is mind-altering.
5
Chester Bennington

Chester Charles Bennington (March 20th, 1976 - July 20th, 2017) was an American musician, singer, songwriter and actor, best known for being the lead singer of Linkin Park. He also participated in side projects like Julien K and Dead By Sunrise. He committed suicide in 2017 after a period of depression. ...read more.
I can't believe he is so down. His voice is best in the world. Ill recognize his voice even if I dead. He is not good he is best.
And he is best singer I ever heard

Chester definitely has a unique voice unlike any other artist. I'd definitely be able to recognize Chester's voice without truly knowing if I'm listening to one of his songs. His soft voice is something you don't hear many artists pull off with such emotion and beauty, and when he gets gritty and dirty his screams totally come off unique as hell. It's as if he's screaming, but singing at the same time, like two different voices at once. This list isn't about how good your voice is, but how unique it is. Chester does both. He definitely deserves to be within the top ten at least.
I recognize his voice anywhere. No one can sing, scream or sound like Chester in anyway possible.
Crap list, I don't even know over 90% of the singers on here and 5% of the ones I do know have good voices, but not unique, Amy Lee really needs to be higher as well, but Chester is in the 20's?! This is number 1 in my top 10 worst top 10 lists. Listen to a song like "waiting for the end" or "breaking the habit" that really shows his voice. Like others have said, this isn't a list about how good the voice is (although his is amazing), it is about how unique it is, so artists like John Lennon shouldn't be all the heck the way up there, and neither should any lip sync pop artist.
6
Amy Lee

Amy Lynn Hartzler, known professionally as Amy Lee, is an American singer-songwriter, classically trained pianist and composer. She is also the lead singer to the Arkansas band Evanescence.
Yeah, in my opinion Amy Lee has the most distinctive voice of anybody I've ever heard. It's sort of throaty, in a good way, and very very powerful. Her voice just really stands out to me. Every time I hear it I go, " it's Amy! " and I have to stop and listen to the song.
And she sounds just as good live as on her studio recordings - even without artificial touch ups on-stage and all that jazz.
Avril Lavigne beat Amy? Whoahh Amy Lee has one of the most unique strongest female vocals, perfect pitch all the time
No way Amy should be much higher in this list her voice is so haunting but beautiful at the same time and to be compared to the likes of Avril Lavigne no - mickyc
Excuse me, Chester Bennington? Yes he is an unique singing but Amy Lee is different. Her voice is very RARE AND UNIQUE! Amy is should be in top 10.

Go Amy! You're is the most unique voice ever. She is the best. Sorry Chester!
Voice like no other.. Really unique, I'd recognize it even if she whispers ;)
7
Kurt Cobain

Kurt Cobain was born February 20, 1967, in Aberdeen, Washington. In 1987, he started the grunge band Nirvana, which became one of the most successful bands ever. He was a talented yet troubled grunge performer. Kurt Cobain became a rock legend in the 1990s with his band. He committed suicide at his ...read more.
Kurt easily has one of the most unique voice ever, took influences from previous musicians and made it his own. No singer has accomplished individuality the way he has.
Kurt's voice is amazing its raspy and unique he's personally my favorite singer

Nirvana's songs are instantly recognizable thanks to his raspy voice. Other thing that helps you recognize their songs is getting an instant orgasm, rip Kurt Copenhagen
This is THE UNIQUE, I was shocked when I first time heard it! SUPER!
8
Axl Rose

William Bruce Rose Jr., better known as 'Axl Rose', is an American singer born on February 6, 1962, in Lafayette, Indiana. He Is the founder and lead singer of the hard rock band Guns N' Roses. He is a celebrated but controversial figure in the world of rock.
This list is a joke.. I haven't even heard of half the people on it so there's no way I'd instantly recognize a song of theirs.. And even most of the ones I have heard of are not particularly unique... Axl Rose for all he isn't the best vocalist on this list, I would say has the most unique sound.
Can you please put your ego away from moment and appreciate that the fact you haven't heard of half these people means you cannot possibly judge or compare your ideas without prior research. It honestly does not take much to have a more positive and outgoing view on all things music, I respect your opinion in Axl Rose as he is iconic but as I say there are justified reasons for the top musicians being where they are on this list. - TheNealDog
He definitely deserves a higher place on this list. He's voice is so powerful and whiny and it gives me chills.
Axl rose has an awesome voice it is literally impossible to mistake his voice for anyone else's his voice is so hardcore and meaningful it actually makes you want to listen to his songs whether you like rock music or not
by the way why is Rihanna number 27 on this list? Why is she even ON this list it is most unique voice not whose voice could mentally corrupt your brain the fastest if it was she would be right underneath Justin bieber.
Your just jealous that rihanna AND justin can sing better than you - Zombieworldcomix
Axl has one of the most distinctive voices I have ever heard. If it were up to me he would be no. 1 on this list. I've never heard anyone sing like him him in that sexy, screechy, two voices at once style... I love you Axl..
9
Han Geng

HanGeng is really one of the unique voices. & amazing voice.
HanGeng is very definitely have the most unique singing voice. He went from singing the earth song to sing and Dancing Machine, He put so much emotion into his music which also makes his voice so unique and special.
HanGeng is good definitely have the good unique singing voice. And Dancing Machine, Thriller... Was so unique... He put so much emotion into his music which also makes his voice so unique and special.
HanGeng voice is wonderful, amazing and easily distinguished.
10
Adele

Adele Laurie Blue Adkins is an English singer and songwriter. Graduating from the BRIT School for Performing Arts and Technology in 2006, Adele was given a recording contract by XL Recordings after a friend posted her demo on Myspace the same year. She is best known with her international hit singles ...read more.
Her voice is so unique. I could recognize it anywhere, and it is never tiring to listen to. Her songs are unique in themselves, and the way she sings them is so great. Adele is amazing
Her voice is so unique and amazing. I used (try) to sing and listen to her songs all the time and I still do know :)
Adele has a very unique, recognizable, and enjoyable voice. I have yet to hear anyone else who can sound like her.
It's one thing to have a great strong voice and another thing to have a great unique voice. Many recorded singers, have great strong voices but in my opinion, Adele is one of only a handful that have both a unique voice as well as a strong voice. I can think of two other singers that have very unique voices. Sam cooke and Julia Carpenter. I can't understand why they're not on this list.
The Newcomers
?
Grimes

Claire Elise Boucher, better known by the stage name Grimes, is a Canadian singer, songwriter, music video director, and record producer.
? Kevin Shields
The Contenders
11
Janis Joplin

Janis Joplin (1943-1970) was an American singer who rose to fame as the main singer of acid band Big Brother and the Holding Company. She was known for her eccentric hippie style and psychedelic rock music.
Her voice is actually unique unlike half of this pathetic popularity contest. Seriously people what's with all the generic, fake poparts?
One of the most unique female vocalists to ever live. I've never heard anyone who could imitate the voice of Janis Joplin. She was able to sing as clear as a bell at just a whisper. Yet, blet it out like thunder. She left us way too soon. Epic.
Two ladies in the top ten, and they are Amy Lee and Adele? Nothing against those two but artists like Joplin, Stevie Nicks, Karen Carpenter, Cyndi Lauper, Whitney, and Tina Turner have voices that are far more instantly recognizable.
Janis Joplin my dear you were the first queen of rock that is so clean I saw you many times about you a lot I saw you at the Pops with Jimi Hendrix and also I thought you were wonderful woman your voice so raspy yet so clear your word so meaning so I never got to meet him and I was in the Navy for 20 years and I know you're Jesus goodbye and say hello to him for me
12
Serj Tankian

Serj Tankian is a Lebanese-born Armenian-American singer-songwriter, composer, multi-instrumentalist, record producer, poet, and political activist. He's best known for being the lead singer of the Armenian/American rock band System of a Down. After System of a Down's hiatus in 2006 he began to release ...read more.
Umm... People, read the title of this list... That's right, most unique voices, not most popular singer.
I apologize to everyone else on this list, but I HAVE to vote for Serj Tankian. He does have an amazingly unique voice, and I know for a fact that anyone who has ever listened to has voice, then heard it again later, in an entirely unfamiliar song, would know instantly that it was him singing. I had only ever heard him sing in System of a Down, but was listening to Pandora a while back, and I heard his voice. I was shocked, because I know every System of a Down song, and this was none of them! I checked the song title and artist name just to be sure, and sure enough, it was Serj!
Nobody will ever come close to him. His voice is very powerful and aggressive but can also be very calm too. Of course many singers are like that but Serj's voice is really unique,
Unique, inspiring and amazing! Serj's singing is so individual and some of the noises he can make just add to what makes him so unique!

13
John Lennon

John Winston Ono Lennon, MBE was an English singer and songwriter who rose to worldwide fame as a co-founder of the Beatles, the most commercially successful band in the history of popular music. He was assassinated by Mark David Chapman on December 8, 1980 at age 40.
John lennon not just touched lives, BUT he also wrote great lyrics. Has a unique voice that even my dog can recognize!
SIMPLY THE BEST. THE BEST BEATLE, WITH THE BEST VOICE. HE CHANGED THE WORLD WITH HIS INCREDIBLE MUSIC. HIS VOICE IS SO RECOGNIZABLE!
John Lennon should be way higher on this list. His voice is so unique and amazing all he has to do is sing for a couple of seconds and you know its Lennon.
He has the smoothest voice I have ever heard in my life. Just listen to his voice and you will instantly be calmed. Amazing.
14
Layne Staley

Layne Thomas Staley was an American musician who served as the lead singer and co-songwriter of the rock band Alice in Chains, which he founded with guitarist Jerry Cantrell in Seattle, Washington in 1987. Alice in Chains rose to international fame as part of the grunge movement of the early 1990s. ...read more.
His voice was the most unique, beautiful, soulful voice ever. I have never listened to another singer who has touched my very being the same way he has. I am so thankful I had the chance to know him through his music but so sad it was his demons that brought out that surreal beautiful voice that would reach down and touch your soul. Absolute best voice ever.
Layne Staley/God with a mic - his vocal style is one of the most copied in rock, next to Kurt Cobain. What makes Layne so special though, is that no one could sing as powerful as his chest range. All those wannabes could do is copy his snarls and twang but no one could really sing as powerful as Layne. And he could sing with that intensity and power... live! You only see that type of talent once in a lifetime.

To me, he's the most underrated vocalists of our time, next is Mike Patton. You can tell by his 24th spot in here that his talents are not given due credit. Kids today may not be aware of this, but a lost of vocalists (formed after the Seattle era) are trying to sound like Layne.
Very recognizable vocalist. You couldn't resist turning up the radio even if you tried. Just the urgency combined with the raw emotions in his voice alone made you stop and listen to what he was singing. He gave everything his all in his performances. R.I.P. layne Thomas Staley, from my side of Washington to yours.
Layne staley is by far the most unique, emotional, amazing voice I have ever heard every word this guy sings the listener can feel the emotion this guy had and feel the pain he went through, with his struggles he was so broken and yet had such a strong voice! He could sing really low and then sing really high as well one of the best vocalist as far as range goes. Every time he pick up a microphone you knew it was him singing. He was very underraged and looked over and deserves to be at least in the top 3 in this list!
15
Jonathan Davis

Jonathan Howsmon Davis, also known as JD and JDevil, is an American musician best known as the leading vocalist and frontman of the nu metal band Korn.
For years I have loved Anthony Kiedis more than any other singer in the world. Next, it was Zack de la Rocha. It then went to Maynard James Keenan. It has finally been between Serj Tankian and Jonathan Davis. Anthony and Serj definitely have unique voices, whereas Zack's and Maynard's, although still very talented, aren't as unique to fit the bill. Serj's voice has this beauty to it. Jonathan's has the same beauty element, however it also has much more. His voice, I feel, can match almost anyone elses in history. His voice on the lesser known tracks had this melodic essence to it that set it apart and made it glorious. Then there are the tracks where he screams and growls. There have been other screamers, there have been other growlers, but none, EVER, have had the complexity and texture to Jonathan's. Twist? No one matches it. Freak On A Leash's breakdown? Few can match it. And so far no one has incorporated his screaming style into their own music. The continuous, "mainstream" ...more
What! There ain't nobody who has a more trademark voice. No other singer can I differentiate from all others. You can't describe it other than a voice that can go from a death growl to a rap to a sing to this strange but awesome half rap. He is number 1 followed by Serj Tankian then Matt Shadows then Maynard James Keenan then Corey from Slipknot then Chester from Linkin Park
This man performs a variety of techniques seemingly effortlessly, and at times doesn't even sound human (there was a reason he was chosen to be the singing voice of Lestat- the only good thing about that film). He has one of the largest range of octaves I've ever heard in a male. He has totally revolutionized scat, death screams, and clean vocal techniques. His technique is only eclipsed by the range of emotional responses he evokes in his listeners.
Yeah his voice is awesome.
He goes from a strange nerd voice to an insane screaming voice in like zero seconds flat.
16
Bruce Dickinson

Paul Bruce Dickinson, known professionally as Bruce Dickinson, is an English musician, airline pilot, and broadcaster. He is most well known for being the lead singer in heavy metal band Iron Maiden and his solo career.
come on people, Patrick Stump is ahead of Dickinson? Honestly just listen to Iron Maiden's Number of the Beast, Piece of Mind, Powerslave, Somewhere in Time, Seventh Son of a Seventh Son and A Matter of Life and death. Any song from these albums, you will be amazed
Best singer in the world, once again people have preconcepts about iron maiden, of all of this singers, Bruce is the only one NO ONE can imitate, the other ones I've seem people singing just like them
Seen them 4 times in Atlanta on last tour... Please he blows 95% of all singers AWAY I'm 49 and have good an eye for talent and Bruce is in top 2 only to Rob Halford... Good company
He posses a wide vocal range which was trademarked by his quasi-operatic tenor. Dickinson is one of the pioneers of the operatic vocal style in power metal
17
Geddy Lee

Gary Lee Weinrib, known professionally as Geddy Lee, is a Canadian musician, singer and songwriter best known as the lead vocalist, bassist, and keyboardist for the Canadian rock group Rush.
People on this list are confusing 'Unique' with 'Popular'. Name me another vocalist that sounds like Geddy?
Omg this creature has a magical voice.

America was winning the cold war arms race until canada got geddy lee. His voice after inhaling a live chicken and breathing helium was announced as the ultimate doomsday weapon. A weapon of this magnitude could have knocked japan off the face of the earth and into a land of magical flying pink ponies. BEWARE of Geddy Lee's beautiful voice!
Like it or not, definitely the most unique voice. He is one of the few singers whose voice is unmistakable, along with Cobain and a couple of others. I honestly can say I find his voice a bit annoying but I respect his/and Rush's refusal to commercialize. No Pepsi products, no Apple promotion, just high quality musicians and lyrical genius
Absolutely the most unique and recognizable voice in rock n roll. Unmistakable. I hate it and I love it at the same time. Their music is so undeniable that I have to love the band. I have every album in fact - they're all worth the investment. But if I have to be honest, I'd say that I think that the band could have gone further with a different singer.
18
David Bowie

David Robert Jones, known professionally as David Bowie (January 8, 1947 - January 10, 2016) was an English singer born in London, the son of a fundraiser and a waitress. He is credited for his experimental and creative musical discography which has won praise and accolades for many critics and fans. ...read more.
A carrying voice that penetrates through the loudest and boldest of music, you recognize instantly when David Bowie is singing.
His baritone catches attention and breaks away from all other sounds, making everything else only ENHANCE it's quality. Listen to Time Will Crawl or Underground to see for yourself.
Even if you don't take into account his amazing ability as a composer and lyricist, this man should still have reached the Top Twenty.
It's hard to believe that anyone other than Bowie would or could ever occupy the #1 position on the chart of most unique and recognizable singing voice of all time with the jolt of Bowie's thunderous crashing baritone announcing his presence. Any band he ever collaborated with sounded instantly better for the gift of his having contributed. For 5 decades this larger than life icon constantly reinvented his music, style, and self managing to remain relevant, recognizable, captivating, popular, and much loved by generations of fans, young and old alike. Remembered as a gifted and talented singer, musician, writer, producer, actor, painter, mime, and fashion forward entertainer, Bowie will undoubtedly be best remembered for his otherworldly one of a kind voice.
His voice is soft and sweet and unlike any other singer's singing voice, rip David
There's a lot of people that are voting on this list that have no idea what they are voting for. The list is "most unique singing voice", not "greatest singer ever" or "my personal favorite singer". The singer with the most unique voice is definitely David Bowie. To have a unique voice, you have to have a voice that cannot be compared to another singer; a voice where there is no mistaking that voice. This fits David Bowie. I've never heard anyone sing and sound like David Bowie. Do I think David Bowie is the greatest singer ever? No, but he's definitely in the top 10. Does he have the most unique voice ever? Definitely yes.
19
Elvis Presley

Elvis Presley was an American musician and actor. Known as "The King" He was mostly known for his number 1 singles including "Heartbreak Hotel" "Hound Dog" "Jailhouse Rock" "Love me Tender" Elvis debuted in the movie "Love me Tender" and focused less on his music and continued that way. ...read more.
This poll is just a joke! Elvis Presley has the best and most recognizable singing voice in the entire world. I have never even heard of most of the so called artists that are featured here. Elvis has sold more records than most of these put together he remains the King of music many years after is untimely death. Long live the King.
Why is Elvis down by the 70s? Elvis is known as the king of rock. No one could compare to his amazing rich voice. When one of his songs come up on the radio, you could tell that it is him singing it. He makes the song meaningful.
His beautiful voice is known and recognised everywhere, his singing is totally unique and so is he. The man.
A unique voice is something elvis certainly had, and a totally unique entertainer.
20
Bob Dylan

Bob Dylan is an American singer-songwriter, author, and artist who has been an influential figure in popular music and culture for more than five decades.
Reading the first comment that states it was unintelligible makes me wonder just what part of Dylan's career this poster had heard. Most comments from all lists are about more recent people. Dylan in his later years was very unintelligible, and I felt sorry for him that he sounded so bad.

But while his voice has always had a raspiness to it, one of the better things about it was that it was intelligible. That was the whole point of Dylan's music - to get the words across. Music was just the medium that Dylan used to do so.

And boy did some of his stuff have meaning. Read the words of "john brown", "with god on our side", etc. Even Dylan says that he can't write like that any more. That sort of writing comes from strong feelings deep within.
He deserves the first place when it comes to unique voicalist
the song you belong with me, no one could perform any better
While not the prettiest sounding, there is no denying that Bob Dylan has, with-out a doubt, one of the most unique voices ever.
Raspy, garbled, unintelligible and distinctly Dylan
21
Shirley Bassey

Dame Shirley Veronica Bassey is a Welsh singer whose career began in the mid-1950s, best known both for her powerful voice and for recording the theme songs to the James Bond films Goldfinger, Diamonds Are Forever, and Moonraker.
Amongst a sea full of POP Sopranos who dance their way through a number, Shirley Bassey stands out as a combo Alto/Mezzo Pitched Vocalist with powerful belting capabilities who can simply walk up to a microphone, and SING! Those in the audience are mesmerized as Bassey's body, arm, and hand movements are at one with her tremendous vocal ability and it brings each performance to another level. She IS a very unique performer!
This is really one of the unique voices! Along with Sarah Vaughan and Ella Fitzgerald, you can't forget this voice.

43, Are you f**kin' kidding me! She at least deserves top 20, the deep voice and thick vibrato this woman has is like no other! The only other distant comparison to Shirley is Amy Winehouse, and I stress DISTANT comparison! If you hear Shirley once, her voice will forever be engrained in your mind, it is literally unforgettable.
22
Ronnie James Dio

Ronnie James Dio (born Ronald James Padavona; July 10, 1942 – May 16, 2010) was an American heavy metal singer, songwriter and musician. He fronted and/or founded numerous groups including Elf, Rainbow, Black Sabbath, Dio and Heaven & Hell. He is credited with popularizing the "metal horns" hand gesture ...read more.
How is he not even on the first page? This man brought a new era of voice quality in music and you shun him for his genre choice? This is a list of the most UNIQUE voices. Listen to Holy Diver, Rainbow in the Dark, Don't Talk to Strangers, and Rock n Roll Children, and tell me that voice is not only the best to ever conquer metal, but one the most unique to ever hit the face of the earth. RIP RJD
He should be at least top 5, one of the most unique voices to ever grace this earth. Honestly what the hell is wrong with these people on this list, most people compared to him sound like crap, plain and simple
Only if more of the voters had heard his songs, he'd be among the top. I have listened to all the rest in top 10 (similar to pretty much everyone). But I just skipped it to come and find Dio.
I remember when radio ads for his concerts referred to "the most powerful voice in rock music today! " No argument from me.
23
Ozzy Osbourne

John Michael "Ozzy" Osbourne was born on December 3, 1948. He is also known as ''The Prince of Darkness''. Ozzy is an English singer, songwriter, and television personality. He rose to prominence in the early 1970s as the lead vocalist of the band Black Sabbath. Osbourne was fired from Black Sabbath ...read more.
He has one of the most outrageous voices ever. Definitely deserves a higher place on this list
I'm sorry, but even if you only recognize maybe one song or two featuring Ozzy, it is instantly recognizable as him. Paranoid, War Pigs, Crazy Train, No More Tears, et cetera, there's no discerning any other singer than him. That's why I always considered Black Sabbath not really complete without him, he was a major part of their sound. Truly unique, even if he isn't perfect overall.
If you hear Ozzy, you know who's singing straight away. I've never even heard of Rydian anyway!
People must not read what this list is about. Unique voice. Ozzy may not have the Best Technical voice. But sure as hell has one of the most unique voice and should be in the top 5 for sure
24
Ann Wilson

Ann Dustin Wilson is an American musician, best known as the lead singer and songwriter of the hard rock band Heart.
She is the greatest female power singer of all time! And even in her 60s she is still fantastic! Her range is unreal, her passion is over the top and way out there!
There no voice that sounds like hers.
The best female singer. Beyonce who?
What a voice it sounds like a Barracuca! Love it
25
Robert Plant

Robert Anthony Plant (born 20 August 1948) is an English musician, singer, and songwriter best known as the lead singer and lyricist of the rock band Led Zeppelin.
The singer for the greatest rock band of all time. His screechy yet somehow enjoyable voice is immediately recognizable. God I love the Zep...
I see at the top every comment has to do with how beautiful and sweet her voice is. Guess what, plenty of singers have beautiful and sweet voices. Know one could yell and change their tones like Robert Plant. So many people have tried, none have managed. Come on people... Immigrant Song? Black Dog? Can't beat that voice as far as uniqueness goes... You CAN'T.
Led Zeppelin is definitely a band I have always recognized thanks to Robert's voice
Legendary Robert Plant. Led Zeppelin was the first live concert I ever attended.
PSearch List