Top Ten Movies to Watch This Valentine's Day
Here are top 10 movies to get you into a romantic mood on Valentine's Day. Just snuggle close to your significant other and enjoy the love in the air. Remember, if you are being geo-restricted or are otherwise blocked from viewing a movie by your streaming service provider, you can use a VPN like PureVPN to gain instant access to your favorite movies from anywhere in the world.

The Top Ten

1 Doctor Zhivago
From the master of epic cinema himself, David Lean. A daring charge into No Man's Land, an ice bound dacha, a Cossack calvary charge in the streets and snow covered steppes are just parts of this epic romance set during the Russian Revolution.
Set during World War One and the Russian Revolution this epic of a movie is about a medical doctor/poet named Yuri Zhivago, and his relationships with both his wife Tonya Gromeko and a medical nurse named Lara Antipova whom he meets as they run a field hospital for the wounded.
Omar Sharif stars as the titular character Yuri Zhivago who's life is turned upside down by the Russian Revolution as he is torn between 2 women he loves His loyal wife Tonya (Geraldine Chaplin) and an army nurse named Lara (Julie Christie), who has been abandoned by her husband Pasha.
2
The Hunger Games
3
The Hunger Games: Catching Fire
4
The Hunger Games: Mockingjay – Part 1
5
The Princess Bride
This is a fairy tale adventure about a young woman and her one true love. The movie combines comedy, adventure, fantasy and love. The Princess Bride was released in 1987, making the movie 30 years old this year.
6
Love Actually
Love, Actually is an intertwining story of eight British couples dealing with love in very different ways. It's a touching comedy filled with amazing moments, which makes it one of the best romantic comedies ever written.
What an excellent first choice.
7
50 First Dates
Henry Roth is a man afraid of commitment up until he meets the beautiful Lucy. They hit it off and Henry think he's finally found the girl of his dreams, until he discovers she has short-term memory loss and forgets him the very next day.
8
The Hunger Games: Mockingjay Part 2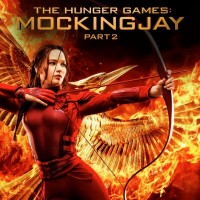 9
While You Were Sleeping
Sandra Bullock accidentally becomes Peter Gallagher's fiancée while he's in a coma. But she starts to fall for her brother, and oh man things get good.
10
Deadpool
The Newcomers
?
Say Anything
?
The Princess Diaries
The Contenders
11
10 Things I Hate About You
10 Things I Hate About You is a genuine and sweet teenage romance loosely based on Shakespeare's Taming of the Shrew. Teenage rom-coms get a bad rap, but sometimes they are exactly what Dr. Cupid ordered on a snowy Valentine's Day.
12
Charade
13
How to Lose a Guy in 10 Days
10 Things I Hate About You is a spiritual prequel to How to Lose a Guy in 10 Days. In the latter, however, it's the adults who are behaving like juveniles in the pursuit of romance. Andie Anderson (Kate Hudson) works for a magazine and wants to write an article about, well, read the title again. There's a big hitch in her plan, however, as the man she's supposed to lose is Matthew McConaughey. Good luck with that! This movie is unequivocally good and the best example of Hudson and McConaughey's respective charms.
14
Valentine's Day
An especially appropriate film for the holiday, Valentine's Day, is about interconnecting couples and singles in Los Angeles who break up and make up, falling victim to the pressures and expectations of Valentine's Day.
15
La La Land
A jazz pianist falls for an aspiring actress in Los Angeles.
16
Vertigo
An acrophobic detective is tasked by a friend to tail his wife who has been acting strangely, he ends up falling in love with said woman but all is not what it seems.
17
Pretty Woman
The ultimate fairytale, this movie remains Julia Roberts' finest hour in her role as the feisty but lovable Hollywood prostitute who gets into Richard Gere's car to give him directions and ends up falling in love. The movie is unapologetically sweet and gets away with it by serving up frequent touches of real humor.
18
The Notebook
The movie centers on a Romeo and Juliet's tale of thwarted passion between the chirpy McAdams and the rather lovely Ryan Gosling, and is as predictable as death and taxes but well executed and beautifully filmed.
19
A Walk to Remember
In Beaufort, North Carolina, a prank on a student goes terribly wrong and puts the student in the hospital. Landon Carter is held responsible and forced to participate in after-school community service activities as punishment, which include starring as the lead in the school play. Also participating in these activities is Jamie Sullivan, the reverend's daughter who has great ambitions and nothing in common with Landon. When Landon decides he wants to take his activities seriously, he asks Jamie for help and begins to spend most of his time with her. But he starts to develop strong feelings for her, something he did not anticipate.
20
13 Going on 30
21
Reds
22
Ghost
23
Fifty Shades Darker
24
Some Like It Hot
A pair of musicians witness the Valentine's Day Massacre and go on the lam by dressing up as women to join an all girl band.
25
Casablanca
PSearch List