Top 10 Best Eminem Albums
The Top Ten
1
The Marshall Mathers LP
Dark, Twisted, Horrifying... Amazing, a Masterpiece, the Best. Degrading, Misogynistic, Homophobic... but Eminem loves Kim, has matured, and doesn't hate gays. This album is deep, offensive in so many ways, and ridiculous irresponsible. But that's why it's the best. Only when you see all sides of Marshall and Slim can have a masterpiece. It has skits, catchy songs (especially The Real Slim Shady), a Dido sample in one of the greatest Rap Songs of all time (of course, Stan... ), a new kind of love song (Kim), and The Way I Am is him raging with some of the most well-put together lyrics of his career. It doesn't match up with "Stan", but almost nothing ever will. And these are just the most well-known songs. I'm sorry, but none of Marshall's, or Em's, or Slim's new albums will ever match up to this one, barring a miracle. The. Best.
Includes the greatest hits (Stan, The Real Slim Shady, The Way I Am) and some of the greatest phrasing in rap music (Kill You, Who Knew). Eminem changed the rap stratosphere with this record, with a sound influenced by Dr Dre, but flow completely original.
Eminem shook the music industry in 2000, with the release of MMLP. Even though it sounds very misogynistic and homophobic, Eminem has a problem with nobody. It's just a dark album he wanted to drop, and is mostly based on Slim Shady and Marshall Mathers. This is also one of the albums that got me into rap music, and now I have a rap playlist with over a thousand songs and can memorize many of them.
This or The Eninem Show is the best, I also liked Relapse and The Slim Shady LP. This album had many great songs like: The Way I Am, Stan, The Real Slim Shady, Criminal, Kill you, etc. The Eminem Show had awesome songs like: 'Till I Collapse, Sing For the Moment, Cleanin' Out My Closet, Without Me, Superman, etc. Relapse: Déjà vu, Insane, Beatiful, Crack A Bottle, Elevator, etc. The Slim Shady LP: Rock Bottom, Role Model, As the World Turns, My Name is, etc.

To be honest he has so many good songs and albums that it is hard to tell which is the best and worst because he is obviously the best rapper.

Eminem worst album is probably a average rappers best album.
2
The Eminem Show
Well, I'm not surprised that people of today's age don't see that this is his best album. This the pinnacle of Eminem's skill set. He was crazy slim shady and that sold a lot of records, and on this album, he seems to settle into his Eminem persona. "Till I Collapse"... "White America"... and my personal favorite (I also think it's Em's best song) "Sing for the Moment" completely capture the mood of a rebellion to this "democracy of hypocracy". Throw in some classic Slim Shady-Esque... "Business" and "Without Me" and I think you're good to go. Yes, "The Real Slim Shady" and "My Name Is" are classics and are remembered as Em's greatest hits, but you can't overlook the sheer power of this album. It's not until "Encore" that the Eminem we all loved and knew started slipping away to the "Relapse" Eminem.
I don't man, I don't need to explain why this is better than the newer Eminem albums, but I will explain why it's better than the other major older Eminem albums. I think it's better than the SSLP because I personally like the more serious tone, although both are great, and I feel like it's better then the MMLP because, while that album was great also, I think it was a little too dark at points, and I get that's the point, but I don't think that's for me. The Eminem Show is the best because he mixes the silk shady style with the the Marshall Mathers style of Eminem perfectly, and even though some songs weren't amazing like Say What You Say, it's still the best Eminem album in my opinion.
The best rap album of Eminem. It's as good as Nas' Illmatic. Most of the Stans say that MMLP is the best but clearly it has so many rubbish irrelevant songs like Kill you, remember me, who knew, drug ballad. The Eminem Show has only one rubbish songs and that too only lyrically - Drips. Even though this song has one of the best beats and is wickedly hilarious. There isn't a single song on this album which is not good. It's most consistent album of Eminem. From the beginning to the end, you never get bored or want to skip a track. Sing for the moment is the best track of this album.
I have only begun to listen to Eminem roughly 2 months ago, but from what I've heard of him, The Eminem Show showcases his best work with tracks like Sing for the Moment, Cleaning Out my Closet, White America, and Till I Collapse. These tracks all have fantastic hooks and phenomenal word play, with some of the word play of MMLP2 somewhat lacking with too many corny lines and punch lines. Sing for the Moment has to be Eminem's best song.
3
The Slim Shady LP
Slim Shady LP is raw Eminem with the great production of Dr. Dre. The fact that almost all of the songs have the "mic check, 1, 2" before their respective first verses displays his raw rapping. This is Em at his roots (after Infinite and the EP) but with better production values. I actually prefer the Marshall Mathers LP over this album, but this album really needs votes because it is behind Recovery.
This should be Number 1.
I remember when my friends were talking bout this nonstop because of the things they heard about him. This Album has a song for ANY mood you're in. Feeling sad? Listen to Rock Bottom. Feeling Angry? Listen to Bad Meets Evil (Feat. Royce the 5'9). Feeling Humorous?
Listen to Guilty Conscience, or My Name Is, and My Fault. This album is absolutely AMAZING. Please give this album a listen, it's great.
I'd probably give a BestAlbumOfAllTime/10 rating
This album along with The Marshall Mathers LP are the Best! The Slim Shady LP is the real shady lunatic Eminem what we really like. The lyrics are pure awesome! Eminem brought with both of this albums new mindset in hip hop industry. I would put both of the albums somewhere in the top of hip hop albums of all times.
Obviously his best album, his breakout hit "My Name Is" is enough to get this into top spot, and with other songs such as "Role Model" "As The World Turns" "Rock Bottom" "If I Had" "I'm Shady" and "Brain Damage", I simply can't comprehend how other people would put Eminem Show above this.
4
Recovery
His seventh studio album, Recovery was confirmed during a press release by Eminem's label on March 5, 2009 and was originally titled Relapse 2. In June 2009, Eminem said that he expected a release during the fourth quarter of 2009, with Rolling Stone reporting a November 2009 release date, but in November 2009, he stated that he would re-release Relapse, with extra songs, to hold fans over for the release of Relapse 2 in 2010. It was voted the most anticipated album of fall 2009 by XXL, It was slated to be the second Eminem album released in 2009, after Relapse, but was pushed back to 2010. Recovery was released on June 21 in the United States and the United Kingdom, and on June 18 in the rest of Europe.
Recovery was a great album, so stop trying to be cool by saying it wasn't because it was "too pop". Sure, there were iffy beats, but it is filled with some of his most emotional songs ever, and very strong lyrics. I agree, I don't love 'Not Afraid' but stop saying Recovery was worse than Encore. I want you to play 'My 1st Single' 'Rain Man' 'Big Weenie' 'Just Lose It' and 'Ass Like That' straight in a row and tell me that Encore was a better album than Recovery.

"Doctor Dre, is it gay to play put-put golf with a friend, and watch his butt-butt while he tee's off? (Yeah) But-but, I ain't done yet. In foot ball, a quarterback yells out "Hut Hut" while he reaches in another grown man's ass, grabs on his nuts, but just what if- it was never meant, it was just an accident- but he slipped, fell, tripped and his penis went in his little round heinie, and he didn't mean it but his little weenie flinched just a little bit. "
-Eminem on 'Rain Man'

Recovery is by no means my ...more
I love this album, I can understand people not liking it becuase they like Eminem for being slim shady but the guy was what 36/37 when he recorded this album and just recovered from a very hard time in his life. I just have a lot of respect for Eminem for making this album there is just so much meaning to it. the explosiveness of cold wind blows and the flow on the second track on fire is just amazing, from then on their is just so many deep songs like not afraid, going through changes etc... like I say I understand why people prefer his earlier work but for me this is my favourtire Eminem album, hard decision really as they are all so good (except encore) very little between them all.
Ah, Recovery. This is an album that's ten years old, and it still holds up today. It's also a tribute to Big Proof, who died in 2006. He put a lot of heart and soul into this album after the disasters that were Encore and Relapse. A lot of the songs are good, such as Talkin' To Myself, Cinderella Man, Love The Way You Lie, You're Never Over, and many others. It's actually my third favorite Eminem album, next to The Eminem Show and The Slim Shady LP.
5
The Marshall Mathers LP 2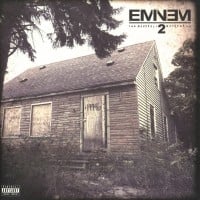 I'm crazy about this album from start to finish. I honestly got drawn in from the very first line of "Bad Guy," which is such a fantastic example of storytelling. There's a twist there I never saw coming, because I honestly took the song at surface value possibly being about his ex-wife... I was so wrong. This albums has such an eclectic mix of stellar songs. I have to admit that I slept on Eminem's last few albums because I thought he had lost some of that singular presence he had from the very moment he blew up on to the scene 15 or more years ago... This album brought all of the memories back. It just sort of solidifies his place as one of the greatest to ever do it, and certainly the greatest rapper alive.
Such an underrated album. People hear the song "Monster" and just assume this album is to make him a little more money. This album shows a new level of maturity and art from him and once you really listen to the lyrics and the meaning you then realise how great his talents are, if not understood before. Really look at "Evil Twin", wonderful word play.
I'm a 50 years old female who works in Switzerland. I listen to Eminem non stop. The MM LP2 is my favorite. I play it over and over again. It's on "Controls" - "Repeat" on my itunes.
My neighbors hate me but I don't care. He is a true artist. Whether you love the man or not, disagree with his lyrics or not. The man is truly talented. Without any doubt the most talented artist of this generation
So many of his best songs: Survival, Berzerk, Rap God, Headlights, Evil Twin, Love Game, Bad Guy, Monster, So Much Better, and Legacy. It gives you both of his personalities; Marshall Mathers and Slim Shady. Some songs make me want to cry, and others get me pumped up. The most all around album I have ever heard from any artist.
6
Relapse
Best album for choruses and beats by far. Best by rapping? No (Marshall Mathers LP is the best for the rap). Too much of the accent. But big Eminem fans would LOVE this album best. I also love Relapse: Refill (Best songs are Elevator and My Darling). My favorite songs (not counting refill) are Insane, Beautiful, We Made You, Old Times Sake, Deja Vu andCrack A Bottle. Eminem is the BEST rapper alive by far and I think this is his best album. But I don't diss the other albums though (except Recovery and Encore).
Let r say this. This albums changed my life. This was his COMEBAck albums before recovery come out. this albums was so dark and honest yet so full of positivity ya know the light at the end of the drug tunnel. My favorite besides the Eminem show for 2 and my first albums at 3 by him Slim shady. I tricking hated Marshall mathers low. Everybody jumped on the band wagon then. Love ya em. Stay hard and underground by the way Marshall mathers 2 is at number 4 for me and is totally berserk laugh out loud
Beautiful, Insane, Hello, Crack A Bottle, Stay Wide Awake, My Mom. The beats are amazing and this album has ems craziest flows and lyrics. The only reason it's so low is because of the accents but I think it is unfair to judge a album based on the accents and not the raps. It deserves to be higher up than Recovery that is for sure
Definitely a top tier album. My personal favorite of all of Em's work. Relapse is a masterpiece in story telling, beats, overall tone and lyrics. Not one bad song in this album in my opinion, every song tells something different in them and just makes this album overall unique and awesome.
7
Encore
My favourite album is The Eminem Show, and this album could have been a close second, I mean the artwork is amazing and follows the story of Em going *not going to make a Berzerk pun* crazy with all of the fame so he kills his audience at a concert before killing himself (the CD disc being the beginning of what appears to be a suicide note). It's kind of like a sequel to The Eminem Show where he's just become a best selling artist with The Marshall Mathers LP. If only Encore were shorter, about 7 songs shorter.

If he hadn't added songs like "Rain Man", "Big Weenie", "Ass Like That" or "Just Lose It" it could have been a great EP. This album has a lot of good tracks, like "Like Toy Soldiers" and "Yellow Brick Road" but then as soon as it got to "My 1st Single" it lost all credential for me. It just feels lazy. Even the song "Evil Deeds" which has some pretty smart rhymes in the first verse but an unlistenable flow feels lazy. Em used to be rhyming whole sentences together, but ...more
I really don't understand why everyone disses this album. It may not be his best, but it's still pretty damn good. I was in 4th grade when this album was released, and this was the first Eminem album I purchased. So many good memories come with this album, plus I thought it was hilarious. All the skits, just lose it, ass like that, plus Like Toy Soldiers has always been my personal favorite song that Marshall has wrote. This album doesn't get the credit it deserves.
Meh, different strokes for different folks I guess, but some songs had outright lazy, somewhat meaningless lyricism to them. I can totally understand why you would call ass like that or just lose it (despite the fact that I despise them) good songs. They at least have a point. Whether he got too silly or not, that's for you to decide. Can I understand why you would call my 1st single or big weenie good songs? I honestly cannot. They are lazy at best, abominable and aimless at worst.
If you listen to this album and can't find validity in his words then you misunderstand music and Em in general. Look at the date it came out compared to what Eminem & America, as a whole, were going through. Ass Like That & Just Lose It are the WORST songs on the album yet they are what he did for mainstream & were big hits - all of his albums have several songs intended for radio play. Oh yeah, the bonus songs are top tier.
8
Curtain Call: The Hits
Leaving aside the small FACT that Stan is THE greatest single of all time - even without it this album is Gold. Makes me laugh, shows immense empathy and a refusal not to be himself.
If Stan had been written by someone called a poet then it would be taught in schools - as it should be. Eminem
Is whatever I say he is - and that is - The greatest Wordsmith of our age. No question.
It's just like a "greatest hits" album how could any album be better than a greatest hits album. If you didn't vote this album and voted maybe the Marshall Mathers LP or the Slim shady LP then just know your favorite song is probably in this album.
This album is not only his best rap performance but also the most iconic. Songs like "Lose Yourself" and "Stan" are most notable but what about songs like "When I'm Gone" or "Without Me"? This album is his best work and it's an album that truly exemplifies Eminem in his entirety.
Its got the best of the best. How the hell can recovery be ahead of this? Its 50% a pop album. And the best off Eminem show are on here. So this is why this album should be at the top of the list, followed by the Eminem show, and then by marshall mathers LP.
9
Infinite
Infinite is unbelievable, anyone who hasn't listened to it or hasn't heard of it needs to get it banging ASAP if they consider themselves a true hip hop head. Tops his other albums hands down lyrically, and each track has a thick bass line. You won't be disappointed. Dope.
This should really be top 5, obviously a lot of people have never heard this album, so I recommend that you all listen to it, because some of his best lyrics are on this album and Infinite is one of my favourite Eminem songs. Go listen to this.
Many people haven't heard this album, and is a real underground album by Eminem. I kinda wish this was on Spotify, even though the main track "Infinite" is available.
It's not the best for it's time, but it illustrates Em's versatility. He's a rapper that can adjust to the change in style of rap beautifully. Infinite showcases Em's great ability, even this early in his career. Personal favorite of mine, at least top 5
10
Relapse: Refill
Rhymes schemes were awesome. The accent wasn't that much of a bother (except in the song Buffalo Bill). Overall, this is a fantastic album with some really great bonus songs. I liked Elevator, Taking My Ball, and Forever the best of the bonus songs. On the original Relapse I would have to say Insane, Medicine Ball and Old Times Sake.
Despite the small number of tracks on this album, I had to include it in the list. Forever and Elevator brings of new sense of Slim back.
I don't know why but I love the song Taking My Ball. It's hilarious, the beat is cool and the chorus is awesome. Underrated track.
I really like marshall mathers and curtain call a lot, but to be honest, refill has tons of high quality songs.
The Contenders
11
8 Mile
8 Mile is one of my favorite movies, probably on top 10 or 15. This seems like the fade of the original Eminem, as he got drug-addicted after the movie and had to go into rehab. And now he is pop-oriented or whatever. While everyone is into "Lose Yourself", I like "Rabbit Run", "Rap Game", and "8 Mile".
The album and movie is so awesome, especially Lose Yourself. Its one of the songs that pump me up
Lose yourself and rabbit run are my favourite songs. So, I vote for this.
This should be on no. 1, man! Many reviews said Lose Yourself is the best song by Eminem
12
Hell: The Sequel
Why is this album #10? This album was fantastic and the songs had meaning! Songs like Echo, Lighters, and Fast Lane are what rap is all about. Loud Noises featuring Slaughterhouse was impeccable. The album overall was fantastic and I am truly disappointed at it being this low.
I LOVE THIS EP SO MUCH. This is the first time I herd the real slim shady back! Maybe he did bring shady back on relapse a little bit, but in a different direction. Recovery was an album where he was going through his problems. Recovery probably only brought out shady in like cold wind blows, and the untitled track. But listening to this, this is slim shady back, just listen to the lyrics and the flow. It's so badass. listen to songs like fastlane, the reunion, I'm on everything, a kiss, and loud noises. Lighters was good to
This EP shows the underground side of Eminem, and his associate with Royce da 5'9". It's full of raw songs that only true hip-hop heads and Eminem fans know.
Awesome Album. 11 incredible songs with 2 of the best rappers of our time. A true masterpiece from Royce and Eminem.
13
The Slim Shady EP
Slim Shady was born here! Eminem made an album with his own unique style. This extended play was produced before he was famous. You can't help but relate to or understand where he is coming from as he poetically spills his heart out on some cool ass beats.
I really wish this was on Spotify. It shows what has never been seen in rap before, and got Dr. Dre's attention from Jimmy Iovine. If someone from Interscope never went to one of Eminem's rap battles, Eminem would've stayed as an underground artist and be popular as Royce da 5'9".
This is the one that started it all! The first slim shady album and a lot of songs here are better than the lp version of those songs.
Transition between a bloodchilling opening and the very first Slim Shady track "Low down dirty" is what defines Shady persona the best.
14
Revival
Extremely Underrated Album. Truly Classic. Here are just a few of the genius phrases of Revival :

Bad Husband - And I heard the mocking bird and got the urge to jot some verses and thoughts the purpose.

Arose - Merry that girl cause she is Faithfully down.

Arose - I will be in back of your memory I know you'll never forget me just don't get sad remembering.

Walk On Water - That Dresden home is burned to the ground and all that's left of my house is Lawn.

Like Home - You ain't ruining our country punk or taking pride from us and defining us like a dictionary.

Nowhere Fast - Hardheaded and we are stubborn.

And Many More. Second best after Mmlp2.
In my opinion, I think it's better than the Encore, the other 2 "Re-" albums and MMLP2. I'd rate it higher than the guy in the link did but it isn't as good as his classics. Top 3 though. 8.5 - 9/10 easily. Don't get offended. Like I said, just my opinion.
Revival and Recovery are masterpieces. The other albums like Kamikaze and Relapse and just Marshall showing insane rapping skills.
Believe, River, Remind me, Arose, Castle, In your head. A lot of people don't like this album but I think opposite. 4 years was worth the wait!
15
Kamikaze
Eminem came back to his 2002s style. As soon as the album came out. There were mixed reactions from the community. Some saying the old Slim Shady's back and some getting mad about their favourite rapper being dissed by Em. To me, it was the best thing that happened to hip hop in the 2018.

Favourite Song: Stepping Stone
There is nothing more Eminem than attacking other "rappers" and this album does that. He also just goes hard on quite a few tracks (Not Alike and The Ringer) where he's just straight spitting nonstop. This album has it all including great beats to jam to. I would rank this album #2 or 3 behind the MM LPs.
Not much people realize this, but this album's cover is inspired by the artwork of the Licensed to Ill album, which was made in the 1980s by a very underrated rockrap group called the beastie boys. I'm not saying that you should try them, but it won't hurt and they have many great songs.
While I still enjoyed Revival, this album took everything a step up. The delivery was strong, but not overly masturbatory, and his double entandre game was strong. The production was also very good. I give it a solid 4/ 5. I'd place this as his 4th or 5th best album. Better than Encore, Relpase, Recovery, Revival. Tied with MMLP2.
16
Music to Be Murdered By
This is an album for Eminem to adapt to the new standards set by new generation while still spitting as strong as before or even stronger bars. It was a wise move for him to do since he's 47 and it's a common belief that as you age, your run in this game is gonna be over and you're washed up, but with this project, he just attracted both generations, with ease. This album will increase the replay value for his legacy.
Deserves more attention.
Revival is not that bad
17
Shady XV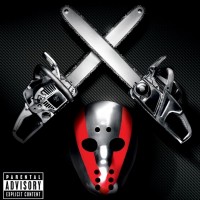 It has couples of good tracks Like Detroit vs everybody, fine line, Vegas but I didn't found any interest in this album. I just rather listen to the Re-up instead.
This is an awesome album. Love tacks featuring slaughterhouse and yelawolf.
Ether this or recovery is the best, Eminem did great work on this album!
The tote track sucks. Die alone sucks. I only love the songs twisted, right for me, guts over fear, detroit vs everybody and fhe one by slaughterhouse
18
Greatest Hits
19 The Freestyle Show
20 Just Finish It
21 Back to Basics
22
Music To Be Murdered By - Side B
His "Side B" was better than the original "Side A", and is close to his pre-Encore or Relapse-era work.
Best deluxe album in his discography.
23
Soul Intent
Even though this album is old and not the best quality, it has some of Shady's oldest recorded songs. It is hard to recognize him in some of them but it really gives you some insight into where Shady started.
24 F****** Crazy
25
Straight From the Vault
I love this ep, I own it and its fun to listen to, its his left over material, and its awesome. Its probably not the best because it is his left over material, but songs that make it good are, Fame, Oh no, dudey, fly away, things get worse. the rest where okay, but didn't reach the potential Eminem has
It was between this and Infinite, but I enjoy more songs on this then on Infinite. That's why I included this EP to end the list.
PSearch List