Top Ten Best Stereophonics Songs
The Top Ten
1
Dakota

Dakota is a brilliant song, the type of perfect hit that any band can write once in a decade. I'd be even brave to say, this song is one of the best songs ever!
Love this song, it's got the lot for me - earthy with passion and energy. I too wished I'd listened to it watching Wales win the 2011/12 Grand Slam! Good for gym too.
This is a amazing song, I don't know how I could never heard it before, this is one of the best songs I ever heard, amazing...
2
Maybe Tomorrow
This song holds all of the characteristics that allow it to stand out as one of the best songs ever. The meaning of the lyrics, guitar playing, tune, and overall quality is just amazing.
Also, it's something that almost every person that hears it can relate to at some point in their life.
The movie Crash made this song popular.. At least I think so.. I got it right after I saw the movie... I think that it should be upper in the list.. definitely. It's one of their best songs.
Very powerful song, his voice really stands out in this one, definitely should be number one.
3
Local Boy in the Photograph
Not only my favourite phonics song, but my favourite song ever! Great lyrics, which hold unbelievable memories from most certainly the greatest album ever! Also a great atmophere when this song is played live.
I think this is the best song from the phonics, it gets everyone singing along...
This is one of the most moving rockers I have ever heard. Its power is incredible.
4
A Thousand Trees

Love this song it always brings back fond memories and always great atmosphere when played!
Love this track it is a Phonics classic for me that I will always play.
Does it incredible live the crowd goes wild!
5
The Bartender and the Thief
This song is just a belter!
6
More Life In a Tramps Vest
This is such a funky song. The vocals and guitar riffs are superb. Firm favourite of many early Phonics tracks for me. Uplifting.
7
Traffic

A belter. Builds to an amazing chorus. Classic Stereophonics track that I have always loved.
I saw them live and it was so simple and beautiful, perfect end to the gig.
I love the guitars in this songs. And the lyrics are also very meaningfull.
8
Mr. Writer
My favourite song from one of my favourite albums of all times.

I'm a straight male, but I find Kelly's voice sexy as hell
Put simply, it's the best song I've heard from them period.
Their best song!
9
Handbags and Gladrags

Instant classic! Those that don't like this song don't appreciate good music.. This song was redone - yes however it was redone with so much class and style it outdid the original and its artists. It was so good you might even think that it's a young and more polished Rod Stewart singing this
I'm an old fart at 68, but this version of the Rod Stewart classic has a better arrangement and Kelly's performance is equal to if not better than Rod's. I'm seeing them soon in Cardiff and hope they include this.
"A cover is invariably never really as good as the original. But it can be different, and be excellent at being different." Never have those words rung so true.
10
Just Looking
Great song - very surprised to not see it on this list. Lyrics relate to me very well (I think they do anyway: haven't checked for alternative meanings) and probably the majority of people.
This is my favourite song by Stereophonics, I don't know maybe it's because this is the first song I heard by them but I just LOVE it, and yes I think it should be higher on this list, ya know.
Reminds me of when I first got into music aged about 12 and I loved this song. The little me had good taste. Traffic a very very close second. Dakota 3rd.
The Contenders
11
Graffiti on the Train
I have been a fan of the Stereophonics for years. I just stumbled across this track, It is so haunting! Kelly Jones sings with such emotion, can't stop listening to it!
I instantly fell in love with that song and the band when I heard this song for the first time live. It is so powerful that I just can't stop listening to it...
Tragic beauty in lyrics and Kelly's voice. Great song.
12
Superman
This is a really catchy song. It has a different vibe from the rest of their songs and really stands out for me.
I Always hum to the tune.
13
Have a Nice Day
Its such an amazing, yet simple positive tune to which everyone can relate to!
Great song has a real summery feel to it love it..
Love love love this song
14
Violins and Tambourines
This track is excellent. I love the moodiness of it. A real story teller song, amazing lyrics. Great build up too, reminds me of Fleetwood Mac and their build up with the track 'The Chain' BUT BETTER
Crazy build up. Amazing song!
This is brilliant!
15
Indian Summer
The lyrics is just mesmerizing. The tune is so catchy and an epic song for their new drummer to introduce himself to the Stereophonics fans. This song should definitely be in the top 3.
It's so perfect, the lyrics, the rhythm, Kelly's voice and notes. I fell un love when I heard it
16
I Miss You Now
17
Looks Like Chaplin
Great track, love the lyrics and the chorus. Another catchy belter from the Phonics.
18
Help Me (She's Out of Her Mind)
This song is brilliant! The guitar at the beginning shows how amazing Stereophonics are! Cannot believe that this song is not even in the top 5 let alone top 10.
19
Since I Told You It's Over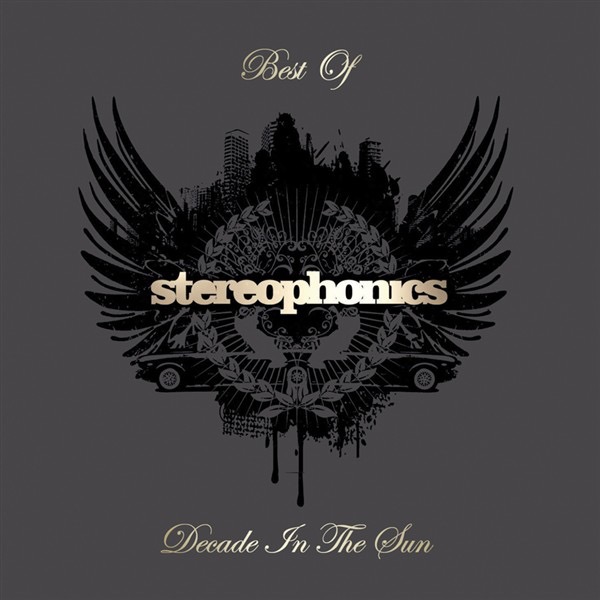 I am so surprised that this song isn't even in the top tens! This is a very powerful, brilliant song that I personally adore
Kelly's voice in this song, need I say more?
20
Madame Helga

My all time Phonics fave! So underrated this song.
A very underrated song
Kick-ass rocking song!
21
C'est la Vie

Something different...but catchy as hell and some great lyrics too!
22
I Wanna Get Lost With You

Really catchy and an all around great song!
This is new song from this great band.
23
Hurry Up & Wait

Favourite track of performance...
Excellent song. A real anthem.
One of their best songs!
24
Devil

Amazing vibe and solo!
25
Pick a Part That's New

I really like this song, the first song I heard by them and probably my favourite apart from Dakota. Top 10 song for me.
One of their best and most popular songs, reaching number 4 in the UK Singles Chart.
Catchy song and one of their most popular, needs to be higher.
PSearch List