Top 10 Best Christian Guitarists
Well, there are many Christian bands so there comes a question as to who is the top guitarist in all of them.

Below is the list of guitarists who are considered to be the best.

The Top Ten

1 Phil Keaggy

Brother Phil has 19 different ways that he tunes his guitars.
His layering techniques, and the way he can fly songs together 'on the fly' after playing the different parts live is unbelievable, but still he does it with seemingly effortless application.
His music is different from all others. His heart speaks his emotions through his playing, and stirs the soul.
Once you know the feel of his music, you can pick it out in a tune, even when you don't know that it was him playing. His playing is fluid, sharp, mellow and multifaceted; and yet, he delivers it with an inspiringly Humble Spirit.
He plays for his Heavenly Father... and we are all privileged to get to listen too.

I completely agree with this...Has anyone REALLY heard him play?

"I don't understand your list because Phil Keaggy isn't easily sitting at number 1. Anybody who knows the technical and talented side of guitar playing knows Keaggy is without a doubt one of the best guitarists of all time -- Christian or otherwise. He has even had famous non-Christian guitarists admitting how good he is. I asked him once why he doesn't rehearse before playing and he said there comes a point when you reach the top of your craft where practice is no longer needed. What a testament to God's glory, that we should pursue excellence until it becomes as natural as breathing."

I don't understand your list because Phil Keaggy isn't easily sitting at number 1. Anybody who knows the technical and talented side of guitar playing knows Keaggy is without a doubt one of the best guitarists of all time -- Christian or otherwise. He has even had famous non-Christian guitarists admitting how good he is. I asked him once why he doesn't rehearse before playing and he said there comes a point when you reach the top of your craft where practice is no longer needed. What a testament to God's glory, that we should pursue excellence until it becomes as natural as breathing.

Best I've ever seen, saw Hendrix he was great, but Phil plays so many styles and seems to be having more fun than the crowd. Saw him around 1982 best rock show I've ever been too, his solo shows blow you out of the water, sounds like more than one person playing and the spirit of his music is played to the King of Kings and Lord of Lord. Would love to see him with Glass Harp play in California.

2 Ben Kasica (Skillet)

Ben Kasica is the best! He can play solos with his teeth, and also behind his neck! He can also play awesome solos, and he can also rock out with the other band members!

Ben Kasica is far better than most of the top secular guitarists out their today in the world. I mean better than kirk hammet.

One of the best guitarists today, hands down.

Better than kirk hammet of Metallica.

3 Stu G (Delirious?)

The most creative guitarists to date. Give him a gold medal for his pedals and effects that transformed the sound of Delirious and brought us yanks the British modern sound without having to smoke pot

Stu G of Delirous? Is seriously one of the best guitar players in Christian music that I have ever heard. His tone and his technicality are better than most others on this list by far.

The most versatile of all I know! Stu can play a lot of styles, and his long journet with Delirious? Combinated with his working as a producer makes him a very prolific musician. Stu for number 1!

Stu G can play music other guitarist only dream about being able to play...

4 Lincoln Brewster

First saw Lincoln when he was playing guitar on Steve Perry's "Love of Strange Medicine" CD and Tour. The night I saw him in Atlanta, Steve announced that Lincoln was 21. He was great live. Followed him over in Christian Music! His playing is great, but so is his writing and singing. Liked his stuff so much that I have bought his CD's in the past just so I could give them away to other people. I think he deserve to be in the top 10!

Lincoln's professionalism, showmanship, accuracy and God-given talented abilities to. wow audiences while playing his guitar is absolutely mind blowing. He is by far one of the best guitar players of our time.

Lincoln belongs in the top 10! Anyone play the solo on "Everlasting God"? Most churches skip it. Why? Try to play it. You'll find out.

Lincoln played at a Promise Keepers event in Iowa a few years ago. Tire the roof off the place. Amazing.

5 Bob Hartman (Petra)

Bob is solid as a rock in his message and in his playing. If you want a guy who can play solid straight up rock and roll classic or modern, Bob is your man. His lead playing is also exceptional. You can tell he really spent time in crafting and shaping his leads because none of them sound the same. I started playing guitar at the age of ten. Bob has definitely been my biggest influence to date. I've had the opportunity to meet Bob and have talked with him several times and have come to find that he's a really nice guy! I bought one of his Zion guitars from him at the age of fifteen, and bought another Zion of his a few years ago. I feel very lucky and proud to own such fine instruments of his that he used in spreading the Gospel all over the world. Definitely a unique privilege. I grew up listening to lots of Christian guitarists such as Keaggy, Palacios, Carroll, Wooten, and the late Dana Key who I also love, but Bob's playing keeps me coming back for more! Bob has my vote hands ...more

Of all the singers and songwriters I know, Bob Hartman is one of the best but when he plays, and he plays very... And that, I think the best guitarist Christian! Thank God for the life of Bob, he letters that compose much build up and make me so well... A hug Bob and God bless! Of all the singers and songwriters I know, Bob Hartman is one of the best but when he plays, and he plays very... And that, I think the best guitarist Christian! Thank God for the life of Bob, he letters that compose much build up and make me so well... A hug Bob and God bless!

I don't know if Bob is the absolute best in absolute skill or not, and his playing isn't as flashy as some, but it always sounds good and fits the song. And, if you listen, you can hear things that he's doing that are cool, even though it's not as in-your-face as some. Add to that his decades of great songwriting, and he gets my vote hands-down.

He was the one that started it all, he was the one that made it possible, he was the one that created a new revolution in the christian music industry. Bob has taken the guitar to a whole new level and has pushed the
Boundries of music. He was the one that made christian rock possible...

6 Carl Johan Grimmark (Narnia)

Yngwie malmsteen sometimes is so focused on the technicals and the neo-classical style that he doesn't "get it". Grimmark 'gets it' while still holding on to the neo-classical style. The melodies are there. The technical aspects are there. In my opinion, he isn't just the best Christian guitarist, he's in the top five guitarists period... And the secular world doesn't seem to know who he is. If you look on top metal guitarist lists, you'll find tons of guys ahead of grimmark and impelliteri that have no business being there because of exposure. If you haven't heard "living water" by narnia, treat yourself.
-Shelby

This man made probably the best job in the whole history of christian metal. It's not only an awesome guitarist and virtuoso, he's also very good composer and he writes very sensible and meaningful lyrics. Even though we can hear that in some songs his style of composition refers to artists like Rainbow, Malmsteen or Hammerfall, he makes songs in rather originall and brilliant way.

Technically brilliant, both in rhythm and solos. His lead-guitar play always strengthen the songs and he does not try to show off how good he is, he just don't have to. That's the mark of a genius. His attitude and humble approach to life and faith is also great. A sure number one!

Just as good live as on the studio-albums and that can't be said about any guitarist nowadays. Besides that he is an excellent songwriter who can combine sweet melodies with heaviness. He has a very wide range and can play everything from prog to speed-metal with the same accuracy and imagination. Nr. 1!

7 Jeffrey Kunde (Jesus Culture)

8 Ty Tabor

He is a legendary player and virtuoso. Few guitarists have been able to combine blues, soul, progressive rock, and metal as seamlessly as Ty.

I love a lot of these guys, especially Oz.. But, when you listen to the "Moanjam" form the Album faith hope love... I think it surely speaks for itself.

9 Jason Truby

Amazing guitarist! Look up his rendition of Carol of the Bells on YouTube. Watch and learn.

10 Brandon Hampton

The Contenders

11 Rex Carroll (Whitecross)

Rex is the best guitarist, he stayed himself through all the years, he also is still as fast as he was back in the days. His heart is at the right place and he is a true musician. He can shred like no one else, he is fast and he is also a funny man. He loves his fans and he gives himself totally for the cause, and is not in it for the money like many others (even Christian guitarists) are! That's making him the number one..! Besides, he can play any style. Tell him what to play, and he will bring it to ya!

Rex Carrol is the Van Halen of Christian metal. Like Chris Impellitteri, Ken Tamplin, and Lanny Cordola he can play any style of music from metal to jazz. What makes Rex's solos stand out is his classical influence. His ten finger tapping Arpeggios are to die for. While Rex isn't the fastest ( Chris Impellitteri has to be ) he still has enormous speed. Also his music never gets boring. Its either energy packed or full of emotion. Check out Hammer And Nail or Eternal Fire to fully understand.

Rex Carroll is by far one of the most versatile guitarists in main stream or Christian music. He can shred better than most and play the blues... All at the same time. His acoustical pieces are mesmerizing and soul stirring. He can take a one song and play it like Stevie would, then he'll play it like C. Santana, Duane Allman, Eddie Van Halen and so on. About to release a new CD with co-founding member, Jimi Bennett and King James called "Stories to Tell".. Will be the best yet!

One of the technically best Christian guitarists of all time. He may not be the fastest, but I think he's the BEST. From the mainstream hard rock of Fierce Heart to the thundering metal sound of King James, Rex can play virtually any style. Look for a NEW King James record soon.

12 David Roxx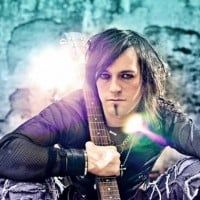 David is an amazing blues guitarist... I haven't seen anyone with his style!
My absolute favorite. You are the best of 'em all David and I love you
Absolutely Amazing guitarist! Loved his talent
Guitar solos is perfect!
13
Tony Palacios (Guardian)
Tony's work on Miracle Mile was OUTstanding... Top notch! Swing, Swang, Swung showed a very versatile side to his craft proving that acoustic has soul. Buzz proved a tasteful grungy ability while still sounding technical at times. He didn't stop there because he then moved into a more modern era with Bottle rocket proving that he adapts well with the change of the times. With new work coming out soon he also inspires the imagination: "What next?! "
Hands down, the BEST! Tony has the skill and the speed, but most importantly he has the "feeling". He could take simple licks and make them seem impossible to recreate... Just by make it vibe. By the same token, he could turn around and scream up and down the fret board. His solo project, "Epic Tales of Whoa" is a must to check out!
It has excellent handling of all techniques of guitar. It has a unique style, with influences of country, hard rock and heavy metal. It's amazing how much he can fill the sound only with a guitar. Live plays sweeps and tapping perfectly, he can shred. Also playing with things that few dare: slide and open tunings. It is the most complete guitarist out there.
Simply has it all. Speed, melody, romance,
And their performances are completely
Clean, the better. And the second is Chris
Impellitteri. Not understand how to narnia
Consider the best, I actually think Carl
Jhoan of the smallest, there are many more
Better than, and best of all is tony.. I said.
14
Tommy Johansson (ReinXeed)
I've been listening to all of Tommy's music for a little over a year now, and coming from a guy who loves Neo-Classical guitar, Tommy is one of the best I've ever heard. His melodies, and techniques are downright amazing, and he's an excellent cover artist as well. I can only see him getting better, and I really look forward to that
Tommy has an excellent musical background and has provided so much material, singlehandedly it seems, that is of such quality never heard before. It is nought to compare but Jogannson is the greatest Christian guitarist on account of his extraordinary performances.
I like Tommy as guitarist, as vocalist and his presence too, his blonde very long hair and his height. He's a real frontman and very talented too. Considering his age he can only improve!
He really loves his music... That's why it sounds great! Even some of his cover versions sounds much better than the originals!
15
Oz Fox (Stryper)
Absolutely Amazing guitarist! Loved his talent since I was a teenager. Had an opportunity to meet him after a show. Straight up nice guy!
He is one of the greatest... Period!
The star, the legend, the man, the myth. Oz Fox is one of the best showmans in the scene and his style witht the axe is flawless.
16
Chris Impellitteri
This is the unique guitarist with his unique set of style in playing a guitar and the best in not just playing tunes and fast, but his accuracy and being the fastest among the fast, impressive and impossible riffs and interludes with solos of his style. Cheers for this guy, God bless
I think without question, that Chris should be #1. As a guitarist myself, it's easy to see the skills, technique and speed he plays with ease. However, I don't really think that his band gives glory to Our Lord Jesus. I wish I could see a lot more of this.
All other guitarist on this list, except for maybe Carl Johan Grimmark, don't even come close to his mastership of the guitar!
Chris can easily be compared to Yngwie J Malmsteen and Jason Becker and such!
Chris is the best guitarist on the whole world, I would love to see him along with Rex Carroll and Tony Palacios on a Christian G3, I'm sure it would be the best guitarrists combination on this earth, God bless them all!
17
Dann Huff (Giant)
This guy is top five for sure. A one time member of Whiteheart, he hit the big time with his mainstream band Giant. He went on to do session work for countless Christian and mainstream artists, including the likes of Madonna. I'm a fan of his work in Giant. Show this guy some love!
Played with/for the best Christian singers and made great contributions. For me he's in position 1. He goes beyond fast fingers he does listening music and that, for me, is more important.
This guys resume speaks for itself.
Accross all genres and styles- Dann can do it all.
I can't believe he wasn't on this list yet! Top 5 for sure!
18
Nick Hipa (As I Lay Dying)
Parallels, their electric eye cover and so many others.
19
Juninho Afram (Oficina G3)
A top 10-worth player. Afram is one of the best brazilian guitar players, side by side with Megadeth's Loureiro and Angra's Bittencourt.

His "DDG Experiment" album has the best christian prog metal you will listen.
Juninho os the nesta guitar player!
20
Seth Morrison (Skillet)
Seth is my fave guitarist. His shredding really kills! In the song "Circus for a Psycho", he really rocks. His solos in "Not Gonna Die" and "Freakshow" are heavenly, while the "Salvation" solo is wicked! Seth is a guitarist who can really rock one's face off. Go Seth! You rock!
Seth Morrison is Skillet's new guitarist on their "Rise" album. Morrison is a very good young guitarist, and if you listen to Skillet's new song "Circus For A Psycho", you can see his skills in soloing very well!
Seth is AMAZING! How about you try going and playing lead in circus for a psycho! Then you'll see why he belongs in top 10.
He's just young, when they come out with a couple new albums with him he'll be in the top 5 at least.
21
Nigel Hendroff
Worship is not virtuoso. Its bringing skill and heart to the song. No electric guitarist does better than nigel in my opinion.
THis guy inspired to leave the piano and now I play the guitar. He's such a blessing to the me and my worship
The best for me, so blessed and He uses this gift accordingly!
Nigel is really one of, if not.. "the very best" of our x-tian musicians. He is a revolution. He shows how awesome our God really is. Cheers!
22
Michael Sweet (Stryper)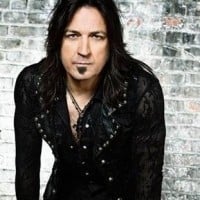 Michael Harrison Sweet is a singer from Whittier, California; he is the co-founder, writer, lead guitarist, lead singer and front man of the Christian metal band Stryper. He was also singer and guitarist for Boston from 2007 to 2011.
Best singer of all time with his 4 octave voice and quite the guitar player as well.he can produce full albums himself cause of his ability to play any instrument, put in front of him and has
Michael Sweet is just as good as Oz Fox is. Michael deserves to be put higher than 31st place on this list. End of story.
Stryper Live in Japan 1986 "Loving you" guitar solo, YouTube it.
23 JB Brubaker (August Burns Red)
24 Mick Jelinic (Mortification)
25
Torbjörn Weinesjö (Veni Domine)
Torbjorn Weinesjo has some of the most creative soloing I've heard. His guitar work in Veni Domine is truly inspired!
PSearch List