Top 10 Most Revolutionary Drummers
Obviously, there is no "Greatest" drummer of all time, but compared to the other crap lists out their that have people like the rev at #1 I thought I'd make one that was at least half way decent.

The Top Ten

1 Buddy Rich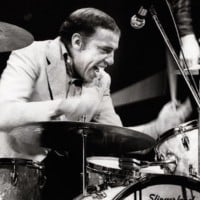 Bernard "Buddy" Rich was an American jazz drummer and bandleader. Widely considered one of the most influential drummers of all time and known for his virtuoso technique, power, and speed, Rich was billed as "the world's greatest drummer" during his career.
Now I know that I said there is no best, but if I had to place someone in this spot it would be Rich. Watch his 1970 solo on youtube if you haven't seen it. His solos are out of this world, he's not even a drummer I really listen to or take influence from, but I believe that most drummers will agree that he's usually regarded as #1
Never practiced. Never took a lesson. Never had to. Played to perfection. Who else can say that?
2
John Bonham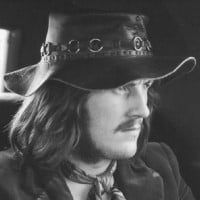 John Henry Bonham was born on May 31, 1948 in Redditch, United Kingdom. Bonham (nicknamed Bonzo) was a professional hard rock drummer who was best known for being the drummer in the band Led Zeppelin. Bonham was also one of the background singers in the band. His drumming is mainly displayed on the tracks "Moby Dick" and "When the Levee Breaks". ...read more.
Bonzo as he was called, rocked the drums like no one else before him. Along with guys like Ginger Baker, and Keith Moon he played, and he played HARD. Every single rock drummer out there today plays in the style that Bonham helped to pioneer. His feel and nack for groove was godlike. Triplets, triplets and more triplets, he was a master at the "rock" solo. Another one gone much too early.
Everyone above Bonzo is absolute crap! No one is better than the master, John Bonahm!
3
Vinnie Colaiuta
What can I say? Vinnie is easily one of the best drummers to have ever lived. His superior level of musicianship, speaks for itself when you hear him play. He can read, write, he plays with feel, but he's still technical. Plus I love the fact that he has always stayed true to traditional grip.
The dude drums for Sting... There's your reason!
4
Elvin Jones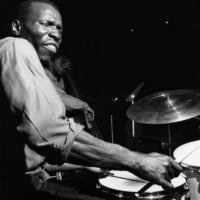 Elvin Ray Jones was an American jazz drummer of the post-bop era. He showed an interest in drums at a young age, watching the circus bands march by his family's home in Pontiac, Michigan.
I love Elvin. He's my favorite jazz drummer, and a huge influence on my playing, more so than Vinnie or Rich. His groundbreaking style and creativity sent even the best drummers of his era running back to their kits to practice. Instead of a solid swing, he broke up the patterns and played with a continuous flow of rhythm, and when he played a solo, he played with his soul out. His work with Coltrane was surreal. RIP Mr. Jones, your playing lives on.
5
Steve Gadd
If there was such a thing as a perfect drummer it would be Gadd. Groovemaster with feel from his afro-top down to his piggie toes, god is good, Gadd is great. His use of rudiments and applying them to grooves and fills was highly influential. Another session man like Vinnie, has played on many, many albums in many different genres of music. My favorite Gadd quote says it all "Fills bring the thrills, but groove pays the bills. "
6
Chris Daddy Dave
Defiantly not as well known as he should be, Dave is probably the most creative and spastic player ever. He plays jazz, soul, hip-hop whatever, but throughout all of them he shows us that his concept of "time" is completely different from ours. Weaving in and out of 4/4, playing with Robert Glasper, Dave has a feel like no other, he is straight from the soul. I think he could care less about technical prowess, he relies on feel and feel alone to make his point. Pick up Glasper's Double Booked, and listen to the jazz trio side of it. You will worship Chris Dave for the next couple of months I can guarantee it.
Chris "Daddy" Dave is remarkable. He has an incredible "feel" lightning speed, and tight pocket timing. King of syncopation. Without question the most slept on drummer of the last 6 years.
7
Tony Williams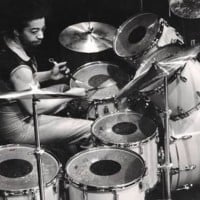 Anthony Tillmon "Tony" Williams was an American jazz drummer. Williams first gained fame in the band of trumpeter Miles Davis and was a pioneer of jazz fusion. He was inducted into the Modern Drummer Hall of Fame in 1986.
If your playing with Miles Davis at 17 years old then you must be good. One of the jazz greats, and then a founding father of fusion Tony's contributions can't be overlooked. Another big influence on my playing he had a very distinct way of playing fills or playing a solo. He died much too early and he is sorely missed by drummers and musicians alike.
8
Jimmy ''The Rev'' Sullivan
He is gone but far from forgotten. He've got such insane skills and a kind of playing that no one could ever play like him. He is my idol and the reason I start drumming.
Jimmy should be in the top 10! No doubt!
9
Neil Peart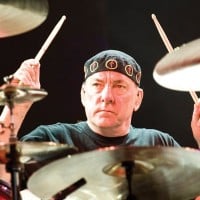 Neil Ellwood Peart, (September 12, 1952 - January 7, 2020) was a Canadian musician and writer best known as the drummer and primary lyricist of the rock band Rush. Peart received numerous awards for his musical performances, including an induction into the Modern Drummer Hall of Fame in 1983, making ...read more.
10
Lars Ulrich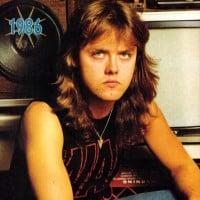 Lars Ulrich is a Danish drummer and one of the founding members of the American thrash metal band Metallica.
The Contenders
11
Billy Cobham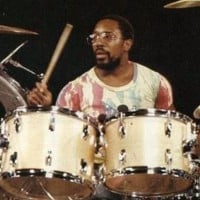 William Emanuel "Billy" Cobham is a Panamanian American jazz drummer, composer and bandleader, who permanently relocated to Switzerland during the late 1970s.
Hailed as "Fusions greatest drummer" Cobham is not someone that you want to mess with. He plays open handed, and was one of the first guys to do so. Playing with Horace Silver in the 60's on a small 4-piece, and then with the Mahavishnu Orchestra in the 70's on a double bass kit, he can do anything. Crazy fast, with loads of control, and finesse Cobham has influenced countless amounts of players, and he continues to do so.
12
Morgan Agren
Another drummer who I wish was more popular. He played with Zappa in the 90's, he's from Sweden, and he plays math-fusion. First time I watched him solo, I thought that he picked up his first pair of drum sticks earlier that day. After watching it again, and again I realized that he had opened up a whole new realm of drumming. Rudiment fragments, odd spacing and phrasing, playing in time when it sounds like he's in free form. A true "think for yourself" kinda guy.
13
Ian Paice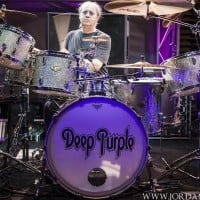 Ian Anderson Paice (born 29 June 1948) is an English musician, best known as the drummer of the English rock band Deep Purple. He has been the band's only constant member since its foundation.
14
Josh Freese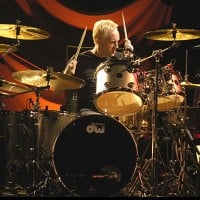 Josh Freese is probably one of the best drummers alive today. This guy has played with many notable names such as Devo, A Perfect Circle, Guns N Roses, Paramore, and The Vandals, among others, and his drumming easily tops Lars Ulrich. Considering the hundreds of releases he has appeared on, there is no denying he is committed to his work as a drummer.
15
Gene Krupa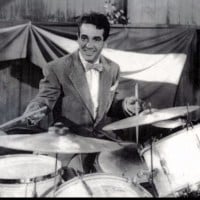 Eugene Bertram "Gene" Krupa was an American jazz and big band drummer, band leader, actor, and composer.
This guy is highly responsible for helping to create the type of drum set we play on today. He helped companies develop the hi-hat from the "low riders" when hi hats where plays at ground level just with the feet. His facial expressions, stick tricks, he was the first guy to record using the bass drum. Just a founding father of modern drumming, who often gets the cold shoulder in my opinion. Respect your elders.
16
Louie Bellson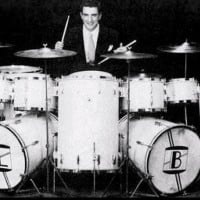 Luigi Paulino Alfredo Francesco Antonio Balassoni, known by the stage name Louie Bellson, was an American jazz drummer.
Bells, 4 sticks, rim shot, speeding round kit, everyting. Legend. He was a cloes friend of buddy rich and both of them could own the kit. Superb
17 Aaron Spears
18
Max Roach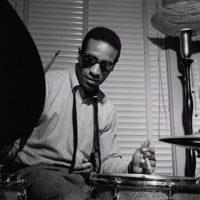 Maxwell Lemuel "Max" Roach was an American jazz drummer and composer. A pioneer of bebop, he worked in many other styles of music, and is generally considered alongside the most important drummers in history.
If we're talking revolutionary, he was the whole revolution for any kind of Bop jazz. End of story. He was also the first drummer to play melodic solos. And Mr. Hi-Hat was a revolution unto itself. Who else played an entire solo on just a Hi-Hat?
19
Dave Lombardo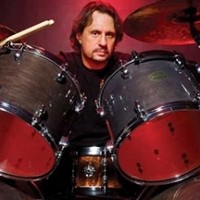 David "Dave" Lombardo is a Cuban American drummer, best known as a co-founding member of the American thrash metal band Slayer.
20
Roger Taylor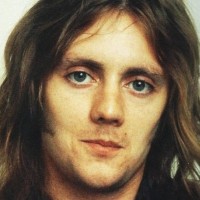 Roger Meddows Taylor is an English musician , multi-instrumentalist, singer, and songwriter born on July 26th, 1949 in Kings Lynn, Norfolk. He was the drummer of the band Queen and wrote few of many hits such as "Under Pressure", "A Kind Of Magic" and "Radio Ga Ga". Despite being well known in Queen he had a solo career that up to this date has 5 studio albums and a side-band/supergroup of his called "The Cross" that went from 1987 to 1993 and him being the lead vocalist, they've released 3 studio albums.
The drummer of Queen.
21
Keith Moon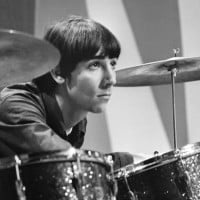 Keith John Moon was an English drummer for the rock band the Who. He was noted for his unique style and his eccentric, often self-destructive behaviour. His drumming continues to be praised by critics and musicians.
BAdd New Item