Top Ten Ghazal Singers
This list quotes the top ten ghazal singers of all time. They are ranked based on their work, popularity and recognition.

The Top Ten

1 Jagjit Singh

Prominent Indian Ghazal singer, songwriter and musician. Known as the "Ghazal King", he gained acclaim together with his wife, another renowned Indian ghazal singer Chitra Singh in the 1970s and 1980s. Their combination album comprising music from the films, Arth and Saath Saath is the HMV's largest selling combination album of all time.

No one has chosen, composed and sung as well as him in the history of ghazal singing in Indian subcontinent.

There are so many other towering figures like Begum Akhtar and Mehdi hassan but no one as versatile.

Listening him from my school days. His voice feels like God is speaking. His diction of Urdu is unbelievably amazing. His songs are so soothing and having such pain that gives Ghazals a real meaning. He is not just maestro he is God of Ghazals himself.

Undoubtedly Jagjit Singh is the number one Ghazal singer of all time. Range and depth of his voice is incomparable to anyone. Ghazals sung by him are timeless. I miss listing to him live.

2 Mehdi Hassan

The softness of his voice as well as the perfect singing definitely makes him the top choice for a singer. His ghazals sure touch the heart. While jagjit singh made ghazals famous among the present generation, he can not be classified as a better "singer" than Mehdi Hassan or Ghulam Ali for that matter.

Top ghazal singer of world is Mehdi hassan without any doubt. Listen to him quietly deeply and you will understand why he is the best. He sings classical which touches to your heart even if you don't know classical ragas. Above all he sung superb shayar''s extraordinary ghazals.

Mehdi Hassan is the definition for the word ghazal. It begins and ends with him. The survey asks for the top ten ghazal singers, well mehdi hassan is 1,2,3,4,5,6,7,8,9, and 10. Then you can name the rest. Jagit Singh nice voice but he couldn't carry mehdi hassans harmonium. Even jagit Singh admitted that much.

Pakistani ghazal singer and a former playback singer for Lollywood. He is famously known as the "King of Ghazal". In 1979, he was awarded K.L. saigal Sangeet Shehenshah Award by the Government of India. Indian singer Lata Mangeshkar, who has been awarded Bharat Ratna, once compared his songs to the "voice of god".

3 Ghulam Ali

The kind singing he has done, no one would ever be able to reach nearer to them, he is singer of style and variety, he inspires me to always go for harder path, he is the Dare-Devil as well as Michael Anglo of singing.

Considered as one of the best ghazal singers of his era. His style and variations in singing Ghazals has been noted as unique, as he blended Hindustani classical music with ghazals, unlike any other Ghazal singer. Many of his hit ghazals have been used in Bollywood movies.

Ghulam Ali's compositions are unimitable. That's the reason there will never be a Ghulam Ali sing-alike ever. His singing is so crafty that he has transcended his own Gharana and created his own class.

Both Jagjit Singh and Ghulam Ali are legendary Ghazal singers but my vote for Ustaad Ghulam Ali Khan because his songs are my personal favorite.

4 Hariharan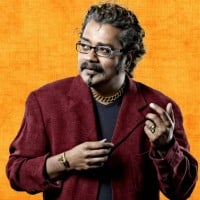 Hariharan is an Indian playback singer who has sung for Hindi, Tamil, Telugu, Kannada, Malayalam, Marathi, Bhojpuri, Punjabi, Gujarati and Rajasthani films, an established and foremost ghazal singer and composer, and one of the pioneers of Indian fusion music . In 2004, he was honoured with the Padma Shri by the Government of India and is a two-time National Award winner (5 National Award nominations) . His melody has been strongly appreciated by the film fraternity .

In 1977, he bagged the top prize in the "All India Super Singer Competition" . His debut song "Ajeeb Sa" (Gaman-1978) became such a hit that it won him an Uttar Pradesh State Film Award, as well as a National Award nomination . ...read more.
Indian playback singer who has sung for Malayalam, Tamil, Hindi, Kannada, Marathi, Bhojpuri and Telugu films, an established ghazal singer, and one of the pioneers of Indian fusion music. His melody is strongly appreciated by the film fraternity. In 2004, he was honoured with the Padma Shri by the Government of India and is a two-time National Award winner.
Legendary versatile singer.
Amazing voice.
Unique singing styles.
Unique and soulful songs.
His songs are amazing and versatile. He sings very well in number of different languages.
He is an extraordinary singer and the most unique singer. Has one of he most soulful and Mellifluous voices
5
Pankaj Udhas
Indian singer, credited in the Indian music industry, along with other musicians like Jagjit Singh and Talat Aziz, with bringing the Ghazal style to the realm of popular music. He rose to fame for singing in the 1986 film Naam, in which his song "Chitthi Aayee Hai" became an instant hit.
Jagjit Singh, Ghulam Ali,Hariharan and everybody else are brilliant, no doubt about it. But he has the best control over his voice. His voice is so soothing,relaxing and melodious. I think that the level of talent which he has is practically impossible to match.
He sounds like a gal at times!
6
Anup Jalota
Anup jalota is the only modern Indian singer who really sings ghazals in ghazal style. He applies different classical music surs. I can compare him with ghulam ali and mehdi hasan. Other popular singers like jagjit and pankaj simply sing the ghazals like ordinary dongs. They don't qualify as ghazal singers.
Best known for his performances in the Hindu devotional music bhajan and the Urdu form of poetry, ghazal.
He is popularly known as the "Bhajan Samraat" (Emperor of Bhajans). Padma Shri for 2012 has been conferred upon him in the field of Art-Indian Classical Music- Vocal by Government of India.
He is best his pronounsiation is great. He sings ghazals with heart. I like him very much. I pray him long health life. My request please sings more beautiful ghazals for his lovers. Abid
Very good singer
7
Shishir Parkhie
Shishir ji has been singing ghazals throughout the period when ghazals are not that popular among the masses as they used to be in 70s & 80s. All the legends we have are from that golden period only. Though he was nominated twice for GiMA awards, wonderful compositions from his albums have not been promoted well even by big music labels else his popularity would have been at a different level. Perfect voice sutaible for ghazals, soulful singing & wonderful compositions.!
He easily understands the mood of audience and selects his Gazalz beautifully. He has a melodious voice and sings with heart and emotions instead of making singing a grammatical show. That is probably the reason why he is so much liked by the audience.
Shishir ji was nominated for the prestegious GiMA Awards in the best Ghazal album category in 2012 for his album Roomaniyat along with legendary Jagjit Singh ji. He was nominated again for Siyahat with the albums of Hariharan-Ustad Zakir Hussain & Shreya Ghoshal. Both these albums are treat for Ghazal lovers. I also like his albums Once More & Qurbat. Great Ghazal singer & composer.
Shishir ji learned classical singing at an early age which in my opinion is vital for a good gazal singer. I like him for his voice, composition and connect with the audience. Very friendly and kind person. Shishirji has devoted his life to music. God bless.
8
Talat Aziz
Popular ghazal singer from Hyderabad, India. His first major performance was in Hyderabad at a place called King Kothi. He sang before a crowd of over 5, 000. He sang Kaise Sukoon Paoon and some ghazals by noted shaayars of Hyderabad. Though he was nervous at his first performance in front of audience yet he performed well.
Why is he even on this list? He sings like some old hag!
He have a unique voice and also a handsome singer.
Talat Aziz is an authentic ghazal singer.
9
Adithya Srinivasan
One of India's best ghazal singers and arguably the youngest ghazal singer in the world. His recent work 'Gham-e-Duniya' was download extensively on Apple iTunes and topped many world music charts. Considered to be one of the most soothing voices in the music fraternity by his fans.
This boy is a revolution. He sounds like he's been singing for decades though he's just little over 2 decades old. A legend in the making.
Undoubtedly a prodigy. His taans are more intricate and accurate than more seasoned singers. Adithya definitely has a long way to go...
I just watched this young lad on YouTube, oh my god! He sounds so good and looks so nice!
10 Lily Chakraborty
The Contenders
11
Nusrat Fateh Ali Khan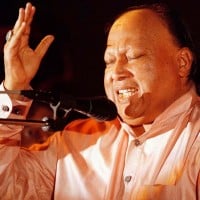 Nusrat Fateh Ali Khan was a Pakistani vocalist, primarily a singer of Qawwali, the devotional music of the Sufis. Widely considered one of the greatest voices ever recorded, he possessed an extraordinary range of vocal abilities and could perform at a high level of intensity for several hours.
Father of all kinds of ghajal music tunes. Inspired the whole world. Heavenly voices. Master of his days. One of the top chart in all time.
He was my best.. No one can take his place ever... I have no words for him.. He is the master of masters
He along with his team produced magics.
How is he one 10 on voting? Fix him on 1st.
12
Runa Laila
Bangladeshi singer who started her career from Pakistan film industry and sings in Ghazals also. She made a pair with singer Ahmed Rushdi after replacing Mala. She also has done playbacks for movies in Bangladesh, India and Pakistani film industries during late 60s, 70s, and the early 80's. Her best known number is Dama Dam Mast Qalandar.
She's way to old to perform any more. Used to sing well in her yester years!
Such a lovely voice she got.
I love you with respect
13
Begum Akhtar
Hiii, I think begum akhtar was the greatest ghazal singer of all time I think she should be on number 1 because she was the first to spread ghazals in india... Jagjit singh pankaj udhas and all others are below her because the difficulties which she face no one faced because they came after her... If you like my point please vote
She is the best in my opinion, she has sung different ghazals in different manner. With a soulful, classical voice of hers even those songs have become alive which sound dead flat in the voice of other singers.
She must be placed at second number. After mehdi hassan she is the best
She is best as a Thumri singer, Her voice is very painful, Hearttouch.
14 Chandan Dass
15
Mohammed Rafi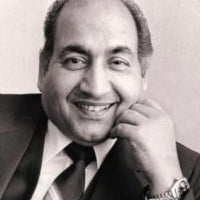 Mohammed Rafi was an Indian playback singer and one of the most popular and successful singers of the Hindi film industry. Rafi is widely considered to be one of the greatest and most influential singers of the Indian subcontinent.
People tend to forget that Rafi Sahab was also a great ghazal singer.
Best of all time
Best of the beat
16
Pervez Mehdi
Maestro parvaiz mehdi sab is the only singer who sings from innermost core of the heart. He can be called as "soul khan saab" title or "pt aatma raam jiji" title. If you listen him for a week you will come to know what he is.
17 Asad Amanat Ali Khan
18
Abida Parveen
She is one of the best ghazal maestro of modern era...
19 Ashok Khosla
20
Jaspreet 'Jazim' Sharma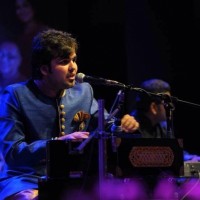 She sings so calmly that every one wants to listen him one more time
He is one of the best Ghazal singer his voice gives so much relaxation to d ears
21
Yateesh Acharya
Yateesh Acharya stands as one of the best ghazal singers of India. His voice and singing are mesmerizing. I've always loved listening to Yateesh. He is one of the best for me.
His voice and compositions touches the heart, he also has a unique style of singing which has impressions of Mehndi Hassan Sahib and Jagjit Ji.
Yateesh Is definitely one of the versatile singer in current generation. He has an amazing voice quality.
Yateesh has very good voice. He has great passion about Gazzal and devoted most of his time in practicing towards perfection.
22
Talat Mahmood
He is the one and only all-time great Talat Mahmood who first introduced semi-classical songs in Hindi films in the early '50s. Apart from his very popular movie songs like Jayen to jayen kaha, Chal Udd Ja Re Panchi, Jalte Hay Jiske Liye, Ham Dard Ke Maro, Meri Yaad Mein Tum Na, Bechain Nazar Betab Jigaar, etc., with his distinguished velvet voice, he has a vast collection of private gazals that he sang in a very classical mood. That's one of the reasons he is truly termed as the King of Gazal.
23
Sonu Nigam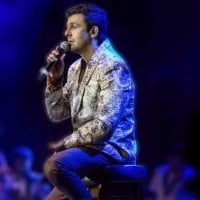 Sonu Nigam is an Indian playback singer, live performer, host and actor. He sings in Hindi and Kannada language films.
24 Chitra Singh
25
Arijit Singh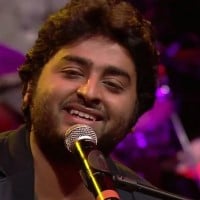 Arijit Singh is an Indian playback singer and music programmer from West Bengal who sings Bengali and Hindi songs.
PSearch List