Top 10 Greatest Musicians of All Time
The Top Ten
1
Michael Jackson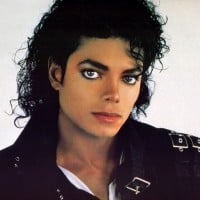 Michael Jackson (Michael Joseph Jackson; August 29, 1958 – June 25, 2009) was an American singer, dancer, and songwriter. He passed away from cardiac arrest caused by a propofol and benzodiazepine overdose on June 25, 2009. He donated (at least) a remarkable 500,000,000 dollars to charity. Michael is also known as The King of Pop (a title given to him by Elizabeth Taylor) or under the initials MJ... read more
Just generally the greatest. Highest selling album of all time, Highest selling multi disc release of all time, Highest amount of money given away by one musician over his career, A set of Undeniable classics that stand the test of time, The ability to sing, dance and make music all at the same time. The man is truly undeniable, A beautiful man who cared for more for all the people around him than himself, Easily the GOAT
This man was a real thriller, his creativity, talent, dance moves, voice and ability to woo huge crowds was surely ahead of time. to date no body has come close to the magic he pulled. I have a feeling that it will be centuries before a talent like this one comes back to earth. Those who watched him live were lucky. Thanks to YouTube that the world can enjoy his performances.
@Topcansuckit there is no "why" to it. Beatles' melodies get boring after a while. MJ's do not. "Hey Jude" or "Let It Be" cannot be replayed. "Billie Jean" and "Beat It" definitely can.
Sorry for being slightly racist, but only white people with a certain complex fight to keep artists like Elvis, the Beatles and that overrated bum Bob Dylan at the top saying stuff like "they are way more talented than that dancer". (and even Prince, just for the sake of dethroning MJ). None of them comes close to MJ. Sorry.
2
Paul McCartney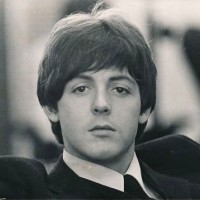 Sir James Paul McCartney (born 18 June 1942) is an English singer-songwriter, multi-instrumentalist, and composer. With John Lennon, George Harrison, and Ringo Starr, he gained worldwide fame with the rock band the Beatles, one of the most popular and influential groups in the history of pop and rock music.One of the most successful composers and performers of all time, he is known for his melodic... read more
Best half (only by a little bit) of by far the best songwriting partnership in history.
His career after The Beatles, solo and with Wings, just cement his position as the best and the most successful songwriter of all time.
Also one of the all time best singers in popular music. Also proficient in multiple instruments. Also still headlining festivals at 80 years old.
The man is a legend, the single greatest musician of the modern era...it's not even close.
Should be nº1 by a lot (MJ is a great singer but he is not a genius like McCartney... or many others on this list).
Macca has it all - the best "modern" songwriter (and the most successful), incredible and versatile singer and more than competent multi-instrumentalist. No question in my mind that he should be nº1
Who can't say he is the greatest musician of all time? He took the rock n roll of the 1960s and transformed it into an entirely new creation. No artist can match what he has done. His work with the Beatles is what kept them afloat as long as they did. Without him the albums of Sgt Peppers, White Album, Abbey Road and Let it Be would not be in existence. His work extends far beyond those albums too. His solo and wings work(although not as significant as the Beatles) helped forge several classics and continue the artistic output of the greatest musician ever. And what is worth noting is that he is still incredibly active in the music scene. He had just turned 80 and will be headlining Glastonbury next week. There is no comparison to him.
3
John Lennon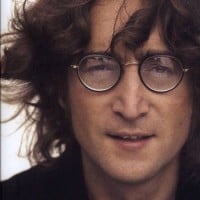 John Winston Ono Lennon, MBE (9 October 1940 - 8 December 1980) was an English singer and songwriter who rose to worldwide fame as a co-founder of the Beatles, the most commercially successful band in the history of popular music. He was assassinated by Mark David Chapman on December 8, 1980 at age 40. Lennon was characterised by the rebellious nature and acerbic wit in his music, writing and drawings,... read more
His music is so powerful that words can't desribe how it has impacted the world and the millions who still listen to it. Countless masterpieces have been crafted by this man, from the beginning of his career to his heartbreaking death (which still brings tears to my eyes today). Nobody has ever revolutionized music in the way that Lennon did, and his remarkable quality and consistincy in musical prowess is astounding. Not only was he a musician, but he was an icon, charming teens during the early 60s with his wit and charm, spearheading the counterculture movement in the late 60s, and becoming an icon of peace movements during the 70s, inspiring millions to this day. Nobody has and ever will come close to how he has revolutionized culture, society, music, and the world as a whole, as he is a remarkable phenomenon that will never be topped or matched again.
Should be the best for he is the masterpiece of singing - songwriting. John Lennon also the most inspiring and most influential, not only in musical talents but in peaceful activities too. John Lennon should be a gift from heaven, should be a son of God for he is a peace - minded person. Go John Lennon for the win!
4
Ludwig van Beethoven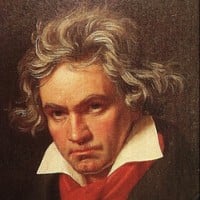 Ludwig van Beethoven was a German composer and pianist. A crucial figure in the transition between the Classical and Romantic eras in Western art music, he remains one of the most famous and influential of all composers. His best-known compositions include 9 symphonies, 5 piano concertos, 1 violin concerto, 32 piano sonatas, 16 string quartets, his great Mass the Missa solemnis, and one opera, Fidelio... read more
Beethoven's music challenges the listener to experience deep swings of emotion from agony to elation, from peaceful to triumphant. His music is complex and ever-changing, it can be intentionally atonal in one moment, then rhythmic or melodic the next. It is that constant dynamism which makes his music brilliant, it guides the deep-thinking listener through an experience synonymous to life itself. And, at the risk of sounding shallow, his music is often so ridiculously exuberant, inspirational, and life-affirming that no one--Mozart, Bach, or the greats of our current era--comes even remotely close to matching his otherworldly genius.
One of the top 3 classical composers (with Mozart and Bach) - undoubtedly top 10.
Being more of a fan of "popular" music I would still rank McCartney and Lennon above Mozart, Bach and Beethoven but only The Beatles can truly be talked about at a similar level as those great composers.
5
Andy Gibb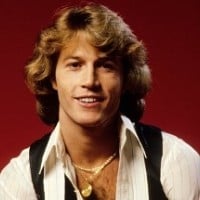 Andrew Roy Gibb was an English singer, songwriter, performer, and teen idol. He was the youngest brother of the Bee Gees.
Andy Gibb was a brilliant talented singer, songwriter, and musician. His looks and voice made girls everywhere just love him. He'll always be loved, missed, and remembered by his family, friends, and fans all around the world.
Andy was a talented singer and performer who would still be making hits songs if he did not leave us at a young age. He would have been singing with his brothers the Bee Gees. And Andy loved his fans he is truly missed..
Andy gave everything to the fans and the public. He was able to do broadway, plays, etc. Michael and the rest only sang and Michael didn't go out and do volunteer work and charity functions.
6
Freddie Mercury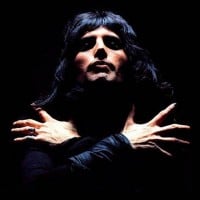 Freddie Mercury (born Farrokh Bulsara, 5th September 1946 - 24th November 1991) was a Zanzibari-born British singer of Indian descent, songwriter and record producer, known as the lead vocalist and songwriter of the British rock band Queen. He also became known for his flamboyant stage persona and four-octave vocal range. Before he became a singer he has been in 3 other bands (Ibex, Sour Milk Sea,... read more
Freddie Mercury was not just a rockstar, he was a legend. His whole life he was discriminated from his teeth to his race and his talent. He came from nothing but a worker at heathrow airport for removing baggage to a rock legend. He didn't achieve fame at a young age like most in the time. But he genuinely worked at it. He trained his voice and took advantage of his four octave vocal range. Simply listen to his voice while singing with his prior band "Ibex" then listen to the Show Must Go On. Not many people grow up to have such a powerful voice till they die.
You deserve more than number four on this list, Freddie mercury always was and will remain the best singer that ever lived, and one of the best songwriters to grace us with his presence on this earth, He sung to the best of his ability to the very end, loving and cherishing every minute of it. While this man was sick and dying and was filled with so much pain he could not even stand he propped himself up against a table downed a vodka and vowed "I'l sing till I bleed" if you can't call that legendary then I sincerely doubt you will ever find who your looking for.
7
George Harrison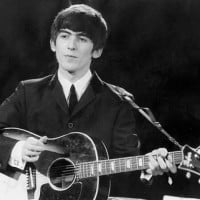 George Harrison (1943 - 2001) was an English guitarist, singer, songwriter, and music and film producer who achieved international fame as the lead guitarist of the Beatles.
A fantastic artist and a great guy. He has the non-stop ability to create new catchy riffs and imaginative guitar styles.
George was a great musician, but among the ten best of all time? That's a bit of a stretch, but I did love the guy.
Why george is no. 5? I think its no. 4?
8
Wolfgang Amadeus Mozart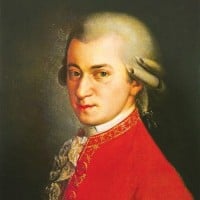 Wolfgang Amadeus Mozart, baptised as Johannes Chrysostomus Wolfgangus Theophilus Mozart, was a prolific and influential composer of the Classical era, born in Salzburg.
One of the great classical composers. No doubt should be in the top 10.
Probably the single most "gifted" musician/composer in human history.
Died too young, like many others on this list, and would likely be considered the greatest artist off all time by some distance if he had continued composing until old age.
This is completely and insanely baffling that he is not 1. He was by far the greatest musical mind to have ever lived. This absolutely outrages me to the point of complete loss of sanity.
Mozart wasn't only a prodigy but a revolutionary. His work was more ground breaking and original than Beethoven's in his particular time period. Imagine if had lived to old age.
9
Bob Dylan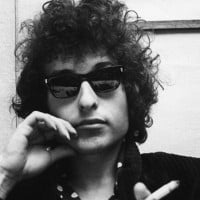 Bob Dylan is an American singer-songwriter, author, and artist who has been an influential figure in popular music and culture for more than five decades.
Certainly one of the greatest lyricist in history and although musically I would rank others above him, overall he deserves top 10.
Should be ranked 2nd. Changed popular singing. Greatest lyricist of all time. His influence in music is unmatched. Going electric at the Newport folk festival and his doings in the civil rights movements changed pop culture and the world. There would be no Hendrix Springsteen nirvana and the genre of rap in general if it weren't for Dylan give credit where credit is due!
Undoubtably the number one spot. He has impacted not only the world of music, but the world a whole more than any other musician ever. He is not only the greatest living poet, but perhaps the greatest musician ever to walk this earth.
10
Elvis Presley
Elvis Aaron Presley (January 8, 1935 – August 16, 1977) was an American singer and actor. Dubbed the "King of Rock and Roll", he is regarded as one of the most significant cultural icons of the 20th century. His energized interpretations of songs and sexually provocative performance style, combined with a singularly potent mix of influences across color lines during a transformative era in race... read more
I don't think he was a genius, like say McCartney, Lennon, Beethoven, Mozart, Dylan... but his singing, charisma, importance in the development of popular music and iconic status earn him top 10 status in my opinion
Elvis Presley, one talented man of course, but after his death there aren't any more songs anymore. My favourite song is Hound Dog! Back then he was a rock for our grandparents and parents but I still watch, learn and get inspired to the videos.
The greatest most fabulous music artist of all time. No one can or ever will compare to elvis. God bless him, he gave so much pleasure to millions and still does. Artist of the century. Mozart of the 20th century.
The Newcomers
?
Jeff Stinco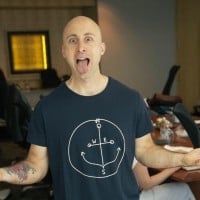 I adore Jeff stinco and am super excited to add him on the list! He is a great musician a personally decent human being and also just super hot sexy and cute. listen to his beautiful solo music and you'll see why I mean
The Contenders
11
Jimi Hendrix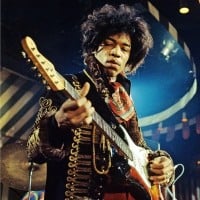 Jimi Hendrix (born November 27, 1942 - September 18, 1970) was an American rock guitarist, singer, and songwriter.

Although his mainstream career spanned only four years, he is widely regarded as one of the most influential electric guitarists in the history of popular music, and one of the most celebrated musicians of the 20th century. The Rock and Roll Hall of Fame describes him as "arguably... read more
Jimi Hendrix wasn't a guitar player, the guitar was an extension of his mind and soul. It was through his guitar that Jimi expressed himself. It represented the way he talked, walked and even breathed. Due to this extreme relationship between a man and his instrument, Jimi became a master songwriter, a soulful vocalist and a studio genius who crafted, with ease, lots and lots of songs which had a life for themselves. This organic characteristic is unparalleled among rock musicians. Since his death, there has not been a single guitar player as important or as revolutionary, but his work has remained so vital and inspirational that his influence over the music world has defeated his death, and therefore he gained his immortality.
Here is why Hendrix is ranked too low: He is ubiquitously recognized as the best guitarist of all time. In concerts he would play behind his back and with his tongue. He is a prodigy, and he can also write songs. He belongs in the top 5 best musicians without doubt.
12
Slash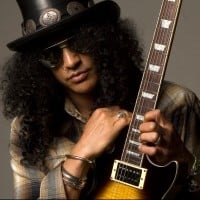 Saul Hudson, known professionally as Slash, is a British-American musician and songwriter. He is best known as the lead guitarist of the American hard rock band Guns N' Roses, with whom he achieved worldwide success in the late 1980s and early 1990s.
Was looking at this list to see if slash was even on it at all, certainly didn't expect this high, but it makes sense!
Some say Slash doesn't exist. He's like Santa, too good to be true.
How does this no talent make this list?
13
David Bowie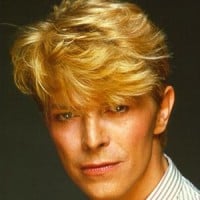 David Robert Jones, known professionally as David Bowie (January 8, 1947 - January 10, 2016) was an English singer born in London, the son of a fundraiser and a waitress. He is credited for his experimental and creative musical discography which has won praise and accolades for many critics and fans... read more
The phrase "You can do whatever you set your mind to" isn't true... unless you are David Bowie. Bowie managed to stay relevant in the changing music world since the early 70's. He has written and performed countless genius songs. He belongs in the top 10.
All I'm saying is that he is the greatest musician of all time.
How is he and Kurt not tied for first?
14
M. Shadows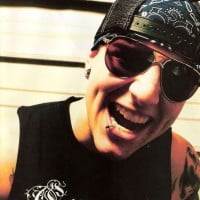 Matthew Charles Sanders, better known by his stage name M. Shadows, is an American musician, best known as the lead vocalist, songwriter and founding member of the American metalcore/alternative metal band Avenged Sevenfold.
Whoa whoa, that makes him so overrated.
15
Frank Sinatra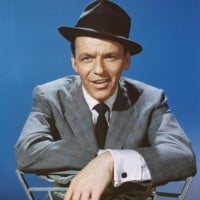 Francis Albert "Frank" Sinatra (December 12, 1915 – May 14, 1998) was an American singer, actor, and producer who was one of the most popular and influential musical artists of the 20th century. He is one of the best-selling music artists of all time, having sold more than 150 million records worldwide.
Frank Sinatra sang so good he sure has lots of good songs like the way you look And my way. There are lots of other songs he wrote he composed and produced and should be considered at least in the top five best jazz musicians. He had flow style amazing pitch and dancing skills.
By far the greatest musician I've ever heard in my life!
I don't see why this guy isn't No. 1 He is brilliant.
16
Kurt Cobain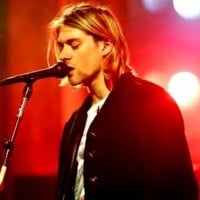 Kurt Cobain was born February 20, 1967, in Aberdeen, Washington. In 1987, he started the grunge band Nirvana, which became one of the most successful bands ever. He was a talented yet troubled grunge performer. Kurt Cobain became a rock legend in the 1990s with his band. He committed suicide at his Seattle home in 1994.
You always notice that stage where celebrities often do drugs and die from them. Especially what happened to kurt cobain. My theory is that some of them are just scarred. Like, they're scarred of being famous and they just want to be left alone. Now I don't know if this was true with kurt but he did say that the fame was too much for him. Think about it people, when you're on top of the world it gets really overwhelming. There are some people out there who are planning for a future but are scarred to be famous because they are just normal people who want to be left alone. And whether if they're artists some of them didn't plan for their work to stand out from all the others, they've probably done their work just for themselves and for others to enjoy. If you are so famous that you'll be remembered throughout all of history wouldn't that be way too much pressure? Do you really want to waste your life for the hell of stardom? In my opinion, we should only chose art that really stands out from all forms of other art which would be good enough to remember throughout all of history (whether it be something about the secrets of life and there universe, or a huge past event from history like the holocaust and the titanic) I want all of you people to remember this. Think about what your chose is going to be for the future. You get to make that choice. Whether it be fame or no fame at all.
17
Eminem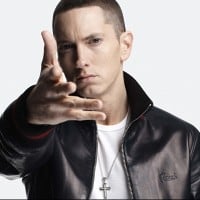 Eminem, born Marshall Bruce Mathers III, is an American rapper, actor and music producer born on October 17, 1972 in St. Joseph, Missouri. Eminem has sold over 300 million records making him the bestselling hip-hop artist of all time. In addition to his solo career, he is a member of D12 and (with Royce da 5'9") half of the hip-hop duo Bad Meets Evil... read more
This guy is not even the best rapper of all time. that is Tupac. How the hell does he rank greatest musicians. Not in a million years can he do songs like keep your head up or dear mama. Artist he picked on in his music like Michael Jackson and Elvis Presley. Could run circles around his ass when they were alive that's the truth. Eminem has no respect for good music. It's just because he's not good himself who did this list Stan fans. Eminem on this list is a big diss to the all time greats. Hell Vanilla Ice was before his ass he was more of a og than him. Don't pick on the greatest it's just wrong Don't make it a funny game.
Eminem sure is an awesome musician. He definitely should be in the top 15 maybe top ten Eminem has so much skill and experience writing songs producing others and free styling rap battling and making beats. Eminem has lots of great songs like lucky you Godzilla rap god without me slim shady lose yourself I'm not afraid and Marshall mathers l p mocking bird lots of other songs
18
Synyster Gates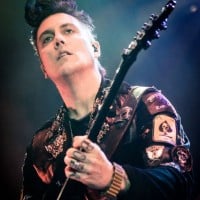 Brian Elwin Haner, Jr., better known by his stage name Synyster Gates or simply Syn, is an American musician, best known for being the lead guitarist and backing vocalist of the band Avenged Sevenfold.
One of the best lead guitarist of all time!
What improvisation skills!
19
Brian Wilson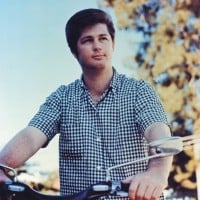 Brian Douglas Wilson is an American musician, singer, songwriter, and record producer best known for being the multi-tasking leader and co-founder of the Beach Boys.
This is the man who played and performed music through his Mind and Halucinations. He translated this music into an Album that is not only influential, but one of the best albums ever created. The Beach Boys are underrated in the Public Eye, but Brian Wilson in particular deserves more recognition, he is a Musical Mastermind.
20
Louis Armstrong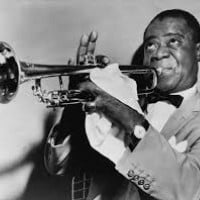 Louis Armstrong, nicknamed Satchmo or Pops, was an American trumpeter, composer and singer who was one of the most influential figures in jazz.
The trumpet was made for him! No one can manipulate an instrument like he did.
21
Prince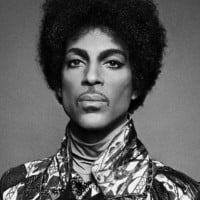 Prince Rogers Nelson (June 7, 1958 - April 21st, 2016) was an American musician, best known for being one of the most popular and influential artists from the 80s, with songs such as "Purple Rain", "Little Red Corvette", "1999", and "When Doves Cry" .
The greatest musician that ever lived on this planet. Best song writer, best guitar player, best producer, best performer, best dresser, best looker.
Listen to his discography and watch him perform; if you do, then you'll understand why he is the most talented musician of all time.
Though michael jackson is the greatest entertainer Prince bar and none takes the 1 2 and 3 slot as the greatest muscian of all time.. It's a debate with rest of the numbers from 4 on down on whose the best muscian. But this poll here is probably controlled by the Democratic party or some other screwup nut job
22
Chuck Berry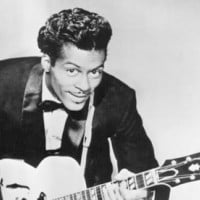 Charles Edward Anderson "Chuck" Berry was an American guitarist, singer and songwriter, and one of the pioneers of rock and roll music. He died on 18 March 2017.
23
Ozzy Osbourne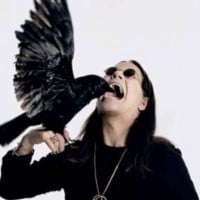 John Michael "Ozzy" Osbourne was born on December 3, 1948. He is also known as ''The Prince of Darkness''. Ozzy is an English singer, songwriter, and television personality. He rose to prominence in the early 1970s as the lead vocalist of the band Black Sabbath. Osbourne was fired from Black Sabbath in 1979 and has since had a successful solo career, releasing 11 studio albums.
Ozzy should be at least in the top ten. He ROCKS! He isn't called the "Prince of Darkness" or the "Godfather of Heavy Metal" for nothing. I LOVE Ozzy! He deserves so much more credit than this. Ozzy forever!
One of the founders of heavy metal. He is a genius of that music, I was going to choose Michael Jackson, but he only has written a few of his songs... and hardly played anything.
I'm hungry for bats
24
Whitney Houston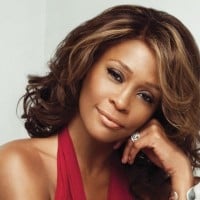 Whitney Elizabeth Houston (August 9, 1963 – February 11, 2012) was an American singer, actress, producer, and model. In 2009, Guinness World Records cited her as the most awarded female act of all time. Houston is one of pop music's best-selling music artists of all-time, with an estimated 170–200 million records sold worldwide. She released seven studio albums and three movie soundtrack albums,... read more
No mere human has ever had a more refined voice than sh had. I think she literally introduced a new high note in music.
Whitney Houston is an amazing singer she has such great songs
25
Luciano Pavarotti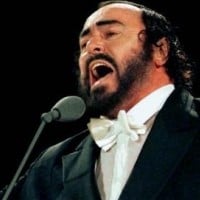 Luciano Pavarotti, Cavaliere di Gran Croce was an Italian operatic tenor who also crossed over into popular music, eventually becoming one of the most commercially successful tenors of all time.
No one in this world will ever strike the notes this guy ascended to!
Pavarotti has no peer. He is the best of the best.
The biggest & best voice of all time.
PSearch List