Greatest Ozzy Osbourne Albums
25 kick ass albums, but out of 25, what is the greatest Ozzy Osbourne album ever?

The Top Ten

1 Blizzard Of Ozz
Just listening to this on vinyl, Diary of a madman and No More Tears the last few days and have to say all 3 are great albums.
Randy Rhodes, Zakk Wylde and Jake Lee were all three great lead guitars.
DOAMM probably has the better Randy licks and Zakk play (and is STILL playing) awesome metal riffs...
None of them ever sat back and did nothing as there's always great guitar work on an Ozzy album.
Why we love Ozzy albums and they will 1,000 years from now as well!
But since this is his 1st album after Sabbath fired him and he just found Rhodes...
The rest is beautiful music..
Even though this is Ozzy's first album of his solo career, It is easily my favorite, and Randy was one hell of a guitarist. If he was still alive today, the world would be way better place. Songs like Goodbye to Romance and Mr Crowley really take me back and just into another world. I don't even think there is a song on here that I don't like (I haven't listened to No Bone Movies yet). Every single song is an inspiration to me, and also a piece of magic and hope for me, to hopefully bring back to the world in the future.
2
Diary Of A Madman
Blizzard Of Ozz is pretty revolutionary, but it isn't as solid of an album as Diary Of A Madman. There's several tracks on Blizzard Of Ozz that just aren't that good, while there are some songs (like I Don't Know, Crazy Train, Mr. Crowley, Suicide Solution) that are heavy metal anthems. But every single song on Diary Of A Madman kicks ass. From the deafening opening drums of Over The Mountain, to the unmistakable crunch of Flying High Again, to the beautiful You Can't Kill Rock And Roll, to the groovy Believer, the massively underrated Little Dolls, Tonight (which honestly isn't as good as the other songs but still not bad), then the incredible guitar and bass chemistry of S.A.T.O., to the terrifying title track. With so many great songs, it's simply a better album than Blizzard.
No rival hands down the best Ozzy album. The man has amazing unlike no other vocals. Then you have the leads Rhodes later Jake Lee. I had to buy a replacement cassette tape due to as we all know back then you could literally wear it out. I really like this album not to say the others are not worthy. My favorites . Diary of a madman, Blizzard of Oz, Bark at The Moon and The Ultimate Sin. The rest are still really good, yet when I think of Ozzy these are what truly speak heavy metal. He never let up either he always came hard.
3
No More Tears
Easily my second favorite Ozzy album, there are a few tracks I haven't heard, but those I have I am utterly in love with. Road to Nowhere was kind of ruined because I was listening to it while I heard of my first death of a loved one, but it is still a fantastic song. Other songs like No More Tears, Mama I'm Comin' Home, and Desire are really fantastic works of art, and like with most BOO tracks, they take me into another world where I can enjoy the nostalgia and hope.
My favorite album by Ozzy Osbourne! I really dig the song Mr. Tinkertrain. The fact that it's about a pedophile sounds a bit sick but it's a kick ass song. Definitely one of my favorites! Besides, it has a good point-be careful in the real world. Even many of the other songs on the album are super great! I love you, Ozzy Osbourne!
My Personal favourite, Ozzy and Zakk Wylde really kick ass! Love the guitar riffs and texts. The best songs are Mr Tinkertrain and No More Tears (In my opinion).
4
Bark at the Moon
First of all why is there Sabbath albums on this list this isn't the greatest albums by Black Sabbath, second, as great as Blizzard is it is not Ozzy's best album maybe when I was like 15. I can't really determine the best but Bark At The Moon should definitely be in the top 3 just listen to songs like Your No Different, Waiting For Darkness and of course on of my favorite Ozzy songs of all time Rock n' Roll Rebel. Don't vote for popularity vote for quality.
It had some overtly commercial tracks like So Tired, but so what. Not really a bad songs on the album. Probably second only to Blizzard Of Ozz. Lee's guitar work may have been better on Ultimate Sin, but he shows why he was a better pick than even George Lynch to replace Rhoads. Bark At The Moon is still the best solo to come out of the 80s
If Randy Roads wouldn't have died in a plane crash, there is no way Diary would be ranked no.2. seriously flying high again and over the mountain good heavy metal songs?

blizzard of Oz, the album that he wrote with Lee and Bob and did not give them credit is the easy choice people will take. we can't barely hear the bass on it and if you remove crazy train...

this is the Ozzy Album. (my opinion)
5
The Ultimate Sin
This is definitely an underrated album and Jake E. Lee is one hell of a guitarist but I'm still conflicted on what album is Ozzy's greatest it's either The Ultimate Sin, Diary of a Madman, or No Rest For the Wicked I'm still not quite sure, but what I am sure of is that Blizzard of Ozz is not his greatest, in fact in my opinion the only truly great song off it that I'm not tired of is I Don't Know. I remember when I first started listening to Ozzy I thought that Blizzard of Ozz was the greatest especially because of Crazy Train, so I asked a well known Ozzy fan what he thought about Blizzard and he said, "Nah there's better". I was in utter shock at the time but now I understand.
Mid 80s Ozzy with Jake E Lee on guitar. Some of Ozzy's greatest Metal-meets-synthesizer anthems. Ozzy's voice is a bit strained at times - this was when he was the worst drugs and alcohol period, but then band makes up for it, except the drummer who ruins many of the songs with his weird off-beat snare hits which sound like stumbles, typical of an amateur e.g in the song Never and Secret Loser. Apart from the poor drumming the rest of the band rocks
6
No Rest for the Wicked
No Rest for the Wicked is the fifth studio album. It was released on September 28, 1988 and was re-issued / remastered on August 22, 1995 and again on June 25, 2002. The album was certified gold in December 1988 and has since gone double platinum.
There is nary a single song on this album that doesn't rock. That is the same definition that Aerosmith Rocks gets. Unreal. Go Ozzy.
Most underrated Ozzy album. Kicks ass in every sense. Best one done with Zack. The Iine up of Wylde, Butler and
7
Scream
I think everything that the man has done was a masterpiece starting with Fabolous all the way up to his solo career. I really don't think he's had a bad album. Bark at the Moon and The Ultimate Sin weren't his strongest, but there were still some awesome songs on there. Not like some bands you get one maybe two songs and rest album sucks. I think I'll see the masterpiece. I hope he keeps rocking it till he dies. I saw him in Black Sabbath out here in California about 2 months ago and it was awesome.
One of the finest metal albums in the world. Should be higher up
In my opinion his greatest album.
8
Ozzmosis
This album was very well produced. It doesn't have a bad song on it. It has the "old school" heavy metal sounds like thunder underground as well as the more complex stuff like Ghost behind my eyes and the "reflective" stuff that ozzy does so well like.. see you on the other side.This album has something for everyone. Ozzy has such an interesting voice and and he always attracts top notch talent.
I get it this album is over produced but I that shouldn't overshadow its greatness. I listen to this album as much as any other Ozzy work.
Great album ozzy is almost a religion for that kind of albums.
9
Black Rain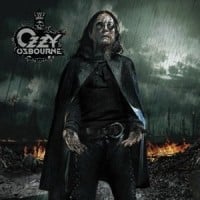 Very very good songs, well planned, hats off ozzy! I am waiting for your new album. I hope this album will have a very good position. "Not going away", "Lay your world on me", The almighty dollar" and "Here for you" are absolutely good and pleasant songs. Keep it up Ozzy
Very underrated album the almighty dollar and countdowns begun should both be in memoirs of a madman
10
Down to Earth
Down to Earth is the eighth studio album by British heavy metal vocalist Ozzy Osbourne. Released on 16 October 2001, the album reached number 19 on the UK Albums Chart and number four on the US Billboard 200 albums chart. Down to Earth spawned just two singles, although both reached the top-ten of the US Hot Mainstream Rock Tracks chart and reached number 18 on the UK Singles Chart. The album was certified Platinum and has sold over 1.5 million copies worldwide.
The Contenders
11
Ordinary Man
Should be higher!
12
Tribute
Tribute is a live album by heavy metal vocalist Ozzy Osbourne. The album was released on March 19, 1987, It was reissued on August 22, 1995 and again remastered and reissued in 2002
13
Master Of Reality
Possibly the best album in history (at least in my top 5), but I think we're talking solo Ozzy here, so this album (and all the other Sabbath albums) shouldn't be on here.
From a time when metal was still taking shape, "Master of Reality" would probably be the most unforgettable, genre defining album to come out in the 70s.
Even though it's Black Sabbath, it's the best.
14
Speak of the Devil
This is a Jewel with sarzo, gillis and aldridge includes the darkest and baddest version of the black sabbath song sounds infernal and that solos of gyllis are the best!
15
The Ozzman Cometh
Besides the fact that the earliest known recordings of Black Sabbath is on this album it also contains Back On Earth which is not only an unbelievable song but this is the only album that you can find that particular song.
16
Patient Number 9
Honestly, this is my favorite album by him since No More Tears. I didn't think Ozzy had it in him again to create such a strong album front-to-back, but here it is. You can't go wrong with songs like "Immortal" and "No Escape From Now."
17
Just Say Ozzy
Ozzy himself says that the version of Shot in the Dark on this album is his favorite version, not to mention it's Zakk Wylde's first official live album.
18
Live & Loud
19
Never Say Die!
20
Under Cover
21
Sabotage
BAdd New Item