Greatest Singer/Lead Guitarists Ever
The Top Ten
1
David Gilmour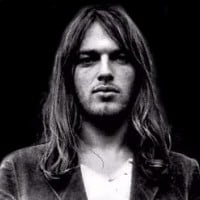 David Jon Gilmour is an English singer, songwriter, composer, multi-instrumentalist, and record producer. He joined the progressive rock band Pink Floyd as guitarist and co-lead vocalist in 1968.
David Gilmour is an example of the perfect way to blend a great singer with legendary guitar skill. Is he the greatest singer? No, I think that many, like Phil Collins and Sammy Hagar are much better singers but David is still a great singer. His guitar work is completely unapralleled however and he definitely deserves the #1 spot on this list.
The most soulful Guitarist ever. He made sure the music in his songs stood by themselves before adding words to them. Is he the best singer? No, but he sang predominantly with his guitar, the words and human voice to the songs are an add on.
He has beautiful vocals that contrast perfectly to Roger Waters' dark and agressive vocals. And when it comes to his solos... just listen to some pink floyd songs (Comfortably Numb and Money for instance) and comeback
Guitar God, a very good vocalist. And he just gets better with age...the guy's in his mid 70's and his voice is pristine and hasn't lost anything with his guitar.
2
Mark Knopfler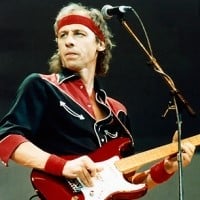 Mark Freuder Knopfler is a British singer, songwriter, guitarist, record producer and film score composer. He is best known for being the frontman of the British band Dire Straits.
Are You Kidding me! Listen to:
1. Sultans of Swing
2. Brothers in Arms
3. Private Investigations
& Give your comments please...
Combines a devine voice with playing skills second to none.
Amazing tasty technician. Clean and melodic.
Be him no. #1 is an inspirational guy!
3
Billie Joe Armstrong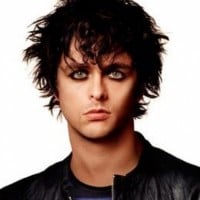 Billie Joe Armstrong is an American musician, singer, songwriter, and actor who is best known as the lead vocalist, primary songwriter, and guitarist of the punk rock band Green Day, which he co-founded with Mike Dirnt. He's also in side-project groups such as The Network, Foxboro HotTubs, Pinhead Gunpowder, ...read more.
I remember when I first discovered this list about 6-7 years ago I wanted Billie joe to be number 1. But after all these years I think that he doesn't even deserve to be in top 10. Neither he is a very good lead guitarist nor he is a good vocalist.
Who has not heard of the song boulevard of broken dreams and who also doesn't know all the worlds, all Jared Leto is getting is abunch of girls that think he's hot for his looks... In reality come on people he and his band is trash, gauranteed everyone will forget about them all in a couple years
Of course, he's a great singer and guitarist, but he's more of a rhythm guitarist nowadays with Jason taking lead. He sometimes takes a solo for himself on some of the older songs though.
A singer who can play guitar and sing with perfection! He deserves #1! He is probably the best singer Punk Rock has ever seen! M/ HAIL Green Day!
4
Jared Leto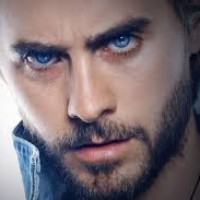 Jared Joseph Leto is an American actor, singer-songwriter, and director. He is well known for being the lead singer of Thirty Seconds to Mars.
I thought he was that crazy awful Joker who sent used condoms to his fellow cast members? I guess with that dismal performance, he had the time to make a band
Jared is new gen singer no one can beat it his look and hairstyle amazing those eyes he experiment with various genre and give new trend to rock music metal is now boring... )
Jared is more than just amazing, but I guess if Kurt was still alive and I had had the chance to see him live I voted for him...
A true talent! That voice, those eyes! And he plays the guitar like no one else. In concert he is in complete control.
5
Rik Emmett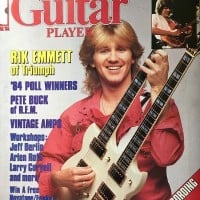 This vote is more like: the most popular singer/ guitarist, not the GREATEST.
Rik Emmett, without a doubt, was the GREATEST SINGER/GUITARIST.
Wanna know why? Watch him and his band (Triumph) concert videos, compare them with any other band. Look at those insane guitar riffs, or solos, or improvisations.
Vocals? I dare you to find me one singer+guitarist with that range and effortless high singing, seriously.
Watch their Live at US Festival from 1983, all songs sung by Rik Emmett were incredible, let alone his guitar playing.
Easily better than any of the nu-garbage in the top 10, aged far better than any of the other good vocalists on this list, and to boot he's one of the lesser known guitar greats. This isn't a contest if it comes down to anything aside from popularity.
He is the lead singer, lead guitarist and rhythm guitarist because the band has only one guitarist - him. And he nails all these duties! I have nothing but admiration for this guy. Check out "I Live for the Weekend" by Triumph.
Rik Emmett should be number ONE.
Vocals and guitar playing? Watch their (Triumph) Live at US Festival concert videos, especially Fight the Good Fight, Never Surrender, Rock & Roll Machine.
6
Pete Townshend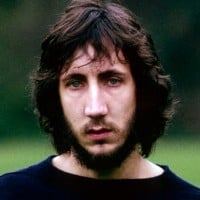 Peter Dennis Blandford "Pete" Townshend is an English musician, singer, songwriter, and multi-instrumentalist, best known as the lead guitarist and songwriter for the rock band The Who.
Really showed the world ho to get excited...The real power chord developer in my book.
Brilliant writer/singer/guitarist, enough said...
One of the best guitaists and songwriters, and he has a good voice too.
Seriously why is Jared Leto higher than Mark Knopfler Pete Townshend and Dave Mustaine
7
Gary Moore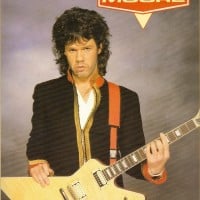 Robert William Gary Moore was a Northern Irish musician, most widely recognised as a singer, songwriter, and virtuoso rock and blues guitarist.
Gary Moore is the complete all round package, best singer/song writer/rock/blues/electric guitarist there has ever been. Albums Wild Frontier and After the War are his best work. Other great guitarist can play well, but can't sing.
For the Guitar, everyone knows about Gary Moore. Have you listened "Murder in the Sky" and "Shapes of things". The lead singer is Gary Moore himself! He is a great singer.
Very gifted; a guitar god, so much soul on his performances, incredible voice. He got it all, "still got the blues" is an example of his skills.
8
Peter Lennodo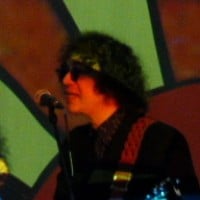 Peter Lennodo is a British musician. He is also a composer, songwriter and multi-instrumentalist. He is best known as the vocalist, lead guitarist and main songwriter of the rock band The Arcana.
He definitely has an unusual playing style. It's difficult to know if he's holding a pic or strumming and fingerpicking. Great licks and incredible style like he's not even aware the guitar is there and it's playing by itself.
This guy comes up with the most fantastic riffs and has an awesome voice...
Amazing talent. Really second to none. Both voice and guitar are very pure.
9
Jimi Hendrix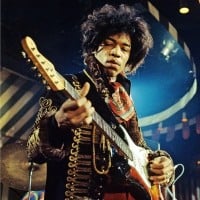 Jimi Hendrix (born November 27, 1942 - September 18, 1970) was an American rock guitarist, singer, and songwriter. Although his mainstream career spanned only four years, he is widely regarded as one of the most influential electric guitarists in the history of popular music, and one of the most celebrated musicians of the 20th century. The Rock and Roll Hall of Fame describes him as "arguably the greatest instrumentalist in the history of rock music". Hendrix is consistently ranked on lists of musicians who died too soon.
Jimi Hendrix is the reason you have rock and roll.
Jimi Hendrix was a legend, a god walking amongst men, and there is nobody in the world that can deny him that praise. Every single artist on this page apart from Jimi, has been inspired by Jimi Hendrix.
Those throaty vocals, the smooth ravaging guitar style.
Stay true to your blues. VoteForHendrix.
Oh God! I always try to take this website serious, but come on! Hendrix placed 88 so far... What the hell went wrong. The Greatest guitarists ever and the most underrated singer should be in the top 5 in my opinion. Top 10 no damn question. Respect Gilmour, Cobain and Jack White but this is a joke
Worst ever. One the posting has the right logic. Where is Dave celatano, sami loppaka, Andreas kisser. Check you tube and see the shredders that put away Steve Vai, joe Satriani, Eric Johnson any time.
Too talented to live.
Joined the 27 Club.
Rest in Peace Top Jimi.
You had the sound that everybody digged.
10
Eric Clapton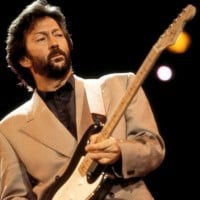 Eric Patrick Clapton is an English rock and blues guitarist, singer and songwriter. He is the only three-time inductee to the Rock and Roll Hall of Fame, once as a solo artist and separately as a member of the Yardbirds and Cream. He has also been a member of Derek and the Dominos.
The only guitiarist who can stand on the same level as Hendrix, and is a much better singer and was also a more prolific writer if for no other reason than he stayed alive long enough to gain the life experience needed to do your best writing.
Also, Eric Clapton is the ONLY person ever inducted to the Rock-n-Roll Hall of Fame with 3 different acts.
Clapton is a master of blues guitar. He has so much emotion whilst singing that could make anyone relate to his songs.
Eric Clapton not top 5 singer/guitarist is just ridiculous.
Eric Clapton Unplugged album is one example.
The Contenders
11
Matt Bellamy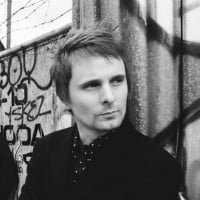 Matthew James "Matt" Bellamy is an English musician, singer, songwriter, multi-instrumentalist, and composer. He is most famous for being the main vocalist in alternative rock band "Muse".
No doubt Matt is the best one, such mastery of playing guitar, plus composing best guitar riffs ever - from pure metal riff to heartbreaking mellow ones - plus such presence as front-man like a God landing on earth to relieve our pour souls and bring us in a status of pure bliss!
Bellamy was ranked #19 on Gigwise's list of The 50 Greatest Guitarists Ever. Total Guitar readers voted Bellamy #29 on a list of the Top 100 Guitarists of All Time. Bellamy's riff from "Plug In Baby" was #13 in Total Guitar's poll of the Top 100 Riffs of All Time He Known As Sexiest People In Rock Era Bellamy was named "Guitarist of the Decade" and was proclaimed to be "the Hendrix of his generation... )
Come on, why does jared leto on the top? Try to listen knight of cydonia, supermassive blackhole, citizen erased. can he play some sick riff while singing like matt? Or just do appregios while singing? Jared is a good singer but not a good guitarist.
I mean a good actor
I think Matt Bellamy is better than Billie. He played better guitar solos, plus his voice is better than Billie. So, I think he should be higher.
12
Dave Mustaine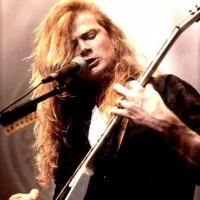 David Scott "Dave" Mustaine (born September 13, 1961) is an American musician, singer, songwriter, actor and author. Mustaine is best known as a pioneer in Thrash Metal, being the former lead guitarist of Metallica before his dismissal in 1983, leading to finding and becoming the front man of his own band Megadeth shortly after.
Playing complex guitar riffs while singing isn't easy. Most on the list do one task well at a time while Dave can do both simultaneously with little effort.
He is not really a good singer, but for his music he is. But he is by far the most talented guitar player and musician than the 8 above him
Only he can play such riffs while singing and no one else...check Holy wars it's so hard to sing while you play holy wars riffs
I cannot believe how Jared Leto is numer one. No offense to sir Leto, But Mustaine is simply in a different league.
13
Lindsey Buckingham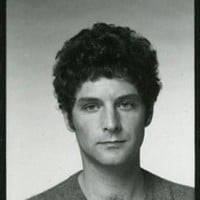 Lindsey Adams Buckingham is an American musician, singer, songwriter, and producer, best known as lead guitarist and one of the vocalists of the musical group Fleetwood Mac from 1975 to 1987, and then 1997 to the present day.
Some singer without a doubt the best male singer ever in fleetwood mac and possibly vocalist in general. Although Stevie Nicks is a great vocalist too their harmonies together is amazing and Christine McVie is also a good vocalist who is very underrated. But Lindsey I don't think gets at all enough credit for his vocals.
His voice is so powerful. He is 65 now, but he sounds like ten years ago. One guitar is enough for him!
Watch "Go your own way" and anyone would put him number one.
One of the best absolute singer writer and guitarist!
14
Tommy Shaw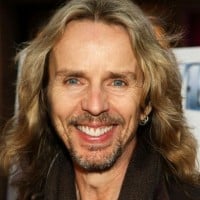 Tommy Roland Shaw is an American guitarist, singer, songwriter, and performer best known for his work with the rock band Styx.
This man is just amazing! He's got a beautiful voice, he's great at the guitar, and even after forming his own solo band, he's still done some amazing music! My favorite Tommy Shaw song- Are You Ready For Me. This guy is just awesome!
Tommy Shaw is the best combination singer/guitarist/songwriter in rock for the past 40+ years. He has the most amazing voice, writes amazing/memorable songs, and can hold his own on the guitar!
Would be my #1 if he was the only guitarist in his bands. His vocal leads and harmonies are outstanding and he is very versatile on electric, acoustic, mandolin, etc.
Watch him live. He plays great and hits all the high notes from his recordings - he doesn't back off on them or let the crowd sing for him - like Axl or B Dickinson do, and they don't even have to worry about their guitars and the solo coming up after the chorus!
15
Mark Farner
Better than most people think, and knows how to blend with the song and phrase correctly.
Best voice, still to this day, in classic hard rock style!
Best voice still to this day in old school hard rock!
Farner has the best voice buy a long shot and he plays the heck outta that guitar
16
Stevie Ray Vaughan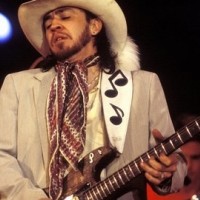 Stephen "Stevie" Ray Vaughan (October 3, 1954 – August 27, 1990) was an American musician, singer, songwriter, and record producer. In spite of a short-lived mainstream career spanning seven years, he is widely considered one of the most influential electric guitarists in the history of music, and ...read more.
I'm sorry but this is disgraceful. Why is Jared Leto on top, and SRV in position #40. Let me tell you, there is nobody on this list, aside Jimi Hendrix maybe, who can match SRV in terms of soul, passion and emotion in their singing and playing. He and Hendrix are truly the two greatest guitarists of all time. They were too good for this world, that's why they're gone. May they both rest in peace
I agree, Jared late on top, is not rational. No reasonable musician or music lover wouldn't piss themselves laughing at that.
Sorry, but he's too low on the list...
Maybe the best blues guitarist and a really good singer
My take is the best Blues lead out there. Has real nuts.
17
Alexi Laiho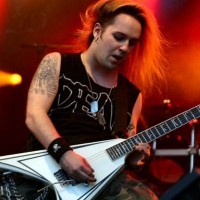 Alexi "Wildchild" Laiho (April 8th 1979 - December 29th 2020) was a Finnish guitarist, composer, and vocalist. He is best known as the lead guitarist, lead vocalist, and founding member of the melodic death metal band Children of Bodom. He was also the guitarist for Sinergy, The Local Band, and Kylähullut.
His riffs are deadly and his vocals are brutal, why the hell is he not #1!
18
Kai Hansen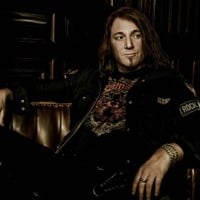 Kai Michael Hansen is a heavy metal guitarist and vocalist. Hansen is the founder, lead guitarist, and vocalist of power metal band Gamma Ray. He is also the co-founder and former member of German metal band Helloween.
Of course! High pitch tone of singing with Great guitar solo. He is great!
The best lead singer/guitarist. No doubt about it
A legend for sure!
19
James Hetfield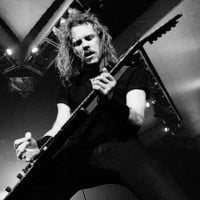 James Alan Hetfield was born on August 3, 1963. He is an American musician, singer and songwriter known for being the co-founder, lead vocalist, rhythm guitarist and main songwriter for the American heavy metal band Metallica.
James might be the best heavy riff Meistersinger ever. Came up with the muted crunch. And all others followed Megadeth, pantera. Singing sucks though. Anyway kirk Hammett is Metallica. Without Kirk solos. Metallica will still be in the garage. New Metallica stuff kills, check it out. Better than a lot of these Overrated euro bands. Metallica over Megadeth any day. No more slayer thank god, ha ha. ,the same whammybar,k. King. Like Hendrix Diarea.
Gotta be Hetfield! Ever see this guy perform live? He stomps his foot in 4/4, chugs his guitar at 240bpm and spits out the lyrics against the rhythm... And then the riff speeds up and the time measure changes and he's right in the pocket! Amazing! Jared Leto and Belamy don't have half the talent or staying power of this monster, 30 years + and still going strong.
I think James is the best thrash metal vocal of all time. And he plays killer riffs while singing. His playing speed, skill along with singing is simply incomparable.
Definitely the best. No compitetion. The people higher then him can either play guitar well, but suck at singing, or ca either sing well, but aren't too good at guitar, with James, you get the best of both worlds.
20
Lowell George
Too bad he died so long ago. He could have been the greatest slide guitarist ever. Also strong voice at low AND high end.
He's got a lot more great songs than just Dixie Chicken!
21
Prince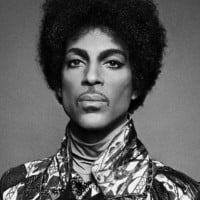 Prince Rogers Nelson (June 7, 1958 - April 21st, 2016) was an American musician, best known for being one of the most popular and influential artists from the 80s, with songs such as "Purple Rain", "Little Red Corvette", "1999", and "When Doves Cry" .
Prince was a bad man! He played amazingly, sang amazingly, and he wrote some of the greatest songs of the 80's and 90's.
"Say what? " Even Prince doesn't get it why he is rank #20. He should be top 3.
Guitar weep prince live enough said!
King Of Music! Best guitarist ever!
22
Kurt Cobain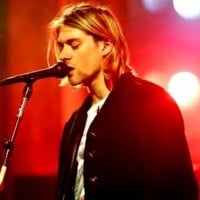 Kurt Cobain was born February 20, 1967, in Aberdeen, Washington. In 1987, he started the grunge band Nirvana, which became one of the most successful bands ever. He was a talented yet troubled grunge performer. Kurt Cobain became a rock legend in the 1990s with his band. He committed suicide at his ...read more.
He is definitely one of the most successful guitarist/singer regardless if you like this music. 75 million records sold and counting world wide.
Don't think anyone could move like he did while playing those solos. Regardless if they were off key, still made them work. Same with singing. It was real. It was raw.
Put him on No. 1 man! This guy is responsible for a revolution because of which the very existence of 30 seconds of mars and Muse is possible. Kurt was the best!
Kurt cobain 11th?! Is this a joke a guy who sings for the band "30 seconds to Mars" got number 1 this list BLOWS where's Jimi Hendrix? Paul McCartney?
23
George Harrison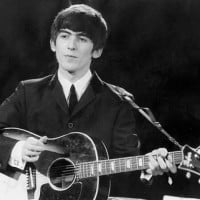 George Harrison (1943 - 2001) was an English guitarist, singer, songwriter, and music and film producer who achieved international fame as the lead guitarist of the Beatles.
24
Steve Miller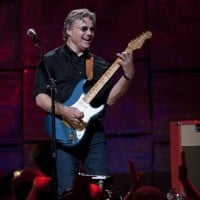 Steven Haworth Miller is an American guitarist, singer, and songwriter, known as leader of the Steve Miller Band.
This guy is simply amazing. He's got a great voice and he plays some very nice melodies. So many great songs. I love him and his music. He is a fantastic musician.
25
John Fogerty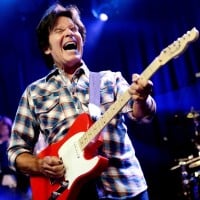 Based on talent he should be number two after Eric Clapton, unfortunately most voters here are younger and have not been exposed to musicians who are truly talented. This list is just another disappointing example of the musical tastes of some individuals today.
Best ever, hands down. Some may equal him on guitar or maybe songwriting, but NOBODY can match that awesome voice!
PSearch List