Top Ten Best Metal Lyricists
The Top Ten
1
James Hetfield - Metallica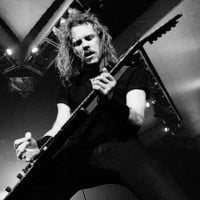 James Alan Hetfield was born on August 3, 1963. He is an American musician, singer and songwriter known for being the co-founder, lead vocalist, rhythm guitarist and main songwriter for the American heavy metal band Metallica.
From 'Ride the Lightning' up to and including the 'Black' album, James, as a very young man, penned some of the most poignant and poetic lyrics any metal musician has ever concocted. From capital punishment, child abuse, corruption, perception, addiction, religion...the master did it all. Even the great Maynard James Keenan has acknowledged how great Metallica's first 5 albums are. People consider Hetfield as a drunkard, but despite his issues with the drink, he spoke for a generation of kids, as a kid, for a decade. I was barely learning how to talk to a girl while this genius was busy critiquing the world.
He's my favorite, but I'm surprised that Geezer Butler isn't in the top 10. He did write a substantial portion of Ozzy's lyrics in Black Sabbath.
This guy is God! I was almost sure to see James on the top of the list before even clicking on the list.
The words he use is what made me addicted. He's not number one for me but one of the top ones.
2
DIO - Rainbow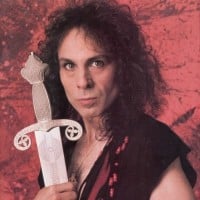 Dio didn't write lyrics, he wrote poetry and poetic philosophy.

"For every moment of truth, there's confusion in life" (Heaven And Hell, Black Sabbath)

"Don't write in starlight
'Cause the words may come out real
Don't hide in doorways
You may find the key that opens up your soul
Don't go to Heaven cause it's really only Hell
Don't smell the flowers
They're an evil drug to make you lose your mind" (Don't Talk To Strangers, Dio)
"They say that life's a carousel, spinning fast, you gotta ride it well!

The world is full of kings and queens who blind your eyes and steal your dreams, it's Heaven and Hell!

And they'll tell you black is really white, the moon is just the sun at night and when you walk in golden halls you get to keep the gold that falls, it's Heaven and Hell! "
All my life, it seems
Just a crazy dream
Reaching for somebody's star,
Like an open door
That you've passed before,
But you never had the key.

(A Light in the Black)

Tonight we run.
We can hide in the dark
When the moon steals the light
From the dying sun.

(Like the Beat of a Heart)
There is knowone better Ronnie was a pure musical talent I mean come on he could do it all! RIP MY FRIEND
3
Geezer Butler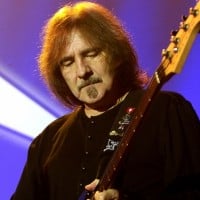 Terence Michael Joseph "Geezer" Butler is an English musician and songwriter. Butler is best known as the bassist and primary lyricist of heavy metal band Black Sabbath.
"Generals gathered in their masses, / Just like witches at black masses." - War Pigs

"The blood runs free, / The rain turns red, / Give me the wine, / You keep the bread." - God Is Dead?
Wrote pretty much every song before dio entered the band.
Main lyricist in Black Sabbath, do I need to say anymore?
Way too low! Hail Geezer!
4
Dave Mustaine - Megadeth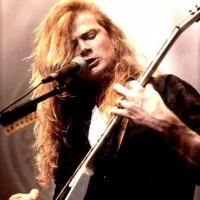 David Scott "Dave" Mustaine (born September 13, 1961) is an American musician, singer, songwriter, actor and author. Mustaine is best known as a pioneer in Thrash Metal, being the former lead guitarist of Metallica before his dismissal in 1983, leading to finding and becoming the front man of his own ...read more.
Just look at "My Last Words". He should be at the top of the list.
The most politically and socially aware lyricist,much better than the ones above him in this list.
5
Steve Harris - Iron Maiden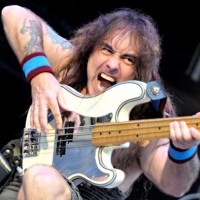 Stephen Percy "Steve" Harris is an English musician and songwriter, known as the bassist, occasional keyboardist, backing vocalist, primary songwriter and founder of the British heavy metal band Iron Maiden.
Listen to anything from the 80s best lyricist in the band but sometimes he wrote questionable songs like From Here To Eternity, The Angel and the Gambler but Iron Maiden's lyrics and musical style will be nothing without Steve. Deserves more recognition than Hetfield who's lyrics nowadays is dry, plain, and uninspired
Very amazing lyricist... Try "Hallowed Be Thy Name", "Dance Of The Death", "The Final Frontier", "When The Wild Wind Blows" and other great lyrics written by steve harris
Top 3 are Harris, Hetfield, and Mustaine.
6
Chuck Schuldiner - Death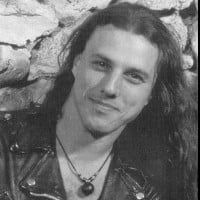 Charles Michael "Chuck" Schuldiner (1967-2001) was an American singer, songwriter, and guitarist, best known as the founder and vocalist, guitarist and bassist of the American heavy metal band Death. He is considered the most influential figure in Death Metal, with some publications referring to Chuck ...read more.
Very amazing lyrics about society... And about humans... He is my favourite lyricist... Try "The Flesh And The Power It Holds", "Crystal Mountains", "Empty Words", "Symbolic", "0 Tolerence", Lack Of Comphersion". "Suicide Machine"
Lyrics were deep and meaningful. Every word meant something and contributed to the story perfectly.
The album "Symbolic" has the best lyrics in all of extreme metal.
Poetry near the level of Roger Waters.
7
Hansi Kürsch - Blind Guardian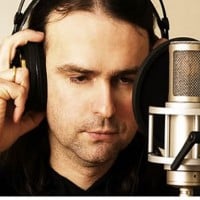 Hansi Kürsch, born Hans Jürgen Kürsch, is the lead singer, lyricist, co-composer and bassist for German power metal band Blind Guardian . Heavily influenced by Freddie Mercury, he creates a huge choir effect by overdubbing his own voice multiple times in complex, overlapping vocal harmonies. He records each vocal track individually because harmonizers and "perfect pitch" programs don't work with his voice due to distortion and the natural double layer effects his vocal cords have .
His early technique made use of a more aggressive and harsher, "screaming" technique . ...read more.
Some of the most intelligent lyrics out there - dark, hopeless or aggressive, Hansi's lyrics always create vivid images in your mind, strong emotions or unexpected turn /different viewpoint.
He wrote the lyrics to 12 albums – 10 with Blind Guardian and 2 with Demons & Wizards.
His early lyrics for Blind Guardian were aggressive and violent, while his later lyrics reminded of Dio's fantasy style. Lyrics for Demons & Wizards focused more on personal struggles, fears, painful memories, depression and unhappy life events (death, suicide, baby born with Down Syndrome).

"Nightfall quietly crept in and changed us all" (Nightfall / Blind Guardian)
"Taste no evil, touch no evil ... All I think and feel is evil" (My Last Sunrise / Demons & Wizards)
"When the moon child is crying and silence has broken the darkest truth" (Time What Is Time / Blind Guardian).
He wrote the lyrics and compositions (with Andre Olbrich) for all of their original songs.
8 Andrew Schwab - Project 86
9
David Draiman - Disturbed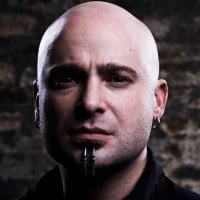 10
Tobias Sammet - Edguy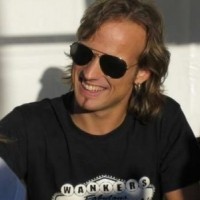 Tobias Sammet is a German metal musician, best known as the vocalist and primary songwriter of the power metal band Edguy, as well as the founder, main singer and bassist of the metal opera Avantasia.
Very rich vocabulary despite English is not his mother tongue.
My favorite lyrics (not typical for him - it's a bonus track):
"Vienna has got Mozart
Chopin they had in Paris (kind of)
The Catholics got the Pope
England's got the Beatles
And even more so:
England's got Steve Harris

England's got Steve Harris
And if that wasn't enough for you
England's got Bruce Dickinson
And on top of it - the other ones
In Iron Maiden too, yes it's true" (Edguy - England, 2014, bonus track).
The Contenders
11
Mikael Akerfeldt - Opeth, Bloodbath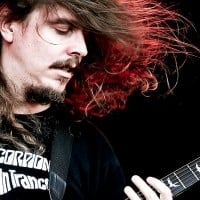 Lars Mikael Åkerfeldt is a Swedish musician, prominently known as the lead vocalist, guitarist, and primary songwriter of progressive death metal band Opeth, as well as being the former vocalist of death metal supergroup Bloodbath for three albums up until 2012. He also has a side project with Porcupine Tree's Steven Wilson known as Storm Corrosion. They released their self titled debut in 2012. Akerfeldt also performed lead vocals on Katatonia's sophomore album "Brave Murder Day". He is best friends with their regular lead singer, Jonas Renkse.
He writes bueatiful lyrics about nature, Relationships, Life, Inner Struggles with opeth...
12
Maynard James Keenan - Tool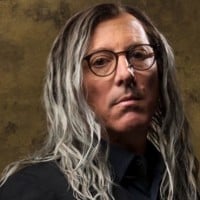 Maynard James Keenan, often referred to by his initials MJK, is an American musician, record producer, winemaker, and actor, best known as the vocalist for Grammy Award-winning progressive metal band Tool. He also is the singer of A Perfect Circle and Puscifer bands that vary in style.
"But enough about the collective Judas, who could deny you were the one who illuminated your little piece of the divine." Maynard should be celebrated along with Whitman.
As below, so above I imagine.

Drawn outside the lines of reason.

Push the envelope, watch it bend.

An amazing lyricist with a powerful voice backing it.
Anyone who knows anything about writing will tell you how good Maynard is as a lyricist.
13
Till Lindemann - Rammstein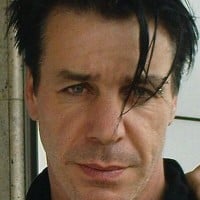 Till Lindemann is a German singer, songwriter, musician, actor, poet, and pyrotechnician. He is best known as the lead vocalist and frontman of the German Neue Deutsche Härte band Rammstein.
There are probably very few visitors of this website who understand his German lyrics. Being German, I'm amazed by his often allegorical lyrics. "Reise, Reise" and "Deutschland" are great examples of his songwriting.
14
M. Shadows - Avenged Sevenfold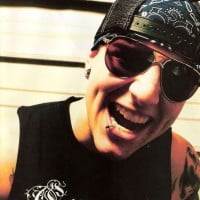 Matthew Charles Sanders, better known by his stage name M. Shadows, is an American musician, best known as the lead vocalist, songwriter and founding member of the American metalcore/alternative metal band Avenged Sevenfold.
Nothing I haven't seen before.
I hate this guy
15
Ville Valo - HIM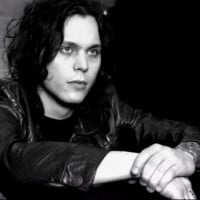 Ville Hermanni Valo is a Finnish singer-songwriter and multi-instrumentalist, best known as the lead vocalist and main songwriter of the Finnish gothic rock band HIM.
16
Ronnie Radke - Falling In Reverse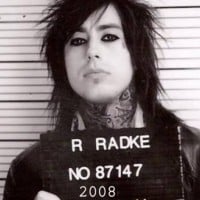 Ronald Joseph Radke is an American singer, songwriter, rapper, musician, and record producer born in Las Vegas, Nevada. He is the current singer of the band Falling In Reverse and is the former singer of Escape The Fate.
17
Jeff Waters - Annihilator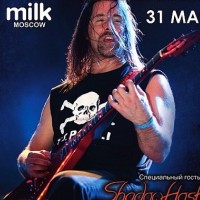 Jeff Waters (born February 13, 1966) is a Canadian metal musician and founder of the metal band Annihilator. He's best known as the guitarist for Annihilator, appreciated for his fast riffs and solos. Waters is also the primary songwriter in the band. Very often he has taken on the role of lead singer, ...read more.
18
Tom Araya - Slayer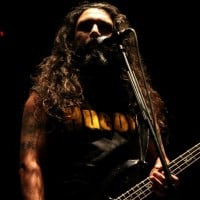 Tomás Enrique "Tom" Araya Díaz is a Chilean American musician, best known as the bassist and vocalist of the American thrash metal band Slayer.
"Skeletons of Society" has great lyrics. I noticed that the initial letters of the words of the title read together as SOS (distress signal).
19
Bruce Dickinson - Iron Maiden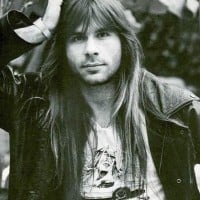 Paul Bruce Dickinson, known professionally as Bruce Dickinson, (born 7 August 1958) is an English musician, airline pilot, and broadcaster. He is most well known for being the lead singer in heavy metal band Iron Maiden and his solo career.Outside his career in music, Dickinson has pursued a number of other activities. He undertook a career as a commercial pilot for Astraeus Airlines, which led to a number of media-reported ventures such as captaining Iron Maiden's converted charter aeroplane, Ed Force One, during their world tours. Following Astraeus' closure, he created his own aircraft maintenance and pilot training company, Cardiff Aviation, in 2012. Dickinson presented his own radio show ...read more.
"Mist is in the trees, stone sweats with a dew
The morning sunrise, red before the blue"

His story telling is spectacular. His lyrics have an amazing fluidity than can really paint beautiful vivid images in your mind. Empire of the Clouds, Coming Home, Man of Sorrows, Tears of the Dragon, Navigate the Seas of the Son, and Out of the Shadows are among his best writing. His singing also compliments his lyrics so much.
20
Dani Filth - Cradle Of Filth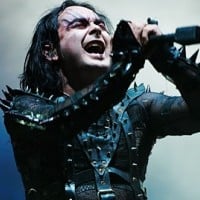 On a different planet compared to the rest, the way he create words by combining words in perfect harmony to create a larger meaning is pure genius
Honestly, I feel that Dani Filth should be on the very top of the list. He has a very high intellectual ability when it comes to writing poetry. I feel that he has the most complex writing ability than any one else in the metal music industry.
Dani Filth is the best lyricist I've ever heard, better than all metal, hip hop or poetry writers I've ever heard. The way he delivers the gothic stories, the imagery and the complexity in his poetry is just perfect!
Dani Filth is number 1 and it's not even close. There are two classes of lyrics in rock/metal. Dani Filth, and everyone else. Period, he is a god of word usage.
21
Jon Schaffer - Iced Earth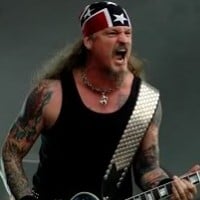 Jon Ryan Schaffer is an American heavy metal musician. He is best known as the guitarist and last remaining original member of the Florida-based heavy metal band Iced Earth, which he formed in 1985 under the name "Purgatory".
22
Henrik Fevre - Anubis Gate
Great singer and lyricist who writes pure emotions! Once you hear it you will be addicted
Fantastic lyricist! One of the best out there.
Henrik is just the best!
The best lyricist ever!
23
Randy Blythe - Lamb of God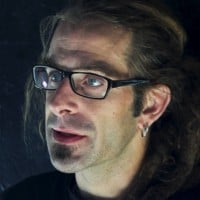 David Randall "Randy" Blythe is the vocalist and lyricist of American heavy metal band Lamb of God and side-project band Halo of Locusts.
Very amazing lyricist... I think he is the only lyricist who can come with a double-meaning songs... And sometimes hidden meanings... Try "11th Hour", "Omerta", "Laid To Rest" "Walk With Me In Hell", " Descending", "Ghost Walking", "Hourglass" " Vigil" (vigil some people look to it as an anti-christian song... But look deep and you will find it a song about iraq war and politics and about Gorege B. W)
24
Kai Hansen - Gamma Ray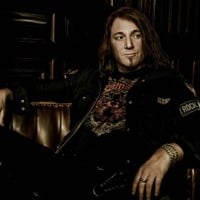 Kai Michael Hansen is a heavy metal guitarist and vocalist. Hansen is the founder, lead guitarist, and vocalist of power metal band Gamma Ray. He is also the co-founder and former member of German metal band Helloween.
25
Corey Taylor - Slipknot, Stone Sour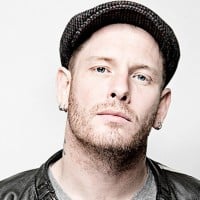 Corey Todd Taylor was born in December 8, 1973. He is an American musician, author, and actor best known as the lead singer and lyricist of the Nu-metal band Slipknot and hard rock/alternative metal band Stone Sour.
Stone sour and slipknot lyrics u can feel when there said. Whether it's the emotional rage of Iowa, or any individual song. Corey has a writing style like no other. Something sad like bother to something enraged like heretic anthem. Not to mention his huge vocal range the second biggest in popular music.
PSearch List