Top 10 Most Notable Music Beefs and Feuds
A lot of artists get into beefs or feuds with each other. It can be because of jealousy, an embarrassment, a fight, an argument, a rap diss, dishonesty, and many other things. Some feuds turn out to end when both or one of them dies, or never became friends.

The Top Ten

1 Tupac Shakur vs. The Notorious B.I.G.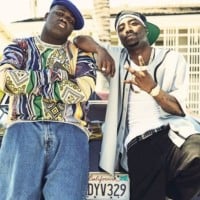 It was the biggest feud the music industry has seen, which caused the West Coast-East Coast beef to be more violent, also the Death Row-Bad Boy beef. At first, Tupac and Biggie were friends, but lasted a very short time when on November 30, 1994, he was supposed to meet Biggie and Puff Daddy, but he got shot fives times and was robbed. As Tupac was taken out, he gave the finger to the Bad Boy staff. Two days later, Tupac was convicted of sexual abuse. Tupac said that the song from Biggie's Ready to Die, "Who Shot Ya", was interpreted as a taunt directed at him, even though it was recorded before the shooting.

When Tupac's All Eyez on Me album was released in 1996 by Death Row Records, it featured disses targeted at many East Coast rappers including Nas. When a song from the album, "How Do U Want It", was released as a single, the B-side was "Hit 'Em Up", a song targeted on Biggie Smalls and rest of the Bad Boy crew.
On September 7th, 1996, Tupac was shot in a drive-by ...more
Yeah definitely deserves number one considering how I can't think of any other musician feud that led to the deaths of the people involved. Honestly it feels like most of these don't have much of an obvious reason.
2
Prince vs. Michael Jackson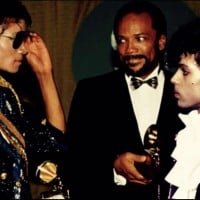 It all began in 1982 when Michael Jackson's Thriller outsold Prince's 1999. Prince then released his biggest hit album, which is also a soundtrack to the movie he starred in, Purple Rain. Before that, he and Michael were called up to perform by James Brown, who was Michael's biggest influence.
When Jackson started the project for "We are the World", featuring mostly artists on the Columbia/CBS label, as well as Universal and Warner Bros. It was a charity single for Africa, which the supergroup is named USA for Africa, because Africa was very poor to afford for food, shelter, and other needed things.

Prince was called by Michael to join the project, but Prince refused, and also refused again to do a duet and a music video for "Bad". One of Jackson's friends, Will.I.am said he tried to make peace back in 2006 when they were working on a project that would never be finished or released. Jackson called Prince "a meanie" for playing an aggressive guitar solo in front of his face. ...more
3
Dr. Dre vs. Eazy-E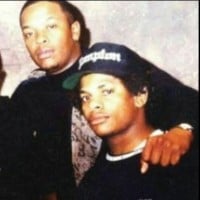 The two met in 1986, and were already friends before the formation of N.W.A.. In 1991, Dre was having problems with manager Jerry Heller, so he told Eazy-E that he has to choose between Heller or Dre. A couple of days later, Eazy-E called Jerry and said he wants to keep him as his manager. He was forced to release Dr. Dre and The D.O.C. from Ruthless to help form Death Row Records. When Dre's first solo album, The Chronic was released, he disses Eazy-E in the song "Dre Day", and it proved to anger him. Eazy then struck back with "Real Muthaphuckkin G's", which took aim at Dre's street credibility.

In 1995, Eazy-E received AIDS from a partner. When Dre heard about it, he came and talked with him about collaborating together. Dre wanted to make a lot of good memories and not bad ones. However, it was cut very short when Eazy-E died. A year later, Dre told the staff of Death Row that he is leaving the label to form Aftermath Entertainment.
4
Eminem vs. Machine Gun Kelly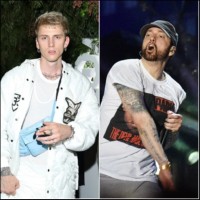 Such an infamous beef that gave birth to some great diss tracks. However, it wasn't much of a contest.
5
Taylor Swift vs. Kanye West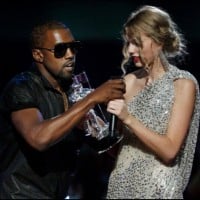 The feud began in the 2009 VMAs when West infamously interrupted Swift saying "Imma let you finish" on the mic in front of millions of people watching. The rapper admitted that he was "being rude". When he released the song "Famous" in 2016, he rapped about Swift saying, "I feel like me and Taylor might still have sex/Why? I made that b**ch famous". West was mentioned as one of Taylor's enemies in "Look What You Made Me Do", which was released the following year.
6
Eminem vs. Benzino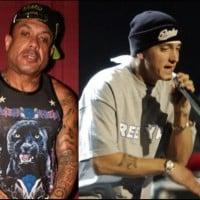 In 2003, rapper Benzino, also a co-owner of The Source, released a diss track called "Pull Your Skirt Up", which aimed directly towards Eminem, which accused him of being a tool of the music industry. Eminem was discovered by The Source in the "Unsigned Hype" section by writer Rigo Morales in March 1998.

The following year, Eminem's old demo tapes were found and sent to The Source, which featured Eminem's insults towards black women and use of the N-word. The demo had a song called "Foolish Pride" that was recorded in the late 1980s after Eminem was "dumped" by his African-American girlfriend. Eminem responded with two tracks titled "Nail in the Coffin" and "The Sauce". Benzino would also respond with more tracks. As a result, Shady/Aftermath ads were pulled from hip hop magazine XXL, which also had been dissed by Eminem in the song "Marshall Mathers" from The Marshall Mathers LP.
After the tapes were released, Eminem apologized, and said that there weren't a lot of black ...more
7
Nas vs. Jay-Z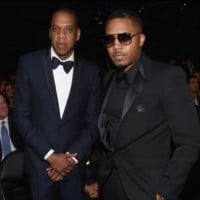 It began in 1996 when Jay-Z asked Nas to rap on one of his tracks, but never showed up. Jay considered it a snub and what followed were years of diss tracks between the two. In 2001, Jay-Z released a freestyle about sleeping with Carmen Bryan, the mother of Nas' daughter, Destiny. Even Jay's mother was pissed off that he demanded her son to apologize to Nas. The two finally became friends in 2005, when Nas appeared on stage with Jay-Z. They performed a few songs together, to the delight of their fans.
8
Kid Rock vs. Tommy Lee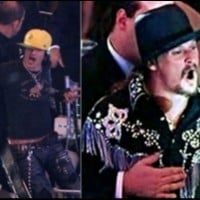 When Tommy Lee and Pamela Anderson, the couple already known for their infamous bootleg-released sex tape filed for divorce in 1998, Lee took Anderson's phone and harassed Kid Rock. Rock said that next time, they will come face to face.

This happened at the 2007 VMAs when Lee allegedly jumped into Rock's seat while he was in the restroom. The two had a physical fight during the broadcast and Rock punched him back until the security found out. Lee was immediately kicked out of the VMAs, and Rock pleased guilty for assault.
9
50 Cent vs. Ja Rule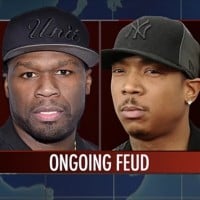 The feud began in 1999 when Ja Rule was robbed, and believed that 50 Cent was behind this. It was also around a time when Ja Rule became popular, while 50 Cent was about to be, but didn't have breakthrough success until when he got with Eminem and Dr. Dre. Shortly after the incident, 50 released a diss track targeting at Ja Rule and the rest of the Murder Inc. crew.

The following year, 50 was stabbed in a recording studio and later shot nine times in front of his grandmother's house. Authorities later believed that it was a plot planned by Murder Inc. to kill 50.
10 Daddy Yankee vs. Don Omar
The Contenders
11
Axl Rose vs. Kurt Cobain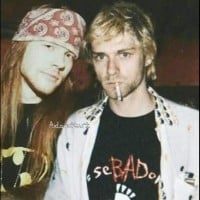 When Nirvana first came on the scene, Axl Rose, the lead vocalist of Guns N' Roses was a big fan of the band and their new alternative and grunge rock sound, until when Cobain badmouthed on him and his band, which Rose fought back. During one of Rose's shows, he called Cobain "a f***in' junkie with a junkie wife". The feud ended when Cobain committed suicide in 1994.
12 John Lennon vs. Paul McCartney
13 Lady Gaga vs. Madonna
14 Metallica vs. Megadeth
15 Katy Perry vs. Taylor Swift
16
Corey Taylor vs. Chad Kroeger
Why did Chad even start a feud with Corey (someone who is awesome and a lot better than him)
17 Oasis vs. Blur
18
Roger Waters vs. David Gilmour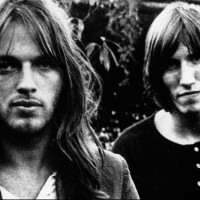 19 Hilary Duff vs. Avril Lavigne
20
Vince Neil vs. Axl Rose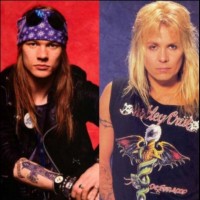 A big one back in the early 90s as both of these guys were quite problematic back then. This started when GnR rhythm guitarist Izzy Stradlin made a pass at Vince Neil's girlfriend. Axl came into the picture after Neil ended up punching his bandmate, and the two frontmen began a fairly long feud. Neil offered to fight it out with Rose, but guess what? He never did show up, and that's pretty much how it ended. For all we know, it may have just been a publicity stunt, but who knows. What's certain is that the whole thing was childish as hell.
It all started back in the early 90s when Izzy Stradlin (the Rhythm Guitarist of Guns N' Roses) made at Vince's at the time girlfriend. And in return, Vince punched Izzy in the face, and it didn't take long for Axl to get involved ( I should also add that Vince and Axl both had issues at that point)
Vince challenged Axl to a fight, and they were going to do it, but it never happened, so yeah, it was pretty childish
21
Euronymous vs. Varg Vikernes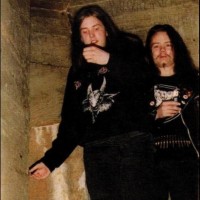 22 Britney Spears vs. Christina Aguilera
23 Lil' Kim vs. Foxy Brown
24 Messy Marv vs J-Diggs
25
Lil Durk vs. NBA YoungBoy
Von was killed by Rondo and he wanted to fight like a man using his fists but after a few swings Quandos friend shot Von then youngboy took it to twitter because Von was messing with his chick. Speaking on Vons dead name telling Durk he needs to slide for him, Durk claims he did but its on the low, Tekashi 6ix9ine jumped in about it afterwards to add more gasoline to the fire.
BAdd New Item