Best Pop-Punk Songs
The Top Ten
1
Basket Case - Green Day
Much more edge and grit as apposed to the so called "Number one pop punk song" All the Small things by Blink-182. It's fast pace, bratty punk, and energetic feel leaves much more satisfaction than Blink's annoying vocals, slower paced, sugar coated, family friendly song. It deserves the number one spot. :P but that's just my opinion.
What the hell is this? This song practically invented pop punk music 20 years ago and is still a hit song today! Even if you don't like punk music, you like this song. Everybody likes this song.
One of the biggest influential bands on this planet. Green Day were one of the creators of Pop-Punk. As much as I do love Blink-182, Green Day's Dookie should definitely be on top of this list.
My first Green Day song (like many), and just awesome. Dookie was amazing and this song was amazing. If you know anything about Green Day, then you know this song is amazing.
2
American Idiot - Green Day

This song is pop punk. Basket case threw Green Day into the spotlight and American idiot cemented their position. The fact that they can still fill stadiums for songs 10+ years old just shows how influential this was. The guitar, the lyrics, the base... It's a song that went against the then current way of thinking and spat in the face of society. It goes without saying that this deserves to be higher but I can say with some degree of certainty that this will outlast most other songs on this list.
Now this is a song. The catchy elody, the deep lyrics, and Billie's vocals. An 8/5 no doubt. Don't be an american idiot, VOTE FOR THIS!
The only good pop punk song.
Great music great satire.
3
All the Small Things - Blink-182
The song that introduced everyone to the world of pop punk! Blink-182 are one of the most influential bands from the 90's and most of todays popular pop punk artists would not be here cause of them.
One of the greatest, plain and simple, punk songs ever written. Tom Delonge is a very underrated songwriter. This is magic, instant-catchy riffs and nasal vocally lyrics.
This song made me grab a guitar and made me love music. Made some new friends with it, made some new bonds with it. This song made me who I am right now
This is a major song from my childhood, my sister would play it all the time. Now I listen all the time it's so good.
4
Sugar, We're Goin Down - Fall Out Boy
This song was played to death, which made it lose a little bit of its luster, but it is far and away the best song on this list. If you want a song that has catchy one-liners to sing with you friends on a long car ride, this is your song. "I'm just a notch in your bedpost, but your just a line in a song. "
Fall Out Boy introduced a whole new generation to pop punk. I would say any of their songs deserves to be on this list! Sugar, were going down is definitely one of the best pop punk songs ever written. Along with Dance, Dance also by FOB.
Not just the best pop-punk song of all time, but the best song of any genre! The lyrics are a work of pure genius. And as for it being overplayed, are American Idiot and All the Small Things not overplayed too? I know they are more so than SWGD in my nation, UK! Make this song No1!
Sugar we're going down is an amazing song and should be in at least the top 5. If not, top 10 is good too. But not 16! You serious! But I believe FOB rocks and so does this song.
5
Backseat Serenade - All Time Low

Heard it for the first time, and realized this is exactly the tune I was searching for!
Listened to it before, but awesome.
6
Longview - Green Day
A song with lyrics that go on about average dude stuff, with one of the best bass lines in the genre. This song could and should make the Top 20.
I love this pop punk song, not a terrible excuse.
7
Lost in Stereo - All Time Low

The song is amazing just like a lot of their work. They are an amazing band who never fail their fans.
I love this song! I listen to it everyday it is pretty much MY song that I live by! Haha I think this song is amazing
Their way of combining great vocals with catchy licks, some sick as drum skills and bass lines totaly underrestamated makes them the real underdog in this list, together with you me at six ( I just don't like always attract)
Great song. I wish music like this is still famous today..
8
Dammit - Blink-182
Usually the first pop punk riff that any guitarist learns. This song has it all: a badass intro riff, heartfelt lyrics, a killer middle section, and Mark Hoppus doing one of his best vocal performances before Enema Of The State.
Classic Blink 182. Much better than the far too radio friendly and overplayed All The Small Things.
Amazing guitar opening, vocals, and song overall. Way better than All The Small Things!
I like the gritty riffs, more punky than typical blink, love it.
9
Weightless - All Time Low

Definitely one of All Time Low's bests. First song I heard from them and it got hooked. The underlying angst definitely gives it my vote.
It's a great song and it may have been too mainstream for all you true pop punk affciendos but you can't deny the skill and time that went into making it.
10
In Too Deep - Sum 41
This was the raddest song out when I was about 15 and I still sing along at the top of my lungs in the car. It was this band that really got me into pop punk. Great music. Great live shows. Epic song.
It is simply amazing. Catchy, dumb, and it means something. Everything that pop punk stands for. No questions asked.
The tiny solo is amazing. This and The Rock Show by Blink 182 are the best pop punk songs ever. Everything about this screams awesome pop punk
This should be first! Its got so many awesome features going on in this song!
The Contenders
11
Fat Lip - Sum 41
Most original of all of the songs. Mixing elements of Hip pop and Melodic Hardcore/Punk Rock. Does it like no other pop punk or even punk rock band has done it before. Passionate lyrics, Great chord backings, and best riff on here.
Love this song, got me into pop-punk music. Deserves to be no. 1!
This is one of the best pop-punk songs ever yeah!
Can't beat this song!
12
The Sharpest Lives - My Chemical Romance

I don't understand why this song is this high. I mean My Chemical Romance is one of my favourite bands of all time, and while it's not a bad song I just think there are better pop punk songs out there... Not even just from My Chemical Romance, but from the genre in general...
My Chemical Romance from the beginning embodied a raw emotion in each of their songs that draws any listener in. No matter what mood you're in they have songs that will appeal to it and seem to sing the thoughts you can't form on your own!
This song pulled me through rough times and is always there whenever I'm feeling down or just need to rock out. My Chemical Romamce is definitely a band unlike any other, and it shows through their music.
This songs is pure genius, one of my favorites from the album that changed my life! Every time I here it, even all these years later it brings a dumb smile to my face!
13
My Friends Over You - New Found Glory

Ow wow... Freshman year. This album got me off of the radio, and into the used CD store. Last time I saw them live, I still cried... Like I always do. LOVE NFG forever!
New Found Glory is classic Pop-punk! Should be up by Green Day and All Time Low, especially on account of this song.
I love this song so much along with Base Cake, American Idiot, and Backseat Serenade.
Really, I'm surprised there isn't at least something by New Found Glory on here...
14
Best of Me - The Starting Line

This song is just amazing! The Starting Line is so underrated in this category of music so it's nice to see this song in the top ten!
15
Irresistible - Fall Out Boy

I aggree fall out boy may be pop punk but ever since save rock and roll they have really moved away from there pop punk roots. which is quiet sad. they more pop rock nowadays. but I personally think there earlier works are way better than this new CRAP of theirs! what were they thinking! they should return to there pop punk roots! save rock and roll is a hip hop influenced pop rock album and american beauty american psycho seems to be a save rock and roll with less hip hop.
I can believe sugar and dance can be pop punk but, This?
16
Ocean Avenue - Yellowcard

The song has one of the greatest choruses of 21 century according to Billboard, no other pop Punk band was featured in that list except Yellowcard and here I see, number 36? This comes easily in the top 5.
How is this not top 5? This is like the song you imagine when you're on the beach in summer with your friends, an absolute classic ~
Should be Top 5 easily.
The first thing I think of when pop-punk is mentioned is this song
17
X-Kid - Green Day

Guitar that hooks you from the start and finishes strong. It's amazing how for this song got on this list without being on the radio. Long live Green Day
This should be at the 1st place... The best song I've ever heard!
Oh yay! People know this song!
18
Welcome to Paradise - Green Day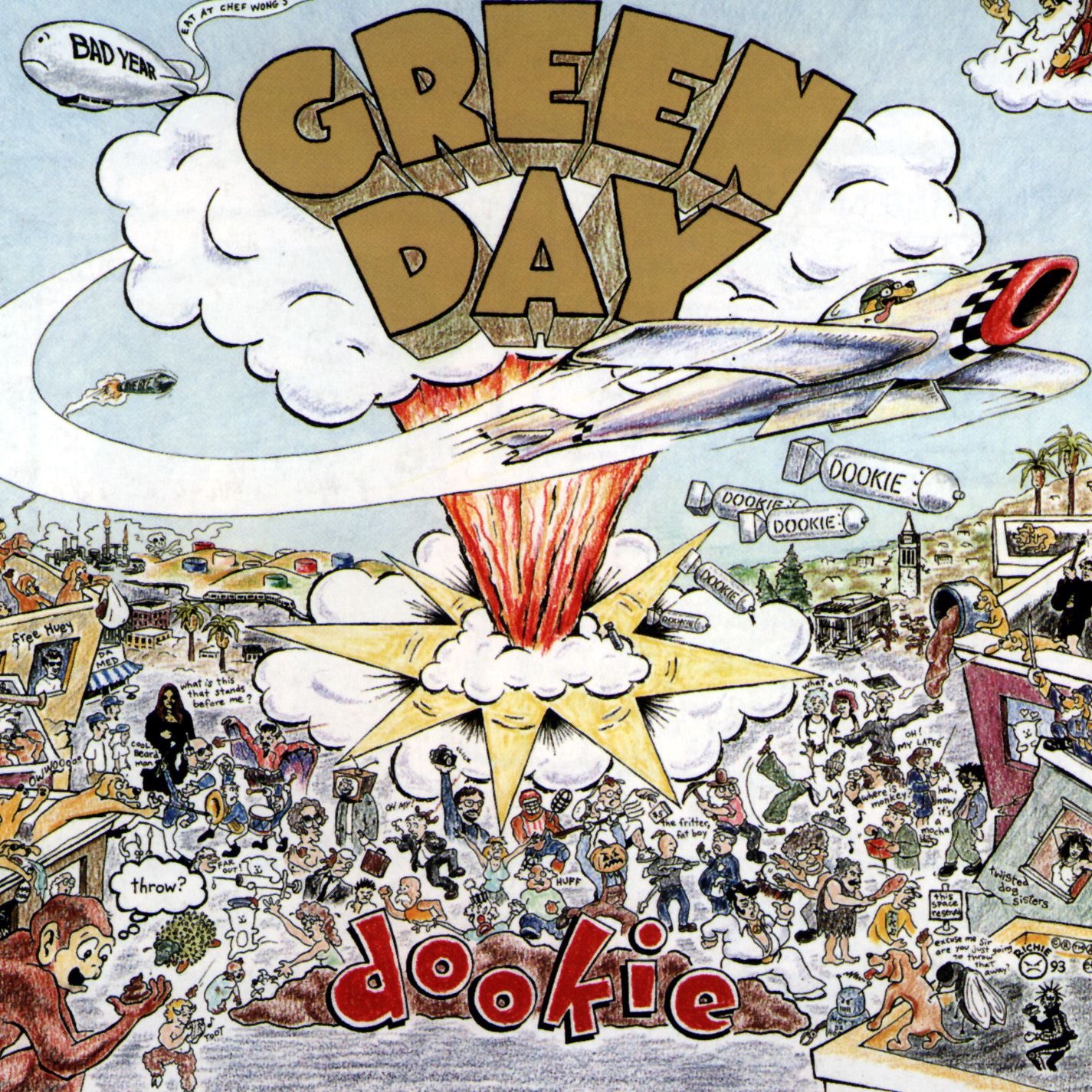 The best pop punk song ever.
Literally the best pop punk song ridiculous it's not on the list
How is this not #1?
19
Fell for You - Green Day
20
What's My Age Again? - Blink-182
THE best pop punk song by far in my opinion. I understand why songs like "Basket Case" and "All the small things" are up there in the rankings, but this should follow them. The lyrics and sound are the definition of the era and genre
THE definitive pop-punk song. Blink are the band that is always mentioned when it comes down to pop-punk, alongside other bands such as Green Day and The Offspring.
I thought this would be in the top 10. It's a really punk song!
Still my favourite band after 15 years. Classic song.
21
Bleed American - Jimmy Eat World

Salt, sweat, sugar on the asphalt.
Our hearts littering the topsoil.
Tune in and we can get the last call.
Our lives, our coal.

Salt, sweat, sugar on the asphalt.
Our hearts littering the topsoil.
Sign up it's the picket line or the parade.
Our lives.

Best lyrics.
Salt, sweat. Sugar on the asphalt.
22
I Write Sins Not Tragedies - Panic! at the Disco
The instantly recognizable accordion riff cements the song's status as a iconic song in pop punk. The flamboyant, out-going lyrics match the way Brendon Urie acts in the video.
I Write Sins Not Tragedies is a very well structured song and sounds very good. The guitar, bass and drums in the chorus are perfect for Urie's vocals.
This song is amazing! The beginning pulls me right in and I can't stop listening to the song! It has a story behind it. And the video is absolutely perfect for the song and I love it!
I fell in love with this song ever since I heard it when I was a little kid. I recently forgot about this and I when I found out about it again I. Fell. In. Love. Again.
The song that got me to fall in love with Panic! I absolutely adore it and the lyrics just fit together so well
23
All We Know - Paramore
I love this band and song!
24
Always Attract - You Me at Six
This song is so sweet by ymas I fell in love with it when I first heard it should be up in the 10!
25
Misery Business - Paramore

This songs is so addicting! Can't stop listening to it.
Paramore are amazing, I think misery buisness shows their true talent!
Amazing song, amazing band.
PSearch List