Top 10 Reasons Why Creed is One of the Best Bands Ever
MetalWorldOrder
Creed is such a great band and this factual list proves why.
The Top Ten
1
Mark Tremonti is a Great Guitarist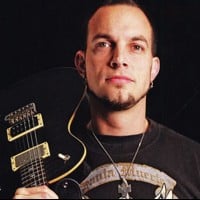 Mark Thomas Tremonti is an American musician, singer and songwriter, best known as the lead guitarist of the rock bands Creed and Alter Bridge.
In all seriousness, Mark Tremonti is an excellent guitar player, but he didn't just make good riffs in Alter Bridge or his solo career, he also made some great riffs in Creed like Higher, Bullets, Overcome and Bread of Shame. - MetalWorldOrder
2
They Make Good Music
Like I said before they just make good music, they a single song that's bad at all, their music is also very memorable and emotional which makes it good. - MetalWorldOrder
3
Great Lyrics
Yup they have great lyrics, hey have lyrical themes of questioning and struggling with faith and spirituality. - MetalWorldOrder
4
Scott Stapp is a Great Vocalist
Yup he is such a great and memorable vocalist, he sang the best in the song "With Arms Wide Open" a great song about him finding out he was going to be a father. - MetalWorldOrder
5
They're Very Successful.
Their album "Human Clay" from 1999 was a massive commercial success, it peaked at number one on the US Billboard 200 and stayed there for two weeks. The album spawned two singles that peaked in the top 10 of the Billboard Hot 100 ; Higher, which peaked at #7, and With Arms Wide Open, their only number one single. The album sold over 11.5 million copies in the U.S alone and over 20 million worldwide, making it a diamond certified album and one of the best-selling albums in the United States. Even after they broke the band members have gained success, the band Alter Bridge (which has all members of Creed minus Scott Stapp) is a very acclaimed band and Mark Tremonti's solo carrer is also acclaimed for being very great bands, and Scott Stapp's solo carrer is also very succesful.

This means the members of Creed have a life an don't hate on irrelevant bands on a website. - MetalWorldOrder
6
The Band Members are Good People
Because they're Christians, Scott Stapp is especially a good person, he started a charity called the "With Arms Wide Open Foundation" to promote healthy, loving relationships between children and their families and he himself contributed 1 million dollars to the foundation, what a nice guy he is, I can't believe morons hates someone who is doing good in the world just because they don't like his music. - MetalWorldOrder
7
The Lyric "Sexxx!" in the Song "Signs" is One of the Best Lyrics Ever
Oh wow Eminem and Queen have got nothing on such amazing lyrics. Clearly Creed thanks for this list you really demonstrated why Creed are an amazing band and need to be recognised as such. I might make a list like this one for One Direction. It annoys me to see them outside the top 200 on the best music artists of all time list.
So much meaning in that one lyric, it's hard to believe they could come up with 1 word that means so much and Scott Stapp's delivery of it only makes it better. - MetalWorldOrder
8
They Never Made a Bad Album
Nope, all they made were good albums. - MetalWorldOrder
9
They're Christian
This means that they preach the word of god and they're doing a good thing. - MetalWorldOrder
10
They Never Made a Bad Song
Anyone who tells you otherwise is a hater who wastes their time hating an irrelevant band on the internet rather than actually do productive things on the internet. - MetalWorldOrder
BAdd New Item