Top 10 Rock and Metal Music Artists with a Cult Following
A cult following means a (relatively) small but very passionate fanbase.
Here's a definition of 'cult following' by the Collins English Dictionary: "the admiration that is felt by a particular group for a film, book, band, etc". Example of 'cult following': "The Osaka-based group is popular in Japan and has developed a cult following in the United States."

"A cult following comprises a group of fans who are highly dedicated to a work of culture, often referred to as a cult classic. A film, book, musical artist, television series or video game, among other things, is said to have a cult following when it has a small but very passionate fanbase. A common component of cult followings is the emotional attachment the fans have to the object of the cult following, often identifying themselves and other fans as members of a community. Cult followings are also commonly associated with niche markets. Cult media are often associated with underground culture, and are considered too eccentric or subversive to be appreciated by the general public or to be commercially successful. Many cult fans express a certain irony about their devotion. Sometimes, these cult followings cross the border to camp followings. Fans may become involved in a subculture of fandom, either via conventions, online communities or through activities such as writing series-related fiction, costume creation, replica prop and model building, or creating their own audio or video productions from the formats and characters." - Wikipedia

People from Wikipedia admitted that their article has a specific problem which is "the article's subject is vague, ill-defined, and appears to rely entirely on hearsay" and that the article "needs attention from an expert in Popular Culture." (February 2016)
I somewhat agree with that but the article still gives useful hints we can use.
The Top Ten
1
Sir Christopher Lee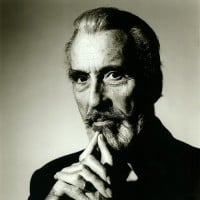 Sir Christopher Frank Carandini Lee (1922-2015) was an English actor, singer, and author. He was best known for his villainous roles in films such as Dracula in the Hammer Horror films, Francisco Scaramanga in the James Bond film The Man with the Golden Gun, Saruman in the Lord of the Rings and Hobbit ...read more.
He was in more than 250 films but most of his fans are still unaware of his alternate career as... a cult metal singer. His singing voice was very deep/bassy, powerful and operatic (he was classically trained in his young years). He discovered metal music in his 80s (wow! ) and made several metal albums. In 2014 he celebrated his 92th birthday by releasing a new metal EP (Metal Knight). Lee stated that he moved onto "full on" heavy metal (he certainly did), after performing a more symphonic metal style on his prior releases. Hands down. By the way, Sir Christopher Lee is on Encyclopaedia Metallum. "I associate heavy metal with fantasy because of the tremendous power that metal music delivers", he said. R.I.P. SIR. - Metal_Treasure
Still haven't tried his stuff - DenyYourMaker
When I read the list title, I was sure it was going to be Misfire's list. - Alkadikce
@Misfire You have more music lists that are centred on a topic that isn't a very easy idea to come up with, need some research but still isn't very obscure. Difficult to explain - Alkadikce
CHRISTOPHER LEE WAS A SINGER?! - Misfire
Yep, and not just metal. He performed all kinds of songs, even did a version of "Ghost Riders in the Sky". - truckturner
2
GG Allin

Kevin Michael "GG" Allin (born Jesus Christ Allin; 1956-1993) was an American singer, songwriter and record producer, who performed and recorded with many groups during his career. He was best known for his graphic live performances which included self-mutilation, parading around the stage naked, fighting ...read more.
I can understand why people love some of the other artists on this list but I wonder how some people got into GG Allin in the first place. But I can't ignore GG Allin just because I personally don't see the appeal - he developed a cult following and deserves a mention on this list. - Metal_Treasure
3
Gentle Giant

Gentle Giant was a British progressive rock band active between 1970 and 1980. The band was known for the complexity and sophistication of its music and for the varied musical skills of its members.
Gentle Giant were an English progressive rock band active only from 1970-1980 and during that decade they never entered the mainstream. But they still get credits and respect in some small music circles. I have a feeling that currently most of their fans are musicians and diehard prog rock fans. - Metal_Treasure
4
Phish

Phish is an American rock band that was founded at the University of Vermont in Burlington, Vermont in 1983. It is known for musical improvisation, extended jams, blending of genres, and a dedicated fan base.
I remember chatting around a campfire with the fathe in my american host family on a trip and he told me and a friend about crossing the country to see Phish perform at a festival. He said it was one of his best memories. - JoLeKosovo
It's an American rock band formed in 1983. Phish phans (and phriends) are some of the most dedicated fan bases in existence. - Metal_Treasure
5
Coroner

Coroner is a Swiss thrash metal band from Zürich, formed in the early 80s. They have been called "the Rush of thrash metal" for their increasingly complex style of progressive rock-infused thrash. They garnered relatively little attention outside Europe .
A Swiss thrash metal band that released 5 albums between 1987 and 1993. In the 80s and early 90s, US Bay Area thrash dominated the thrash scene and Coroner didn't gain much popularity but they got appreciated in a small segment of the metal community.
Also, they released their final album long ago (final as of 2019), long enough to forget this underground band ever exited but Coroner got a cult following. I discovered them circa 2013-2014 and I liked them - Coroner's version of thrash metal is a proof that thrash metal without punk (or without much punk) was possible. - Metal_Treasure
I should start listening to some Coroner. I liked Annihilator, so these guys should be good. - MattAffterburner
6
Minor Threat

Minor Threat was an American hardcore punk band, formed in 1980 in Washington, D.C. by vocalist Ian MacKaye and drummer Jeff Nelson.
Ian MacKaye started Minor Threat in the 80s and is associated with the "Straight Edge Movement". The cult of Minor Threat is pretty unique because it involves a lifestyle change - you have to be completely substance free. - Metal_Treasure
7
Possessed

Possessed is an American thrash/death metal band, originally formed in 1983 in the San Francisco Bay Area. Noted for their fast style of playing and Jeff Becerra's guttural vocals, they are routinely called the first band in the death metal genre. Possessed is the sometimes credited with being the first ...read more.
Only die hard metal fans know the name of this band simply because Possessed released the first death metal album ever and kinda shaped the genre (1985); in 1986 they released a 2nd album...and after that - silence. That was partly due to Jeff Becerra accident - in 1989 he was paralyzed from the chest down caused by a robbery shooting. The band disbanded but was never fully forgotten thanks to a cult following.
In May 2019 they released their 3rd album that was the 1st album in 33 years... and it was very good. The cult following will get bigger after this revival of the interest. - Metal_Treasure
Gotta admit this list is hot - BorisRule
8
Black Flag

Black Flag was an American punk rock band formed in 1976 in Hermosa Beach, California. Initially called Panic, the band was established by Greg Ginn, the guitarist, primary songwriter, and sole continuous member through multiple personnel changes in the band. They are widely considered to be one of ...read more.
9
Radiohead

Radiohead are an English rock band from Abingdon, Oxfordshire, formed in 1985. The band consists of Thom Yorke (lead vocals, guitar, piano, keyboards), Jonny Greenwood (lead guitar, keyboards, other instruments), Colin Greenwoood (bass guitar), Phil Selway (drums), and Ed O'Brien (guitar).
This a great band with a great cult - pLix33
10
Uriah Heep

Uriah Heep are an English rock band formed in London in 1969 that was one of the top rock bands in the early 1970s. Twelve of the band's albums have made it to the UK Albums Chart (Return to Fantasy reached No. 7 in 1975). Uriah Heep's distinctive features include a massive keyboard sound, strong vocal ...read more.
If you aren't a very devoted rock or metal fan, you probably never heard of this band. Uriah Heep are a UK rock band that peaked in the 70s but even during their peak they didn't get as popular as their counterparts from the same era - Led Zeppelin, Black Sabbath, Deep Purple, Blue Cheer, and many more. However, even with a different lineup, they still release new albums and tour to this day. How is this possible? Cult following is the answer. In 2018 they released their 25th studio album and embarked on a world tour in support. I dig this band, too. - Metal_Treasure
The Contenders
11
The Misfits

Misfits are an American Horror Punk band often recognized as the progenitors of the horror punk subgenre, blending punk rock and other musical influences with horror film themes and imagery.
This band name was made for a cult following. About 30 years later, the Misfits cult includes a dress code- and attitude-based society. The Misfits signature Crimson Ghost logo is sold on t-shirts at Hot Topic. - Metal_Treasure
12 The Microphones
13
Fall Out Boy

Fall Out Boy is an American pop rock band formed in Wilmette, Illinois, a suburb of Chicago, in 2001. The band consists of vocalist and guitarist Patrick Stump, bassist Pete Wentz, guitarist Joe Trohman, and drummer Andy Hurley.
That's not a cult following - Metal_Treasure
14
Jethro Tull

Jethro Tull were a British rock group, formed in Luton, Bedfordshire, in December 1967. Initially playing blues rock, the band soon developed its sound to incorporate elements of British folk music and hard rock to forge a progressive rock signature.
Their fans are really serious. I saw one guy say that throughout his life, he went to 200 Jethro Tull concerts. Most of their fans see them as shaming all other artists that were and will be. - JoLeKosovo
15
Pixies

The Pixies are an American alternative rock band formed in 1986 in Boston, Massachusetts. The group disbanded in 1993 in acrimonious circumstances, but reunited in 2004. The group currently consists of founders Black Francis, Joey Santiago, and David Lovering.
16
Kraftwerk

Kraftwerk is a German electronic music band formed by Ralf Hütter and Florian Schneider in 1970 in Düsseldorf. The band was fronted by both Hütter and Schneider until Schneider's departure in 2008.
My dad followed them for a long time. - JoLeKosovo
17
Godspeed You! Black Emperor

Godspeed You! Black Emperor is a Montreal-based post-rock collective formed in 1994, currently consisting on David Bryant, Efrim Menuck, Mike Moya, Sophie Trudeau, Thierry Amar, Mauro Pezzente, Aidan Girt and Tim Herzog. They're most known for being one of the most popular post-rock groups currently, ...read more.
18
Fates Warning

Fates Warning is an American progressive metal band, formed in 1982 by vocalist John Arch, guitarists Jim Matheos and Victor Arduini, bassist Joe DiBiase, and drummer Steve Zimmerman in Hartford, Connecticut.
A metal band formed in the 80s that had some really good albums but for some reason they never got big. Yet, they have devoted and passionate fans that even check out the solo albums by the band members.
Don't confuse Fates Warning with Faith No More - the latter are much more popular. - Metal_Treasure
19
Suicidal Tendencies

Suicidal Tendencies is an American crossover thrash band founded in 1980 in Venice, California by vocalist Mike Muir, who is the only remaining original member of the band. The band is often credited as one of "the fathers of crossover thrash".
"Suis". Dedicated cult following. Easily identifiable by their style. They have a hybrid punk rocker/cholo style to them. They are often violent. - THC13
20
Todd Rundgren

Todd Harry Rundgren is an American multi-instrumentalist, singer, songwriter, and record producer who has performed a diverse range of styles as a solo artist and as a member of the band Utopia.
21
Maroon 5

Maroon 5 is an American pop rock band that originated in Los Angeles, California. Before the current group was established, the original four members, Adam Levine, Jesse Carmichael Mickey Madden and Ryan Dusick, formed a band known as Kara's Flowers in 1994, while they were still in high school.
Uh no these guys have a massive amount of mostly casual fans they don't apply for this list at all.
22
Green Day

Green Day are an American pop punk, punk rock, and alternative rock band formed in East Bay, California in 1986. The members include Billie Joe Armstrong (vocals and guitar), Mike Dirnt (bass), Tré Cool (drums) and Jason White (guitar) . Green Day are associated with punk rock, pop punk and alternative ...read more.
Not a cult following
23
Paramore

Paramore is an American rock band from Franklin, Tennessee, formed in 2004. The band currently consists of lead vocalist Hayley Williams, guitarist Taylor York, and drummer Zac Farro.
Umm, they are pretty popular and mainstream to develop a cult following - Metal_Treasure
24
Led Zeppelin

Led Zeppelin was an English rock band formed in London in 1968. The group consisted of Robert Plant (Vocal), Jimmy Page (Guitar), John Paul Jones (Bass, Keyboard) and John Bonham (Drums). The band's heavy, guitar-driven sound, rooted in blues and psychedelia on their early albums, has earned them recognition ...read more.
Haha, you think their fanbase is small? - Metal_Treasure
LOL they don't have a small fanbase. - Misfire
25
BABYMETAL

Babymetal is a Japanese metal idol band. Their line-up consists of Suzuka Nakamoto as "Su-metal", Yui Mizuno as "Yuimetal", and Moa Kikuchi as "Moametal".
PSearch List