Best Athletes of the 1950s
The Top Ten
1
Gordie Howe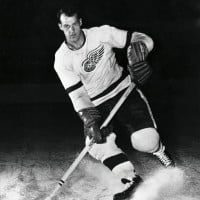 Gordon "Gordie" Howe OC (March 31, 1928 – June 10, 2016) was a Canadian professional ice hockey player. From 1946 to 1980, he played twenty-six seasons in the National Hockey League (NHL).
Mr. Hockey, the Detroit Red Wings legend made this team a winner, in the 1949-50 season he played well until an awful injury forced him out of the playoffs, but his Red Wings still won the Stanley Cup. The next season though Howe now healthy began a dominance of NHL greatness, the likes of which they never seen before. The next four seasons saw Howe lead the NHL in points scored. In 1952-53 Howe became the first NHL Player to score 90 points (95) and scored a career high of 49 goals. The Red Wings won 4 Stanley Cups in the 1950s with Howe onboard. A legend for all times.
Its Joeysworld
2 Emil Zatopek
3
Willie Mays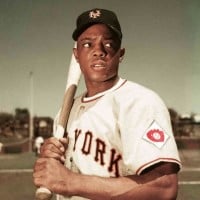 Willie Howard Mays, Jr., nicknamed "The Say Hey Kid", is an American former Major League Baseball center fielder who spent almost all of his 22-season career playing for the New York/San Francisco Giants, before finishing with the New York Mets.
the remarkable Mays from the 1950s is like Mantle because its too long to print all the major awards and feats he done, but the one major thing he was in that decade is that he was a five tool player. Hit, Hit with power, run, throw, and catch. He was baseball's first ultimate total package.
Its Joeysworld
4
Bob Pettit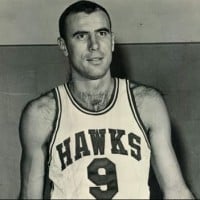 Robert Lee Pettit Jr. is an American retired professional basketball player. He played 11 seasons in the NBA.
5
Archie Moore
Archie fought in a decade that introduced boxing to television, and Archie was one of those who took advantage of television. As the Light Heavyweight Champion, Moore defended his title a lot and went 43-0-1 as a light Heavyweight Champion in the 1950s. At the end of the 20th Century, The Associated Press named him the Greatest Light Heavyweight of the 20th Century.
Its Joeysworld
6
Rocky Marciano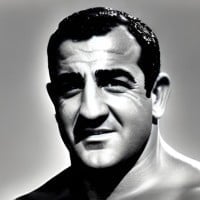 The first boxer to retire undefeated as heavyweight champion. He still holds the record for the highest knockout-to-win percentage in boxing history 87.76 percent. One of those brought him the heavyweight championship. On September 23, 1952 in Philadelphia. In the 13th round, Jersey Joe Walcott used his trademark feint to set up his right hand, but Marciano's Suzie q landed first, a powerful right hook causing Walcott to slump to his knees. with his arm draped the ropes and was knocked out. Marciano new champ.
Its Joeysworld
7
Juan Manuel Fangio
He was Formula 1's first major superstar. He left foot prints for drivers to follow. Fangio arrived as Formula 1 kicked off in 1950. Every time he raced at Formula 1 there's a good chance he may win a race, and even today's drivers like Lewis Hamilton couldn't match Fangio's amazing stat: In 52 races he entered in Formula 1, he won 24, a stat that is still amazing today. The first driver to win 5 Formula 1 World Driving Championships and the Only Argentine to win The Argentina Grand Prix and he did it four times. Fangio, truly a legendary racer at a different era.
Its Joeysworld
8
Mickey Mantle
What else can you say about Mantle. From being parodied by the Flinststones "Mickey Marble" to being honored in song "I Love Mickey''.
The 1965 MLB Hutch Award winner, Mantle provided courage on the field playing hurt while leading the Yankees to great world championships and yes sadly got lots of strikeouts, but he made up for it with tape measured home runs and was once the fastest player in baseball, Mickey was truly a baseball immortal.
Its Joeysworld
9
Sugar Ray Robinson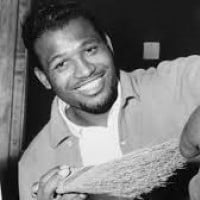 Sugar Ray Robinson was an American professional boxer who competed from 1940 to 1965. Robinson's performances in the welterweight and middleweight divisions prompted sportswriters to create "pound for pound" rankings, where they compared fighters regardless of weight.
He was simply the greatest pound for pound fighter of all time and even the greatest Muhammad Ali said about that. Throughout the 1950s Robinson won and lost titles and fought in some amazing fights. One fight fits Sugar Ray well happened on May 1, 1957 against The reigning middleweight champion Gene Fullmer at Chicago Stadium, a arena that would to host many of its great moments, this was one of them. The bout was great as two warriors fought it out, after four rounds the bout was even. But in the fifth, Robinson was able to win back his title for a fourth time by knocking out Fullmer with a lightning fast, powerful left hook that many decades later it was called "The Perfect Punch"
Its Joeysworld
10
Alfredo di Stéfano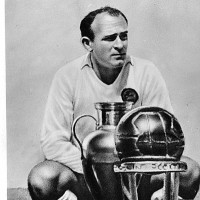 Di Stefano was the first football player that definitely gained the title of the best football player in the world. The first half of 20th century was a period without personal football awards (formal or informal), so there were at least 5 players (with or without same time career) who could believed to be the best. Di Stefano was the number 1 till Pele appeared (1958).
The Contenders
11
Ferenc Puskas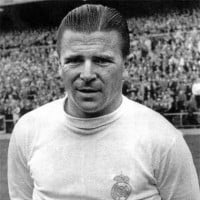 Ferenc Puskás (1 April 1927 – 17 November 2006) was a Hungarian footballer and manager, widely regarded as one of the greatest players of all time and the sport's first international superstar. He scored 84 goals in 85 international matches for Hungary, played four international matches for Spain and scored 514 goals in 529 matches in the Hungarian and Spanish leagues. He became an Olympic champion in 1952 and led his nation to the final of the 1954 World Cup. He won three European Cups (1959, 1960, 1966), 10 national championships (5 Hungarian and 5 Spanish Primera División) and 8 top individual scoring honors. In 1995, he was recognized as the greatest top division scorer of the 20th century ...read more.
He was one of the 'big five' of the football of the 20th century (Pele, Maradona, Cruyff, Di Stefano the others). If you add C. Ronaldo and L.Messi you have the supreme football level in your mind.
12
Jackie Robinson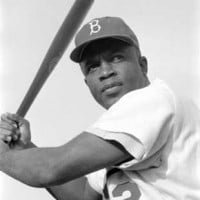 Jack Roosevelt Robinson was an American professional baseball player who became the first African American to play in Major League Baseball in the modern era.
Jackie's Brooklyn Dodgers we're true pennant contenders when he was on that team. But numbers and pennants means little to Jackie. He was a proven winner and his leadership would in time paved the way for other great Dodgers in the future who would do the same and keeping the Dodger Way for more great success in the years and decades to come. Today's Dodgers are in a way a throwback to the days when in Brooklyn, winning was everything to them, and a big thanks to a man who started a Dodgers winning tradition, Jackie Robinson, who's also a great man.
Its Joeysworld
13
George Mikan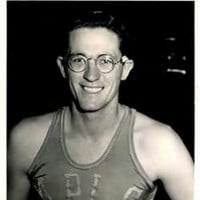 George Lawrence Mikan Jr., nicknamed Mr. Basketball, was an American professional basketball player for the Chicago American Gears of the National Basketball League and the Minneapolis Lakers of the NBL, the Basketball Association of America and the National Basketball Association.
The first 10 years in the NBA saw very low scoring, teams traveling on trains, unknown cities that had NBA teams and then there was one true superstar in the first decade, George Mikan. He was the NBA's first celebrity figure, he was so popular that in one scene at Madison Square Garden the sign once said GEORGE MIKAN vs Knicks. His awards we're millions to write down, but here are a few worthy ones. Mikan was named to the NBA 25th Anniversary ALL-Time Team, The NBA 35th Anniversary ALL-Time Team and one of the 50 NBA Greatest Players (1996). He was truly Mr. Basketball
Its Joeysworld
14
Dezso Gyarmati
The most decorated water polo player of all time, Dezso led his country Hungary to great heights especially during olympic time. 3 times Hungary won the gold with him around including 1952 and 1956. He was one of the fastest water polo players ever, once he swam the 100 meters in 58.5 seconds. Dezso was truly amazing and FINA, the international committee for the Olympics said "The left-handed genius could play in all positions on the field. Known for his fearless approach in every game, he was able to decide the biggest clashes single-handedly".
Its Joeysworld
15
Paul Anderson
A weightlifter who was the U.S. best ever. Even after his 1994 death, his presence in the weightlifting world is still being felt. In the clean and press he lifted 408.5 pounds at the 1955 world championships, in the snatch he lifted 335 pounds at the 1956 Senior Nationals and in that same event he did the clean and jerk at 440 pounds, truly feats of strength.
Its Joeysworld
16
Babe Didrikson Zaharias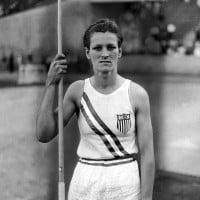 17
Bob Mathias
He was a true decathlon athlete. so much so he even played college football for Stanford, and actually played in the 1952 Rose Bowl. But it was the decathlon that made him a legend. The 1952 Summer Olympics saw him set all of his personal bests to established himself as an Olympic Legend. He won gold there, he also won the decathlon at the 1950 U.S. National Decathlon Championship, a feat he would do again in '51 and '52. Bob a 1948 James E. Sullivan award winner.
Its Joeysworld
18
Johnny Unitas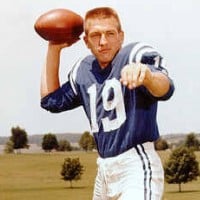 John Constantine Unitas, nicknamed "Johnny U", or "The Golden Arm", was an American professional football player from the 1950s through the 1970s.
It's the ultimate cinderella story, it's a story that almost did not make Unitas a pro football hall of famer. He had a legendary career at the University of Louisville, but in his senior season, he was injured and didn't see action until week 3. After graduation, Unitas was drafted by the Pittsburgh Steelers in the 1955 NFL Draft. But he was cut from the team, as he was involved in a 4 man quarterback battle just for 3 spots on the Steelers, Unitas was the odd man out. Then he was forced to play semi-pro football for the Bloomfield Rams. Then the Baltimore Colts wanted a quarterback to join them, he accepted it and a great career was underway.
Its Joeysworld
19 Sam Snead
20
Stanley Matthews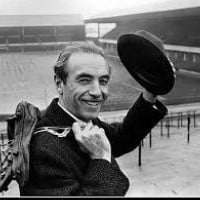 He was known as the Magician and Stanley Matthews fit it in and became one of England's best footballers ever. He was a part of many football teams that we're great when he was on those teams, and kept playing football until he was 50 years old. In the 50s he played for Blackfoot and there he scored 17 goals and played in a remarkable 379 games. It was with them that they reached the 1951 FA Cup Final and in the 1953 FA Cup Final they won it as he led his team to a comeback 4-3 win and a place in football history. Stanley Matthews, one of its very best.
Its Joeysworld
One of the most legendary football players.
21
Bobby Morrow
1956 was his year and the Summer Olympics was his showcase for his blazing speed. After his brilliant 100 and 200 meters at the Olympic Trials and winning the AAU title. Morrow first won the 100 meters and then in the 200 meters he was hot as he set a world record of 20.6. Then he was part of a gold medal 4X100 meter relay that set a world record. Not since 1936, had an athlete won those 3 gold medals in those 3 mention events. His greatness was applauded when he was the 1956 James A. Sullivan amateur athlete of the year and The coveted Sports Illustrated Sportsman of the Year. Bobby Morrow a true American Immortal.
Its Joeysworld
22
Duke Snider
How can you not have the 1950s without this guy, this guy knows postseason pressure and lots of power, 5 years in a row (1953-1957) he hit 40 or more home runs, the 1955 Sporting News National League Player of the Year, played in 7 straight ALL-Star Games this decade (1950-1956), had over 1,000 RBIs this decade and led the Dodgers to the 1955 World Championship.
23
Yogi Berra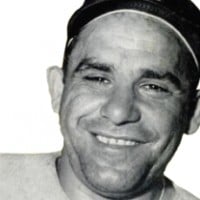 Lawrence Peter "Yogi" Berra was an American professional baseball catcher, manager, and coach who played 19 seasons in Major League Baseball, all but the last for the New York Yankees.
The quotes, the clutch hits, the championships, all 3 reasons why Yogi is in the Baseball Hall of Fame since 1972. In the 1950s, the debate over who's the best catcher in New York Baseball is one of the big topics. For Yankee fans, it's Yogi. He played in every ALL-Star Game in the 50s and a 3-time American League MVP (1951, 1954, 1955). Here's what else was said at his Monument Park Plaque: Hit most home runs by a Yankee catcher, led Yankees to 14 pennants and 10 world championships,a legendary Yankee, and his famous quote It ain't over 'til it's over.
Its Joeysworld
24
Ben Hogan
What Ben did in 1953 was truly remarkable, 3 of 4 majors he won that year. First he won another Masters golf tournament at -14 under par, then it was another U.S. Open golf championship, and then it was the big one, the Open Golf championship, held this year at Carnoustie, Scotland. It would eventually be Hogan's only open appearance. After starting rough in the first 2 rounds, Hogan found his groove in Round 3 making a birdie at hole 18 to tie for the lead, and in the final round with many leaders faltering, he shined with a 68 to capture that championship in his great year.
Its Joeysworld
25
Bobby Charlton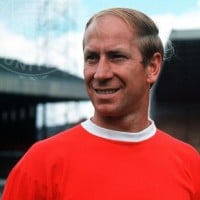 Sir Robert "Bobby" Charlton is an English former football player, regarded as one of the greatest midfielders of all time, and an essential member of the England team who won the World Cup in 1966, the year he also won the Ballon d'Or.
Bobby shined in that 1966 World Cup year, but this focused on the beginnings of his great career. He joined Manchester United in 1956 and in just two years became a promising star, he scored 2 goals in his pro debut and even a hat trick in a 1957 game against Charlton Athletic. He survived a tragic 1958 plane crash that claimed the lives of 8 Manchester United players and came back as one of football's all time greats and eventually a place on the 1994 FIFA World Cup ALL-Time Team, a place on the FIFA 100 and the 2008 BBC Sports Personality of the Year Lifetime Achievement Award.
Its Joeysworld
PSearch List