Top 10 Best Female Gymnasts
The Top Ten
1
Simone Biles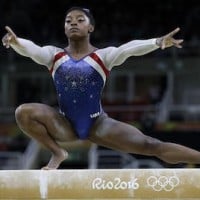 Why is she eleventh place? Has anyone ever even seen her do her routines? She's AMAZING! At 4' 8" (she's twenty, I'm eleven, and I'm two and a half inches taller than her!?! ), she's incredible and totally the best on this list. I mean, there's even a commercial about a washer dryer thing, and it stars Simone Biles. When she closes the washer, a flower vase teeters and falls off a high shelf, smashing on the floor; that's how strong she is. Mhm! Let's go, Si-imone, let's go! Let's go, Si-imone, let's go! Wahoo, fellow girl!
Have not words to describe her. Just my inspiration, idol and hero. It would mean the world to me if I mt her. She made me a level 9 gymnast. She is the gymnast. She is the one and only gymnast. Short, but strong. Plus, perfect abs!
You gotta love Simone. She is not only the best gymnast in the world but she's warm hearted, kind caring and funny. She deserves everything she has ever won. As they say, it's biles by miles!
Hands down the best gymnast ever. Best ever at vault and floor, and top 10 all time on beam. Bars merely solid, but not much worse than any of the other greats at their worst event.
2
Nadia Comaneci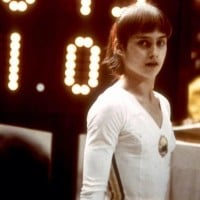 I agree. I watched those Olympics when I was 9 years old. Never forgot them, or her. I loved her toughness, she would stare down the bars, but I did love her smile. She's my most favorite athlete and person, other than my daughters, ever!
No drama and excuses for Nadia. Just hard work, long hours of training, and discipline. Love her style and work ethic! Lots of gymnasts can learn from watching her competitions.
The best gymnast ever still. If Simone shines in her comeback I will put her over but she needs to at least compete well at a 2nd Olympics for me.
She became goat at the age of 14 with 7 perfect 10s in a single Olympic event. That's really all one needs to know.
3
Mary Lou Retton
Mary Lou being 2nd on this is just cute.
4
Shawn Johnson
In her prime she was nearly unbeatable. The only loss she had without making a mistake was the Beijing AA with controversial judging, and was the uneven skew in A scoring for bars.
Shawn Johnson kept me acting for gymnastics at all times in my life I love Shawn Johnson she inspired me in my days watching her do gymnastics.
Better overall gymnast than Shanon and Nastia. 2nd best American ever to Simone in my opinion.
Such a great gymnast. Too bad she didn't have a longer career.
5 Anna Pavlova
6
Shannon Miller
Should have won AA gold in 1992 olympics. But this brought her back in '96. That BEAM! Wow.
Loved watching Shannon. She was Awesome
She is a class act
7
Svetlana Khorkina
While Khorkina may be a horrible person, you cannot deny her athletic talent on all 4 events.
Way underrated. Below Shannon Miller and Mary Lour Retton, don't make me laugh.
Should be way higher. The goddess of the sport.
8
Aliya Mustafina
She is such a refined person and gymnast. I love her grace and power.
9
Dominique Dawes
I love her, she is such an inspiring gymnast and definitely one of my favorites. She deserves this spot on the top 10, after all her hard work. AWESOME DAWSOME!
10
Nastia Liukin
Kerry Stroug!?!? The girl who did a vault with a broken foot where is she on the list? These are all great gymnast but there are some we are definitely missing! Please take this list in to some re-concitaratoin but as I said before all great gymnast and more to come!
Shawn is ahead of Nastia since even though Nastia is a bit more decorated due to a longer career Shawn usually kicked her ass when they competed head to head in 2007-2008.
Shawn was always overscored. Nastia was much better then Shawn, yet somehow Shawn is still ahead.
Should be up with Shawn, if not ahead.
The Contenders
11
Lilia Podkopayeva
Had she not gotten injured she likely wins at least 3 world AA titles and defends her Olympic AA title in 2000.
She was like a ballerina on the floor.
12
Larisa Latynina
The second greater Olympian after Michael Phelps (18 medals, 9 of them gold).
13
Olga Korbut
Olga Korbut was simply the most charismatic gymnast ever. This survey is too focused on current gymnasts to give Olga her due.
She performed over 40 years ago and still manages to be an essential part of the sport. She's my favourite gymnast.
Wait, 25? I certainly think that Korbut deserves to be way higher...she is amazing!
14
Dina Kochetkova
Most underrated Russian gymnast of all time. Should have won the AA at 94 worlds and 96 Olympics with fair judging, and deserved at least silver on bars at 94 worlds.
Such a classy, clean, consistent, elegant, yet powerful gymnast. Way underrated and underappreciated in her career.
Was really the best in the world in her era on bars, beam, and floor. So underrated by judges and politics.
Way underrated by both fans and experts. Only Elfi Schlegal seemed to properly appreciate her brilliance.
15
Alexandra Raisman
Should be in top ten.
16
Dominique Moceanu
She should be higher up there I mean come on 14 years old at the olympics, wow deserves more.
17
Simona Amanar
She should be in the top ten.
18
Peng Peng Lee
Incredible athlete with a mindset of a Navy Seal! Focused, driven and task oriented to get the job done no matter what...not even a broken back, two torn ACLs, broken wrist, many other minor injuries but never quitted!
So elegant and powerful
Heart of a champion
She is incredible
19
Laurie Hernandez
She is my all time fave
I love her smile
20 Lavinia Milosovici
21
Věra Čáslavská
She was one of the greatest.
22 Jordyn Wieber
23 Kerri Strug
24 Bridget Sloan
25 Morgan Smith
PSearch List