Top 10 Best NBA Players of All Time
The Top Ten
1
Michael Jordan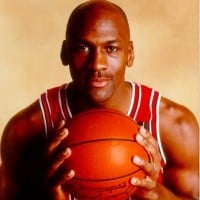 Michael Jeffrey Jordan, also known by his initials, MJ, is an American retired professional basketball player.
MJ, Kareem, and Wilt are the top three of all time. Some folks voting on this need a history lesson or just need to grow up. Iverson, Caruso, Wade, Chris Paul in the top 25 of all-time? No way. Iverson was a ball hog who never led a team to the NBA championship, Caruso is a joke, Wade was an excellent player, but not an "all-time" great, and Chris Paul gets a tremendous amount of credit for a guy that has never won it all. Those say he didn't have enough good players around him are delusional.
I'll take Jordan, Kareem, and Wilt as the top three. There are a few (Oscar, Jerry West) that are overlooked in history. Congrats to LeBron for breaking the all-time scoring record, but that does not make him the best ever. Jordan and Kareem both have more MVP's and championships. Wilt's individual statistics (albeit in a completely different era of basketball) were phenomenal. Russell won more championships than anyone. As far as "all-time" greats, Kobe, Shaq, and Tim Duncan are not in the top ten.
MJ, Kareem, Russell are the top three. Who is voting out there? Alex Caruso? Are you kidding? He wouldn't be in the top 500 of all time. If people aren't going to be serious about this, why have a poll? Kobe, Shaq, Tim Duncan are NOT top 10 of all time.
Won 6 championships, would have won more if he hadn't retired for brief moments during his career. He also had 6 Finals appearances and never lost, which proves he could go off when it mattered most. He won 5 MVPs, would have won more except the NBA was tired of him having all that success. He was on some stacked teams, but they were only stacked because Jordan made all his teammates good. He is the greatest player at being clutch, he is the greatest scorer of all time, he is a top 10 dunker of all time, and he is the 4th best defender of all time, and no, Lebron is not even a top 10 defender. The only thing Jordan really lacked was 3 point shooting, but he didn't really need to shoot 3s because he could just splash mid-range jumpers about 70% of the time. Michael Jordan is the GOAT.
2
Magic Johnson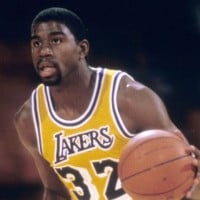 Earvin "Magic" Johnson Jr. is a retired American professional basketball player who played point guard for the Los Angeles Lakers of the National Basketball Association for 13 seasons.
ALl I have to say is if Magic had played longer than 9 seasons he could have been the GOAT. On the pace he was going at, he could have been the all time assist leader, all time steals leader, one of the all time scoring leaders, he could have literally been on the top of every major and most minor statistics ever. Same case with other greats like Bird, Pettit, and Maravich. But of course he had other issues but hey still a top 10 player all time.
Magic was an incredible competitor who elevated the games of his teammates. Basketball is a TEAM game, despite ESPN's obsession with offensive statistics, dunks and 3 point shots. Magic could play every position, even playing center in the 1980 Finals. I am a long time Celtic fan. But I have to place Magic as the second best player to have ever played.
People like Magic had their careers cut short. But what he did in those years he played are just phenomenal. 5 chips, 9 finals appearances, 11 all star appearances, etc. He also along with Larry Bird, saved the NBA. Magic is possibly the greatest passer ever and the most entertaining player ever.
Just because Kobe has a 99 in 2k and magic has a 98, magic is better. Even though he's fifth all time in assist and john stockton is number 1, Who had the cooler passes? This guy
3
LeBron James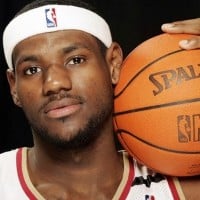 LeBron Raymone James is an American professional basketball player for the Los Angeles Lakers of the National Basketball Association. LeBron has played for the Cleveland Cavaliers, Miami Heat, and the Lakers.
LeBron > anyone. The man is a beast and can kill it from anywhere on the court. He's doing things no one has ever done at a young age. He made basketball his own and is re-writing history! He has everything you could you want in a basketball player talent, brains, humbleness, sportsmanship, hunger, confidence, and a great team player. Those who don't appreciate his talent are far to ignorant to realize that he obviously deserves all he's gotten and has worked hard for his achievements. He deserves more credit then what he receives. He's an amazing person and basketball player. #G.O.A.T
Here is the thing Jordan played against most of those guys mentioned above and most of those guys had championship rings. LeBron is the best player of his era... Bill Russell has more Championships than players above him but Jordan was an all around player. Russell could have scored more points but that wasn't what his team needed him to do. Could LeBron do the same in Jordan's era in the East vs Pippen, Bird, Dr. J, James Worthy... the game was different back then and these guys played D.
Full of records! the beast! He deserves to be number 2, behind MJ. LJ got a 8 straight finals appearance record (Not including the Boston Celtics in the bill Russell times)
Sick of haters always using LeBron's lack of rings against him, especially when you look at his playoff record he generally played very well, better than some jumped up stars with more rings, that had better support to get those rings anyway or they had easier opposition! No way should Kobe be above LeBron! What goes against him for me is twice leaving his home team, though having said that at least he played for his home state at all, no question he'd have had at least twice as many NBA wins if he spent most of his career under strong teams and changing ship when needed...

He has it all bulky yet fast and skilled on the court, team oriented mind unlike one ball hogger on this list.. Broken tons of NBA records and will continue to do so, while I don't condone his team switching he did give so many years to an inferior franchise and it must have been utterly frustrating all those prime years and only 1 ring to show for it. If he had been an inferior player like Dwight Howard or ...more
4
Kareem Abdul-Jabbar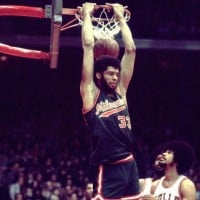 Kareem Abdul-Jabbar is an American retired professional basketball player who played 20 seasons in the National Basketball Association for the Milwaukee Bucks and Los Angeles Lakers.
Kareem Abdul-Jabbar is arguably the greatest NBA player of all time. He was drafted to the Milwaukee Bucks, a 27 win team, and in only his second season, he won the MVP and the Bucks won 66 games and the NBA Finals. He's a six time MVP, six time NBA Champion, the all-time leader in points, the all-time leader in all-star appearances, one of the greatest passing big men, one of the greatest interior defenders, and the master of the sky hook.
Stats alone have him as an all time great. Then you add in his championship pedigree and putting a team on his back in his early years...he's the definition of a GOAT.
MJ is the GOAT but Abdul-Jabbar is a close second, all-time scoring leader on a list where Jordan is 4th. Kareem was also a great defender, because of his height. Kareem should be second on the list. Go Bucks.
Everyone else here already explained it for all you people so I'm just showing everyone who might see this that I support their claims.
5
Larry Bird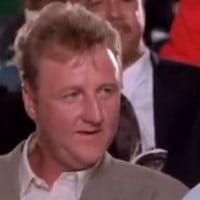 Larry Joe Bird is an American retired professional basketball player who played for the Boston Celtics of the National Basketball Association. Bird is a 3x champ, 1x ROTY, 1x Finals MVP, 3x 3PT Contest winner, all with the Boston Celtics. (1979-1992)
Larry Bird is very underrated. He won 3 championship but his competition, especially in the finals was tough, Sure you could say Larry had McHale and Parish but do you really think those 2 guys are better than James Worthy and Kareem? I don't think so. Bird was one of the NBA's first marksmen and has 3 3 point shootout wins to show for it. Bird was so confident in his ability which made him one of the greatest trash talkers. What sets him apart from the rest is that he actually keeps his word. Also Bird has had so many injuries during his 13 year career and yet played through them. He may also be the clutchest player along with MJ. Also Bird is one of the few athletes who successfully had a great coaching career. He won Coach of the Year and Executive of the Year and led the Pacers to their only finals appearance AGAINST JORDAN. So ye
Larry Bird is the best overall player ever! His numbers are simply amazing considering that he only had about 7-8 good years b4 his body betrayed him. Crazy numbers in a short amount of time. Imagine Bird staying healthy and playing for about 15-18 years! He scored 49 points, had 14 rebounds and 12 assists with a back brace on during his last season. He could barely put his uniform b4 game! Laugh out loud
Larry Legend - the master of fundamentals, tops list of competitiveness, vicious confidence and lethal trash talker that backed it up. This man broke champions spirits, while letting them know what he was going to do next.
Undoubtedly one of the greatest players of all time. 3x champion, 3 point contest champion, one of the greatest shooters and passers ever. The GOAT at trash talking and one of the toughest players physically and mentally.
6
Wilt Chamberlain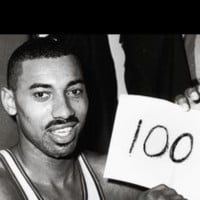 Wilton Norman "Wilt" Chamberlain was an American basketball player. He was born on August 21, 1936 in Philadelphia and died on October 12, 1999 in Los Angeles due to heart failure.

Wilt Chamberlain set the books by scoring the most points scored in a single game (100), most rebounds in a game (55), and most consecutive field goals (18).

He played for the Philadelphia/San Francisco Warriors, Philadelphia 76ers, and the Los Angeles Lakers. His biggest rival was former Boston Celtics center Bill Russell, but they are also good friends. He won 2 NBA Titles, 1 with the 76ers and one with the Lakers. ...read more.
People say Jordan's the best, but I'm leaning towards this guy. People continuously try to discredit his achievements by talking about how they were in the 50's. It doesn't matter if it was in the 50's and 60's, he still would've had to put the ball in the basket 50 times to score 100, he would've had to put the ball in the basket 25.2 times every game to average 50.4, and he would've had to have played every second of every game including overtime to average whatever the ridiculous stat is that he got with his minutes. People love to talk about Jordan's free throw line dunk, but what they don't know is that instead of shooting free throws, Wilt would just jump and dunk the ball from the free throw line. That's why the rule exists. Wilt was also very strong, being able to deadlift about 500 pounds if my memory serves me correct. Nobody is as athletic as Wilt either. People from his era estimate that he had about a 48"-58" vertical. This guy was an absolute freak of nature.
In the past 30 years, there have been three players to put have a game in which they scored 30 points and brought in 30 rebounds. Wilt accomplished this feat over 100 times. He may not have won as much as Bill Russell, and he may have just been a tall guy at a time when the NBA was full of shorties. But Wilt revolutionized the game. He is the reason why basketball has become a game of giants. If Wilt never played, the sport of basketball would be a very different game. He is indisputably the most dominant player to ever play the game. For all of the reasons listed above, Wilt the stilt is the greatest basketball player ever.
Very underrated on this list! He should be at least in the top 5! Like, come on. The guy got 100 points in a game, he had 118 fifty point games in his career, he averaged 50.4 points per game in 1961-62, he is first in all-time rebounds and 1 of 2 people in NBA history to get more than 20 000 rebounds, and he is first in rebounds per game (22.9), he had 54 rebounds in 1 game. He is second in points per game, next to MJ. After all that, he's still not in the top 5? Second most dominant player ever in the NBA (next to shaq). He's the best center of all time, no question. Shaq was lazy and didn't work hard later in his career, plus he was overweight. Wilt always worked hard to get the ball from the opponent. Bill Russell couldn't play offense, and relied on his teammates to do the work up the floor. Wilt could play defense, with an extremly high vertical, was the only person that could outrebound Russell. Most of their regular season meets, Wilt's team would win. Kareem had all his great ...more
I think the hate Wilt gets is a tad bit undeserved. Sure, he was cocky and "selfish" and was "a bad teammate." Sure, he won 2 rings. Sure, Bill Russell and his Celtics existed. Dig a little deeper though. He is obviously one of the most outstanding physical anomalies in all of history (48 inch vert, could outrun a HOF NFL runningback, etc) as well as one of the most dominant players ever, they had to change rules because of him. Also he was a highly regarded prospect when he came in. Wilt had a lot of pressure on him, so obviously he wanted to do well. He wasn't winning any championships in his first years, and it's not like he had much help. The media started to judge Wilt for this so Wilt decided to score more points to cover up the fact he was losing. The media then labeled Wilt as selfish. So Wilt decided to lead the league in assists... the only big man to do so. Guess what the media called him, they called him stat-obsessed. Also, Wilt never had many great teammates aside from ...more
7
Kobe Bryant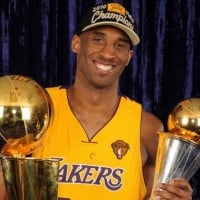 Kobe Bryant (1978 - 2020) was an American retired professional basketball player. He played his entire 20-year career with the Los Angeles Lakers of the National Basketball Association. Kobe Bryant has won 5 NBA championships with the Lakers and was the all-time leading scorer in Lakers franchise history. He Retired in 2016. He died in a helicopter crash in Calabasas, California at age 41.
Kobe Bryant the one of those players, who showed a really interesting game, not just the number of points scored, rebounds and assists, he showed incredible skill of the game, very difficult scored, thought out and non-standard throws. Kobe is good in all aspects on the basketball court, unlike those who can score only open three-pointers, or stand under the ring and wait for the pass, or other easy shots. He was the team leader, and he really deserved this title. He always laid out 100% and more, and he was the locomotive of his team.
Kobe's accomplishments & numbers are not very far off Jordan's.. Now let's consider that he played near half his career as a 2nd fiddle to Shaq.. That alone beside the achillies injury & the fact he came into the league as an experiment & had to wait for playing time & to become a focal point in the offense hurts his stats.. But straight up by the eye test Kobe was as good as it gets.. Complete package mentally, physically, both ends of the floor.. And of course his competitive drive & killer instinct is what really puts him over the top of everyone else on this list..
Kobe us undoubtedly a very athletic player with phenomenal offensive talent. However, he was never known as a TEAM player. He did not make his teammates better. He was quite fortunate to have Shaq and Gasol as teammates in their primes. Otherwise, he would have won zero rings. Despite his shortcomings, he has to be placed in the top 10 best to ever have played. I would place him in the 8 - 10 range.
Who is better? Kobe or Lebron?. Let me talk you through this. Kobe, great shooter and inside shooter. Also great at that last second shot. Kobe was known for such talent and skills but does Lebron have the potential to beat Kobe? Lebron, whenever he gets in the paint he is almost unstoppable. Whenever he gets in the paint you start to get the feeling that it is an automatic posterizor. In my opinion Lebron is better. Anyone agree?
8
Bill Russell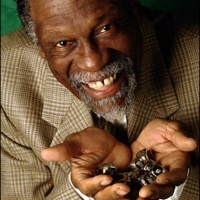 William Felton "Bill" Russell was an American retired professional basketball player. Russell played center for the Boston Celtics of the National Basketball Association from 1956 to 1969.
Naw what's he doing at number 8. We all know he's in the Mount Rushmore of nba players at the 4th best of all time beind Kareem lebron and MJ. Also why is magic Johnson number two? Put him at 7 or something. Bill Russell has 11 nba championships and 5 league mvps. He's also 2nd in rebounding all time and 1st all time in rebounding in the playoffs. He was also the first person to block shots. And he led the Celtics to the greatest run in sports history, 8 consecutive league titles.
Hall of famer, 11 time nba champion, 5 time nba mvp, and the greatest defensive player ever. What more do you need to know? Bill Russell number 1.
In the era of ESPN where there exists an obsession of OFFENSE, dunks and 3 point shots, fans under 40 don't appreciate Bill Russell. In addition to Russell's 11 rings, he also won 2 NCCA championships at unheralded University of San Francisco. Russell was a fabulous athlete with an unmatched intensity for the game. He understood that basketball is a TEAM game and he made his teammates better players. Bill Russell was the best basketball player ever to put on a uniform.
Bill was a pioneer for the game. He really showed that a player can dominate just on defense and team oriented play. He never had an overpowering physique, yet he was the only guy back in his day who could stop Wilt from scoring. Not only a role model for black people, but to everyone.
9
Tim Duncan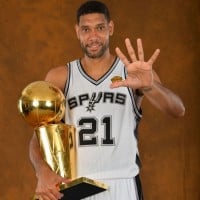 Timothy Theodore "Tim" Duncan is an American professional basketball player who has played his entire career for the San Antonio Spurs of the National Basketball Association.
One of the most loyal players ever. Stuck together with the team and never made a dumb decision to go play with other all stars like LeBrick Lames. Never appeared on sportscenter top 10, but did the basic things to win. Every year he played, the Spurs were a playoff team.
As a Lakers fan, I would have taken him as my centerpiece over Kobe or Lebron any day. He didn't need superstars around him. He made everyone around him look like superstars.
Four time NBA champion and two time MVP. The Greatest power forward of all time is an amazing player to the game of basketball. I like the way he plays the game.
Tim Duncan is the greatest power forward ever. That is a fact. He has been consistent since 1997! That is 16 years. It's a crime to not put this guy in the top 10.
10
Shaquille O'Neal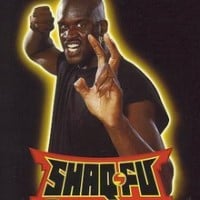 Shaquille Rashaun O'Neal, nicknamed Shaq, is a retired American professional basketball player who is currently an analyst on the television program Inside the NBA. He is known for his fun, friendly personality, and is one of the most beloved athletes of all time.
ShaQ can dunk. Who in the world can dunk like that like breaking glasses. The NBA's backboards are too good to break but for him to break the backboard like that is too serious. He is kind of slow his shooting isn't all that great but he is still a great Basketball player.
The Diesel, Big Aristotle, Shaq Fu, whatever you wanna call him was one of the greatest. His days in Orlando and Los Angeles were the prime years of his career. Had he remained a Laker, we could be talking about multiple championships in the 00's.
Definitely better than Wilt Chamberlain. How is Shaq not in the top 5. He is the best center ever. Great Player.
Shaq is the best center of all time and he always will be he deserves to be fourth on this list!
The Contenders
11
Hakeem Olajuwon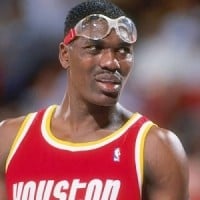 Hakeem Abdul Olajuwon, formerly known as Akeem Olajuwon, is a Nigerian-American retired professional basketball player.
On of the best centers of all time, led the Houston rockets to win in 1994 and 1995 when MJ retired. Olajuwon took the chance to win when MJ was not there.
Hakeem destroyed the likes of Shaq, Ewing, Robinson. On the low block, he never had powerful strength but he resembled footwork of a ballet dancer, combined with a silky smooth jumper and no one had an answer for him.
Hakeem the dream is so good made it to the use team I think he is better than Shaq so he should be top 8!
Hakeem is just an absolute baller. He is an all rounder and a nice guy.
12
Oscar Robertson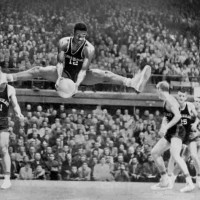 Oscar Palmer Robertson, nicknamed "The Big O", is an American retired National Basketball Association player who played for the Cincinnati Royals and Milwaukee Bucks.
Big O fr to underrated! It's unfortunate that he had to go against Bill Russell and the Celtics in his prime! Imagine if he knew what a triple double was during his career!
VERY underrated! Should be in the top 10. Much better than Kobe, who has missed the most field goals of all time of any player. The big O averaged a triple-double for 3 straight seasons.
Kids today will never know about the Big O. It is a shame that there werent enough video cameras back then. Couldve captured highlight after highlight.
Simple he averaged a triple double for an entire year.
13
Kevin Durant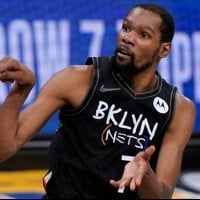 Kevin Wayne Durant is an American professional basketball player for the Brooklyn Nets of the National Basketball Association. He has played for the Oklahoma City Thunder, Golden State Warriors, and the Nets. He was MVP of the 2017 and 2018 NBA Finals.
Greatest scorer ever besides Jordan. One of the most skilled players of all time, is so versatile and very underrated defensively. He has all the stats to be top ten and let's be honest, if we are talking how good at BASKETBALL these players are, KD is top 5 maybe top 3.
Listed at 6'9 but we all know damn well he's over 7'0. Loyalty aside, Can get to the cup, can hit 3's at an above average rate, basically got his mid range game down to a science. The best offensive player the game has ever seen. Should be at least top 10. At the end of his career, I hope we put aside his awful move to Golden state and just realize that this guy is a legend.
Durant and Lebron are equily good in my opinion. Kevin is a better three shooter but lebron is better in the paint.
Best of the best
14
Julius Erving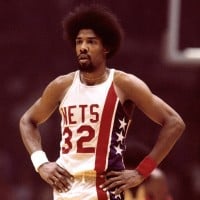 Julius Winfield Erving II, commonly known by the nickname Dr. J, is an American retired basketball player who helped popularize a modern style of play that emphasizes leaping and playing above the rim.
Dr. J inspired Michael Jordan to be an amazing dunker and the best of all time. His moves were unlike anyone else. He was one of the best Dunkers ever.
Without Doctor J, most of those above him on this list wouldn't be know. Doc saved the game if you ask me.
He did everything MJ did before he did it. From the dunk at the foul line, to the no looker and reverse layups. Dr J should be way higher than this!
Super good dunker, almost won the lakers in the finals.
15
Allen Iverson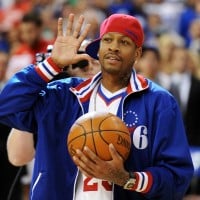 Allen Ezail Iverson is an American retired professional basketball player who played for 14 seasons in the National Basketball Association.
Allen Iverson is pound for pound one of the greatest, if not the greatest, player of all time. He played with unmatched heart and passion every night of his NBA career. The Answer was lightning quick and extremely fast, could finish at the rim amazingly well, could make incredible passes even though it's not his forte. Him and LeBron are the only ones who took a weak team to the finals despite, with better teammates there's not a doubt in my mind that he could've won a few rings during his career. With a career average of 26.7 ppg, he dominated the late 90s and early 00s.
His moves were slick and, despite his ego getting in the way, he could score and dump off some great passes. Greatly underrated, possibly because of his off-court troubles.
Better than Darius and he can cross shoot and pass he is a good passer he ecspecially deserves to be in the NBA and has good defense. He can dominate the basket whenever he can score shoot and steal the ball.
Ankles dash that three boy. There goes a note popcorn man cause of Iverson. Splash That three
16
Jerry West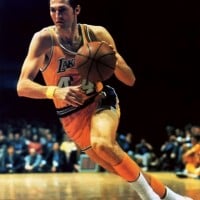 Jerry Alan West is an American retired basketball player who played his entire professional career for the Los Angeles Lakers of the National Basketball Association.
Jerry West would eat most of the players here alive. He was not only a great shooter but he was also an exceptional defender. He was unmatched in clutch time and set the standard for every guard after him.
He should be higher than Curry. I mean, he is on the NBA logo!
I have no words to say. The Logo at number 33? Are you serious?
Mr Clutch! What else can I say?
17
Alex Caruso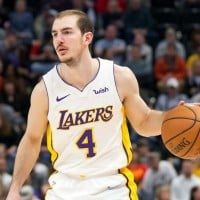 He sucks, why is he even in the top 20?
18
John Stockton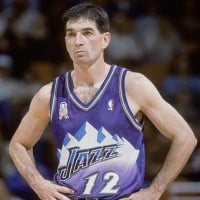 John Houston Stockton is an American retired professional basketball player. He spent his entire professional playing career as a point guard for the Utah Jazz of the National Basketball Association, from 1984 to 2003. Stockton is regarded as one of the best point guards of all time, holding the NBA records for most career assists and steals by considerable margins.
The man defined his position and is all time leader in assists/steals. What more do you want out of your point guard? Controversial top 10 for me, but no less than top 20.
All time NBA career assists and steals leaders.
John is underrated I mean he leads the NBA in assists and steal s go John Stockton
19
Charles Barkley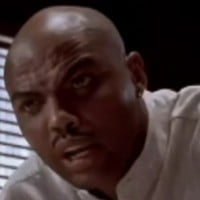 Charles Wade Barkley is an American retired professional basketball player and current analyst on the television program Inside the NBA.
So Draymond Green over Sir Charles Barkley on this list? Yeah ok. Shows how incredibly stupid voters are. Barkley a close 2nd to Duncan in best Power Forward of all time with Karl Malone jut behind him. Nowitzki is like 6th best Power Forward of all time at best.
The Round Mound of Rebound. Sir Charles was the Incredible Bulk. AT 6'6'', he dominated other power forwards that stand at about 6'9''.
20
Dirk Nowitzki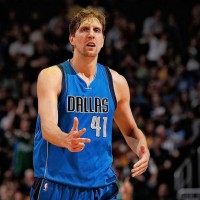 Dirk Werner Nowitzki is a German professional basketball player for the Dallas Mavericks of the National Basketball Association.
Fantastic all around player who doesn't get nearly enough recognition for his accomplishments.
How do you put a guy like kwame brown over a legend like dirk?!? What?!?
Really OP point guard. No wonder Dallas won in 2011.
Carried a mediocre team to the finals to defeat Lebron and D. Wade
21
Chris Paul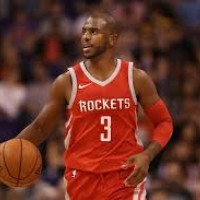 Christopher Emmanuel Paul is an American professional basketball player for the Phoenix Suns of the National Basketball Association.
Chris paul is the best player he will cross, shoot, or do a cool layup on anybody.

Best point guard ever.
Pretty good at handling. Terrible at everything else.
22
Isiah Thomas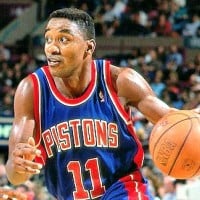 Isiah Lord Thomas III is an American former basketball player who played professionally for the Detroit Pistons in the National Basketball Association.
One of the toughest individuals to ever step out onto the court! He is one of the reasons Michael a Jordan couldn't get to the NBA Finals until the 90s considering his Detroit Pistons handled him so well.
23
Kawhi Leonard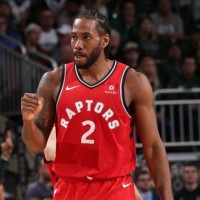 Kawhi Anthony Leonard is an American professional basketball player for the Los Angeles Clippers of the National Basketball Association. He has played for the San Antonio Spurs, Toronto Raptors, and the Clippers.
24
Dwyane Wade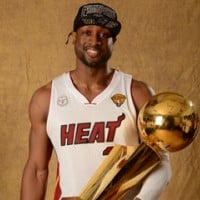 Dwyane Tyrone Wade Jr. is an American professional basketball player for the Miami Heat of the National Basketball Association.
Dwyane Wade is just an all around incredible player. I really enjoy watching old games from the heat dynasty where I see Dwyane can do anything. Top twenty for sure.
How is chris bosh higher than dwyane!? I mean I like chris bosh but dwayne wade was way more legendary
He turned Miami into a mega team, 3 champs and on finals mvp.
How is dwyane wade this far down?!?!?!?
25
Derrick Rose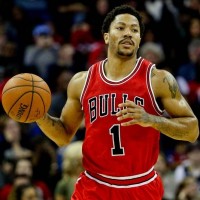 Derrick Rose lost a lot when he got injured and is not his MVP self anymore.
Too bad, his injury ruined his career.
PSearch List