Top 10 Best Home Field Advantages in Sports
Sports stadiums and arenas are more than just a place for athletes to compete. They are hallowed grounds where fans cheer, dreams are made, and legacies are born. But not all sports venues are created equal. Some provide a distinct advantage to the home team, making it harder for opponents to win. From the deafening roar of the crowd to the familiarity of the playing surface, there are numerous factors that contribute to creating a strong home field advantage.

Whether it's the passion of the fans, the unique features of the venue, or the strategic advantages it offers, there are certain sports venues that stand out from the rest. These venues not only provide a formidable challenge to opposing teams but also inspire their home teams to perform at their best.

The Top Ten

1 CenturyLink Field - Seattle, WA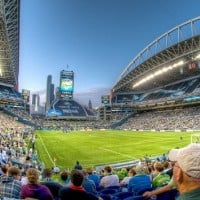 Crowd Noise originated in old Kingdome. If Kingdome was still around..would be here too.
2
Anfield - Liverpool, England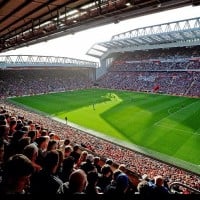 Anfield is a football stadium in Anfield, Liverpool, England which has a seating capacity of 54,074 making it the sixth largest football stadium in England. It has been the home of Liverpool F.C. since their formation in 1892.
Its not just a home ground for any Liverpudlian, its more to a shrine, biggest dream for any Liverpool fans to go to Anfield & sung "You'll Never Walk Alone" at the Kop.
3
Lambeau Field - Green Bay, WI
Just face it, no one can win against a team with a stadium filled with cheeseheads.

Except for the giants of course...

Packers are going all the way next year. It had to be like this so the pats could get their perfect season, that's all.
4 Tiger Stadium - Baton Rouge, LA
5
Arrowhead Stadium - Kansas City, MO
Haha, a k-state fan... Biased a little. I am too and I still think that Arrowhead is the loudest whether the Chiefs are 3-13 or 12-4. The fan support makes it so awesome and makes it so difficult to play here.
6
Allen Fieldhouse - Lawrence, KS
I've born and raised in KC so I have seen arrowhead plenty of times. spent 8 years in Vegas and attended UNLV (who think they have a great basketball tradition), and I have been to stadiums all such as rose bowl Arizona, the pit in New Mexico etc... and I can tell you nothing even comes close to Allen field house. It's like arrowhead/quest had a baby with Wrigly/Fenway and you have one of the greatest venues in sports where teams are 215-9 since 2005. It's definitely #1.
Statistically, this IS the greatest home field advantage in all of sports. From Wikipedia "KU's current record at Allen Fieldhouse, as of March 18, 2013, is 699-108. Since 1994, the Jayhawks have gone 263-14. Since 2007, they have gone 107-2, making Allen Fieldhouse the statistically greatest home-court advantage in all of sports."
How is this NOT #1? Look at this? "Since 1994, the Jayhawks have gone 263-14..."

That is absolutely bonkers.
How can you go aginst these numbers? The whole Seattle argument really irks me, where we're "the 12s" (scary name) the past decade?
7 Invesco Field at Mile High - Denver, CO
8
Gillette Stadium - Foxborough, MA
In January-Pats are unbeatable there.
9 Wells Fargo Center - Philadelphia, PA
10
Giants Stadium - East Rutherford, NJ
When that wind swirls in the Jersey swamps...trouble.
The Contenders
11 Williams Arena - Minneapolis, MN
12 Hard Rock Stadium - Miami Gardens, FL
13 Ohio Stadium - Columbus, OH
14
Soldier Field - Chicago, IL
When you're playing in Chicago in the Bear weather in the rain and snow against that always fierce Bears defense you're in for some trouble, and a loss!
A field dedicated to the soldiers of America. It gets PRETTY intense. Especially When Hester runs one back!
15
Celtic Park - Glasgow, Scotland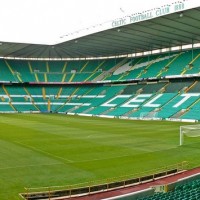 Celtic Park is a football stadium in the Parkhead area of Glasgow, and is the home ground of Celtic Football Club.
The best home record in europe only 2 defeats ever and both to the best team in the world Barcelona
16
Fenway Park - Boston, MA
Notice how many lefty hitters boston drafts smack off the wall on what would have been an easy pop up play double after double after double. Also pop ups are now a homerun.
17
Monster Park - San Francisco, CA
The temp could be 95 degrees in downtown SF but would be 32 degrees at the Stick.
18 Stamford Bridge - London, England
19 Cameron Indoor Stadium - Durham, NC
20 Busch Stadium - St Louis, MO
21 United Center - Chicago, IL
22 Rajko Mitić Stadium - Belgrade, Serbia
23
Highbury Stadium - London, England
Okay most of it has been teared down but every team in the country panicked when they had to play Arsenal at home. It's even the centre of the untouchables season not a loss in sight!
24
Footprint Center - Phoenix, AZ
Suns Fans are rowdy during playoff time. Loudest arena in the Western Conference apart from the Staples Center.
25 Franklin's Gardens - Northampton, England
PSearch List