Top 10 Best Bowlers in Cricket History
The Top Ten
1
Wasim Akram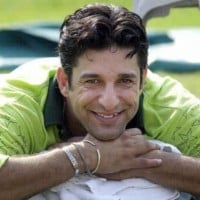 Wasim Akram is a Pakistani cricket commentator, coach and former cricketer, captain of Pakistan national cricket team.
Wasim Akram was quick and a master of swing and seam. Although subcontinental pitches do not support fast bowling, Wasim Akram managed to move the ball in both directions and took more than 900 wickets. Known as the "Sultan of Swing," he took over 400 Test wickets and holds the record for the most wickets in ODIs (502) and List A cricket (881). With an average of 23.62 in Test matches from 104 appearances, his record is impressive. He is one of only three bowlers to record two hat-tricks in Test cricket and one of three to achieve the same feat in ODI cricket.
I remember the match where he bowled out three Indian players in a row with his classic in-swing toe-breakers. He and Waqar Younis were dominant in cricket. Waqar Younis should be in the number 2 spot. Ajmal was the first bowler to ever spin the ball in all directions and he invented a new method as well. He concealed the ball well and was the best spinner of all time. Akhtar was the first bowler to exceed 100 mph, but other than that, he was unimpressive. In an unofficial test, Adam Gilchrist, who is known only as a remarkable wicketkeeper and batsman, beat him in a bowling competition.

In other words, Pakistan has produced the best bowlers in history.
2
Shane Warne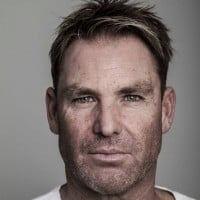 Shane Keith Warne was an Australian cricket commentator and former international cricketer who captained the Australian national team
"Warnie," as he was known by all proud Australians, was not given much of a chance when his test career first began in January 1992 at the age of 22 against India. In two Tests, his overall figures were 1 for 228, not exactly a promising start.

The next tour was the Ashes series of '92-'93, where Warne took 34 wickets and became, in my opinion, the best bowler of any kind ever to grace the pitch.

Just like Sir Donald Bradman, who was the greatest batsman ever in history and will never be matched, Warne is the greatest bowler in history and will also never be matched.

Test Record - 708/3,154 @ 4.45 runs per wicket. This is more important than balls bowled per wicket, I feel, simply because this is the way that most spectators view an over. They know there are 6 balls (provided no wides or no-balls are bowled) per over, but are more interested in how many wickets are taken compared to how many runs are scored. This is the best average of runs per wicket ever by a bowler who has played more than 100 tests for their country.
3
Brett Lee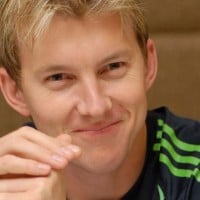 Brett Lee is a former Australian international cricketer and film actor. He is a former Channel Nine Commentator.
I love him on the battlefield. He's one of the greatest bowlers in cricket, and he is my favorite player forever. Though he has retired from international cricket, he will always be in my memory. No one will be there in cricket like Brett Lee in this era, and everyone loves him due to his unique style of bowling. So I love him. Not only me, everyone loves him. In my opinion, the world's number 1 bowler is Brett Lee.
Why does Lee have only 5% of the votes? He is faster and better. He pitches the ball right up to the batsman, and he is the most feared bowler when he is at his best. I'm sorry to say, but this is the worst list ever created! He should be at the top. In fact, he is better than Warne. Anyway, Lee, if the list says no too, you're the best!
Brett is the best bowler in my humble opinion. I love his cute face and super bowling skills. See you soon as number 1. Brett is the best of all. The Australian Kangaroo, you rock. You are a very fast bowler and can confuse any batsman. I want to just push this position to number 1.
4
Glenn McGrath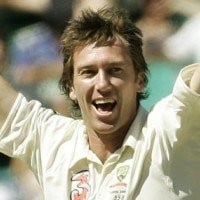 He was ranked the number one player by the Australian Cricket Board for eight years of his playing career, receiving the top contract over other players like Warne, Waugh, Hayden, Ponting, and Gilchrist. He was the best player on the best team of all time. He also ended his career as the Player of the World Cup, having reached four finals and won three. All of this was achieved while his wife, Jane, struggled with cancer.
Laugh out loud, there is something wrong with the list! I am Indian, but I have no problem saying that Harbhajan doesn't belong up there. Come on, just because he is Indian, don't support him for that reason alone! And yeah, Glenn McGrath is simply the best!
He was the most incredible fast bowler I've ever witnessed. He had a knack for delivering exceptional balls every now and then, leaving the batsman guessing, only to be dismissed or trapped in front. He was economical as well. He hated being scored off.
5
Dale Steyn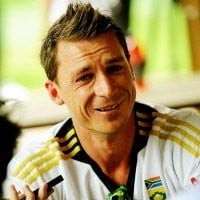 Currently, he is easily the best bowler in the world. I don't care who you are or what the pitch is like. It could be flat as concrete, but if Dale Steyn is running into you, you're always a little nervous. Unlike most swing/seam bowlers who need helpful conditions, Dale makes things happen by consistently being in the right area at an uncomfortable speed.
Best bowler of all time. He is so good under pressure, and when you are hoping for him to play well, he steps up and takes five wickets for the team! Dale Steyn is the best cricketer of all time!
He is the champion of champions when it comes to bowling. I think Wasim Akram is not the best bowler in the world. Dale Steyn deserves to be called the best bowler in the world.
6
Muttiah Muralitharan
He made spin bowling attacking and he is the number one bowler according to the statistics. He has more than ten wickets and five-wicket hauls in Test cricket and is the leading wicket-taker in the ODI format as well. Those who compare his wicket tally with Warne and say that he took more wickets against Bangladesh & Zimbabwe should remember that when Warne was playing, most of the non-Asian teams, including England, always struggled against spin, which makes the wickets against those teams much easier. Also, Warne often picks off the bottom half of the batting lineup after the pacers clean the top order, which makes Murali a much better bowler than him.
You did not put Muttiah in first place, but at least put him in third. Why have you included that chucker Harbhajan Singh? Type Harbhajan Singh chucks into Google and you'll see that he really chucks. He's the biggest chucker in the history of cricket. I can't believe he's still playing. That cheater. And someone should know that Muralitharan is not a fast bowler. Malinga is, of course.
7
Harbhajan Singh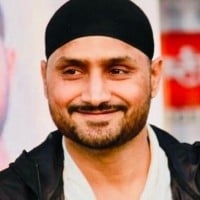 Harbhajan Singh is a Member of Parliament, Rajya Sabha and a former Indian cricketer and cricket commentator.
The one and only Bhajji. Singh is the king. He is the best off-spinner currently in the world and the best bowler to deliver the 'Doosra'.
He is the best bowler in the world. He is an amazing spinner, and he is also famous for his helicopter shot. His action is also good.
He has played for India for many years and still holds his ground on the team.
8
Shoaib Akhtar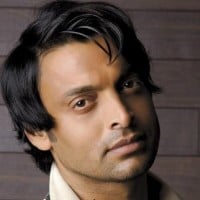 Yes, but Viv Richards would've put him into the grandstands, even with the toothpick bat he had in his day. Jeff Thomson was the quickest I've seen, and they say Frank Tyson was even quicker!
Shoaib Akhtar is a superb bowler. He can knock out almost everyone. Nearly every batsman is scared of him. When he bowls, no one could hit a six.
I love his action and his superb speed. I think that he is the best bowler in the world. I love his yorkers and bouncers.
9
Zaheer Khan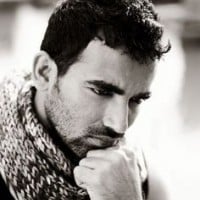 Zaheer Khan is an Indian former cricketer who played all forms of the game for the Indian national team from 2000 till 2014.
For me, he is always among Indian greats like Sachin, Kapil, Gavaskar, Ganguly, Dravid, and many others. India wouldn't have attained the number one spot in Tests without this guy, nor even won the WC 2011. Generally, fast bowlers are considered more brawn than brains, but this guy, along with the likes of Wasim and Anderson, has made a strong statement that "Bowlers do utilize their brains even while bowling at 140 km/h."
No Indian fast bowler should be on the list. The reason is that Indians have never produced an express fast bowler ever in history. All were medium pacers. On the question of why Indians don't produce as good fast bowlers as Pakistan, even though the soil is the same, Geoffrey Boycott thinks diet may be the reason. Indians are vegetarians! They get Khassee.
The best Indian bowler ever is Zaheer Khan. His ability to swing the ball both ways is just awesome. No one could match him in this type of bowling, and I think he is now the world's best.
10
Waqar Younis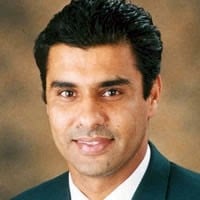 I think he must stand in the 1st position. The reason for this is that he is brave in his technique of bowling, very athletic, has a superb run-up, and excellent command over swing. Innovations in cricket such as the Waqar special and deadly swinging yorkers are his specialty. He is also the master of reverse swing. In your list, none of the bowlers have such capabilities. So it is requested to consider him in your top ranking. I mean number 1.
I've never understood why Wasim gets so much more acclaim than Waqar. They're both equally great, in my view, and Waqar was without a doubt one of the most lethal bowlers of all time. He had pace, violent late swing, brilliant yorkers, and superb control of late swing with the old ball. To have him behind Steyn, Akhtar, Lee, and (especially) Zaheer Khan is completely ludicrous. He's an all-time legend.
Awesome bowler. You are selective when talking about fastest wickets. Dennis Lillee took 300 wickets in just 56 Tests. Strike rates mean nothing! I'd rather have a guy who can give me 5 wickets in a match than someone who delivers 3, with a prettier strike rate.
The Contenders
11
Mitchell Johnson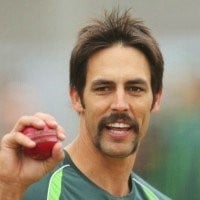 He really proved himself in the Premier League. He doesn't belong at the top with the great bowlers of cricket history, but he really deserves to be at least an honorable mention.
Great bowler, always has been.
Bowls nice bouncers in the Ashes.
12
Anil Kumble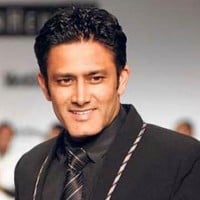 Anil Kumble should be in the top three. He has been one of the most consistent bowlers for India. He took 10 wickets in a test match against Pakistan. He is one of the leading wicket-takers in Test cricket. He is also a great T20 bowler. He has a great record in the IPL. He can read the batsman's mind and is regarded as India's best bowler of all time.
No one can read a batsman's mind better than him. He is the man with the most number of variations.
His bowling may seem simple, but that's where his power comes from. It looks simple, but it's not. Records show how successful he has been for India.
13
Saeed Ajmal
He is a world-class bowler who can destroy any batting order. He is a great off-spinner, and his doosra is one of the most difficult balls to play.
I think that Saeed Ajmal is the best bowler. No one can stand against his doosra and teesra.
What if he is in the top 10? To the people who vote for him: he is the worst spin bowler.
14
Imran Khan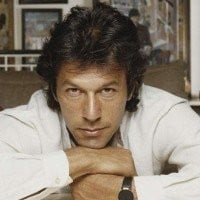 The best cricketer and the best politician in the world. He won us the World Cup and is now going to set up Pakistan.
How is Malinga ranked ahead of him? He's amazingly good at both ball and bat, unlike many others on this list.
The best captain and bowler who can bat whenever his team is in danger.
15
Allan Donald
This guy is definitely a top-10 bowler of all time. Some might even argue top 5! Does no one voting here have any cricket knowledge? Come on, do yourself a favor and read up, and check some YouTube clips of AD. You will definitely learn a few things.
Devastating bowler and great fighter. He should be in the top 10. In my childhood and teenage years (80s and early 90s), some names used to create fear in my mind - Wasim Akram, Waqar Younis, Richard Hadlee, etc. - but Ambrose and McDonald top that scary list of my memories.
He has great pace, accuracy, swing, and aggression - all things that one fast bowler needs.
16
James Anderson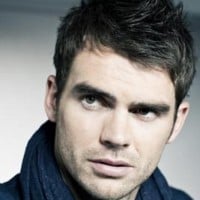 James Michael Anderson,, usually known as Jimmy Anderson, is an English international cricketer who plays for Lancashire County
I feel that he is so consistent and unplayable at the start of the spell. I have seen him make greats of the game look like fools. He deserves to be higher up the list than he is currently.
Wow, what a player! Swinging, nipping, he's a nightmare to play against in his conditions. Even on dead tracks in Dubai, he performed well. What an inspiration!
King of Swing: best of his era. He is 100% the best "fast" bowler since McGrath and definitely belongs in the top 5 of all time.
17
Ravichandran Ashwin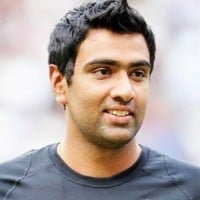 He is a very economical bowler who has an excellent temperament and a tough mind to torment the batsmen with his variations, like the carrom ball.
At the time I viewed this page, Ravichandran Ashwin was at 17. He is the next Shane Warne (the best bowler before he retired). He should at least be in the top 5.
The best spinners and young talent who can change cricket history. Ashwin is a wonderful bowler who has taken 5-wicket hauls many times. Young Indians can face any batsmen using his carrom ball.
18
Chaminda Vaas
One of the best opening bowlers in world cricket history.
Definitely underrated. You should watch YouTube.
A hero does not expect a number 1 rank. He is the hero.
19
Sunil Narine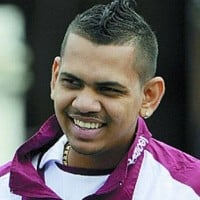 The most talented bowler of all time. Nobody can face him perfectly.
He is the best spinner of 2014, and his knuckleballs are awesome.
He is the best spinner. He should be the first bowler.
20
Lasith Malinga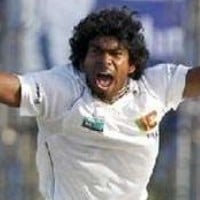 He is the king of yorkers. He can take many wickets with both in-swing and out-swing.
Now he's playing in his final stage, but he is still bowling brilliantly. He's the number one fast bowler of all time.
He is the best bowler of all time and also the only bowler to get three hat-tricks in the world. He is amazing! Truly a Lankan Lion.
21
Shaun Tait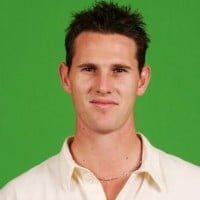 He is the first bowler to hurt AB!
Best bowler ever.
Yeah, he's good.
22
Mohammad Amir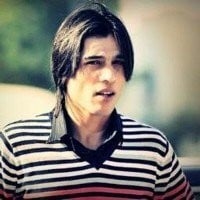 Dude, whoever you are, you are making a mistake by putting M. Amir at 33. He should be in the top 5. He is the most talented and best swinger of pace I've ever seen in my life, and he's only 19. He is the real king and the master of swing bowling.
What can I say about this guy?
I am speechless. He's the most amazing bowler in cricket history.
At a very young age, he can swing the ball both ways.
Man, he is much better than Wasim and others.
He should be at the top of the list.
So much talent. Wasim Akram said he started off just as strong as I was at my peak. He will be back hopefully for the World Cup. Very good - all the old bowlers have something to say about this young Pakistani talent, who is taking bowling to another level.
23
Bhuvneshwar Kumar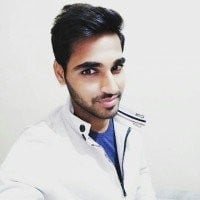 I don't know what to say about Bhuvneshwar Kumar. He is a brilliant bowler in history and also good-looking. He has the ability to get wickets with a new ball. Whatever I say is insufficient for him. I've never seen such a great bowler like him. When I first saw Bhuvi in his debut match, I was surprised. His best in T20 career is 3-9, and for me, that's a superb score. Whether anyone believes it or not, he is really the best for me. Just for your info, I'm Pinky. Thanks for giving me such an opportunity to see you at this very early age. You're really my idol. I love you, Sir Ji!
Young Indian bowler who has achieved more than what anyone with his ability would have. Perfect wrist position enables him to swing the ball both ways. He is very disciplined and has an amazingly mature head on young shoulders. Given his determination and dedication, he is all set to enter the book of greats!
He is one of the best swingers I have ever seen, and he is the king in death overs. He was also the purple cap holder of IPL 2016. I am a big fan of this man. Good luck, bro, for IPL 2019.
24
Fred Trueman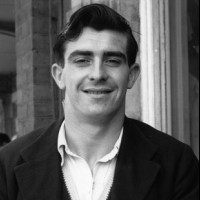 There has never been a better bowler than Fred. He had to battle the snobby suits - the English selectors at Lords - who avoided picking him for England on many occasions because they didn't like his fiery behavior and attitude to authority. If he had been picked as often as he should have been, his average and wickets taken would be much better. Strong as an ox, very fast, and fiery, he was very intimidating to batsmen. He could move the ball any way he chose. He is truly the greatest and the true number 1.
Having seen "Fiery Fred" in my youth, I feel I can compare some of the greats of yesteryear with today's greats, and Freddie Trueman is up there with the best.
25 Monty Panesar
PSearch List