Top 10 Biggest NFL Busts of All Time
This is one for those that were highly touted coming out of college and fell flat once they got the big money.

The Top Ten

1 Ryan Leaf - No 2 to Chargers in 1998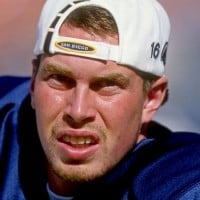 Ryan David Leaf is a former American football player who was a quarterback in the National Football League for four seasons. He was selected as the second overall pick in the 1998 NFL Draft after only Peyton Manning. He played for the San Diego Chargers, Tampa Bay Buccaneers, Dallas Cowboys, and Seattle Seahawks. He is widely considered to be the worst quarterback of all time, as well as the biggest NFL draft bust.
About 85% of America thought HE was better than PEYTON MANNING. Well let us look at what Manning did and what Leaf did. Well manning went to three SBs, has almost 70,000 passing yards, holds the single season passing td record, holds the career td mark, and well, isn't on this list. Leaf? Well, the Chargers got a a guy who had a 50 qb rating for his career, a retirement, and a jailbird
Without a doubt, the biggest bust EVER. One year wonder at Wash State, 5 year blunder in NFL.
I'm surprised that Cryin' Leaf doesn't have like 98% of the vote on this one. God, did he suck.
I wonder where the Colts would be now if they had the number 2 pick.
2
JaMarcus Russell - No 1 to Raiders in 2007
Just as bad on the field as Ryan Leaf, but the coaching staff kept wishing he would get better, then kept giving him numerous additional chances even though he was a lost cause.
Bust he sucked boo
3
Tony Mandarich - No 2 to Packers in 1989
He's the only Top 5 pick from the 1989 draft who's not in the hall of fame. The others? Troy Aikman, Barry Sanders, Deion Sanders and Derrick Thomas.

As a Packer he was the biggest offensive line bust of all time. Though he DID become a decent guard for the Colts.
And Troy Aikman and Derrick Thomas. Boy ill bet the Packers feel stupid.
Big guy big bust. Barry Sanders and Deion Sanders went in that draft.
People forget he came back and he should not be this high.
4
Tim Couch - No 1 to Browns in 1999
In his defense, Browns were expansion team but faltered badly and was recently released by Jags.
He went to the '99 Browns, I don't know hat you want from him.
5
David Carr - No 1 to Texans in 2002
He kept getting sacked because of a weak offensive line. If Tony Boselli (who was a very good pass blocker) hadn't suffered a career-ending injury and actually played for Houston David Carr would be lower on this list.
His a lot like Tim Couch, both were to have expectations for being brought in these new expansion teams to lead. Hey everyone knows who Derek Carr is, Does anyone recognize David Carr anymore?
Same as Couch..4 bad years and a ton of sacks and for his troubles landed in Carolina.
6
Kevin Allen - No 9 to Eagles in 1985
Played one TERRIBLE season, tested positive for cocaine, spent 33 months in jail for sexual assault, got banned from the NFL, and spent the rest of his days in the WLAF and Arena Football. And to think the Eagles passed on Jerry Rice!
7
Lawrence Phillips - No 6 to Rams in 1996
This running back couldn't stay out of trouble. He was cut in the middle of his second season, spent a year in Spain, missed a block that ended Steve Young's career, wound up in Canada, and now he's rotting away in jail. And to think the Rams gave up on Jerome Bettis! They passed on Eddie George and Ray Lewis for a criminal.
8
Vernon Gholston - No 6 to Jets in 2008
Aw man, he never recorded a sack in his career. Pretty pathetic because he was a top-10 pick.
9
Dimitrius Underwood - No 29 to Vikings in 1999
Never played a down with Vikes and mental issues killed his career.
10
Brian Bosworth - Supp Draft to Seahawks in 1987
Deserves to be higher
The Contenders
11 Courtney Brown - No 1 to Browns in 2000
12 Charles Rogers - No. 2 to Lions in 2003
13 Kenneth Gameday Sims - No 1 to New England in 1982
14
Michael Vick - No 1 to Falcons in 2001
Even when he played he was a terrible QB and the most overrated one in the league. Now he's in prison and if the Falcons had not traded their pick they could've gotten LT and Drew Brees. Just a horrible move. By the way how is Mario Williams on this list? He's a great player. Way better than Reggie Bush who is closer to a bust than Mario.
Vick was actually a spectacular athlete. He's possibly the reason why today's top passers are fast with cannon arms.
Just think that the Chargers had the NO 1 pick that year and traded the pick and got LT and Drew Brees. Vick's next stop is the US Bureau of Prisons.
15 Johnny Manziel - No 22 to Browns in 2014
16
Joey Harrington - No 3 to Lions in 2002
Although to be fair, he played for Matt Millen, and none of the other QBs from that draft have gone on to anything spectacular.
17
Leo Hayden - No. 1 to Vikings in 1971
Star running back for Ohio State. Never gained a single yard for the Vikings. Played for St. Louis for 2 years and had a grand total of 17 yards for his NFL career.
18 Ki-Jana Carter - No 1 to Bengals in 1995
19
Mario Williams - No 1 to Texans in 2006
And the Texans passed on Reggie Bush.
20
Rich Campbell - No 6 to Packers in 1980
I was afraid that history would repeat itself when the Packers drafter Aaron Rodgers.
21
Reggie Bush - No 2 to Saints in 2006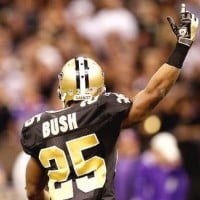 Reginald Alfred "Reggie" Bush Jr. is an American football running back who is currently on the Buffalo Bills roster.
He had a long, average career. More of a receiving back.
22 Aaron Curry - No 4 to Seahawks in 2009
23 Brady Quinn - No 22 to Browns in 2007
24
Cedric Benson - No 4 to Bears in 2005
Just think of the position the bears would be in if they still had Thomas Jones. Benson never ran for any yards and he's not even on the team anymore. It's actually probably a good thing they got rid of him. We need thomas jones!
Wow! To think we could have just kept Thomas Jones and traded Benson. Where's Benson now? O Yeah taking a breathalizer some where.
25 Rex Grossman - No. 22 to Bears In 2003
PSearch List