Best Male Golfers of All Time
Who are the most successful and talented male golfers ever?

The Top Ten

1 Tiger Woods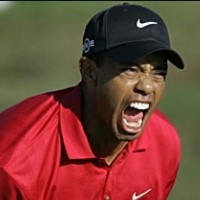 Eldrick Tont "Tiger" Woods is an American professional golfer who is among the most successful golfers of all time.
This really isn't a contest. The only reason there's even a debate is because Tiger missed years of his prime with horrible injuries. He'd have well over 100 wins and over 20 majors. The guy was winning over 25% of every tournament he played. even still it's about 22%. Jack wasn't half that. He's won a record 9 Vardon trophies - lowest scoring average on tour, including 5 straight - No one else has more than 5. Jack NEVER won one. He never had the lowest average. He held all 4 majors at the same time for crying out loud. You can argue that others had comparable careers, but there is no question that Tiger took the game to the highest level it was ever played at. Tiger at his best is light years ahead of everyone else... And he is still going. As of now he's won 3 of his last 14 tournaments - about 21-22%, right at his career average.
Jack and Tiger each at 23%, and that's perfect, because they really are 1 and 1A. The way I explain it is that Jack Nicklaus had the greatest career of all time, but Tiger is the best golfer ever. What I mean by that is Jack has the best record, the 18 majors, and also 19 runner-up's in majors, and also played in the golden era of golf, he had the best quality of opposition. But Tiger took golf to the highest level it's ever been played. For a decade he won like 25-30% of his tournaments. That's ridiculous and will NEVER be done again. His abilities will never be surpassed. He was the perfect golfer. Injuries are the only reason this is even a debate, otherwise he'd have 20 majors already and over 100 PGA wins. As it stands he now has 80 PGA wins, which is 2nd of all time (Sam Snead has 82 and Jack had 73) and he's 2nd in majors (14, to Jacks 18).. But he's healthy again, and even at 42-43 he still has a few years to build to his legacy. He just had his first win in 5 years. It's all ...more
Tiger's numbers are absurd. From 1996-2009 he won 30% of his starts on the PGA Tour (71/239) while competing in the strongest most global fields in golf's rich history. Jack Nicklaus the only other contender for this #1 position won about 20% of his events (52/265) at his absolute peak. More evidence of Tiger's total domination is that he lead the PGA Tour in victories in 12 different seasons. The next best is 6.

Now, if we are counting majors and nothing else it is true that Tiger is 4 wins behind the Golden Bear's 18 solo second in the all time list. Woods is also second in the total wins category 2 behind Sam Snead's 82.
The only reason this is even a debate is because Tiger got hurt. Had he stayed healthy he'd have over 100 wins and 20-25 majors, and he'd still be going. I mean he even just won a major with limited ability (48th in driving distance in that Masters). In his prime he won like 30% of all tournaments he entered. That's absurd. Even now he's at like 23% for his career. He won 9 Vardon trophy's - that goes to the player with the lowest scoring average. No one else won more than 5. Jack Nicklaus, as great as he was, never won one. he never had the lowest scoring average. Tiger did it 9 times
2
Jack Nicklaus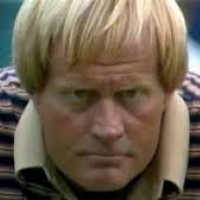 To see Tiger over Jack is downright offensive. Jack has EIGHTTEEN major vs only 14 for Tiger and this is despite that Jack's competition is light years superior to Tiger's. Jack faced all time greats Palmer, Player, Watson, Ballesteros. Tiger faced no all time greats, and no Phil Mickelsen is not an all time great. On top of that he has something like twenty more runner ups in majors, amazing. Tiger has about 7. Most people who are voting Tiger are probably only doing so since he is black.
Best Ever PERIOD! Tiger got the luxory of spending all of his time focusing on golf, Jack Did not, still beat out tiger in major wins. Plus the big one for me is who did Tiger ever have as competition? Lefty? Please... The remainder of the top ten was who Jack played against, I don't see anyone that Tiger has. Less technology, same scores. I can go on and on and on, Number one Jack!
Nothing like a Sunday growing you watching the "Golden Bear" putting for a birdie or eagle. Tiger is great but got sidetracked because he took is eye off the 'legend' prize.. For me.. It's Jack hands down and he ALWAYS a gentleman with class and humbleness... Unlike Tiger who at times acts like a spoiled little brat and I am happy he got derailed... Serves him right!
Not only the best golfer ever, the best role model. Always conducted his self with CLASS win or lose. I never heard any 4 letter words when he played a bad shot I have never heard or read about anyone saying anything but good things about Jack. They used to say "Who will be the next Jack Nicklaus? " I can answer that. NOBODY
3
Arnold Palmer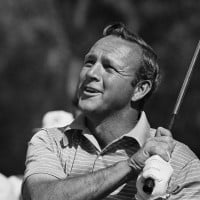 Arnold Daniel Palmer was an American professional golfer who is generally regarded as one of the greatest players in the sport's history.
How the hell can you say Arnie is not the best. He did more for golf then any other player. With out him tiger woods would not be a house hold name. Pro golf may have fallan appart. Also he was a damb good golfer
4
Bobby Jones
Completed the Grand Slam in a single calendar year AS AN AMATEUR! It blows my mind that he never officially turned pro but yet accomplished so much.
No question the greatest golfer of all time winning 50% of all tournaments he played in
5 Ben Hogan
6
Gary Player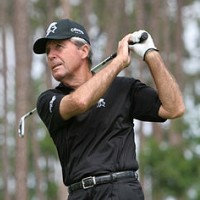 From Wiki:
Player is one of the most successful golfers in the history of the sport, ranking third (behind Roberto de Vicenzo and Sam Snead) in total professional wins, with at least 166, and tied for fourth in major championship victories with nine.
7
Walter Hagen
He used to purposely hit the ball into the woods just to give himself a challenge
8
Sam Snead
Must be in top 5-7
9
Phil Mickelson
Lefty has maybe the best short game ever!
Needs to move up the list to a place more respectful of his accomplishments
10 Padraig Harrington
The Contenders
11 Seve Ballesteros
12
Rory McIlroy
Rory McIlroy, the best golfer.
I love his pose and tee shots.
He will be the golfer whose skill will be more technical than Tiger Woods or Jack Nicklaus.
Way too early to tell, buy could be on his way!
13
Tom Watson
Five Open Championships, 8 Major wins and took down Jack numerous times when Nicklaus was in his prime. Tom is never given enough credit. Deserves to be much higher on this list!
Tom still competes at a high level, when he occasionally plays. The man is in his sixties. I think he gets overlooked because he was too nice, no controversy. A great golfer.
14
Greg Norman
he only won 2 majors, but that's half the story. Norman is Austalian's greatest golfer with 88 overall tournament wins 1995 PGA Tour Player of the year, once challenged for the 2008 open golf championship at the age of 53, 5 times he won $1 million dollars in the pga tour in a single year, 2001 member of the World Golf Hall of Fame and a great gentleman off the course. Truly one of golf's great men.
Its Joeysworld
15 Jason Day
16
Jordan Spieth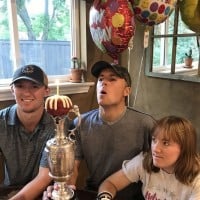 Got his head screwed on straight! Almost too good to be true.
He should be number 1
17
Harry Vardon
7 major wins, dominated golf upto the first world war. First to write a book on the theory of golf and still has won more majors than any other British player.
18
Nick Faldo
Between Tom Watson and Woods THIS guy was the best golfer in the world.Yes at times the magic of 'Seve' and the sheer talent of 'Greg Norman' were better than Faldo.However Faldo was better than both of them for longer in the tournaments that mattered...Faldo to be fair should have had an even longer career but his game remained good but the game changed in the late 1990s...he was never a has-been but he did become obsolete...the greatest 'thinking/mental' golfer of all time along with Jack and Tiger.
Nick Faldo played with a steely nerve and a never say die attitude. He was always aware of greats before him, ie Jack Nicklaus, Gary Player etc. He had what all greats have, an Aura on the golf course and of course he is British.
19 Luke Donald
20 Lee Westwood
21 Bubba Watson
22 Matt Kuchar
23 Adam Scott
24 Graeme McDowell
25 Justin Rose
PSearch List