Top 10 Best Soccer Managers
Who are the 10 Best Football (Soccer) Managers of all time?

The Top Ten

1 Alex Ferguson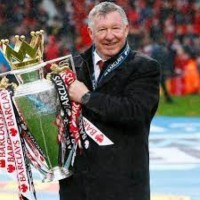 Best manager ever, and I know main reason is what he did at Man Utd but don't forget about Aberdeen. Great success there too. Even at St Mirren (from wiki) Ferguson was manager of St Mirren from 1974 until 1978, producing a remarkable transformation of a team in the lower half of the old Second Division watched by crowds of just over 1,000, to First Division champions in 1977, discovering talent like Billy Stark, Tony Fitzpatrick, Lex Richardson, Frank McGarvey, Bobby Reid and Peter Weir while playing superb attacking football.
There are many great football managers, many! Each of them for deferend reasons. What makes Sir Alex Ferguson the absolut best of them all though, except of what is listed here (36 trophies with Manchester United, his royalty, domination with Man Utd while taking the team at very difficult times, european succes with Aberdeen for God's sake! ) is the fact that even though someone can say that Paisly, Mourinho or Matt Busby is better and be a respected oppinion, they all will say that they are even better than Sir Alex. Well guess why..
The managers below might be really good managers, but what makes Sir Alex Ferguson a great manager is the ability to adapt and change the team without it losing it's competitiveness, something which Mourinho has never really displayed and something that is clearly lacking with Wenger at Arsenal.
Not only did he win a sackload of trophies in his seven years at Aberdeen (Including two European trophies), he has created some of the best teams in the English game at Man United. He overhauled the youth system at the club, introducing a whole range of fantastic players to the game. He created at least 4 different sides in his time at the club, all of which being hugely successfull. The 1999 United team are one of only six teams in UEFA to win the continental treble and thanks to him, the trophy cabinet at OT is absolutely packed. He exercises his authority on his players and a lot of them love him E.G. beckham referring him to as a second dad.
In Football, he may be the only person ...more
Not only an incredible manager, but an incredible leader. He adapted to every situation he ever faced and maintained complete dominance of arguably the hardest league in the world for over 20 years. I doubt we will ever see a manager like Sir Alex ever again in our lifetimes.
2
José Mourinho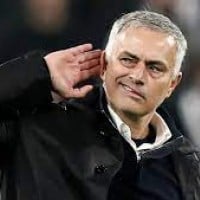 Winning! With him it's all about the results, and he will get the best out of whatever players he is given.
Discipline! No "prima donnas" on his squads... The team is the only relevant entity.
Tactics! Can play any stile anywhere with any quality of players he is given, and make mediocre teams punch way above their weight.
Downside: Chose Chelsea over Spurs; Is now the coach of Real Madrid, instead of taking on a true challenge... Winning the EPL with Spurs!
Simple test, when he goes to a team, that team is always better than it was in past years. Porto and Chelsea have seen their best under him, more than a half of Chelsea's history is gained by Mourinho. Compare his Inter 2008-2010 with era before him, Real Madrid didn't saw CL semi-finals for 8 years before him, when he came, they were at CL semi-finals for 3 consecutive years and finally good days to come for Manchester United, they will be better than their last years.
Just the best and the special one, did a great Job in Chelsea tell me a manager who has achieved what this man has. Alex is good however how many countries league has he won, he needs to go to other countries and clubs to prove himself not just sit in Manchester United and say he is great. Jose has proved his quality by wining at every club he has been to. Thumb up
He is the best one! I think Chelsea will win the next UEFA Championship League and the European Super Cup. Besides, he will Chelsea to become the best clubs in the English Premier League and UEFA Championship League.
3
Arsene Wenger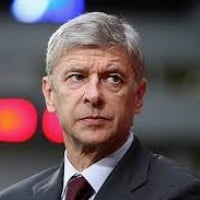 Arsene Wenger doesn't leave the Club behind when they were falling apart! Is there any other manager who could be faithful and loyal as Arsene Wenger I doubt that, people troll about him, Jokes about him, many of his star player left but he doesn't give up and always pull arsenal together... He is the best manager
I think he is best football manager of all time. A true legend and a football entertainer who makes watching football fun. Arsenal are only the second most entertaining football team in the world to Barcelona, they play good and entertaining football.
It is a big deal to be successful in absence of huge finance like other big clubs have. Not only he maintained the respectable place in the league he also maintained the attractive style of football that Arsenal is known for. One of the Great Manager the game have seen
just as I have read on many comments on this site, I like arsene wenger philosophy of not wasting money on known stars but instead by making strars and yet he can keep arsenal at a higher level despite not winning the champions league. I wish I can meet wenger one day and help him win a european cup (champions league). In my opinion he should be the best one which better than the special one
4
Pep Guardiola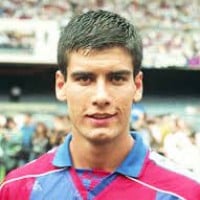 Absolutely the best, his success in Barcelona is just a real example of how much he knows about this great sport that is soccer. Cheers to him even though he is leaving Barcelona he will always be with us.
Guardiola is one of the legendary coach in the world. He won cups for Bayern Munich and he won 14 cups for Barcelona. definitely, he is a champion as a manager. Guardiola can perform in any club as a manager who has passion for soccer.
73.24 Win rate. What else is there to say? He is simply the best of them all. Now he's at City and he's gonna win the league at least once, maybe twice. He will also most likely win the Champion's league too.
For sure he is the best...
Just with Barcelona about 4 season but win so many titles under his belt...
14 out of 17 competition that Barcelona win under his coaching..
FOR SURE THE number 1 FOR ME!
5
Bob Paisley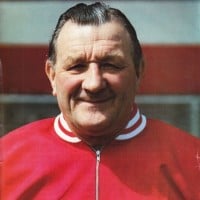 Alex Ferguson might be the greatest manager of all-time, but the best one is definitely Bob Paisley, he really destroyed the whole Europe and England with Liverpool FC.
He manager liverpool for 10 years and won 20 trophies. Image he has manager liverpool for 20 years how many will he win for liverpool.
Three European Cups in nine years compared to two in 25?
Left a legacy of trophies for Liverpool.
6
Jürgen Klopp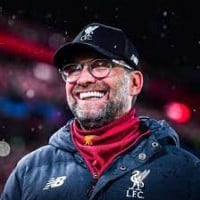 Wouldn't shake Tony Pulis' hand, what an idiot doesn't deserve to be on this list.
He also celebrated a 2-2 draw with West Brom like they won the league.
Excellent Manager, transformed Dortmund from an average mid-table side in the Bundesliga to Consecutive title winners and Champions League finalists. Wish him all the best at LFC.
Love him so much! The best best ongoing manger! Time to hit best manager of all-time!
Have qualities to develop young players and giving pressing game.
7
Carlo Ancelotti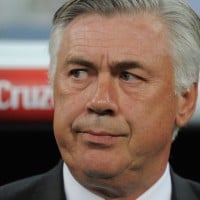 For Sure, He's much more better than Guardiola. Guardiola just manages the teams with full of stars like Barcelona in 2008 that had Henry, Ronaldinho, Deco, Eto'o, Messi and then he joined FC Bayern which was the Strongest Team in Germany
One of the three managers to have won the 3 UEFA champions leagues. A record consecutive wins with madrid and most of all, the covted-'La Decima' that eluded even Mourinho. Simply the best!
Winner at Chelsea, PSG and AC Milan where he led them to Champions League titles. Great tactician as well.
Carlo Ancelotti have manage big team such as Real Madrid, Bayern Munchen, Paris Saint Germain, Juventus, Chelsea and AC Milan
8
Matt Busby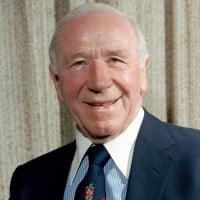 A remarkable man. Formed the Busby Babes, survived the Munich Air Crash (just). Rebuilt the Manchester Utd team to win the European Cup in 1968. He took English sides into Europe. Created the Man Utd post war legacy.
According to one of the comments he is a good manager because he survived the Munich air crash.
Revolutionized football. Created the Modern Day Manchester United, we owe everything to him.
How can he be below Mourinho, Wenger, Capello. He rebuilt Manchester after 1958. He is one of the best football mangers with Alex Fergueson
9
Johan Cruyff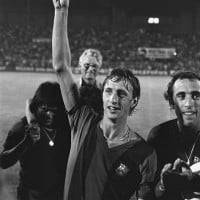 Hendrik Johannes "Johan" Cruijff (25 April 1947 – 24 March 2016) was a Dutch professional football player and coach. As a player, he won the Ballon d'Or three times, in 1971, 1973, and 1974. Cruyff was a proponent of the football philosophy known as Total Football explored by Rinus Michels, and is ...read more.
Not only was he the greatest manager of all time or what he was able to accomplish with Ajax and Barcelona, he built the foundation for the Barcelona of today that is clearly the greatest team in the world.
Won the European Cup with Barcelona & 8 league titles with Ajax.
He's definitely not the best BEST manager but he's still an awesome one though
10
Fabio Capello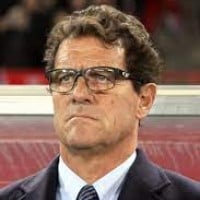 The Contenders
11
Roberto Di Matteo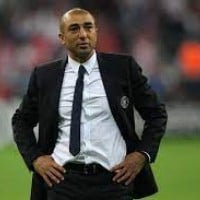 12
Jock Stein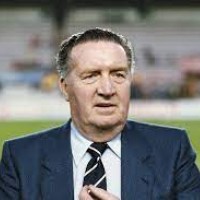 A Great manager. His teams played total football before the term had been introduced. Success was achieved with a team of local men - no expensive imports. It is always most difficult to be the first to achieve a great success, and that is exactly what he achieved.
The 1st Manager to win the European cup with 11 players from the same country and the 1st non latin team also.Rinus michaels came over to celtic to find out how big jock trained his local boys and he went back to holland and did the same.Ferguson and shanks both said that big jock was the greatest.
Took a team consisting of mostly local lads to the European cup final... and won! The first British team to ever do so! Legendary!
Took a bunch of local kids, no big money transfers, and made a world class team. Unmatched in history.
13
Bill Shankly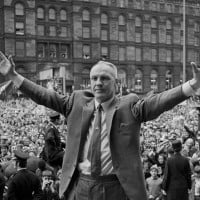 Started the boot room which collectively won 13 leagues, 4 European cups, and 4 FA cups.
Started the only legacy bigger than Guardiola's Barca and Brazil's Joga Bonito. Come on, at least top 3!
Started the legacy at Liverpool.
Better than bob paisley
14
Rafael Benítez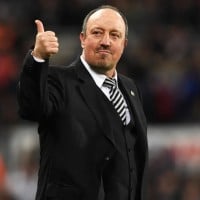 He bring liverpool win a ucl.
15
Brian Clough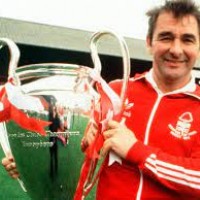 Success is relative to where you start and the resources you have available.
Big clubs are expected to win league titles, and challenge in Europe. Modest clubs like Derby County and Nottingham Forest (both in the lower reaches of the 2nd tier when Clough took over) aren't.
Forest winning one European Cup is more remarkable than Real Madrid winning a dozen. For Forest to win two is fantasy stuff.
Clough stands apart from any other manager.
This man is greater than any other manager ever. I'm sorry but he has achieved far more than your Alex Ferguson or your Jose in terms of literally creating success even if those two have won more silverware.
How isn't he the best? He took a team from the bottom of the second division to win the title TWICE with two different clubs! Also won the European cup twice with Nott. Forest. And did this with an ordinary budget. Guy is a legend!
Took a failing second tier side, signed a carpenter and won back-to-back european cups with them.. Can't ask for much more than that!
16
David Moyes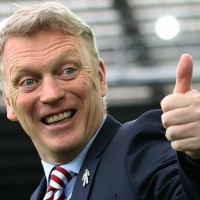 He is managed to win top teams like Man city 8 of 10 times in last meetings and he won Man unt, Chelsea... In 2011-12 seoson with sqyad and money he had. Also he managed without much money built great teams and bring great underrated players.
17
Jupp Heynckes
Won the treble. Enough said
18
Rinus Michels
Marinus Jacobus Hendricus "Rinus" Michels was a Dutch association football player and coach.
Michels became most notable for his coaching achievements, having won the European Cup with Ajax and the Spanish league with Barcelona, and having had four tenures as coach of the Netherlands national team, which he led to reach the final match of the 1974 FIFA World Cup and to win the 1988 UEFA European Championship.
He is credited with the invention of a major football playing style and set of tactics known as "Total Football" in the 1970s. He was named Coach of the Century by FIFA in 1999 and in 2007 the greatest post-war football coach by The Times. Finally, World Soccer elected him 2nd best coach of all times (2013).
HE IS THE NUMBER 1.
19
Fatih Terim
In 1969, Terim's professional football career began as a junior player with Adana Demirspor. Because of his financial difficulties, he was the only player in the team who was being paid secretly by the club at the time. Three years later, he became the captain of the team. He recalls his first game with the captain badge. "Just before the game, I cheered up my teammates, as a captain has to do, and ran out to the field. As I looked back on the field, no one was behind me. I was so fast that nobody could follow me. I was so excited." Terim played 6 more years with Adana Demirspor. As a successful striker, he joined Galatasaray in 1974. As the team captain, he had to fill in for injured defenders and eventually he ended up playing regularly as a sweeper/defender. Terim played for 11 years for the Istanbul club. However, during his time with Galatasaray, the club was not able to win the championship trophy in the Turkish league. Terim was capped to the Turkish national team 51 times, ...more
He has his signature on most of the successes in Turkish football history. The UEFA Cup triumph with Galatasaray and semi final with Turkey in EURO 2008 are few of his achievements.
Best motivator in the modern football, more than a manager. He is like a leader...
More than just a manager. A father, a marshall, an emperor.
20
Marcello Lippi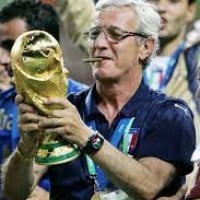 Four Champions League final, 1 victory and a series of Serie A championships with Juventus.

Won the world cup in 2006 with Italy.
21 Ernst Happel
22 Andre Villas Boas
23
Ottmar Hitzfeld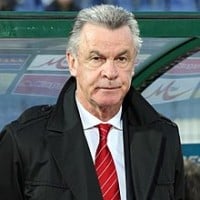 He won a handful of trophies with Bayern and during his Bayern was very difficult to beat. He is the most suscessful German coach of all time
24 Vicente del Bosque
25 Joachim Löw
PSearch List