Top Ten Greatest NHL Players
The Top Ten
1
Wayne Gretzky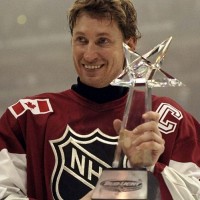 Wayne Douglas Gretzky CC is a Canadian former professional ice hockey player and former head coach. He played 20 seasons in the National Hockey League for four teams from 1979 to 1999.
Just look at his offensive records, many of which will probably never be overcome. Just the greatest to have ever played the game.
In my opinion being good at hockey doesn't mean being the fastest,or having the best shot or anything like that. Its about knowing the game,and this man knew it very well. He was always where he needed to be, and if your always where you need to be you will score goals and make assists. If you know the game and have passion for it,you don't always have to have the best shot or be the fastest
They don't call him the great one for nothing. He also has more assists than anyone has goals and assists. And 4 200 point seasons along with a 196 season. Only 4 times ever done.
The great thing about the great one was it wasn't just about on the ice. He cared off the ice about the game and people as well. Thank you great one.
2
Mario Lemieux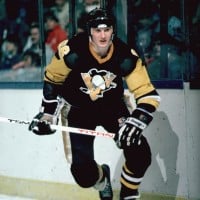 Mario Lemieux is a Canadian former professional ice hockey player and current owner of the Pittsburgh Penguins. He played parts of 17 National Hockey League seasons with the team from 1984 to 2006, assuming ownership in 1999.
Mario lemieux is better than all the players because it only took him 1 shot to score his very first goal. That's why he should be top spot. He's amazing because I don't know anyone else who can score in just one shot.
Lemieux was great but I believe Rob Ray scored a goal on his first NHL shift... that doesn't mean anything, the thing that made Lemieux great is that he kept on scoring all the way to the end of his career!
Lemeiux took second to Gretzky in one category: goals. As far as all around player, Lemeiux has the clear edge and rightfully so. If Lemeiux came before Gretzky he would be called The Great One. The best hockey player of all time.

Likely Crosby will take that title in years to come
Mario got cut down in him prime or he would have had 2 to 3 times as many Cups. Great goal scorer but as an overall player, offense, defense, passing, hitting, etc... Best of all time! Sorry 99
3
Bobby Orr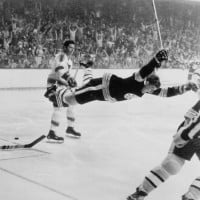 Robert Gordon Orr is a Canadian former professional ice hockey player, widely acknowledged as one of the greatest hockey players of all time.
This guy is way better than Mario Lemieux. What did Lemieux do to revolutionize the NHL? Bobby Orr changed the way the position of defense is played. He was the one who made sure defensemen scored double-digit goals in a season, and he changed the skating style of the NHL. Mario Lemieux, for his first years, was pretty much the shadow of Gretzky. When Gretzky got traded, he took over, but when Gretzky was with Edmonton, Gretzky was better than Lemieux. There was no one to challenge Orr defensively. The next best defenseman was Brad Park when Orr played. Orr should be second best of all time.
Saw Bobby play back live in 1972 against the Leafs, it was a one man w recking crew that controlled the whole game, although Bruins only won 4-2, they had been drinking and partying the night before with friends and relatives inTO AND bobby controlled the whole game! Bet player to watch live ever!
Bobby Orr was amazing! He could juke, skate super fast, and shoot the daylight out! Don't you remember Orr shooting from the opposite side of the rink and making it in the empty net for the win? Incredible! How many other players have done what Orr could have done! Best player ever! Makes sense that the greatest hockey player in history was on the greatest hockey team in history the BOSTON BRUINS! He is my hockey hero!
Are you kidding me? Bobby deserves to be higher up. He won a few Stanely Cups and was signed to the Bruins at age 13. I am not even a Bruins fan and I am saying this. Bobby lived Boston and loved the Bruins, but sadly had to end his career young due to a knee injury. He hands down would have been #1 if it weren't for that injury. Boston has had many other great players too; like O'Reilly Esposito and even players now like Bergeron Lucic etc.
4
Sidney Crosby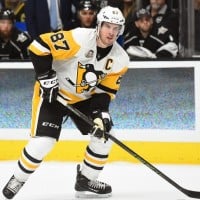 Sidney Patrick Crosby ONS (born August 7, 1987) is a Canadian professional ice hockey player who currently serves as captain of the Pittsburgh Penguins of the National Hockey League.
Crosby is the best player in the world right now. He's not my favorite, but there's no doubt he's the greatest. The kid is on track to beat The great one. He lives the game. Yeah, he used to be a sook, but he's not anymore. But the reputation is stuck with him. The guys a living legend
What an overrated hack. He gets attention that he does not deserve. The only reason why people like him was because he scored the golden goal for Canada 7 years ago in the 2010 Olympics. If he had not done that he would not be as popular.
This is a joke. He is not better then all those guys and I know what I am talking about unlike the guy that made this list. And when I say all those guys I mean the top 30 players. Forget crosbey.
He is not greatest ever. He is just an overrated dude that thinks he is so great.
5
Gordie Howe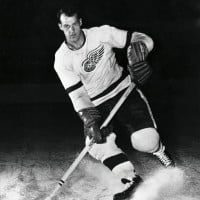 Gordon "Gordie" Howe OC (March 31, 1928 – June 10, 2016) was a Canadian professional ice hockey player. From 1946 to 1980, he played twenty-six seasons in the National Hockey League (NHL).
No offense guys, but this list is crap. Gordie Howe is supposed to be top 5 material, there is no Maurice "the rocket" Richard even on here, and you put Peter Forsberg at number four, I mean, he's good, but he's not number four. Moreover, You put Crosby and Ovechkin on here, no offense, but I think we should wait until they have both won stanley cups before we start putting them on the list. The top 5 should be, in no particular order: Wayne Gretzky, Mario Lemieux, Gordie Howe, Bobby Orr, and Maurice Richard.
801 goals! Only one person has more than that and that is Wayne Gretzky. Bobby orr said Gordie was the best, so did Wayne, Rocket, and Mario. He must be the best if all of them say that.
This guy starred in my favorite team, the Whalers. Even though they haven't won a Stanley Cup, they will always be the greatest team ever.
He was a better hockey player than stupid Crosby.
6
Alex Ovechkin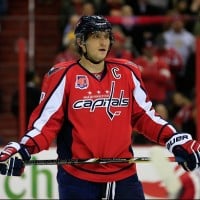 Alexander Mikhailovich "Alex" Ovechkin is a Russian professional ice hockey winger and captain of the Washington Capitals of the National Hockey League.
Ovi is the first player to win the 4 major awards, all in 1 season. Hart, Richard, Ross, and Pearson. He has also won the Hart 3 times! Crosby has only won the Hart once. This clearly shows that Alex is the better player, and also shows that Crosby, and Pittsburgh, are just bandwagons.
He is the best player in the NHL now, how is Crosby in front of him, its not right to see Crosby ahead of him. Now he and the caps are ready for the Stanley cup...
He is the best player of the 2010's. You can't change my mind. He's won the Hart, Stanley Cup, and has made the NHL metropolitan ranking more than 7 times.
The greatest goal scorer of all-time. Has a chance to pass Gretzky in career goals scored and plays in a much lower scoring era.
7
Mark Messier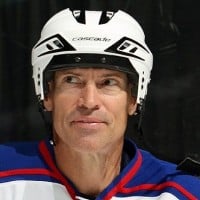 Mark John Douglas Messier is a Canadian former professional ice hockey centre of the National Hockey League.
Crosby is 8 slots over THE captain? Are you kidding me? How is he even outside of the top 10? Good god! He should absolutely be top 5 if not top 4.
come on! he has the record for second place in point leading! by FAR the best leader EVER. he went through all the news and said we will win tonight! he should be won step higher than crosby. but JUST ONE. I agree gretzky is one but STILL! the rangers were going to lose the series against the devils and he convinced everyone that the rangers would win the game. and he scored a HAT TRICK to WIN the game! should be #4! god!
Without Gretzky playing with him he wouldn't have been nearly as good.
''THE MOOSE'' -- Not only was he aggressive! BUT this man was freakin' LEGENDARY on the ice!

He was a strong & powerful force that would run ya over like an Army TANK in the Battlefield... THE MOOSE was all business! And like a LION in the JUNGLE... this man was the KING of his Jungle! Strong, Powerful, Aggressive & FEARLESS... he would come at you like a RAGING BULL or like a freakin' RHINO!

Yep.

Indeed... The ''MESSIAH'' is responsible for helping his teams win the STANLEY CUP many, many times... year after year after year after year... and so on... I believe ''The Messiah'' has won 7 of the big BIG ones! Yep. In fact, I lost track after number 4... but if my memory doesn't fail me -- I'm gonna have to say that THE MESSIAH is a 7 time STANLEY CUP Champion! I believe he won like HALF a DOZEN with 'em Oilers! And at least 1 with 'em Rangers!

Indeed... THE MOOSE is one of those rare RARE players that show up on the ice... only ONCE in a generation! Yep. He ...more
8
Jaromir Jagr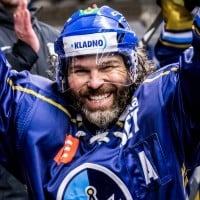 Lemieux should not score so many goals without Jagr. They should be best hockey couple.
Very dedicated player, I wish he played longer.
My favorite hockey player.
Alex ovechkin is better
9
Steve Yzerman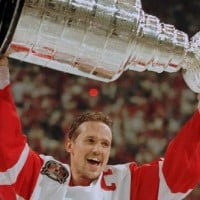 How is sid the squid up higher then Stevie?!?!?! That makes no sense Steve was the greatest leader of all time! He was passionate about hockey and didn't care about his stats and wasnt a cherry picker like Sid and Gretzky!
The best leader any team can have, sure he didn't have the stats as some of the other guys did but he was probably the most passionate about the game of hockey. One of the best!
Yzerman played the game with passion, skill, heart, desire and class.
Great player, I think tenth is about right.
10
Martin Brodeur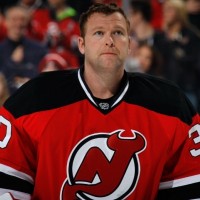 Brodeur is definitely the greatest NHL goalie of all time.
Hockey Hall of Fame 2018.
The Contenders
11
Maurice Richard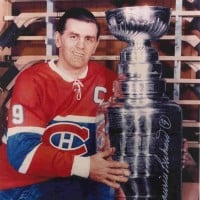 The Rocket maybe could've been similar to Gretzky if He had the right to a curved stick, Maurice was physical, a team player, a goal assister and a goal scorer!
How is he 17th!?! This guy is in the top 5 for sure. He scored 50 in 50 in the 40s. No one had even scored 50 at that point. The next player to accomplish that feat was 40 years later.
Recently bias is strong with that list. Crosby at 4 but Rocket Richard at 17? What a joke.
Rocket Richard. People call Crosby modern dad rocket Richard when he is not.
12
Peter Forsberg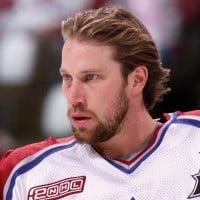 Power & Technics, scoring & passing, he had it all, just awesome player. One of the best in the history of the game.
Why is Forsberg 9th? It doesn't even make sense?
13
Patrick Kane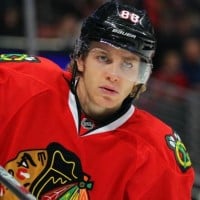 Patrick Timothy Kane II (born November 19, 1988) is an American professional ice hockey right winger for the Chicago Blackhawks of the National Hockey League (NHL).
Kane is the best American player in the NHL.
I like crosby and toews better. but he is my favorite hockey player from the U.S
Because he is number 5
14
Jean Beliveau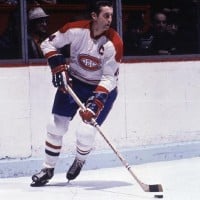 15
Mike Bossy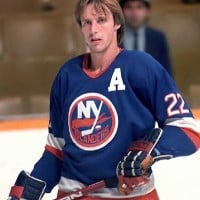 Michael Dean Bossy or, according to some sources, Michael Jean Bossy was a Canadian former ice hockey player who played for the New York Islanders for his entire career and was a crucial part of their four-year reign as Stanley Cup champions in the early 1980s.
Greatest goal scorer of all time. Let's say he never had injury problems and he played as many games as gretzky. If he kept career pace, he would have had around 1100 goals and even if he didn't he still would probably have 950+ goals.
The best sniper of all time.
16
Carey Price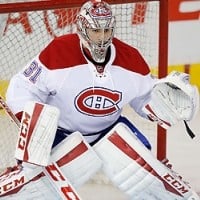 Carey Price is a Canadian professional ice hockey goaltender who plays for the Montreal Canadiens of the National Hockey League.
17
Teemu Selanne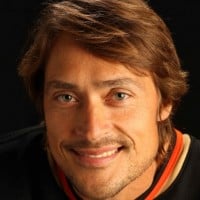 He is still one of the league's top scorers at age 40 and holds the record for the best rookie season EVER. Not to mention one of the top goal scorers of all time, and still strong! Two words, FINNISH FLASH
The Finnish flash cannot be competed with in his rookie season
18
T.J. Oshie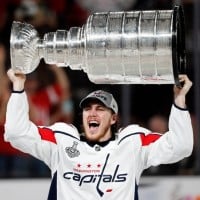 19
Bobby Hull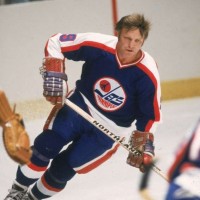 Who makes up these lists? You have Gordie Howe on twice with two different spellings! Bobby Hull should be right up there with Jaromir Jagr at number 5. Sidney and Alex are great modern players but overrated on this list as they haven't concluded their careers Bobby Hull at number 16 is absurd. HE was the first player to score more than 50 goals in a year and did it three times in 10 years in the original six team league. At that time 50 goals was like hitting 60 home runs in baseball. Two other players each scored 50 goals only once before 1967. Bobby hull was the greatest goal scorer ever and a great all around player.
This is a joke! Bobby Hull belongs in the top five players on your list. Had over 1,000 career goals and over 2,000 career points in 23 years of professional hockey. Was the associated press player of the decade for the NHL during the 1960's. First player to score over 50 goals in consecutive years. Led the NHL in goal scoring 7 times in 15 years, with three Art Ross trophies and and two Hart trophies. Plus a Lady Bing trophy. Enough said.
Bobby Hull should be in the top 5!
He scored tons of goals & his slap shot was 120mph!
He wasn't nicknamed "the golden jet" for nothing
Belongs in the top 5 players of this or list of all time great hockey players!
20
Connor McDavid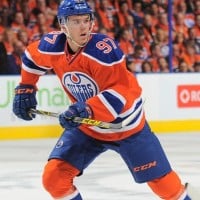 Connor McDavid (born January 13, 1997) is a Canadian professional ice hockey centre and captain for the Edmonton Oilers of the National Hockey League (NHL).
By the time McDavid retires he should be top 3. He's the speediest player in the league, absolutely amazing to watch on the breakaway. Let's get him higher!
Connor McDavid is totally AWESOME! And why did this same list put him #1 on most hated and worst nhl players? Doy!
This a good player I saw him score some cool goals, and once at 0.3 in game 6 of the sharks vs oilers
I've already said this, but I'll say it again. Best player ever!
21
Patrick Roy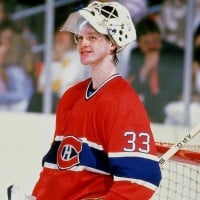 Patrick Jacques Roy is a Canadian former professional ice hockey goaltender and the former head coach and vice-president of hockey operations for the Colorado Avalanche of the National Hockey League.
The way he played, in the playoffs, especially, he is definitely the greatest NHL goalie of all time (two Stanley Cups with the Avalanche).
22
Evgeni Malkin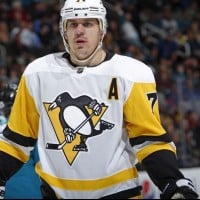 Evgeni Vladimirovich Malkin (born 31 July 1986), nicknamed "Geno", is a Russian professional ice hockey centre and alternate captain for the Pittsburgh Penguins of the National Hockey League (NHL).
23
Michael Hutchinson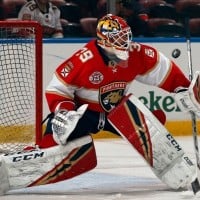 24
Corey Perry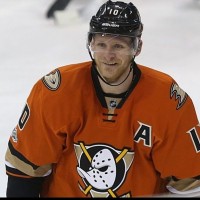 25 Nicklas Backstrom
PSearch List